Here's what Natalie, mum of James, 7 months, thought of the NUPEAA Bottle Warmer Active.
The NUPEAA Bottle Warmer Active at a glance:
An attractive slimline USB-powered portable bottle warmer that reduces the number of items you need to take with you whilst travelling.
How did this product make your life easier?
My baby is formula fed and all of my current childcare options are unfortunately based several hours away, so it can be quite stressful getting my babies' bottles prepared whilst travelling, especially during the occasions we have had to stay in the car due to many places being closed because of the pandemic.
The NUPEAA Bottle Warmer Active has been the perfect solution as I no longer had to juggle flasks of boiling hot water (which always made me feel nervous in case it leaked) and formula dispensers along with trying to get the temperature correct all whilst having to deal with limited space and uneven surfaces.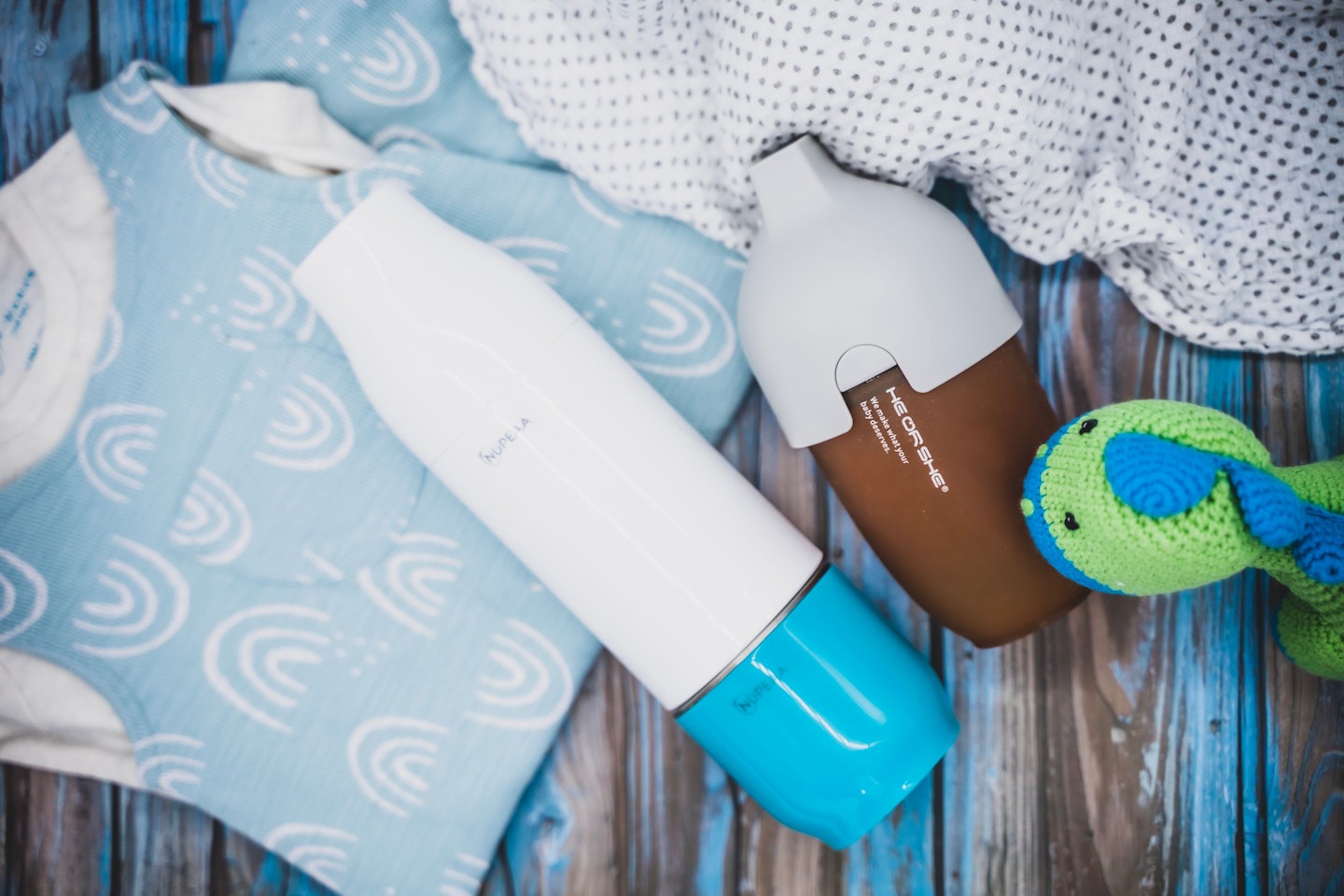 As the warmer is USB-powered, I was able to charge it in the car, so it was ready to use whenever we stopped for a break. The formula compartment is a generous size and can carry up to 150g of milk powder. There are 3 heat settings (37°C, 40°C, 45°C) that will warm the bottle up to your chosen temperature automatically.
The heating unit comes with its own silicone lid to keep the stainless-steel antibacterial plate sterile, so for days out you can just take the base and a premade bottle with you making the whole process even faster and more portable. I found this especially useful when we've been unexpectedly delayed and not been able to get home in time for a feed, as I could provide a bottle there and then whereas previously, I would be constantly clock-watching and getting more and more stressed as time went on.
Would you recommend this to other parents?
Yes, the warmer is suitable for both breastmilk and formula milk so it will suit whichever way you choose to feed your baby, which I think makes it an ideal gift for an expecting parent.
It's perfect for when you are travelling and need to make bottles on the go and it's also useful at home as you can keep a full days' worth of feeds in the fridge and just heat the bottles up as and when required. The temperature will hold for 6 hours on a full charge which is great for those middle of the night feeds.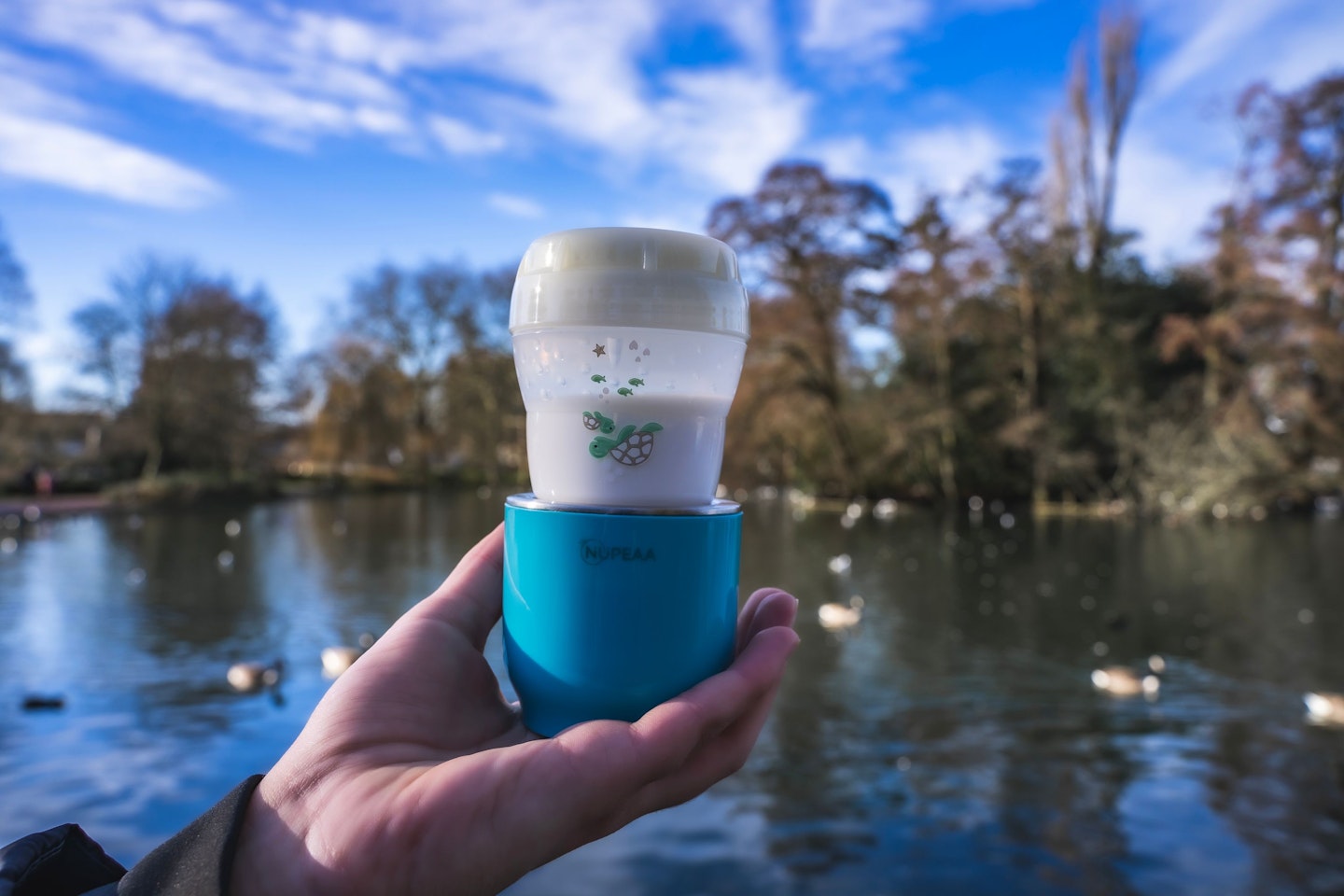 The warmer is easy to disassemble and clean and completely silent when switched on, the compact, lightweight design means that it fits in most pram bags and it comes in three colours (Candy Pink, Baby Blue or Marble Grey). The warmer also comes with a stylish velvet drawstring bag to keep everything protected and in one place.
 I used the NUPEAA Anti-Colic 240ml Collab Baby Bottle, which is designed to fit the heating unit perfectly, however, if your bottles don't fit you can buy an adaptor for your chosen brand from the NUPEAA website. I was worried that my baby wouldn't like the teat but he took to it straight away.
The bottle is made from silicone which made it easy for my baby to hold without needing handles and unlike other brands of Anti-Colic bottles, it doesn't come with fiddly components to wash as everything is built into the teat.
Would you choose this product above all others on the market?
Definitely! My previous bottle warmer was very heavy and would not fit in my pram bag so I would have to take a separate bag just for the warmer (not to mention the bottles, formula dispenser and all the accessories). Thanks to the space-saving features of the NUPEAA Bottle Warmer Active, I no longer need to bring multiple flasks and bags with me. It freed up so much space in my bag and saved me a lot of stress, especially as it took the guesswork out of knowing if the bottle was too hot or too cold. I also love the fact I can still use all of my other branded bottles thanks to the NUPEAA adaptors (sold separately).
What changes would you make to this product?
I found that it's difficult to read the LCD screen when you're outdoors, especially if it's a sunny day. It would be useful if you could change the brightness of the display. I have the Candy Pink design so it may show up better with the other colours, however.
I also felt that the instruction booklet could be clearer, for example, it doesn't tell you that you have to long-press the power button after switching on to cycle through the temperature options and the cleaning instructions could be more detailed and explain how you disassemble the formula dispenser.
Product Information
Ideal for both breastfed and bottle-fed babies

Heats a bottle to the perfect temperature in under 10 minutes

Compact & slim design to avoid taking up space in your baby bag

Easy to assemble, disassemble and clean

Dispenses perfect 3g scoop of formula powder with a push of a button

Holds temperature for 6 hours on full charge