We're always looking for inspiration on how to dress and feel our best, and Stacey Solomon's brand new collection with In The Style is perfect for helping us mums look comfortable and stylish.
From cute knitted co-ords to super soft jumper dresses and leggings perfect for lounging in, Stacey's Cosy Knitwear' collection is all about keeping you comfortable, while still feeling trendy and confident in what you're wearing. Loungewear, hoodies, skirts and puffer jackets - you name it! Available in UK sizes 6-28, every mumma can let their personality shine through their outfits and feel beautiful - whether they're looking after the baby, running errands, or looking for a comfy everyday look.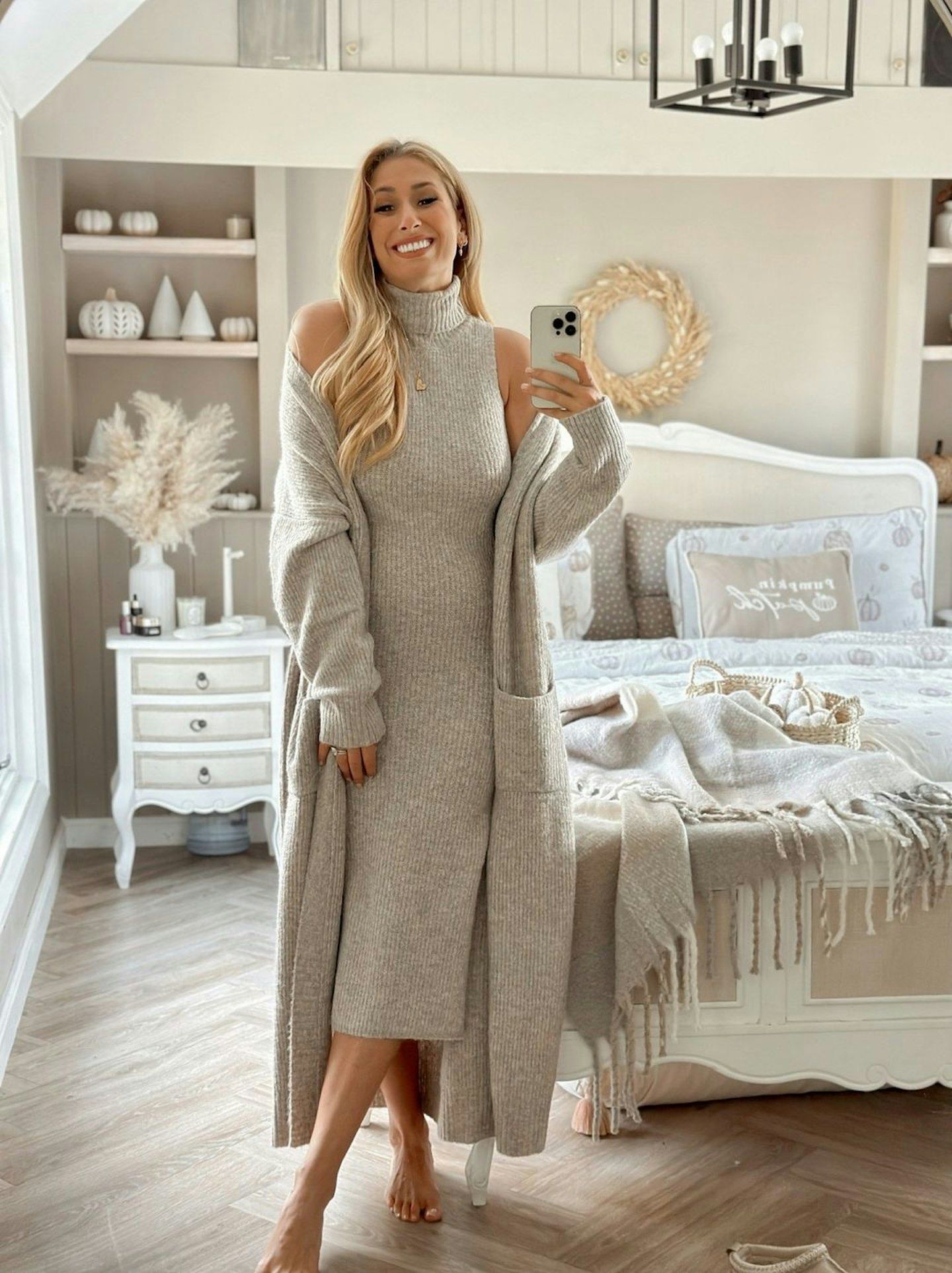 Editor's Choice:
•Best for a knitted dress: Stacey Solomon Recycled Mocha Roll Neck Midaxi Co Ord Dress
•Best for a long cardigan: Stacey Solomon Recycled Knitted Mocha Co-Ord Maxi Cardigan
•Best for a knitted hoodie: Stacey Solomon Recycled Knitted Seam-Front Co-Ord Hoodie
•Best for a cream skirt: Stacey Solomon Recycled Cream Cable Midaxi Co Ord Knitted Skirt
Speaking on Instagram, Stacey said, "I can't tell you how long I've been waiting to release this one as we planned it in from last year when you guys went mad for the knitwear collection! It's always so difficult to find recycled fabrics that are also so soft and last the time but I am so proud with how it's all turned out! It's the best knitwear I've ever had on my body… fact! I'm so nervous, I hope you guys love it."
As a mum-of-four herself, Stacey's new collection is not only more sustainable than most, but stylish and supportive too - all of the knitwear is £35 and under, and many of the pieces are made from recycled materials. In her Q&A on her Instagram stories, she answered all your questions about the collection; we've included some below. But first, here are our favourite pieces from the collection worth nabbing before the sell-out.
Shop: Stacey Solomon's knitwear collection
Best for a knitted dress
Description
We're obsessed with this knitted dress. Made from recycled polyester, it's super soft and the
Best for a long cardigan
Description
It's not often you find a decent ankle-length maxi-cardigan like this one. It's got the right
Best for a hoodie
Description
If stripes are your thing, you'll love this knitted hoodie. It will go beautifully with some
Best for a reversible coat
Description
Perfect for autumn strolls, this reversible puffer will see you happily through the winter months
Best for a belted dress
Description
Brilliant for dressing up or down, this midi dress will look fabulous on anyone. The belt allows
Best for a striped jumper
Description
One piece to add to your seasonal wardrobe is this grey tonal stripy jumper. Just like the other
Best for a knitted hoodie
Description
Simple but effective, you can't go wrong with a grey hoodie. The addition of the seam makes it
Best for jogging bottoms
Description
Extremely cosy and super soft, these knitted jogging bottoms are part of a co-ord with the grey
Best for a cream skirt
Description
If jogging bottoms aren't your thing, how about this gorgeous skirt, complete with a cable design?
Best for a crew neck jumper
Description
Here is the cream jumper which matches with the skirt; at only £18 it's a bargain! To wash it,
Best for high waist leggings
Description
These leggings are available in black, stone and grey colours and are brilliant for everyday wear.
Shop Stacey Solomon's previous In The Style collections
The knitwear range isn't Stacey's first rodeo with In The Style. She has had several previous collections, most of which are still available to buy. Here are some of our favourites.
Best for a black coat
Description
Keep warm with this gorgeous puffer from Stacey's coat collection. It has been elasticated to give
Best for leggings
Description
Also available in black and navy, these stone leggings will pair nicely with one of the jumpers or
Best for a quilted coat
Description
Made using recycled materials, you will be doing your bit for the environment as well as your
Best belted coat
Description
This coat looks like a giant dressing gown in the best way possible! We can just imagine how comfy
FAQs from the In The Style Instagram stories
Do they wash well?
"I'm so proud of the quality of everything. We spend months and have spent YEARS finding the best fabrics. I have my whole collection still from last year. I've washed it 1000 times and it's still amazing. I also get my collections early and do wash tests myself and we will totally recall an outfit if it doesn't wash well!"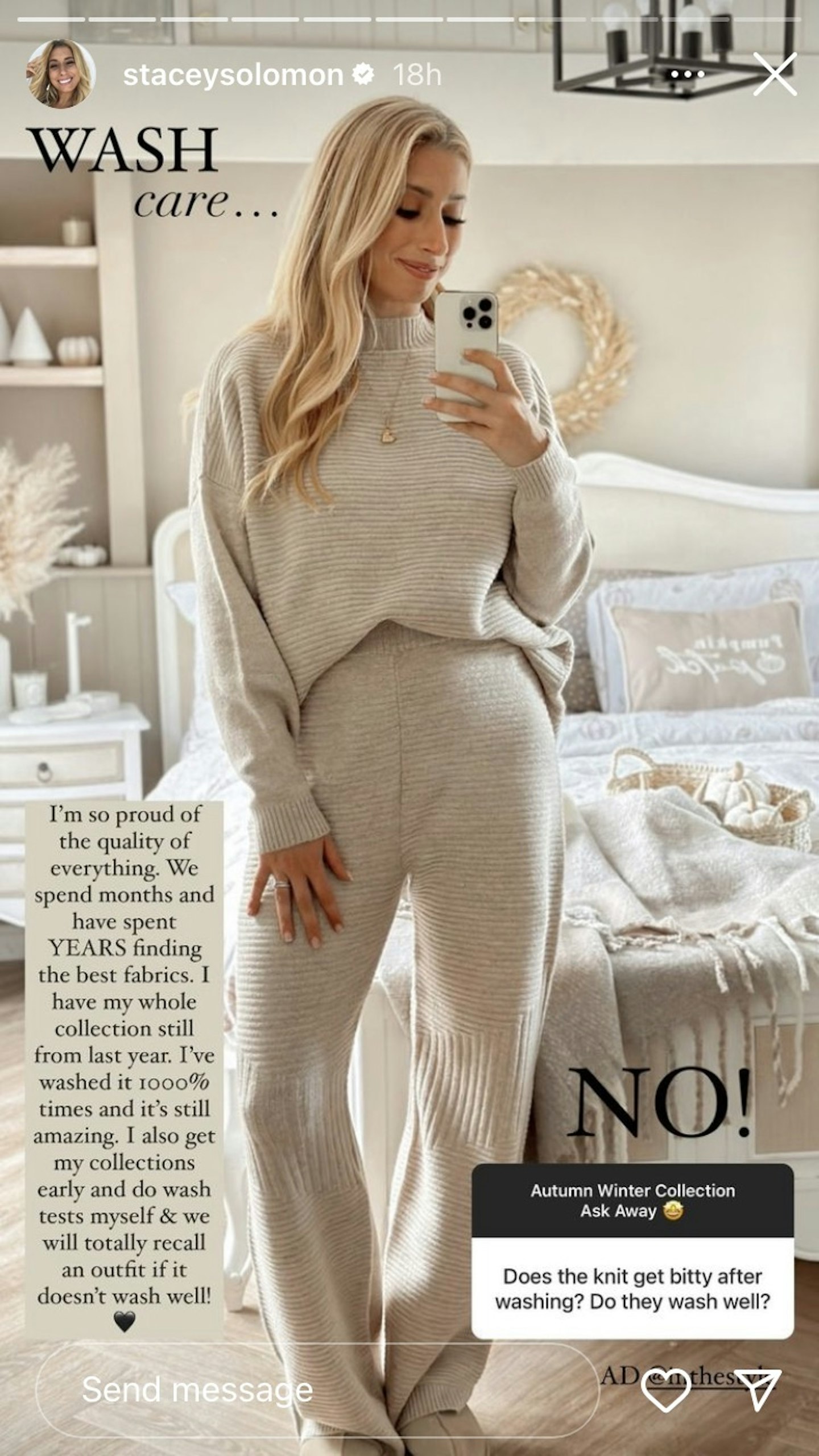 Are there any bits available in petite or tall sizes?
"There are tall and petite options on all the things that would need it and the sizes go from sizes 6-28."
Are the clothes true-to-size?
"Absolutely EVERYTHING in the collection is true to size. I wear 10-12 in it all. It is an oversized collection
because I love room in my knitwear but if you like your jumpers tight I'd size down."
If you're a fan of everything Stacey does (like us!), check out her book.
Arabella Horspool is a Commercial Content Writer for Mother&Baby at Bauer Media. She's a bookworm who enjoys cooking and spending time with her many pets.