The Carifit+ is a baby carrier and app that combines the benefits of babywearing with the benefits of movement. When you buy the carrier, you get 12 months' access to the app, or you can use the app with a carrier you already own.
The benefits of babywearing are well-established. "Babywearing is truly quite an amazing tool as a parent," Carifit's founder Vern Hill, told me at the carrier's launch event. "Babywearing helps build caregiver responsiveness. We understand our baby because they're right there. We can meet their needs quicker because we're right there."
Babywearing can also help babies to develop speech and language, learn to regulate their temperature, reinforce good sleep habits, and can lower anxiety and boost confidence in new parents.
I've been babywearing almost since day one with my daughter. I started out following YouTube videos to tie a soft stretchy wrap and moving on to my beloved ring sling, but now that she's getting a bit heavier my back and hips are starting to take the hit. At the same time, I've found it increasingly hard to fit in exercise around parenting, so I've lost a lot of the fitness I had before.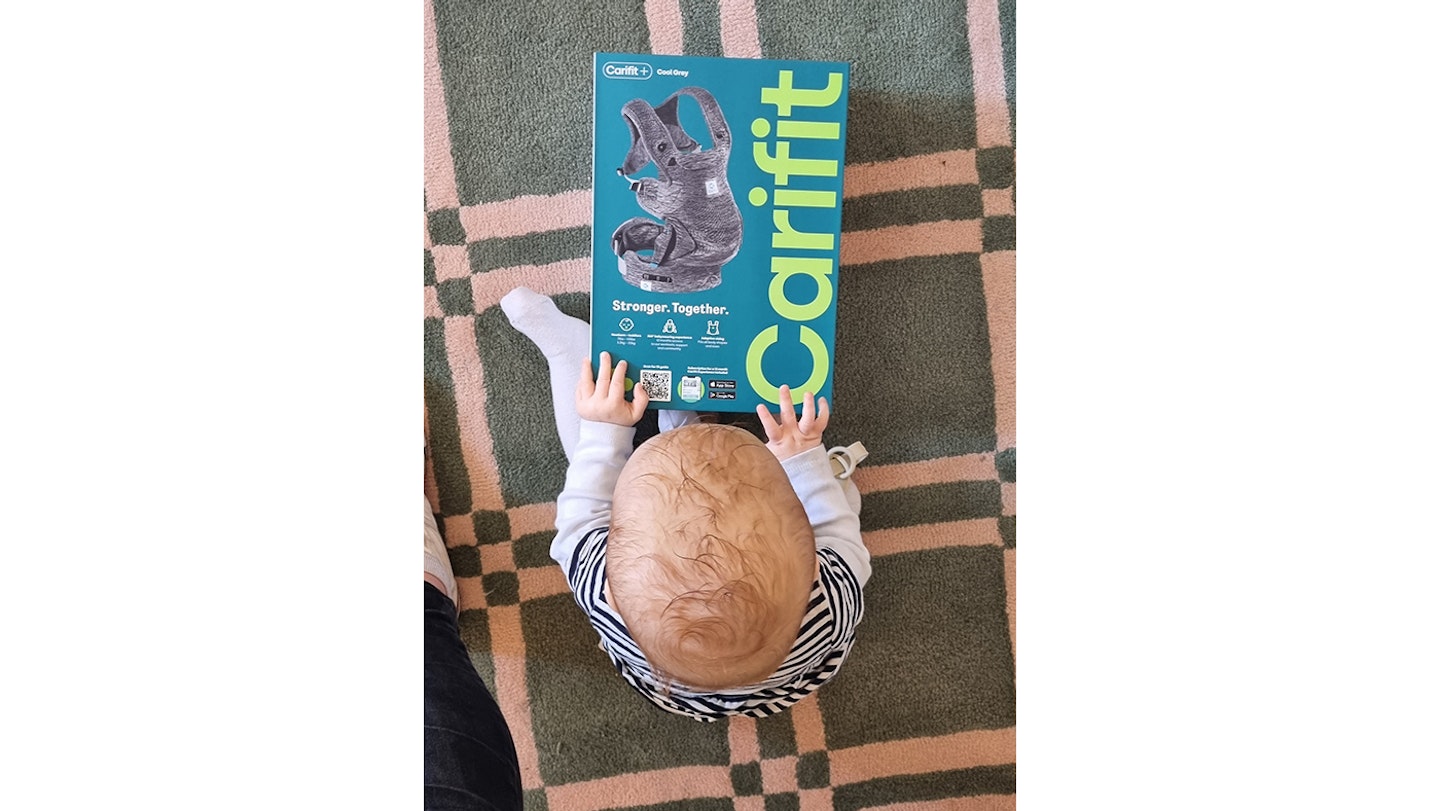 The Carifit+ carrier itself was designed with movement in mind. From the technical sports fabric to the close hold that doesn't disrupt your centre of gravity, everything about the carrier supports movement, whilst keeping your baby against your chest. The first weekend I had mine, I used it to hike up and down the cliffs at Flamborough Head without a single twinge from my back.
The Carifit+ app has made exercising with my (very clingy) baby much easier. Most of the workouts are designed to be done whilst babywearing so I've been able to start building my fitness back up, which I just wasn't able to do in 'baby-friendly' classes that expect your baby to sit and play quietly on the mat.
Carifit+ overview
Pros
Very close carry helps maintain your centre of gravity and makes your baby feel lighter
The carrier itself is very lightweight too
Breathable, flexible mesh sports fabric
Inward or outward-facing front carry options
Fully adjustable straps and fit for both parent and baby
12-month subscription to the Carifit+ app
Cons
Doesn't fold up very neatly
Hard to get the baby in and out while asleep
No option to back carry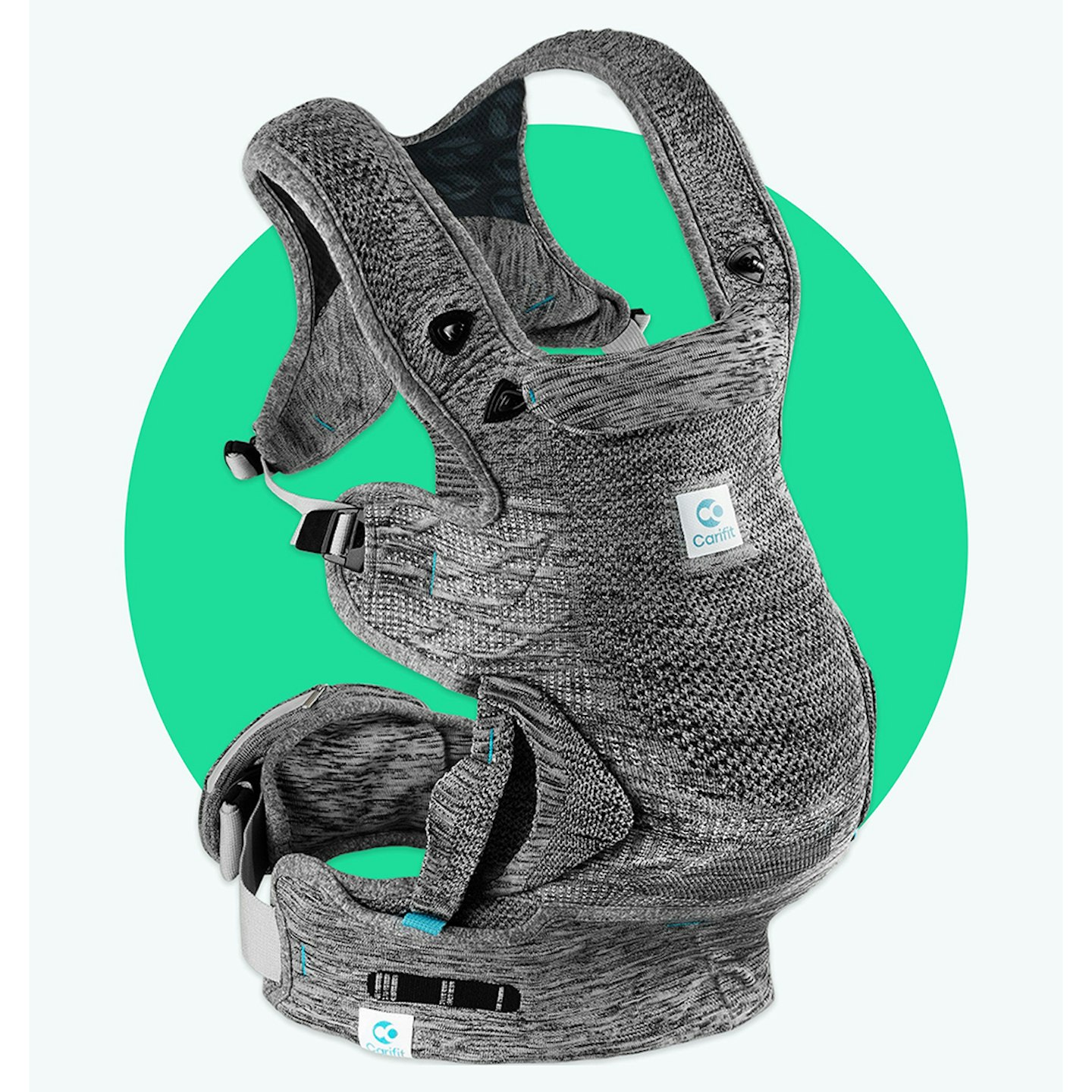 Key features
Comfortable babywearing
The Carifit+ holds your child very close to your body, maintaining your centre of gravity and has a back panel and a wide waist belt to help maintain your posture. The carrier itself is also surprisingly lightweight for its size, which is a big help when you're already wearing up to 20kg of human. My daughter can't speak yet, but she certainly looks comfortable in the carrier, and it complies with T.I.C.K.S guidelines, holding your baby in a safe position.
Workout-ready
The real selling point of the Carifit is the ability to babywear during workouts. The idea for Carifit+ carriers was sparked by Vern Hill, an ante and post-natal fitness expert and father of 2. You can tell that everything from the racerback design to the breathable mesh technical fabric, to the close carrying position was conceived with movement in mind.
As well as enabling me to access the physical and mental benefits of exercise with my baby in tow, the workout element of Carifit serves another important purpose for me. By babywearing while working out, I'm able to build the type of strength I need to continue babywearing as my daughter grows into toddlerhood, instead of having to stop before she's ready.
Parent support in the App
Hill told me that: "We're not in the baby carrier business. We're in the supporting new parents business," and the Carifit+ app is a real testament to that. New parents can be overwhelmed with often-conflicting information at every turn. Your mum did it one way, your friends swear by a different method, and every time you open Instagram another influencer is sharing strong opinions on how you should be parenting. What I like about the 'care' section of the app is that the advice is coming from trusted and credentialled sources, like infant sleep coach Dr Jess Mehta, pelvic health physiotherapist Lucy Allen, clinical psychologist Dr Lucy Gore, GP Dr Stephanie Ooi, and paediatric emergency consultant Dr Shalini Panchal.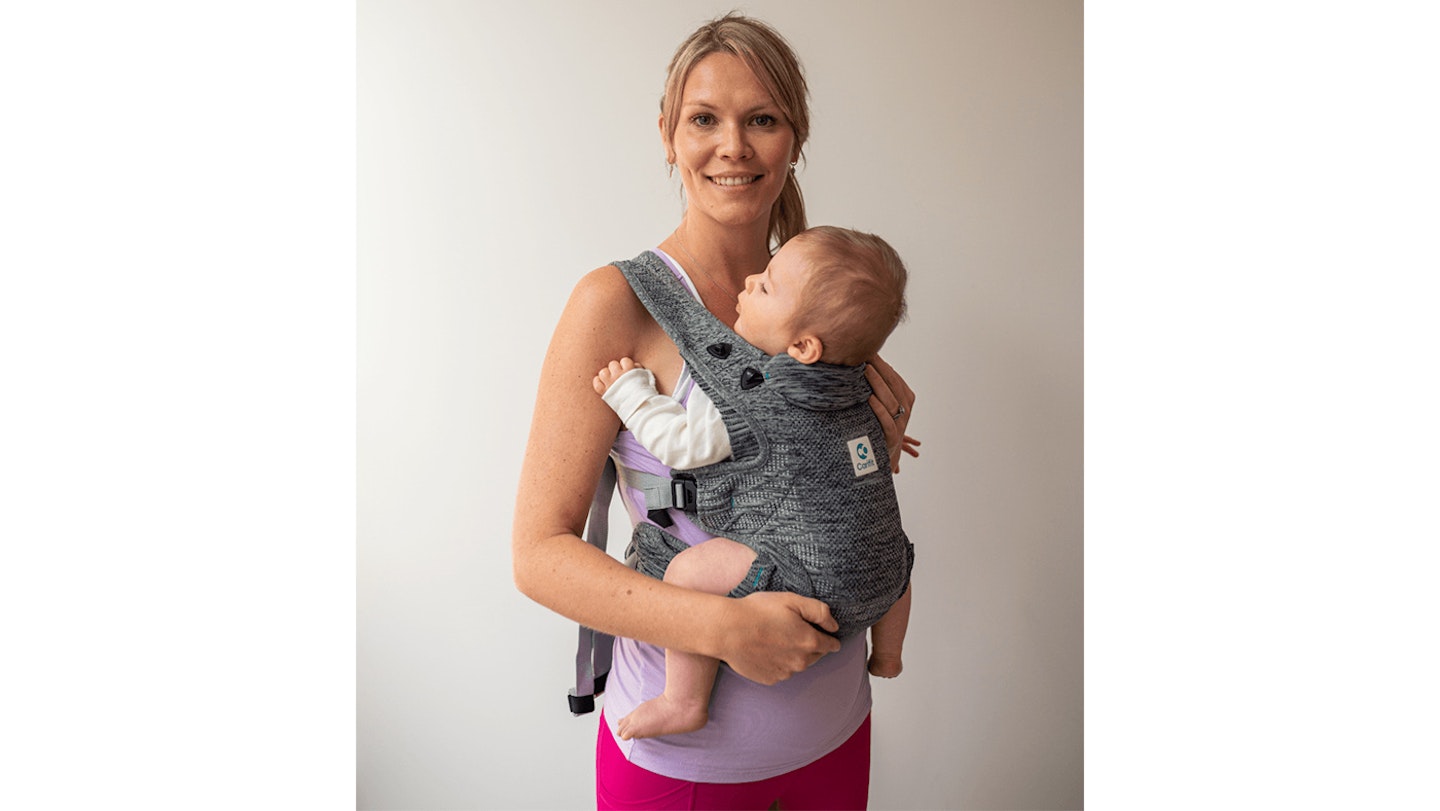 Testing the Carifit+ Carrier and app
The carrier itself takes a bit of getting used to. After fastening and tightening the waistband, you pull the shoulder and back section up and over your baby and your head before adjusting the fit. The overhead motion isn't the most intuitive way to put on a carrier but, like most things, it gets easier the more you do it, and now my daughter and I are pros. That overhead motion is also what makes the carrier's workout-ready racerback fit possible, so it's worth it.
The initial setup of the app access is a bit fiddly too (Download the app, then scan a QR code and enter a code from your carrier to generate a second code that unlocks app access), but once it's done, it's done and the app is generally easy to use and navigate.
For workouts
I've done a few workouts from the app now, both ones designed for babywearing, with my daughter in the Carifit+ carrier, and a few solo.
After entering details about your birth, your baby, and your goals, the app suggests a programme for you. Each programme is divided into blocks of 4-5 workouts to be completed at your own pace. I appreciate that the programme doesn't dictate how many workouts you should do each week, but lets you self-direct. You can also choose workouts individually from categories including core, mobility, and antenatal. After entering your details, the app also offers support and guidance beyond exercise, on things like sleep, mental health and pelvic recovery, tailored to you.
The workouts themselves are rigorous, but doable for my fitness level. There are just two downsides to the app for me, one is the lack of closed captions on the videos, and the other is that a lot of the workouts require equipment like weights or a pilates hoop, which not everyone has at home.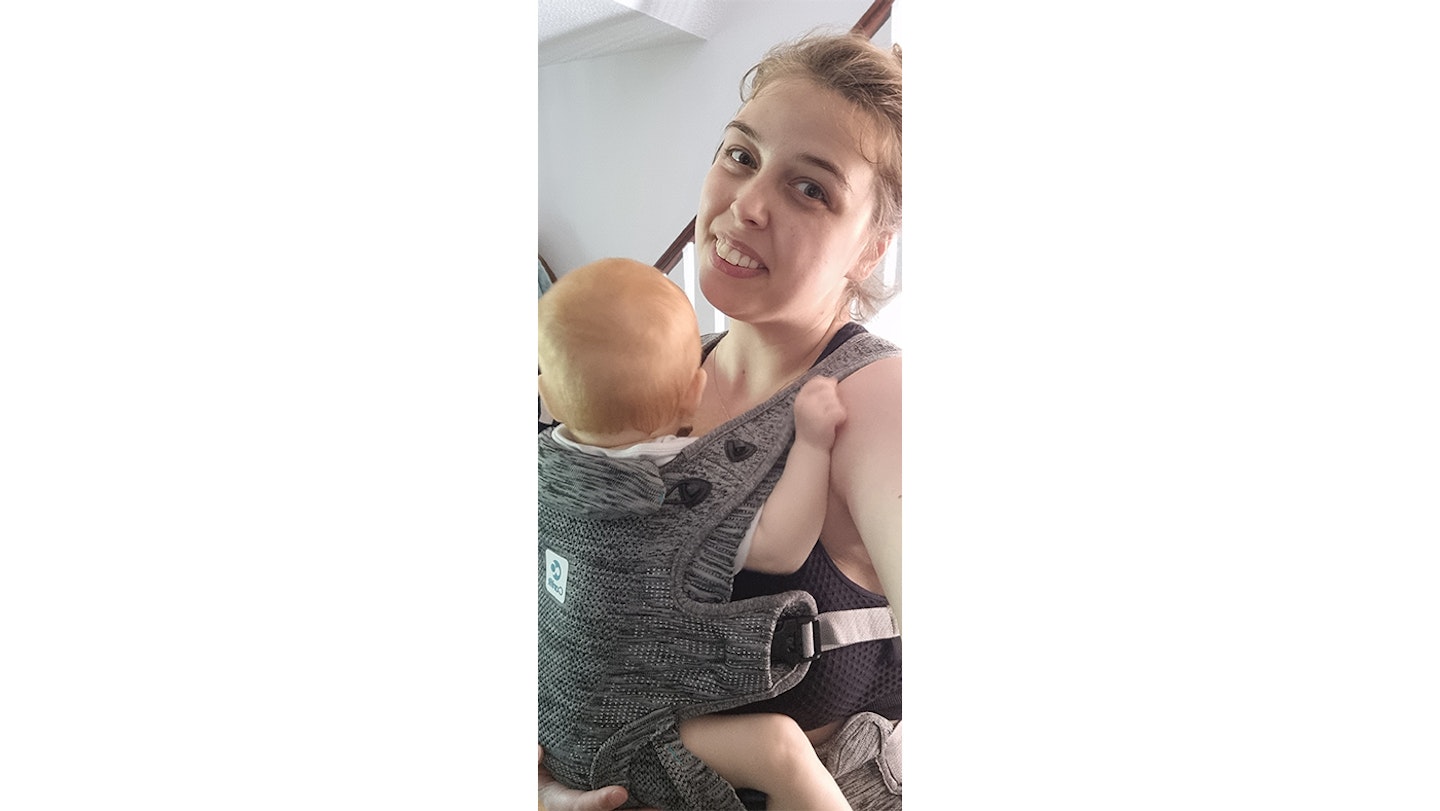 For day-to-day
The first day that I got fitted for my Carifit+ I walked across London and then got the train from London back to Leeds, and then got a bus from Leeds out to the suburbs where I live and then walked from the bus stop to my house — with my daughter in the Carifit+ carrier. All this to say that it is very comfortable for long-distance (or long time-period) babywearing.
The design and fit of this carrier give you really good back, hip and overall posture support, pulling your baby close to your chest to distribute their weight. It also supports your baby in the safest position. The Carifit+ carrier is great for long walks and active travel days. The technical fabric gives it the softness of a stretchy wrap, with the structure and breathability needed to support both you and the baby for long periods.
The Carifit+ still isn't my go-to for casual babywearing around the house or running errands, because that overhead motion to get the baby in and out means that you essentially have to remove everything except the waistband each time (as opposed to just pulling the fabric and/or loosening the straps). That's what gives the Carifit+ the structure and hold that makes it so great for exercise and extended periods of babywearing, but it does mean that it's not suited to the constant in-out up-down forwards-backwards of a day at home with an active older baby, or for transferring a sleeping baby from the carrier into the cot or car seat.
While the sling itself is quite small and lightweight, I haven't found a way to fold it into a neat and compact bundle. This isn't a huge issue, but something to consider if travelling with the Carifit+ or stowing it in the basket of your pushchair.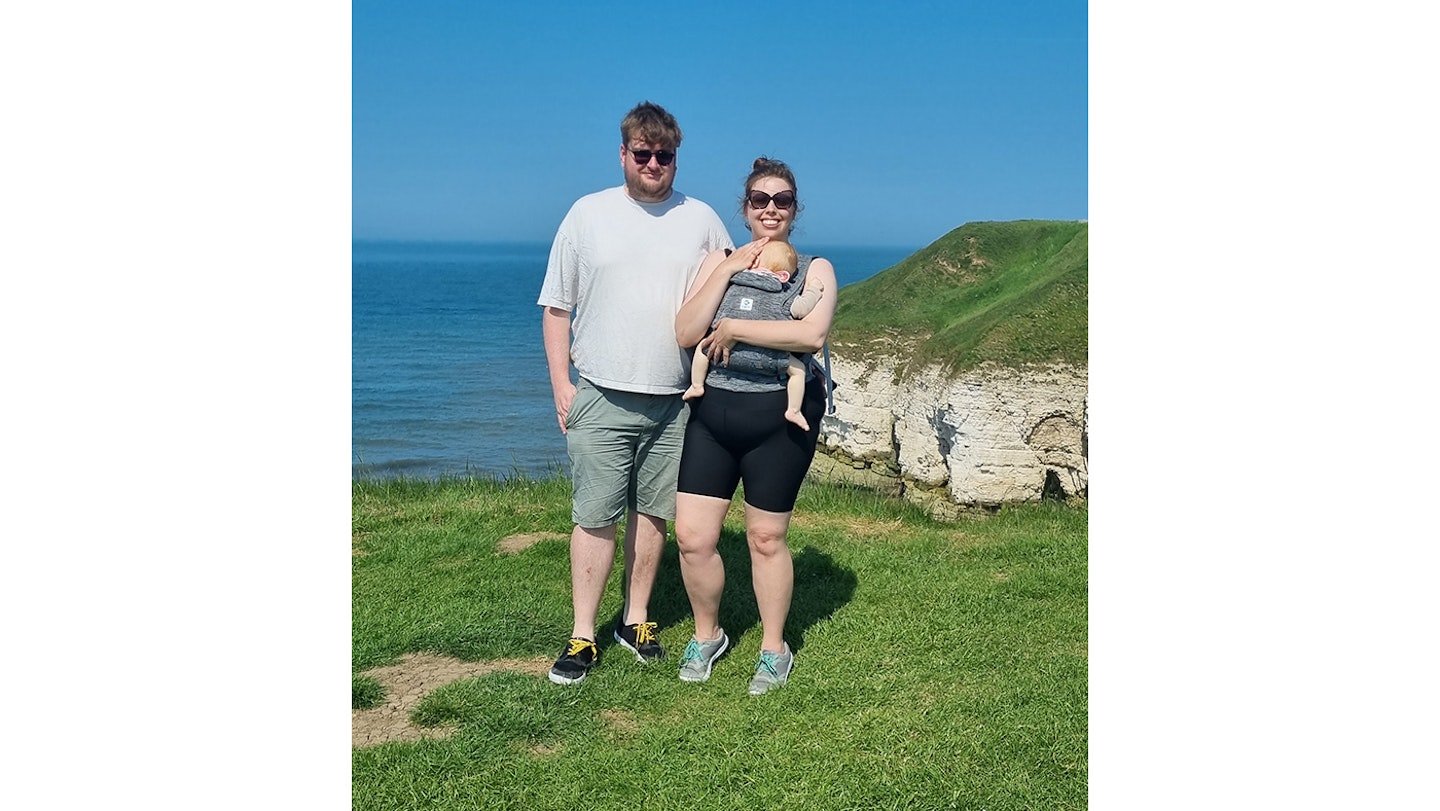 Final thoughts
I've tried a lot of babywearing carrier styles, and the Carifit+ is the most comfortable I've used for extended periods of activity. There's no getting around the fact that this is a pricy carrier — but if exercise is important to you or you have an active lifestyle, it is worth it. The App alone costs £19 per month, so a year's access costs around the same amount as the carrier itself, making the carrier a good investment for anyone planning to access the workouts and support in the app. The Carifit+ has already become my go-to for long walks or full days of travel when I want to comfortably wear my daughter for hours at a time.
Zoe Pickburn is a freelance writer and journalist. She writes lifestyle features and reviews for publications including Apartment Therapy, Insider and Evening Standard.