Pregnancy is a beautiful, life-changing experience, but it can also be a stressful one! If you find yourself needing to relax and release some tension during your pregnancy, reflexology could just be the thing you're looking for.
Keep reading for our complete guide on reflexology, including the different types, if it can trigger labour and whether it's safe during pregnancy.
What is reflexology?
Reflexology is a complementary therapy where a practitioner massages areas of the feet, hands and face, which can help you feel relaxed and reduce stress.
"We release tension in those specific reflexology points to aid balancing within the body," says Tracey Smith, Head of Reflexology Support and Research at the Association of Reflexologists.
"So we don't heal, we facilitate the body to rebalance to do whatever it needs to do at that particular time.
"The other thing that reflexologists do is we are empathic listeners," she adds. "So we listen to what people have to say, we're not counsellors, we don't reflect back, but we do listen and sometimes just being able to get stuff off your chest is a really useful thing."
What happens during a reflexology session?
A reflexology session is usually the same for anyone, pregnant or otherwise.
To start with you'll be asked some questions about your medical history. If you're going to have foot reflexology you'll be asked to remove your socks and shoes - Tracey strongly recommends you don't wear tights (especially if you're pregnant) to make life easier for yourself. If you're having hand or face reflexology you'll be asked to remove any jewellery.
You'll then be made comfortable in a tilting chair or massage couch and some reflexologists will even come to your own home and treat you on your sofa.
"It's inadvisable to lay a pregnant woman's flat, so they will be given some support to sit up with a cushion or pillow," says Tracey.
The session usually lasts between 45 to 60 minutes and starts with cleansing the area you are having treated before an application of cream or powder is applied to help move the hands over the skin. At the end, this is then wiped off and you're helped up before leaving.
Is reflexology safe during pregnancy?
Yes - reflexology is generally safe for everyone throughout any stage of life.
"There may be occasional situations where the medical teams are more involved, for example, if it's a more complex pregnancy, then it might be inadvisable to have reflexology in some certain situations," says Tracey. "But if you choose a well-trained reflexologist they will either know when not to treat or will find out by ringing into their professional association and asking."
What are the benefits of reflexology during pregnancy?
Reflexology can offer many benefits throughout your pregnancy, however, it's important to note that these benefits are anecdotal and not scientifically proven.
"Within pregnancy, you have a lot of physical, structural and emotional changes and reflexology supports your body allowing those changes to take place as comfortably as possible," says Tracey.
Reflexology can help with:
• Aches and pains
• Morning sickness
• Swollen ankles
"It's dependent on the person", says Tracey, "and the only way to find out if it's going to make you feel better is to try it."
Does reflexology help bring on labour?
"I think it's a misnamed situation", says Tracey, "I don't think reflexology helps trigger labour, I think it helps the body to relax sufficiently allowing labour to happen naturally, and those are two very different things."
"Fear, anxiety, stress are all very negative feelings if you're trying to go into labour naturally and the body holds babies in if they think the body is in fear mode. So what reflexology does is helps the body to relax, which allows some of that fear to be relieved and allows a relaxed body to do what it's going to do naturally, which is to go into labour.
"But of course this doesn't work for everybody and sometimes medical intervention is absolutely needed."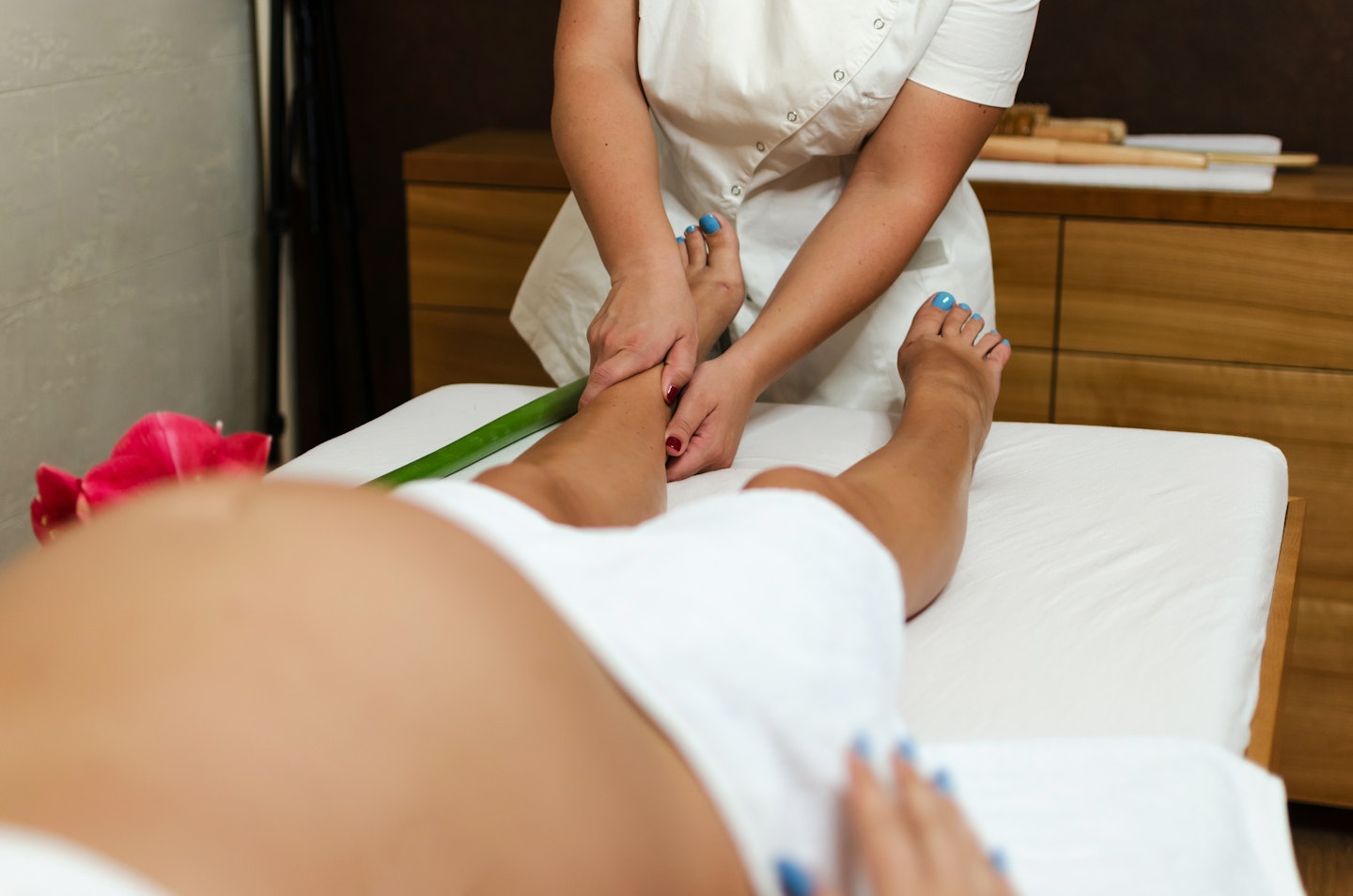 How do I find a reflexologist?
You can find a reflexologist by visiting the Association of Reflexologists' website, where you're able to put in your postcode and find a reflexologist local to you and to suit your needs.
How much does reflexology cost?
Reflexology can cost anywhere from £35 to £70, depending on where you're located in the country.
Popular articles to read next