For many women, stretch marks are part and parcel of being pregnant. As your body gets ready for the new arrival, stretch marks can appear all over your body, from your bump to your boobs and beyond. The best stretch mark creams will help their appearance. Take a look at our helpful guide on what causes stretch marks.
Some mums call them their 'Tiger Stripes' and wear them proudly - they are, after all, a permanent visible reminder of how amazing your body is and what an extraordinary journey it has been through to bring you your baby. Check out our gallery of real-life mum tums and see how other mums embrace their new bodies here.
However, some mums feel very self-consicous about them, and for you, we want to provide a list of creams that'll look after your stretch marks during and after your pregnancy.
Removing stretch marks can be difficult as they're basically scar tissue, but using a good stretch mark cream during pregnancy could help prevent from appearing and reduce their appearance if they do. At the very least they will keep your precious skin supple, smoothe, and moisturised as your bump grows.
Is it safe to use stretch mark creams during pregnancy?
If you can buy it off the shelf, yes. Although stretch marks are a unisex problem and can occur due to sudden growth spurts or fluctuating weight, most manufacturers are thinking of pregnant women when they create these creams.
If you have any doubts whatsoever, consult a pharmacist.
Do stretch mark creams work?
It's a cautious 'yes' on this one. Reports are mixed but it's said that massaging the stretched area with cream has a localised affect as it stimulates blood flow and helps the skin repair itself.
There's no doubt that massaging your bump is a good way of connecting with your baby. And continuing to massage your skin after pregnancy is a little act of self-care, and that can only be a good thing. The best stretch mark creams will smell amazing, leave your feeling relaxed and your skin rejuvenated.
What to look for in a good pregnancy stretch mark cream
There are certain qualities you want to look for in a good stretch mark cream to make sure your skin is cared for and stays moisturised.
Oil or cream? Many mums prefer to choose an oil over a cream, as they provide additional moisturisation and keep the skin hydrated; but, many women prefer the feeling of a cream on their skin. Oils can often get on your clothes, too; using a cream avoids that hassle.
Choose a hypoallergenic variety: Hypoallergenic stretch mark creams are best if you have sensitive skin or any allergies, and when you're pregnant you might find your skin reacting differently to normal. Hypoallergenic brands won't have dyes or fragrances that could irritate.
Hydration is key: Using a stretch mark cream is all about keeping the skin hydrated. Hyaluronic acid and ceramides are great for moisturising.
Keep it calm: Soothe your skin with shea butter or cocoa butter ingredients; these are great if you're suffering with itchy skin - a common complaint in pregnancy.
Which are the best stretch mark creams for pregnancy?
My Expert Midwife Fantastic Skin Elastic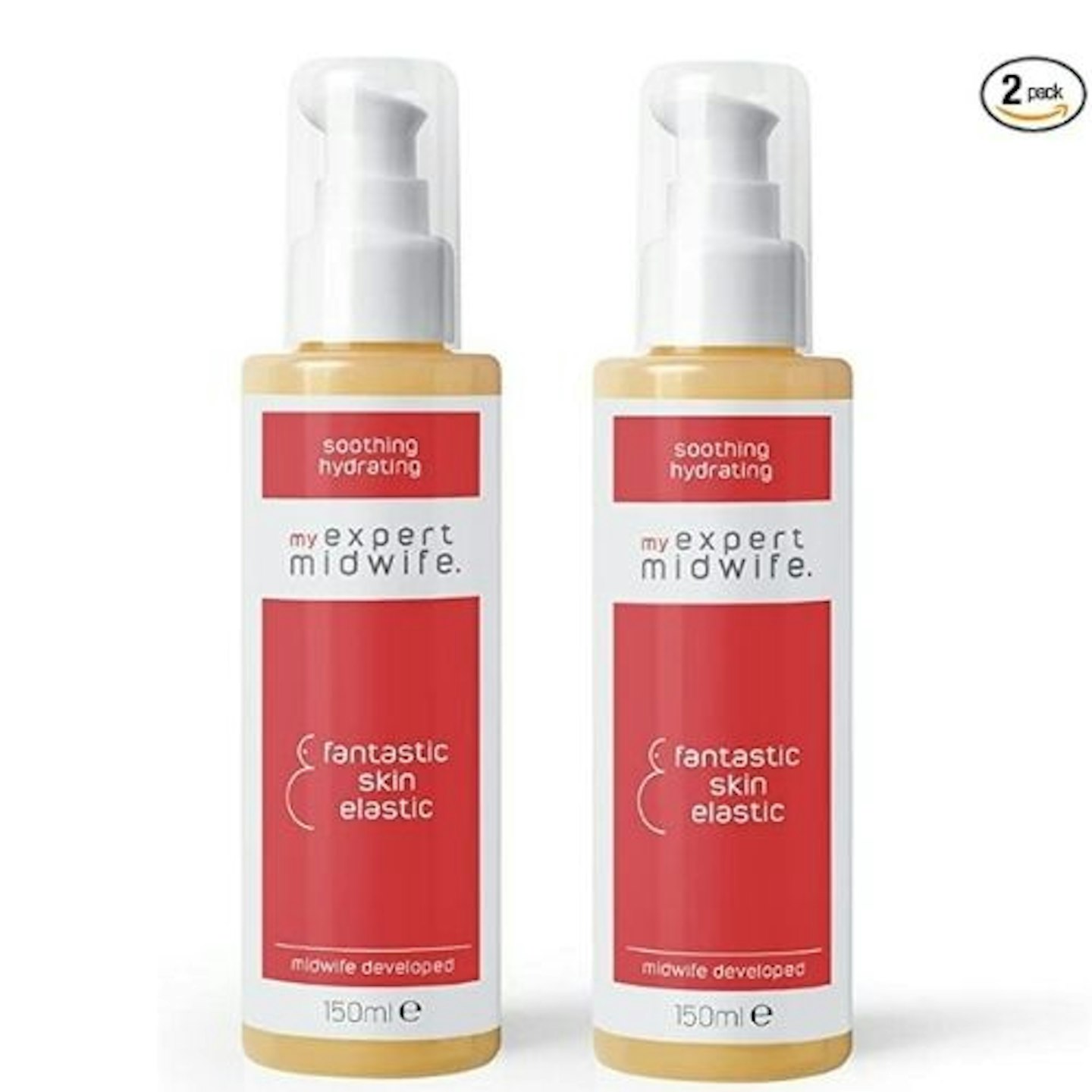 Image: Amazon
Description
My Expert Midwife Fantastic Skin Elastic stretch mark cream was created by UK qualified midwife,
Description
This lotion absorbs quickly and doesn't leave any greasy residue on the skin like some others on
Description
Aveeno uses natural colloidal oatmeal proven to intensely nourish dry skin. Widely used for
What to read next:
Stretch marks in pregnancy: why they appear and what can you do about them?
The best eco-friendly beauty products that don't cost the earth
9 of the best lightweight foundations for a skin-like finish