Remember when planning a holiday involved sticking a pin in the map and throwing a sarong in the suitcase? Turns out travel looks a bit different once you have a toddler or two in tow...! But pick a destination that's been designed with families in mind, and unfolds an opportunity to make magical memories you'll treasure forever.
Step forward Butlins – it's been keeping children entertained since Billy Butlin launched his first resort in Skegness back in 1936, and 84 years on there's not much the company doesn't know about keeping kids – and, more importantly, Mum – happy.
Granted, it's had some image issues along the way, oftentimes overlooked as the poor relative of luxury family forest getaways, but with affordable fun and easy entertaining as it's watchwords, it's not hard to understand why Butlins is a big name again in UK family holidays.
Need convincing? Read on for our top 10 reasons why booking a break at Butlins is a really good idea...
1. Food, glorious food!
Even the fussiest of tots are catered for at Butlins, with a range of restaurants and dining options to suit you and your family. Priced per day, the plans differ in the amount of restaurants you can choose from, with the top tier including on-site standalone restaurants such as Ludo's Italian and Firehouse Grill. But with each plan you'll enjoy fantastic-quality buffet-style dining at breakfast and dinner, in a choice of one or two restaurants.
It's a great way to give toddlers some food freedom and a taste of independence, while also encouraging reluctant tots to try something new in a relaxed environment. A trip to the unlimited ice-cream factory for dessert is a firm favourite and a useful bribe to tempt a fusspot into tasting a spoonful of something different. For the tiniest tots, there are Ella's Kitchen pouches, plus bottle-warming facilities.
With prices for as little as £5.25 a day for two to five year olds, and under-twos free, it's a really affordable option for family holiday feeding. The restaurants serve both breakfast and dinner early, perfect for little ones. Choose to stay in an apartment and you'll also have a well-equipped kitchen at your fingertips, with microwave and hob – perfect for lunch and some much-needed quiet time mid-day.
2. Soft-play paradise
When you're ready to put your feet up, head for Soft Play, the perfect place for tots to burn off extra energy while you sit down and recoup some! The Soft Play centre at Butlins has been designed with under-fives in mind, but children under ten (up to 1.4m) can enter too, if you also have older siblings.
There's a dedicated area for toddlers for under-threes (under 85cm), and plenty of seating for Mum. Best of all? It's all included in the price! The Soft Play at Skegness operates on a sessions system, running for 1hr 15mins at a time, making it a lot easier to convince little ones to leave along with everyone else when it's time to go. Meltdown? What meltdown!
RELATED ARTICLES
3. Car-free fun
Butlins resorts are car free, giving parents of excitable tearaway toddlers plenty of peace of mind. When you arrive, the friendly staff will direct you to the car park nearest to your accommodation – spaces aren't allocated to apartments but are plentiful and conveniently located if you're carting armloads of kid-related clobber!
All that walking can make for weary little legs come the end of the day, so a good night's sleep is almost guaranteed – win-win! When they get tired of walking, pay a visit to the hire shop where you can choose between a balance bike (1.5-3 years), scooter (2+), wagon (1.5+), toddler trike (1.5-5 years), or a toddler car (1-3 years), from £5 for four hours. You can also hire double choppers, family fun bikes, and four-seater go-karts, if you want to play chauffeur. And there are both double and single buggies to rent, too, perfect if your tot is in that in-between stage, or you just want to free up a bit of boot space.
4. Poolside perfection
All abilities are catered for at Butlins swimming complex, Splash Waterworld, and the ambient temperature means you can easily while away a whole morning or afternoon there. There's a circular swimming pool and wave pool for fledgling little fish, plus a lazy river with a cave, and a toddler pool with spray jets and three small water slides (there are also three water slides for big kids, if you find an opportunity to get away for some mum fun!).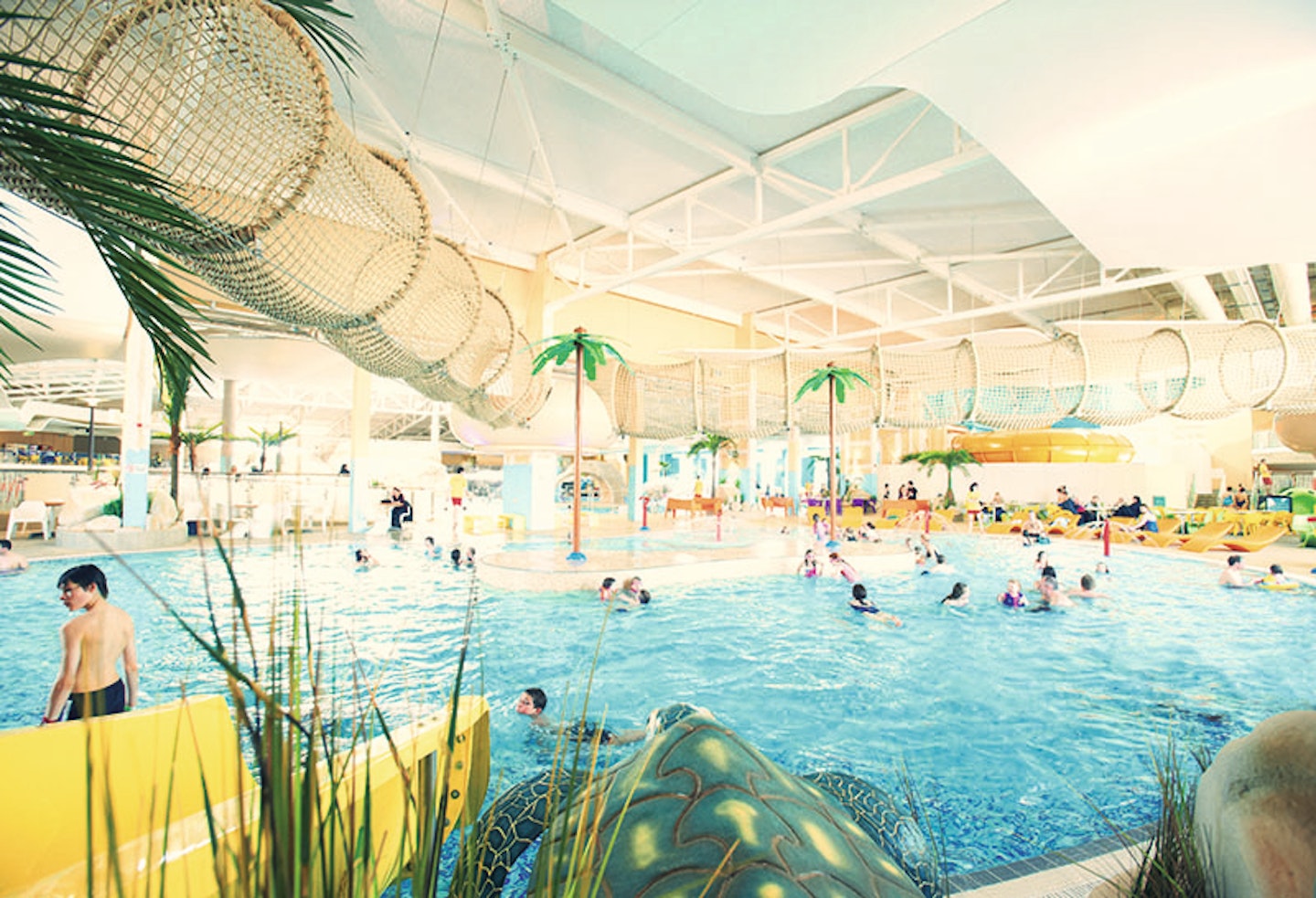 There's plenty of spectator seating, which is accessible from the pool, great if one parent wants to sit and watch, and be the keeper of goggles, floats and inflatables! There are family changing rooms that fit four if you need baby-changing facilities, plus plenty of changing tables dotted here and there. The complex is large enough that even at busy times it doesn't feel too full, although – top tip – visit over lunchtime and you'll have even more space to splash about in! Or plan a visit late afternoon – the pool closes conveniently at 5pm, so you can have them out and dried without complaint, just in time for dinner!
5. Beside the beach
There's a clean, sandy Blue Flag beach right on the doorstep at Butlins Skegness, and the resort has its very own access. You can't miss the over-sized beach equipment at the entrance, including bucket-and-spade, upturned ice cream, and a super-sized deckchair, which make for some great holiday snaps.
The beach is vast and made for building castles with its golden sand, but little ones will also enjoy a run around the sand dunes too. With Butlins' big-top Pavilion standing proudly in the background, it's also a top spot for a photo opp. If you have a tired tot who could do with a nap, take a stroll with the buggy and turn in either direction as you come through the gates, along the coast to Ingoldmells or Skegness beaches.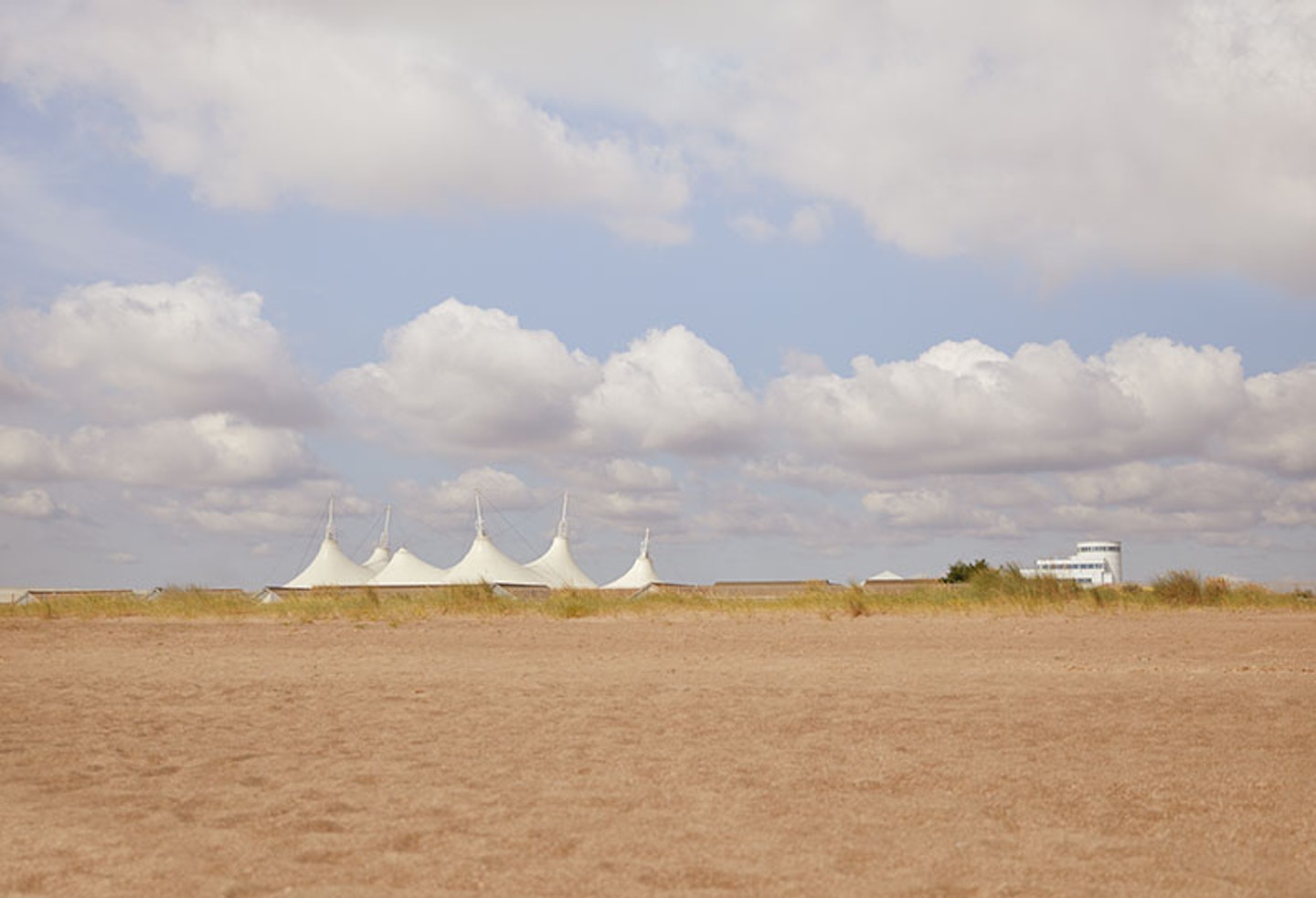 6. Showtime!
Arguably Butlins' biggest lure is how much is included in the price, and never more so than when it comes to its jam-packed itinerary of shows and live acts. You'll receive a timetable when you arrive on resort that has been handily colour-coded according to age suitability, making it extra-easy to pick out what's right for you and your family. Highlights from our visit included the daily show at the Puppet Castle, Teletubbies Big Party, The Little Mermaid panto, Paddington at the Seaside show, and the nightly Billy and Bonnie's Storytime. As ever the shows are designed with families in mind, averaging in length of about an hour, but if all the excitement still makes sitting down a struggle for your tot, try the nightly Tot's Disco instead, and help them burn off the last of that energy! Be warned, the queue for the shows can be off-putting – often snaking around the whole of the Pavilion up to an hour before the doors open. But once they do, it dissipates quickly. If you're with another adult, take turns to take little ones off while you wait, with a handful of 2ps for the slot machines. A potentially costly tactic, but sanity-saving if you have an impatient tot in tow!
7. Favourite friends
Chances are you and your tot will spot a familiar face or two on stage at Butlins, and little ones will love to get a closer look and have a cuddle at one of a host of character photo shoots. Again, Butlins have made it so easy, with a timetable of photo opportunities during your stay. For a small charge you'll come away with photos to treasure forever, and screams of delight when your tot spots his favourite friends on television once you're back home.
8. Old-fashioned fairground fun
Does anything say British seaside fun more than a fairground? Butlins have played into the nostalgia with its retro styling, which is sure to bring out the big kid in you. There's plenty for little ones to enjoy in the main fairground, with a classic carousel, tug boat and mini rollercoaster. But walk on a little further to Little Stars Fairground for an exclusive area just for under-fives. There you'll find everything from tiny teacups to mini planes. Keep your pennies for the arcade – again, it's all for free! They keep doing that, don't they?!
9. Fun whatever the weather
Think holiday, think sunshine. But this is Britain, folks! Luckily, Butlins has put plenty of thought into guaranteed family fun come rain or shine. Try the drop-in Arts & Crafts Under-5s session, and let them explore their creative side without worrying about the clearing up! Or for toddlers two-plus, try the Tots Fun Football, where they can learn basic ball control and simple skills. There are Mini Bow archery sessions, too – taught by fully-trained coaches, your tot can learn how to hold a plastic bow and foiled arrow, and take part in some target practice! Or drop in to the Discovery Centre, where your little one can get up close and personal with a range of small animals, and learn some fascinating creature facts.
10. Accommodation for everyone
From basic bedrooms to home-from-home apartments, you'll find a place to stay to suit your pocket at Butlins. We stayed in a vibrant Seaside Apartment, where a welcome pack of tea, coffee, biscuits, crisps and orange juice was waiting for us, and which was well equipped and spotlessly clean. The cosy corner sofa and wall-hung TV are a sight for sore eyes at the end of a busy day, once the tots are tucked up. Better still, there's a fridge and freezer, so whether you're after a glass of chilled wine or gin with ice and a slice, you're sorted – after all, this is your holiday too! If the sun shines, take it out onto the patio or balcony. Extra touches like a daily fresh towel shaped as an animal delighted the children, as well as the donkey picture in the kitchen with magnetic wooden tail for a game of Pin the Tail!
Convinced? We're busy booking up for next year! A three-night school summer holiday break at Butlin's Skegness costs from £395, (price based on four sharing Silver self-catering accommodation), and includes headline shows from the likes of Diversity, Paul Zerdin, Rak-Su, Twist & Pulse and the Harlem Globetrotters (depending upon the date of your break). For more details, visit butlins.com.
Or try a Just for Tots term-time break, where everything is tailored to extra-little ones, from early-morning shows to bedtime stories, and lots to do to stimulate their little minds. Among the headline acts you might see are Justin Fletcher, Milkshake! Live and Mister Maker – these shows are included in the price of your break. Prices start at £129, based on four sharing Silver self-catering accommodation for a four-night (Monday to Friday) break. For more details, visit butlins.com/justfortots.