We've all heard the legends of Robin Hood and his band of Merry Men, and these fascinating stories and tales have entertained generations for years, being retold through films, books and cartoons.
If your little one is a fan of the Robin Hood stories and you think they'd like to have a go at archery, fun games, cave tours and more, we highly recommend a day out at Nottingham Castle.
After a £30m refurbishment that's taken three years, Nottingham Castle has opened up to the public once again and is now a brilliant day out for the whole family.
Where is Nottingham Castle?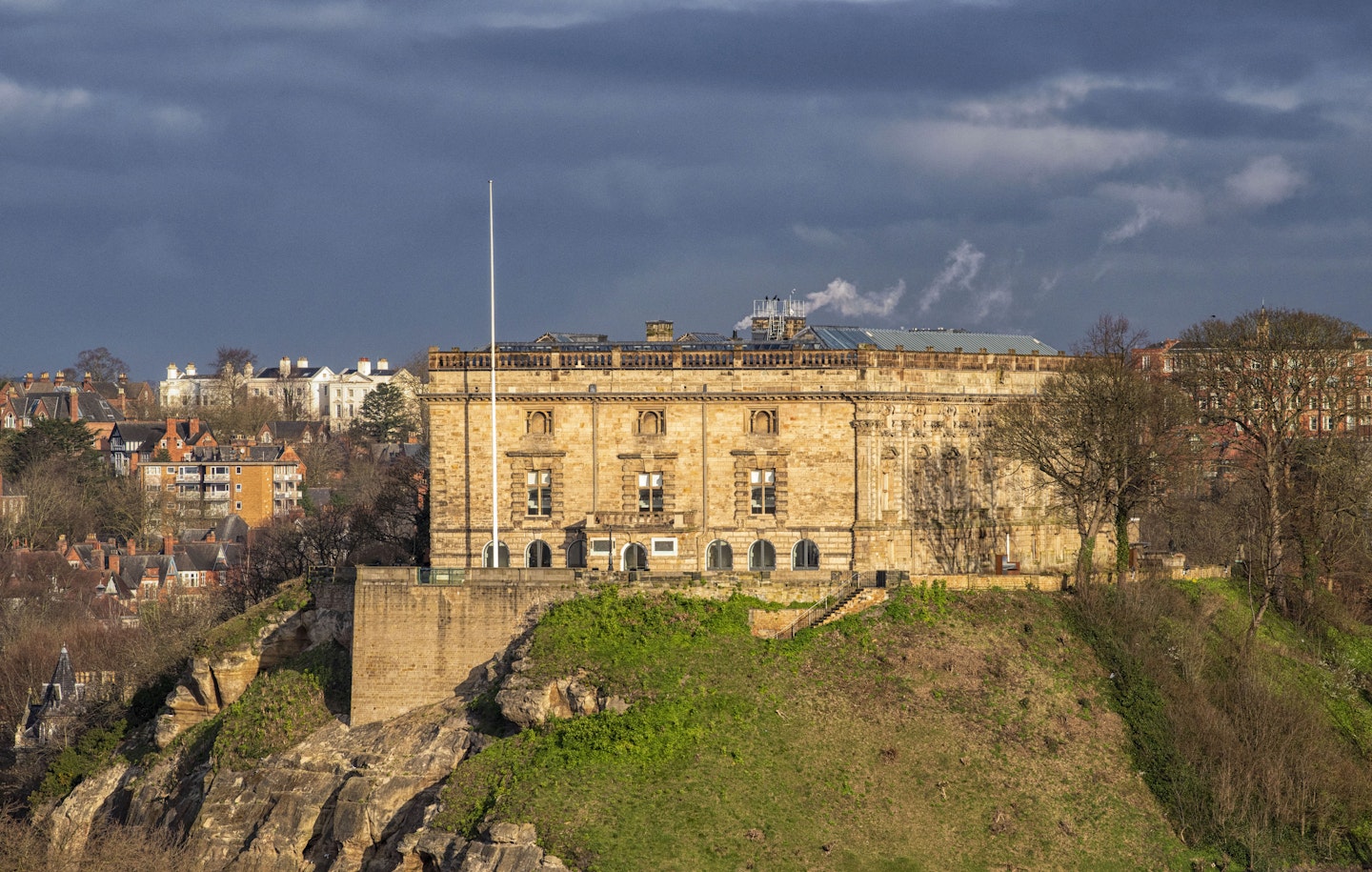 The clue is in the name, but if you're not sure where Nottingham is, you'll find it pretty much right in the centre of the UK in the East Midlands.
Nottingham has brilliant transport links, and there are plenty of ways you can get to Nottingham, no matter where you are in the UK.
By train
With the train station just a 10 minute walk from the castle, getting to Nottingham by train is a brilliant option. If walking is a struggle, you can also take the tram from the station into the centre of the city to Old Market Square where you're just a 3 minute walk from the castle. There are also plenty of taxis you could take from the station to the castle too, costing just a few pounds.
By bus
National Express offers regular buses to and from Nottingham from a range of cities in the UK and the bus station is located close to the train station.
By car
If you're travelling by car, Nottingham is really easy to get to from the M1. If you don't fancy driving through the city centre, there are plenty of park and ride locations available that'll take you to the castle.
If you do want to drive as close to the castle as you can, there are a number of car parks in the city, with the closest being NCP St James Street Car Park (NG1 6EY).
What is there to do there?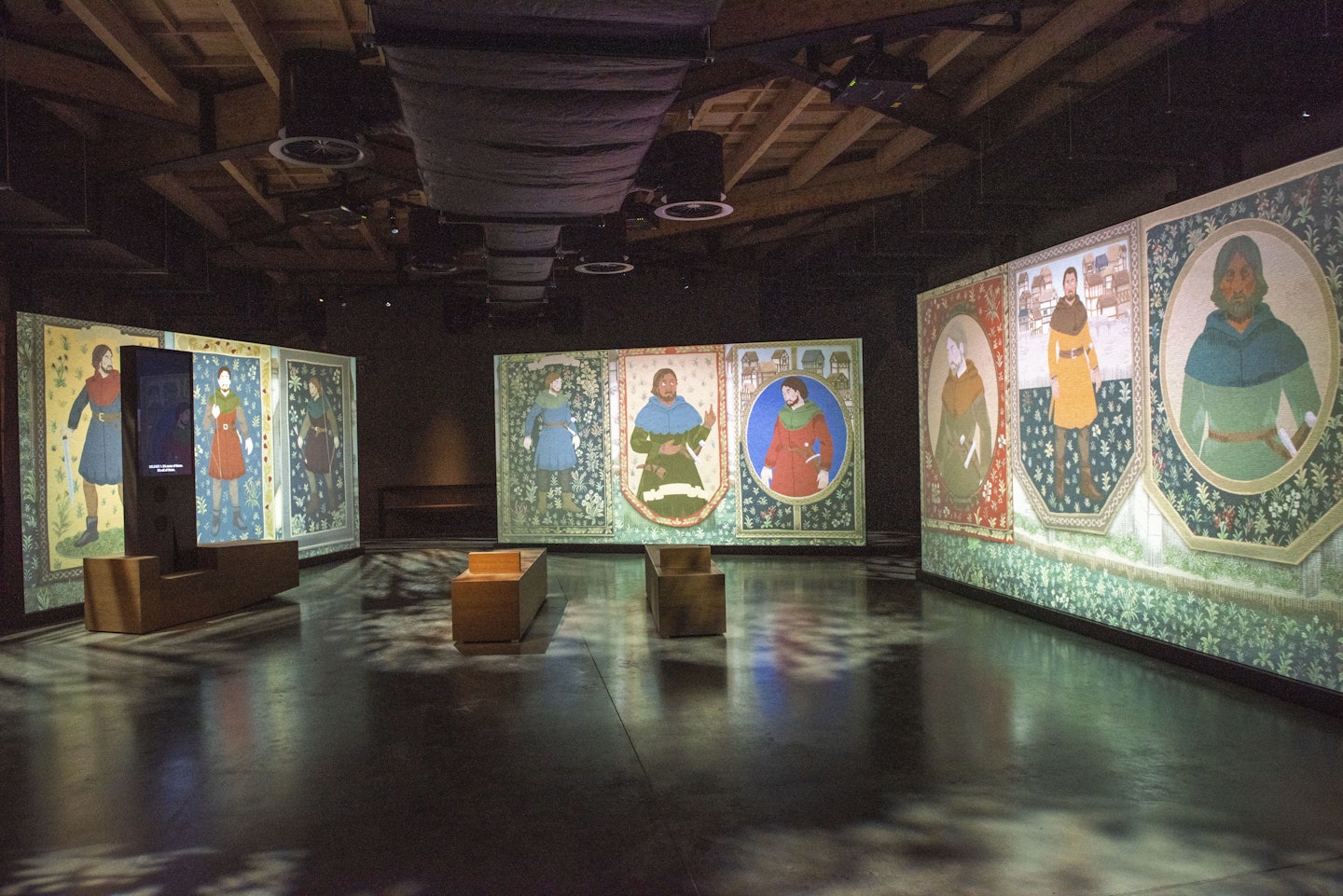 There's something to keep the whole family entertained at Nottingham Castle, from babies to the grandparents. Here, we've put together an ideal itinerary for families visiting.
Arrive in style - from late summer 2021, you'll be able to hop aboard the Land Train, located just outside the castle walls. You'll travel up Castle Road past the infamous statue of Robin Hood and through the Castle's gates, up to the Ducal Palace entrance. The train leaves every 20 minutes.
Immerse yourselves in the world of Robin Hood - Start your day out by listening to the Robin Hood adventures, as you and your family listen and watch on giant screens the tales and myths that have been told for generations. This is a brilliant educational and fun part of the day for the whole family.
In this section of the castle, you can also have a go at fun digital games including archery and quarterstaff spar challenges as well as an adventure on the innovative interactive gaming tables. Honestly, this is as much fun for the grown-ups as it is for the children!
Learn more about the castle - when you've had a go at all of the games and fun on offer, head upstairs where you'll learn a little more about the interesting history of Nottingham Castle. There are interactive learning experiences for little ones plus a lot of things for grown-ups to read and learn about.
Head outdoors - now for the best part, Hoods hideout is one of the best outdoor play areas we've seen in a very long time. This medieval-themed adventure playground will provide hours of fun for children of all ages.
Time for food - when they've worked up an appetite after all that fun, there are a number of cafes to eat at in the castle. Alternatively, if it's a nice day, there are plenty of places to enjoy a picnic in the castle grounds.
Check out what's on - there are so many activities happening at the castle this summer, from Puppet Shows to the brilliant Paul Smith exhibition. Take a look at what's on here.
If you'd rather spend some more time outside, you can also try an outdoor family trail in the castle grounds including There's Hero in the Green Hat – a race find the missing words in Robin's ballad, or, Up Close with Nature where you'll discover the natural world beneath your feet! All trails can be purchased from the Vistors Centre.
Explore the caves - to finish off your day, head underground to the remarkable caves that snake through Castle Rock. Under the castle, you'll find dire dungeons (a particular favourite with kids) to wondrous wine cellars (a definite favourite for the grown-ups).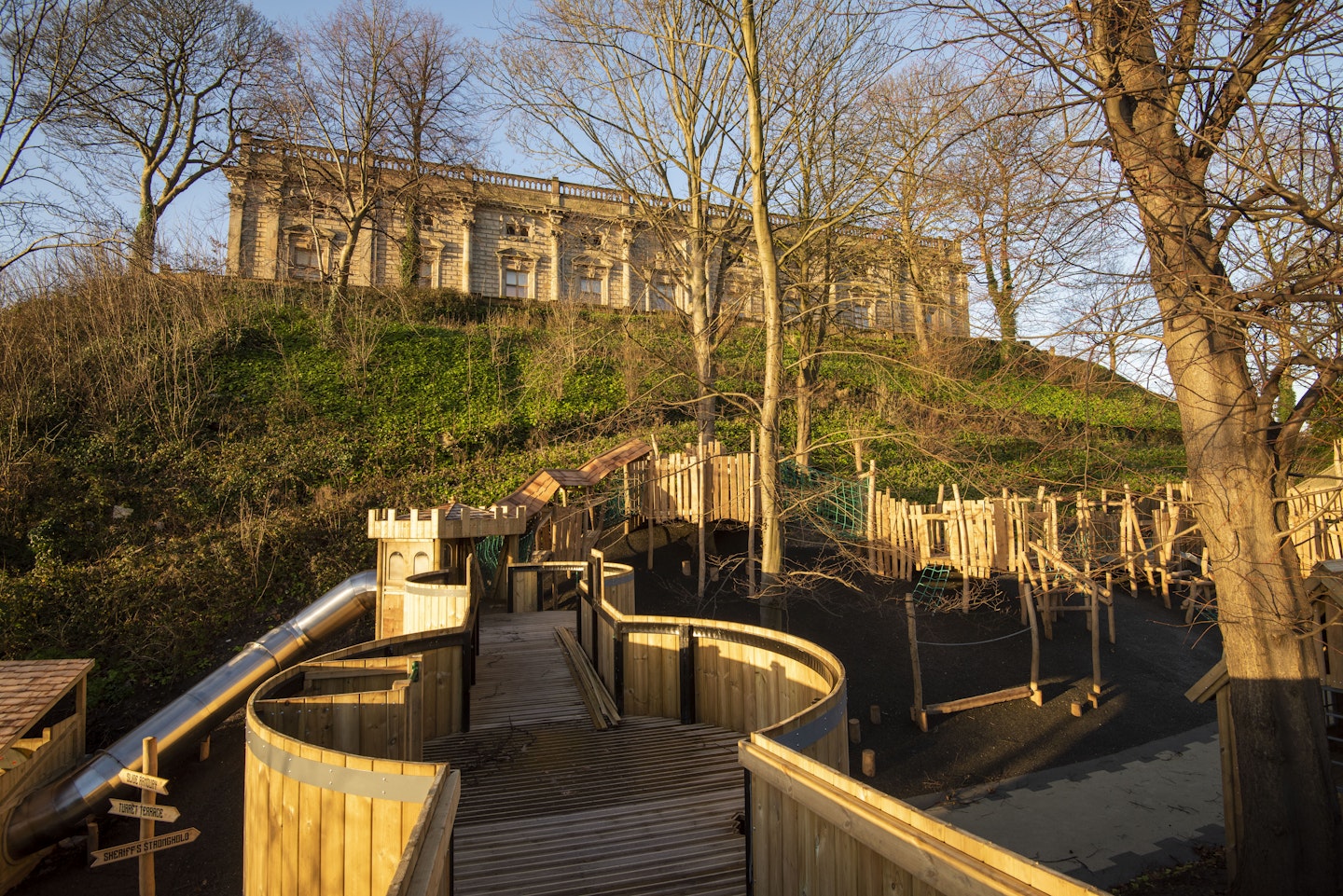 When is Nottingham Castle open?
November – March: 10:00 – 16:00
April and May: 10:00 – 17:00
June – August: 10:00 – 18:00
September and October: 10:00 – 17:00
How much are tickets?
All children under five go free and they can also visit any areas of the castle for free too. In order to enter the castle, adults and children over 5 will need to purchase general admission tickets. To listen to the Robin Hood adventures and go on a cave tour, you'll need to purchase separate tickets.
General admission
Adult - £13

Child (5-17) - £9.50

Concession: £12
Robin Hood Adventures
Adult: £3

Child (5-17): £2.50
Cave tour
Adult: £5

Child (5-17): £4
What age is Nottingham Castle suitable for?
It's a brilliant day out for kids old enough to love an outdoor play area and lots of fun interactive games. It's also lots of fun for parents and grandparents too with plenty to see and do. Buggy's and prams are very much allowed and there are buggy parks too.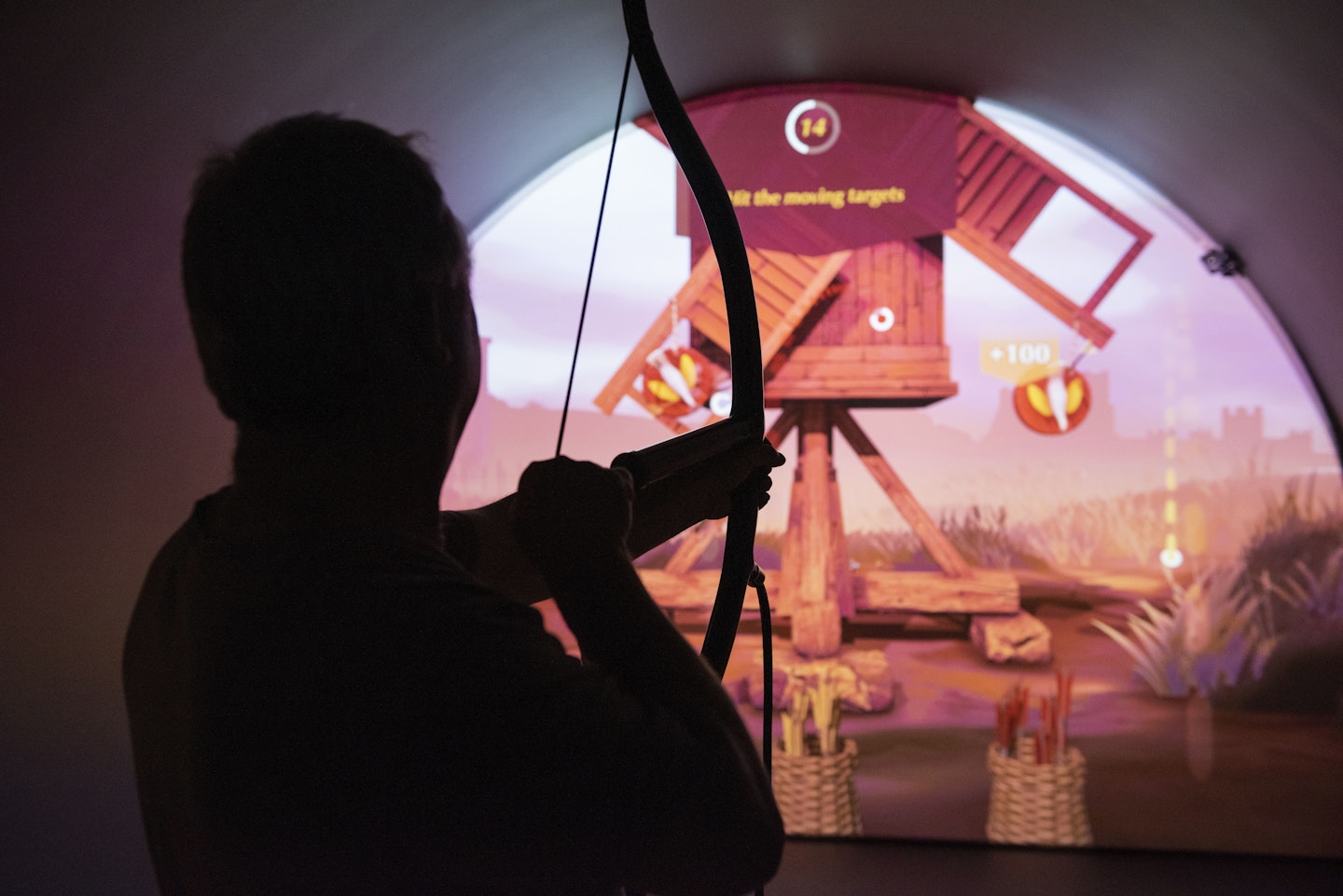 What else is there to do in Nottingham?
City of Caves
Did you know Nottingham has the UK's largest network of caves? Over 800 are hidden beneath its streets and your tots will love exploring even more of them at the City of Caves experience.
National Justice Museum
With amazing role-playing characters, there are plenty of fun, interactive activities for your little ones to explore and experience. They'll be able to experience justice and the law like never before.
If you're not Robin Hooded out, you might also enjoy these fun experiences in Nottinghamshire.
The Robin Hood Experience
This family-friendly attraction is located a stone's throw from Nottingham Castle and is an interactive, story-based tour over three floors. During your day, you will experience the sights, sounds and smells of Medieval Nottingham meeting all the favourite characters along the way.
Sherwood Forest
If you fancy venturing further afield, Sherwood Forest is a must. It is known the world over as the home of Robin Hood, and packed with stories, as well as the iconic Major Oak tree, holding status as a National Nature Reserve. Located in the village of Edwinstowe, the centre is around a 45-minute drive away from the centre of Nottingham and is easily accessible by car and bus from the city.
Popular articles to read next