Star rating: ★★★☆☆
With nine caravan types to choose from, including one adapted to cater for guests with disabilities, you can also choose from touring and camping, or even purchase a holiday home at Haven, Golden Sands, Lincolnshire.
With four caravan grades – Standard, Deluxe, Prestige and Platinum with decking – there's plenty of choice of caravans to get away with the family this summer.
Find out how our stay went when we paid this Haven site a visit...
Registration
What a doddle. Keep an eye on your emails a week prior to the start of your holiday and log in to register your vehicle details online. Once you arrive you will be greeted at the gate by the Haven security. They will take your name and give you a little card to hang on your rear-view mirror, which saves you having to flash a confirmation every time you enter the park.
A short drive to find the accommodation and the caravan was sealed with a plastic sticker strip over the door, and if tampered with, we were to alert security. No tampering present, we entered our Platinum grade accommodation, which was our home for four nights. The keys were left in a welcome pack in the kitchen area, along with our Haven Stay and Play Passes. These passes mean you have access to book plenty of activities, swim sessions, seats at the entertainment venue and for dining. Some at an additional cost to your stay and some kids activities for free!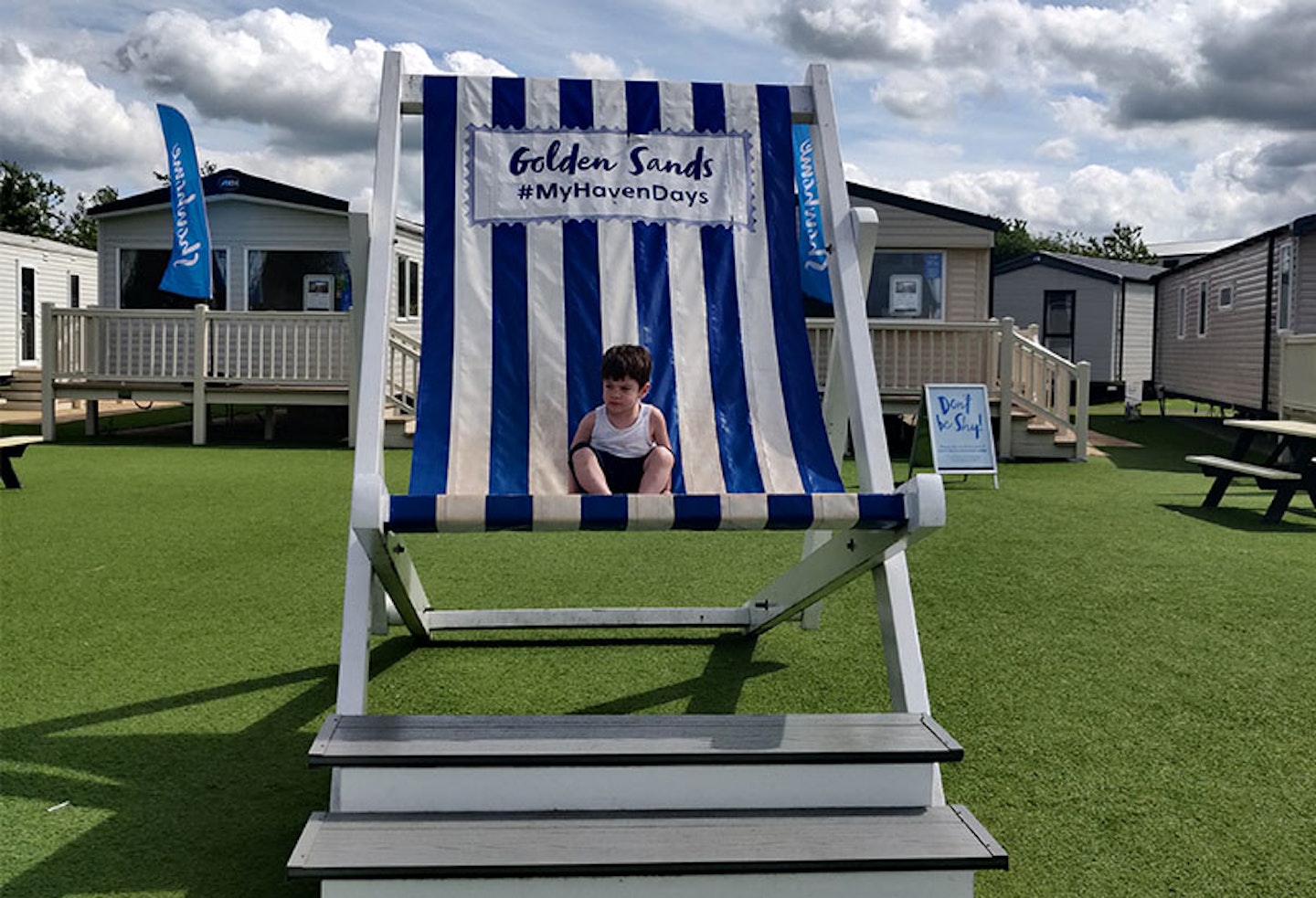 Where will I sleep?
We were definitely in the crème de la crème of the Golden Sands caravans – with three bedrooms and a living space overlooking one of the fishing lakes on-site, we felt instantly relaxed upon arrival. The caravan felt very clean (except for the grease dripping from the extractor fan) we were equipped with fresh towels, a built-in microwave, a built-in double cooker, a dishwasher and a full-sized fridge.
The folk at Haven also left some toilet roll to get us started, however, everything else is self-catering. So be sure to pack a bit of a food shop, kitchen towel, kitchen cloths (Mrs Hinch style products, perhaps with some microfibre cloths) and also pack washing up liquid, a sponge and hand wash as these aren't supplied.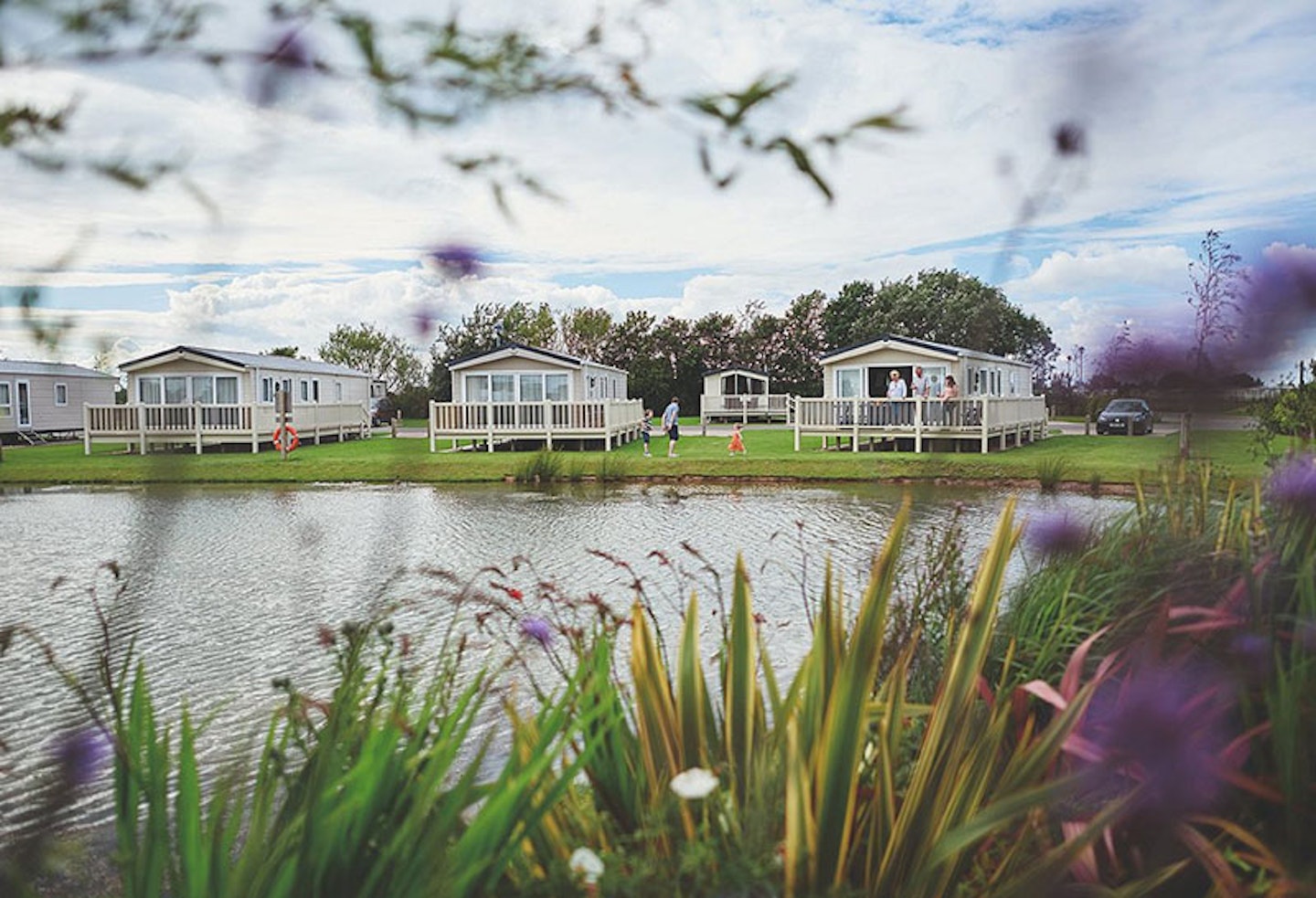 The Platinum came with four single beds and one master bedroom with a double bed, a separate toilet and 22" TV. The master bedroom also had side tables, a double wardrobe and a dressing table. Each of the other rooms had single wardrobes and a bedside table. There was a separate toilet and shower room.
The living room/kitchen area was very impressive and as you overlooked the small lake, you almost think, 'why would we even leave the caravan?' It's so nice in there you could easily pitch up for a few days and really switch off. There is a 40" TV, surrounded by two plush sofas, but no WIFI. It was bliss to switch off. Haven definitely boasts a space to spend quality time with your family or even a group of friends, depending on who you choose to travel with. A feature we enjoyed using was the Bluetooth speakers in-built in the caravan. Connect your phone and chill out to your favourite tunes. We played our songs and sat out on the veranda most evenings. Thankfully the UK blessed us with sunshine for the duration of our stay.
What is there to eat?
The trip is centred around self-catering and we suggest sticking to your own food preparations. While there are food options on-site, the only recommendation we can make is getting yourself a Papa John's takeaway pizza, as unfortunately the only restaurant on site, The Quayside Café Bar and Restaurant, was a bit of a disappointment.
Prior to eating at The Quayside, the host at the desk locked himself out of the computer. Twenty minutes and seven of his colleagues later, they were logged back into the computer, able to find our booking and seat us. Bear in mind, I was also in my 9th month of pregnancy at the time and I was still told to wait before I could be seated. This was at around 3pm, with a very empty restaurant. Now myself and my little family-of-three are optimistic so we didn't let this set the tone for the rest of our experience.
While the menu looked promising and the seaside-inspired décor was a treat for the eyes, the food tasted bland and was really quite unenjoyable – and I'm not a fussy eater. The seating area didn't feel clean and a few caveats to the ordering process included the waiters not alerting us of what wasn't available on the menu and one member of staff not knowing what 'Diana' sauce was and making no efforts to check.
Having ordered steak, chips, the vegan burger and beef burger options, plus a kid's chicken goujons meal for my toddler, the food was bland and tasteless. Unfortunately, it felt like a bit of a chore to get through the whole dining experience, so we'd like to see a revamp there.
Until some tweaks are made, it might be worth popping to the Mini Market shop on-site, grabbing some bits yourself and creating a meal in your caravan. However, if you're looking for a few drinks and some dessert, go for it. The chocolate fudge cake and kid's pancakes were a yummy treat.
There is also a Cook's Fish & Chips takeaway on-site and it's worth noting the takeaway food spots are open from 4pm each day.
Booking via the Haven app or website
You can use the Haven app or website to book activities, dine-in seats or a table at the entertainment venue, the Live Lounge. Having tried and failed to make the app work to book anything, I opted to use the website for the duration of our trip. The web booking system felt easy-to-use, and it's worth noting that you can only book the Live Lounge once per your stay.
What is there to do at Golden Sands?
The outdoor space, known as Adventure Village, is fun – weather permitting as there is no outdoor shelter.
Adventure Village is kitted out with:
a pop-up bar

a huge TV screen (perfect for the footie fans)

Sand play for the kids (my two-year-old son loved it there)

outdoor play area

Aerial Adventure - high ropes course

Mini Aerial adventure - low ropes course

Climbing wall

The Jump (a free-fall onto a massive airbag)

outdoor stage

Seaside Treats

Bark Yard
Being with a 2-year-old for the duration of our stay, the sand/play pit was where we mostly flocked to, outside of the activities we joined in on. It was very clean and safe for the kids to play in, with a sweet water feature, perfect for sun-filled fun.
Surrounding the kid's sand/play area was artificial turf and I had to stop my tot from picking up cigarette butts on the outskirts of this sand play. So although a kid's zone, it's not smoke-free.
Other facilities/areas on site
If you take the karts around the site (which costs £16 per hour for a four-seater family kart) you can explore what's around and grab an ice-cream at the end of your hire slot to seal the fun off.
There are plenty of picnic areas, another children's play area, campsites and two fishing lakes. An hour on a kart is enough time to get exploring and you get a bit of a workout too. As we've mentioned, there's a Mini Market shop, open until 10pm, there's also a launderette and indoor area which houses the Papa John's, Cook's Fish & Chips, arcade, Pic' n Paint activity room, cash machine and toilets. Security is 24 hours and the entire caravan site feels very safe.
More on activities
Some great activities to do with 2-4-year-olds included:
Indoor and outdoor pool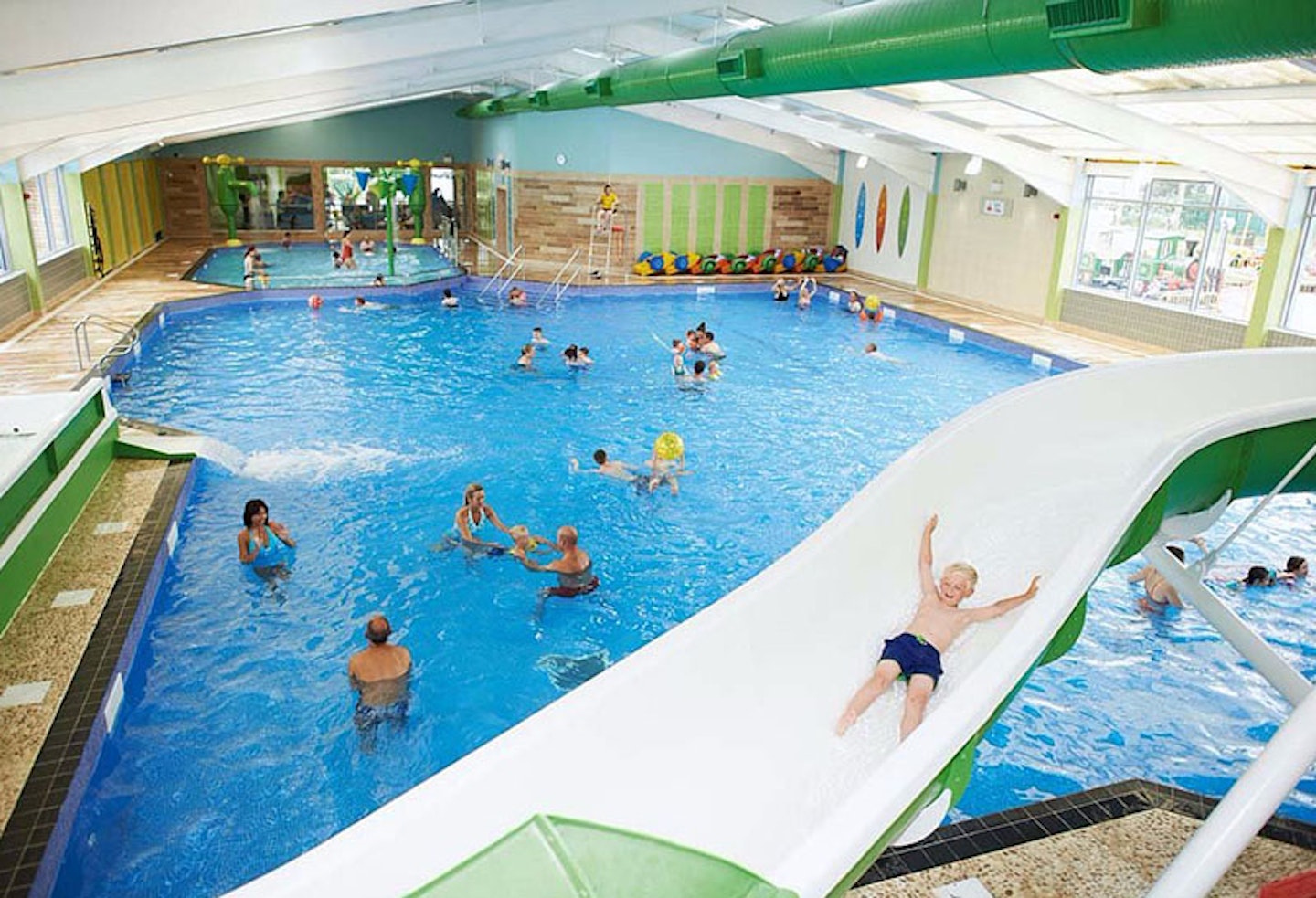 Book a slot and get to the indoor or outdoor pool for an hour-long splash session with your little ones. The indoor pool includes a children's pool area and it was definitely a relaxing way to end our afternoons.
Mini Aerial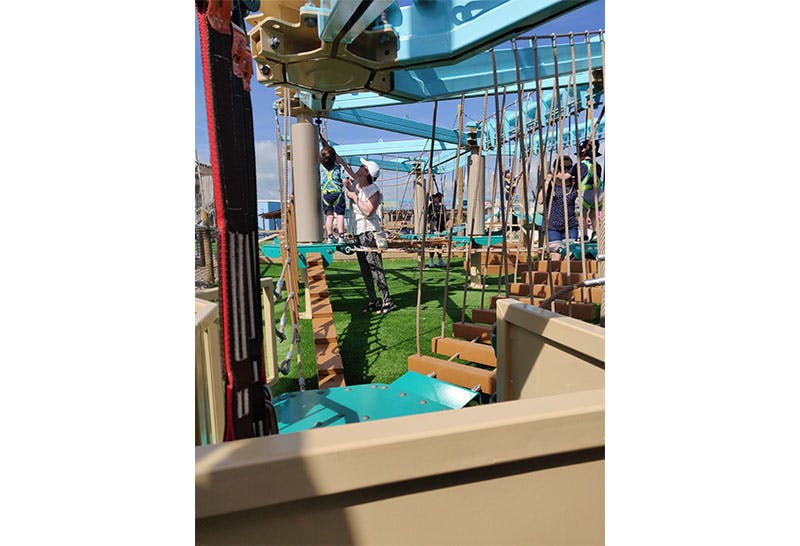 An activity that impressed us the most was the Mini Aerial Adventure. There was a thorough safety brief at the start and I would suggest for toddlers from three years old and up. Your little one is attached via a harness and you walk around with them as they tackle the obstacles. Not only is this one fun, but it also helps improve your tot's gross motor skills!
Bug hunt
What toddler doesn't love getting their hands dirty?
My son and the other three children on the Bug Hunt, met at the Ranger Station to collect as many bugs as possible. The kids then come together to show what they've found and the Ranger praises each child while impressing by naming all the creepy crawlies collected. The creatures are then placed safely back out in the bug hotel.
Pic 'n' Paint Pottery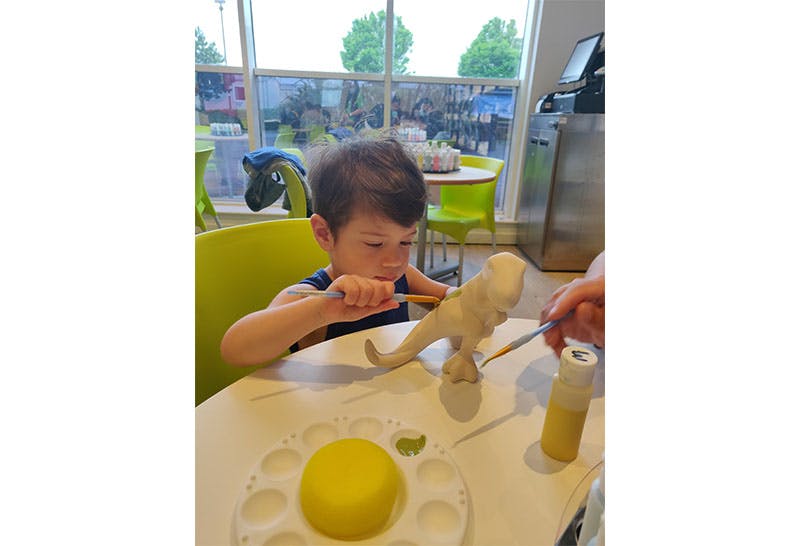 It was time for my tot to get crafty at Pic 'n' Paint. Having picked a pottery item of his choice, the team once again were engaging with the kids (and adults) involved in the painting. We recommend booking this activity at the start of your trip because the pottery needs to be placed into a special oven to set the paint, which is ready the next day. So don't do this one on the last day of your stay as you won't be able to take your little one's artwork with you straight away. However, the staff kindly post art to your home, which is very thoughtful.
There are also a plethora of other activities on the menu to get involved in, including Grass Head Creations, Creature Creations and Pebble Art. Browse more Haven, Golden Sands activities here.
Exploring off-site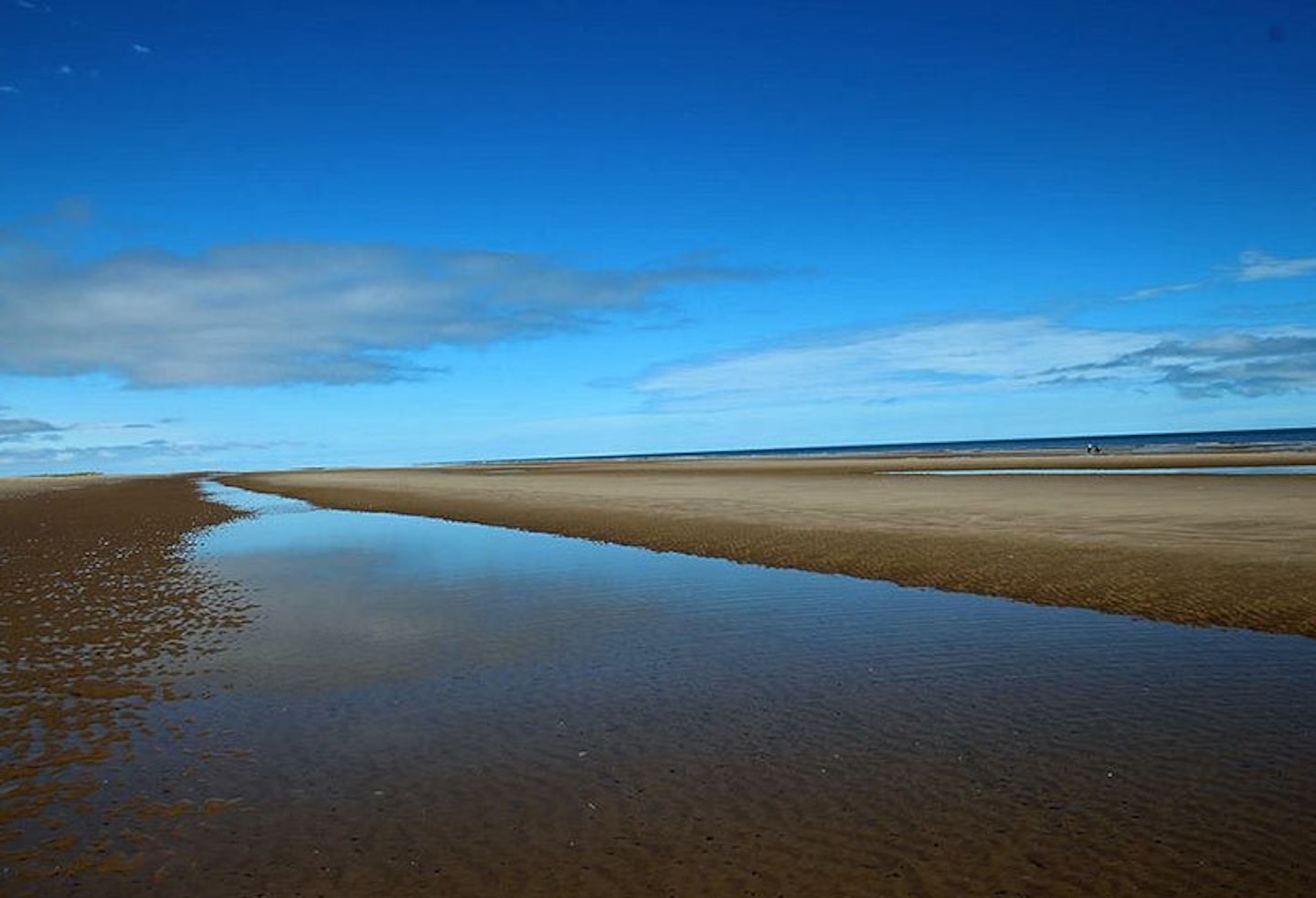 We can sea why this Haven is named, Golden Sands... seven minutes from the caravan site entrance is the beautiful Mablethorpe beach. With quite literally golden sand everywhere, this beach is pure bliss. A relaxing spot for you and your little ones to build sandcastles together.
Head out of Haven and a three-minute drive away is the Mablethorpe seafront area, where you can find more beachside fun, arcades and eateries.
Final thoughts
Prices range from around £450 for a 3-night stay (Standard caravan grade) - this price is based on two adults and two children. In addition to this, you'll have to factor in activities with prices for little ones and adults starting from free up to around £16-£20.
If you're looking for a home-away-from-home to spend quality time with your family and switch off from the world, then Haven does the job. The caravan setting offers a calming environment for parents and toddlers. Depending on how many nights you're staying, you have the option to book as little or as many activities as you like, get to the beach nearby or venture out to the main seafront for more adventures.
For more information and to book your Haven stay, visit www.Haven.com.