If your tots are huge fans of Peppa Pig, they're guaranteed to love a fun day out at Peppa Pig World.
The theme park for toddlers is home to fun rides, an indoor play zone, a muddy puddles water splash park and much, much more. And of course, lifesize Peppa and George are bound to make an appearance themselves!
If you're looking for a toddler day out idea,then we definitely recommend a trip to Peppa Pig World. Read our full review of the Paultons Park home of Peppa Pig World.
Where is Peppa Pig World?
You'll find Peppa Pig World tucked away in the beautiful location of The New Forest in Hampshire. It's a part of the Paultons Family Theme Park. It's super easy to get to in the car, and the best part? Parking is free! Simply pop the address below in your satnav for a stress free journey.
Paultons Park,
Ower, Romsey,
The New Forest,
Hampshire
SO51 6AL
If you don't fancy travelling there in the car, you can catch the Peppa Pig World Express coach from London. You can find the latest coach times and meeting points here.
Catching a train? The nearest stations to the park are Southampton Airport Parkway - 10 miles away with a 15 minute taxi drive to the Park and Southampton Central - 8 miles away with a 10-15 minute taxi drive to the Park.
When is Peppa Pig World open?
Peppa Pig World is in Paultons Family Theme Park and opens at 10am, closing at 5.00pm Monday - Thursday and closing at 5:30pm on weekends. Just make sure you get there early to avoid the queues.
You can find all the latest opening times here.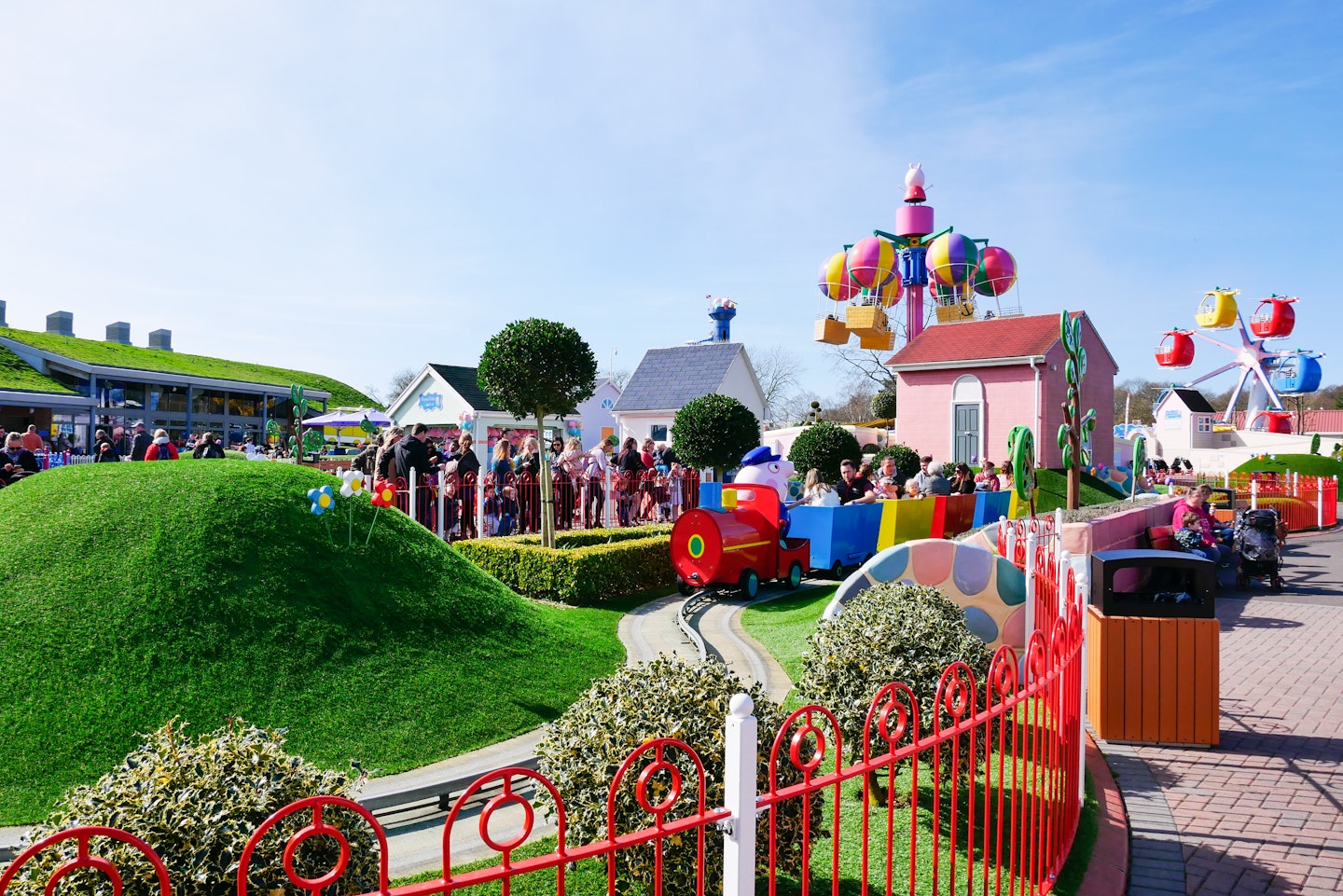 How much are tickets?
Tickets start from £35.75 when purchased online. These tickets permit entry to a theme park, with children under 1m tall going free! You can book your tickets here.
What age is Peppa Pig World suitable for?
Peppa Pig World is full of fun for tots between the ages of 1 and 6. But some rides do have a height restriction, for example, George's Dinosaur Adventure where children must be a minimum of 85cm. We recommend measuring your little one before you go, as if she's 110cm or more, she'll have to ride in the adult seat alone. If you've worked this out from the get-go, it will save you all sorts of 'is mummy coming too' tears, trust us!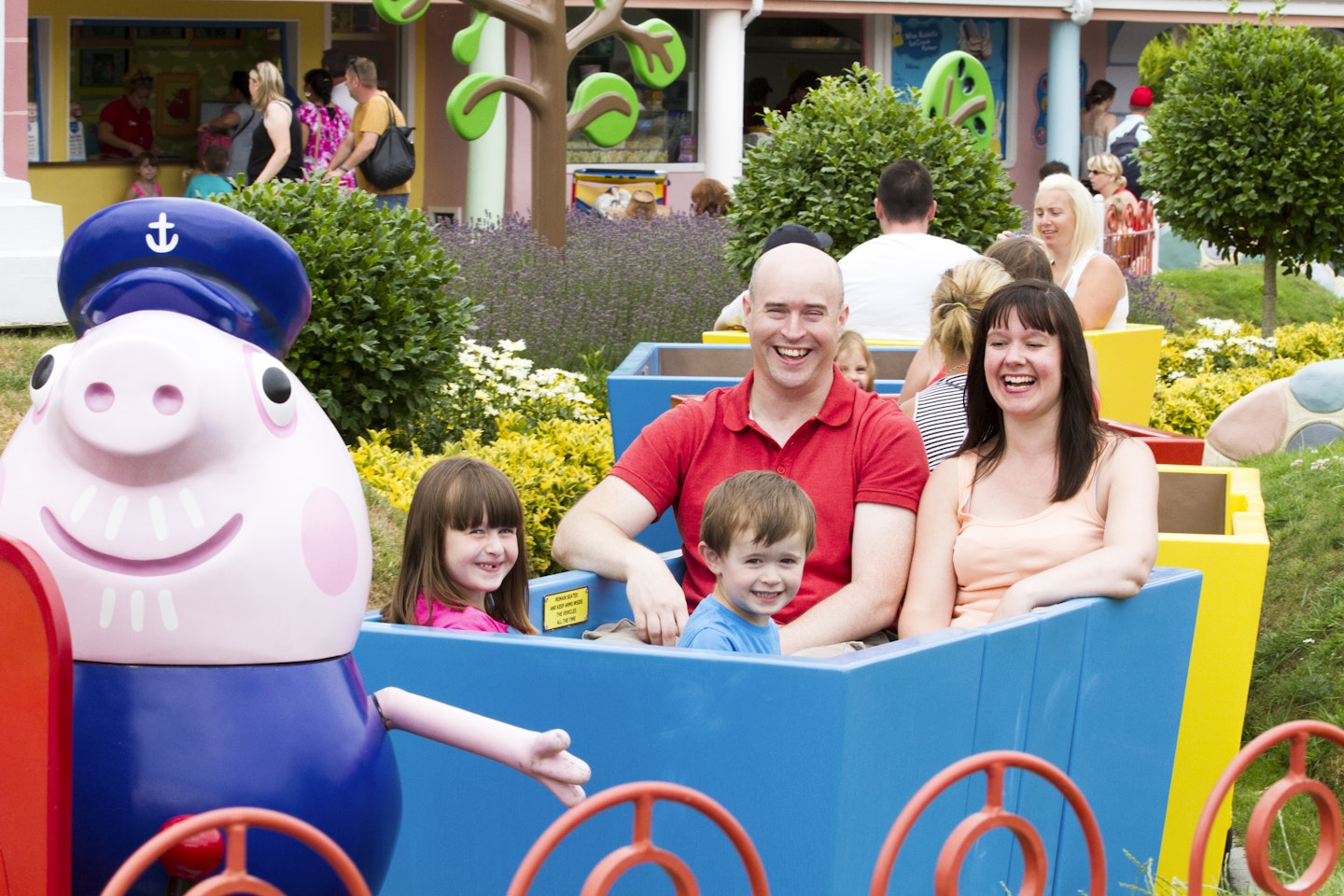 What should you bring?
Pack a swimming costume and a towel so your little one can get as wet as she wants in the Muddy Puddles Water Splash Park! A pair of socks wouldn't go amiss either for George's Spaceship Indoor Playzone.
What to do when you first arrive at Peppa Pig World
Make your first stop the First Aid Centre on Show Street to pick up a Lost Child Sticker. Safety first! Next, head straight to Miss Rabbit's Helicopter ride, especially if you arrive early. This ride is really popular and has the slowest queue, so get there as you arrive to avoid disappointment. To avoid queue tantrums, we recommend keeping yourself busy so little ones don't act up. Get your chores done, like applying suncream, or get silly and practise your pig snorts while you wait!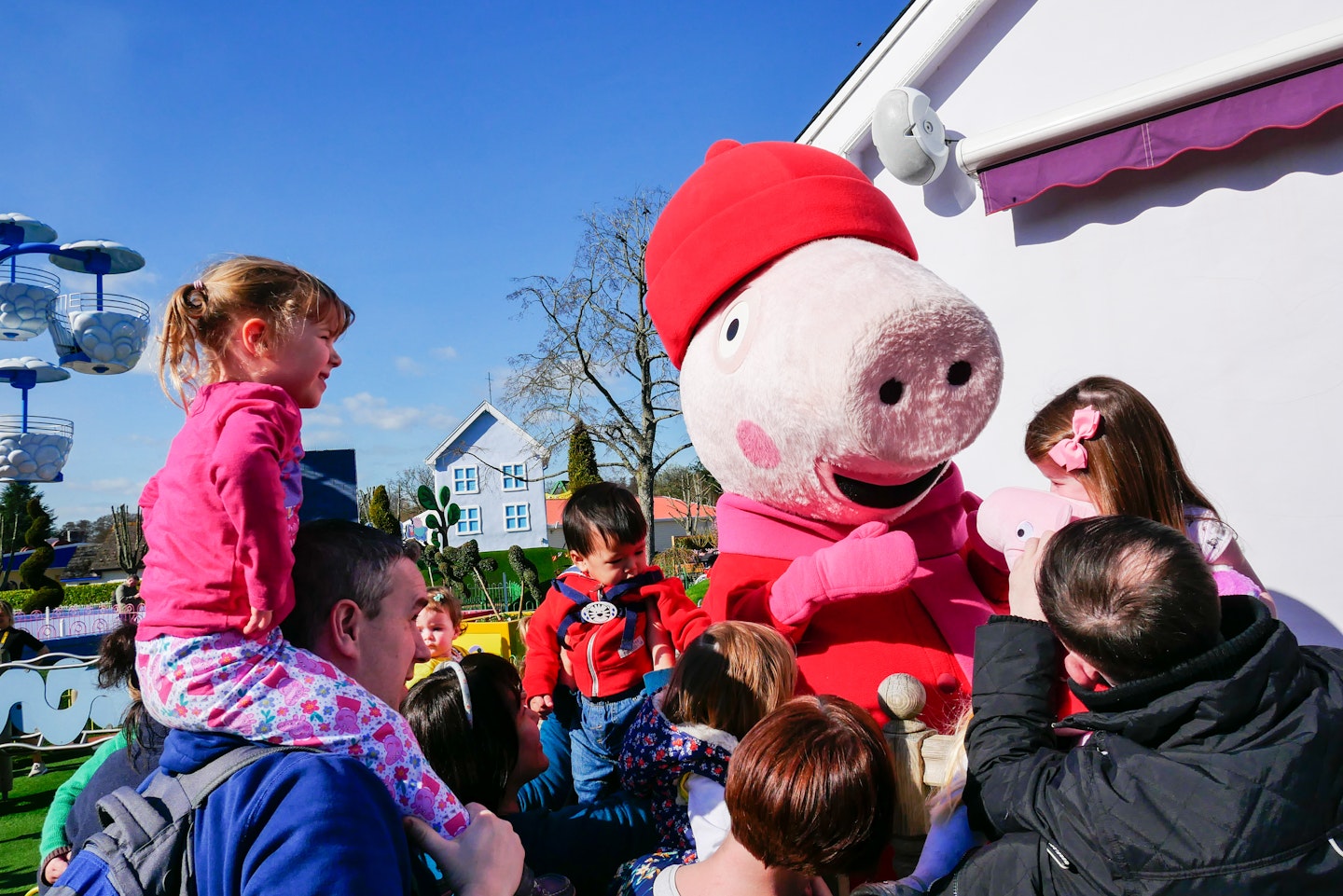 What about food?
We recommend bringing a picnic as there are lots of shady trees to relax under in the Main Garden or head to the African Themed Garden for a mostly enclosed area with picnic tables.
Don't forget to...
Check when Peppa and George are appearing… Times are posted on a board on Madame Gazelle's School House. Plan snacktime for 15 minutes before, so you can get there early for a good view, and refuel while waiting.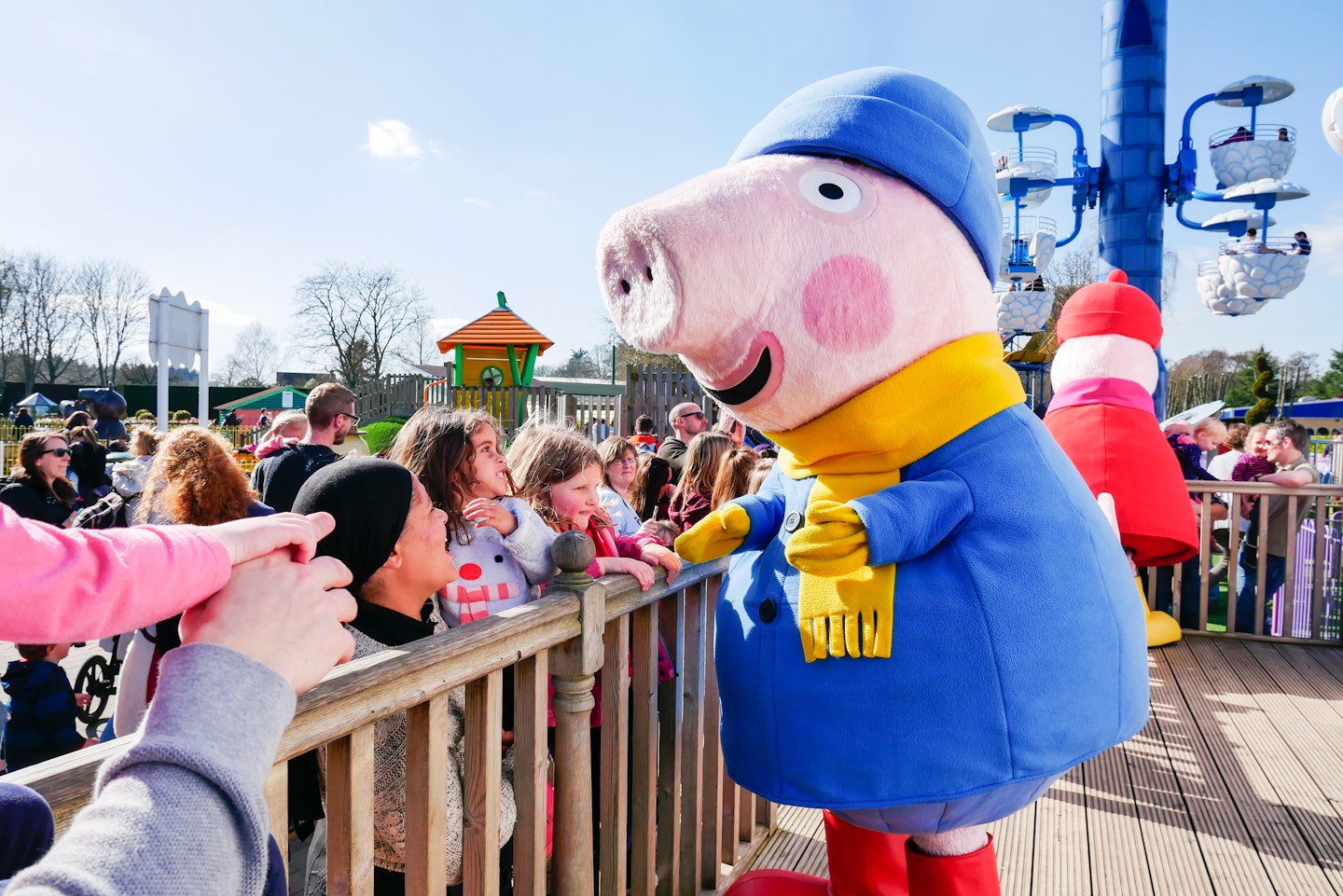 What if it's too busy at Peppa Pig World?
Peppa Pig World is just one part of Paulton's Family Theme Park so feel free to pop next door when it gets a bit busy. Expect to find big-kid rollercoasters, REAL flamingos and penguins, as well as an enclosed area with a bouncy castle and floor-height trampolines. There are also sandy play areas at Little Explorer's Adventure Play Park and Tiny Tots Town. Don't miss the mini-rides, Seal Falls and Digger Ride, or finding the enormous dinosaur models in the Lost Kingdom. Keep an eye out for all the little coin-operated rides set to free play.
Anything else?
Relax if you've not long potty trained, there are lots of loos with toddler seats, and the baby-changing and feeding facilities are great.
Before you go, remember to buy a tube of Peppa Pig Toothpaste! You can purchase it in the gift shop for £1.99 and it will make cleaning those new teeth a battle-free zone for the next month if Peppa Pig has anything to do with it.