Have you got your next holiday in sight? Packing for tripscan be quite the task - either you pack everything but the kitchen sink or you forget to pack items when in a hurry. Living out of a suitcase is quite exciting but after many tripssometimes our bags can get battered or damaged.
Whether you are trying to keep your new case pristine or your antique bag intact - suitcase covers will protect your luggage from wear and tear during transit. Plus, there are many suitcase covers that have designs to match your luggage style.
Do you need a suitcase cover?
Suitcase covers can protect your bag from the dirt and dust from the luggage carts and belts, and make sure the zip pulls and handles are not being snapped or ripped off.
It will also help you identify your case when at arrivals - especially if the cover has a striking design.
PVC vs. Spandex material suitcase covers
Spandex or Lycra covers are a popular choice as they come in a range of colourful designs. They bind tightly around your suitcase and stop anything from dirtying or destroying the fabric or material of your bag.
PVC covers are thick and waterproof without adding weight and usually come with clever cut-outs that allow you to glide the cover over the suitcase. They are generally transparent, so they won't draw attention to your case and act as a dustproof and water-resistant layer for your belongings. However, sometimes they don't fit tightly like spandex suitcase covers leaving corners vulnerable to knocks.
With that in mind, we have picked out the best suitcase covers that are easy to use, offer easy access to your belongings, and protect your bag from wear and tear.
Best suitcase covers for your next holiday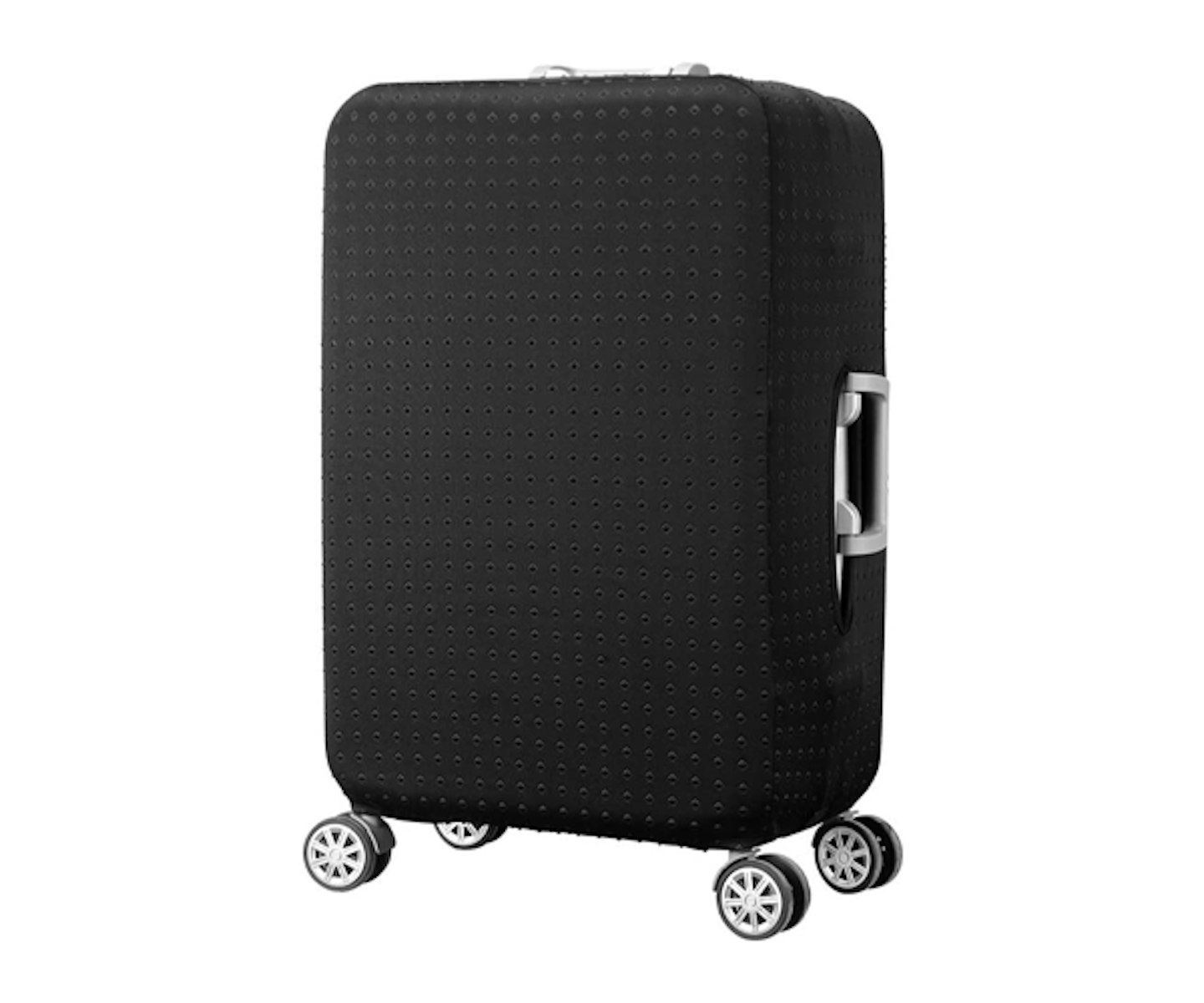 1 of 6
7-Mi Water Resistant Protective Cover
Best value suitcase cover
Not only is this spandex luggage cover washable, but it has a subtle design and will prevent your case from getting ruined. There is a double opening at the top and a zip closure and buckle at the bottom to ensure it stays on whilst being placed in the plane or luggage conveyer belt. 
Material: 300 Gram Polyester Spandex Air Layer, 15% Spandex And 85% Polyester
Sizes: S/M/L/XL
Can accommodate most luggage
Review: "This is definitely worth buying; I have a medium Tripp suitcase and was unsure on what size to go for, as loads of reviews say go a size bigger etc. If you have a medium four-wheeled suitcase, like the Tripp... go for a medium. It fits perfectly, don't get me wrong, you have to stretch it over, but that's a good thing. I flew to Malaga and back, and my suitcase is still like brand new. I'm very picky when it comes to these sorts of things, so I wouldn't recommend something if I was not happy with it in any way. Would purchase again."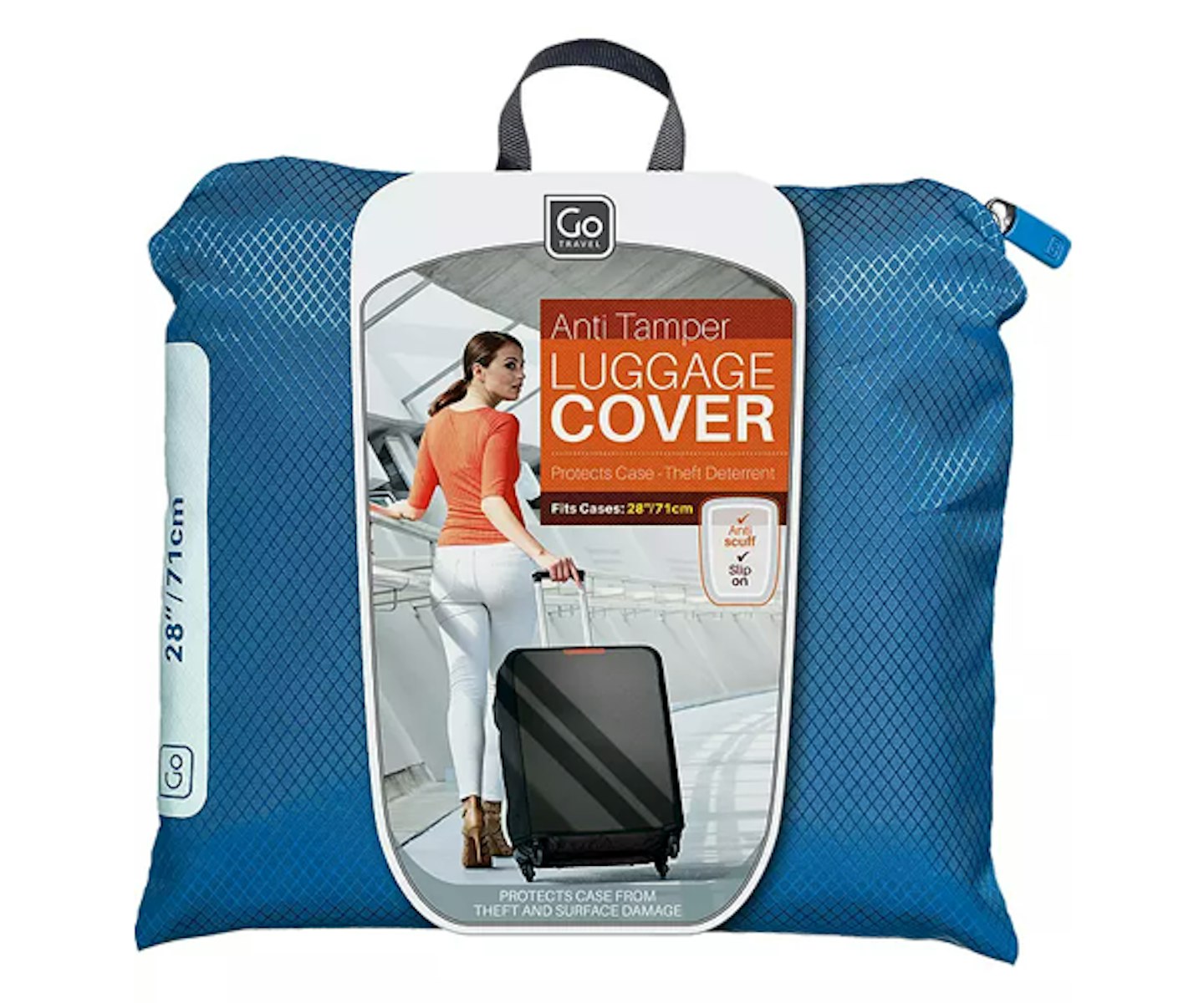 2 of 6
Go Travel Anti Tamper Luggage Cover, Large, Assorted Colours
**The best suitcase cover for anti-theft
**Keep your belongings protected with this Go Travel Luggage Cover. This cover stops any hold luggage from getting tampered with or damaged and is straightforward to apply with an elasticated base that fits 28"/71cm cases. It is also super convenient to roll back up into a bag when not in use. You can also buy the medium size here.
Material: Polyester
Sizes: 28"/71cm or 24"/61cm
Fits most standard medium-sized suitcases. 
Handwash only. 
Review: "Hard to fit on my case, but once on was great. Easy to spot on the luggage carousel at the airport."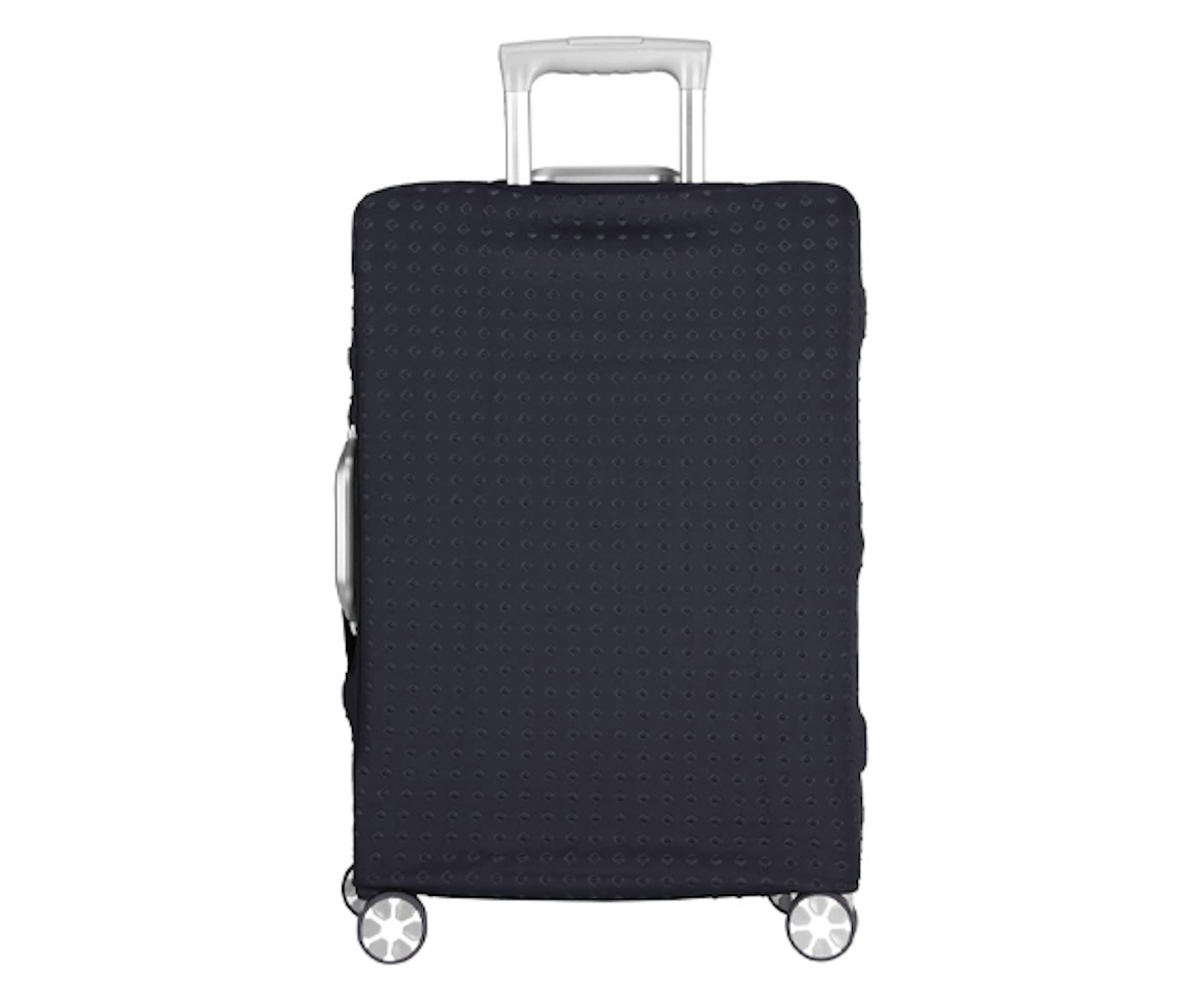 3 of 6
LEAFOREST Spandex Elastic Water Resistant Protective Travel Suitcase Cover
**Editor's choice
**Durable and practical this stretchy suitcase protector comes in four designs and is an easy solution to keep your suitcase in excellent condition. The luggage cover is washable, so it can be used again and again. It is easy to apply and remove and has a buckle on the bottom for extra security.
Material: 15% spandex and 85% polyester
Sizes: S/M/L/XL
Can accommodate most luggage
Review: "I'm really impressed! My luggage was absolutely fine after the trip (especially since we know how they are throwing our luggage into the airplane). Material is water-resistant, stretchy, got zip and a little clip belt at the bottom for it not to slip off the bags. I would highly recommend it!"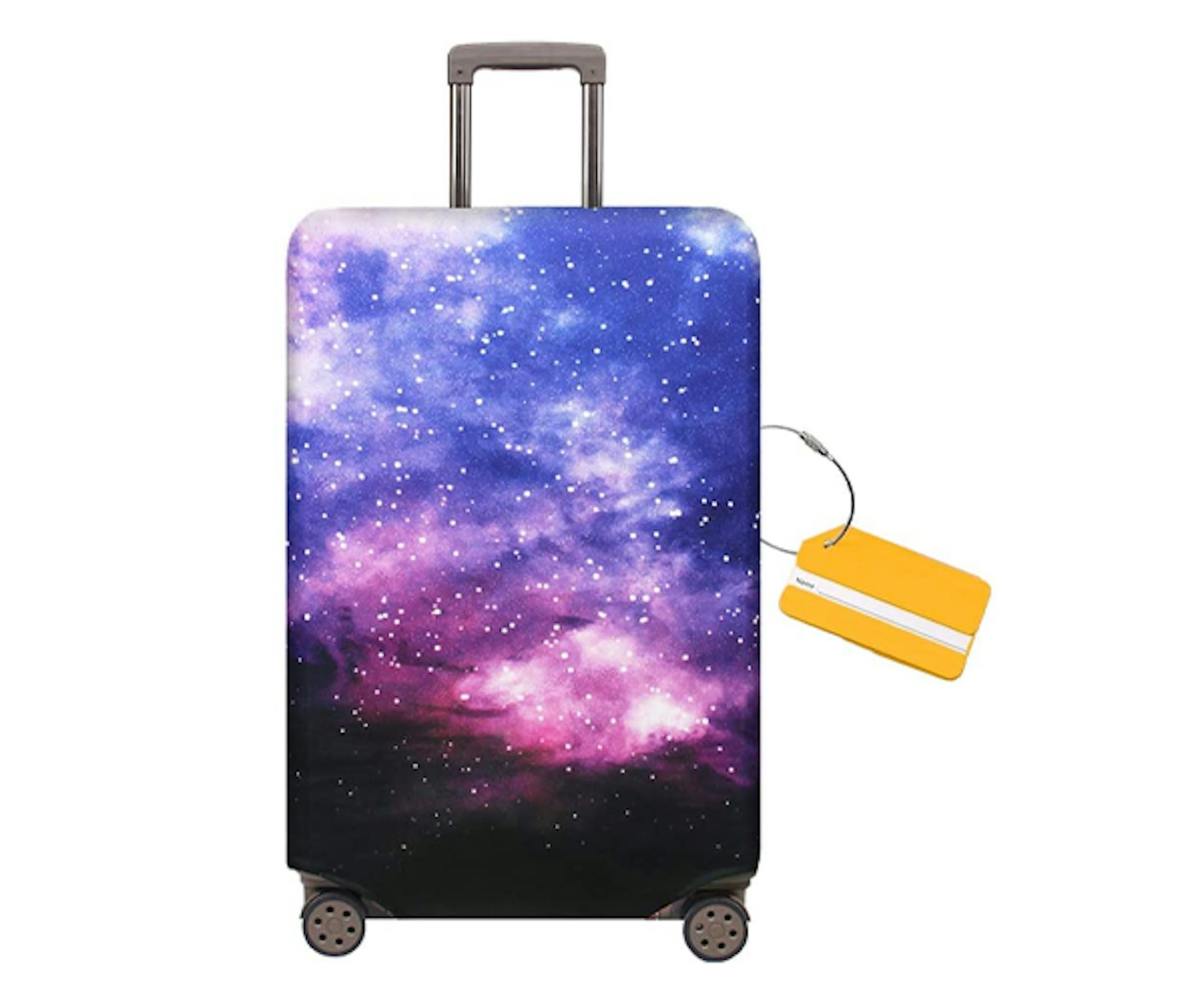 4 of 6
OrgaWise Travel Luggage Cover Elastic Suitcase Cover
The best suitcase cover for bright designs
If you are looking for a design that stands out, OrgaWise has two eye-catching designs you can spot easily. Choose between a galaxy print or a green plane design, and you will never be searching for your luggage again. The Suitcase Cover protects your luggage from scratches, dust, rain or other damage. Additionally, it is easy to place on the suitcase with two holes on both sides and the top for the handle and comes with a luggage tag that gives you another way to spot your bag.
Material: Lycra 
Sizes: M/L/XL
Can accommodate most luggage
Review: "It helped to save my suitcase from scratches etc. I used it for long-distance travel with interconnected flights. The cover got damaged and had some little holes and scratches, but this is what it's made for. However, the suitcase was protected, the cover was damaged a little. I washed it and can use it again."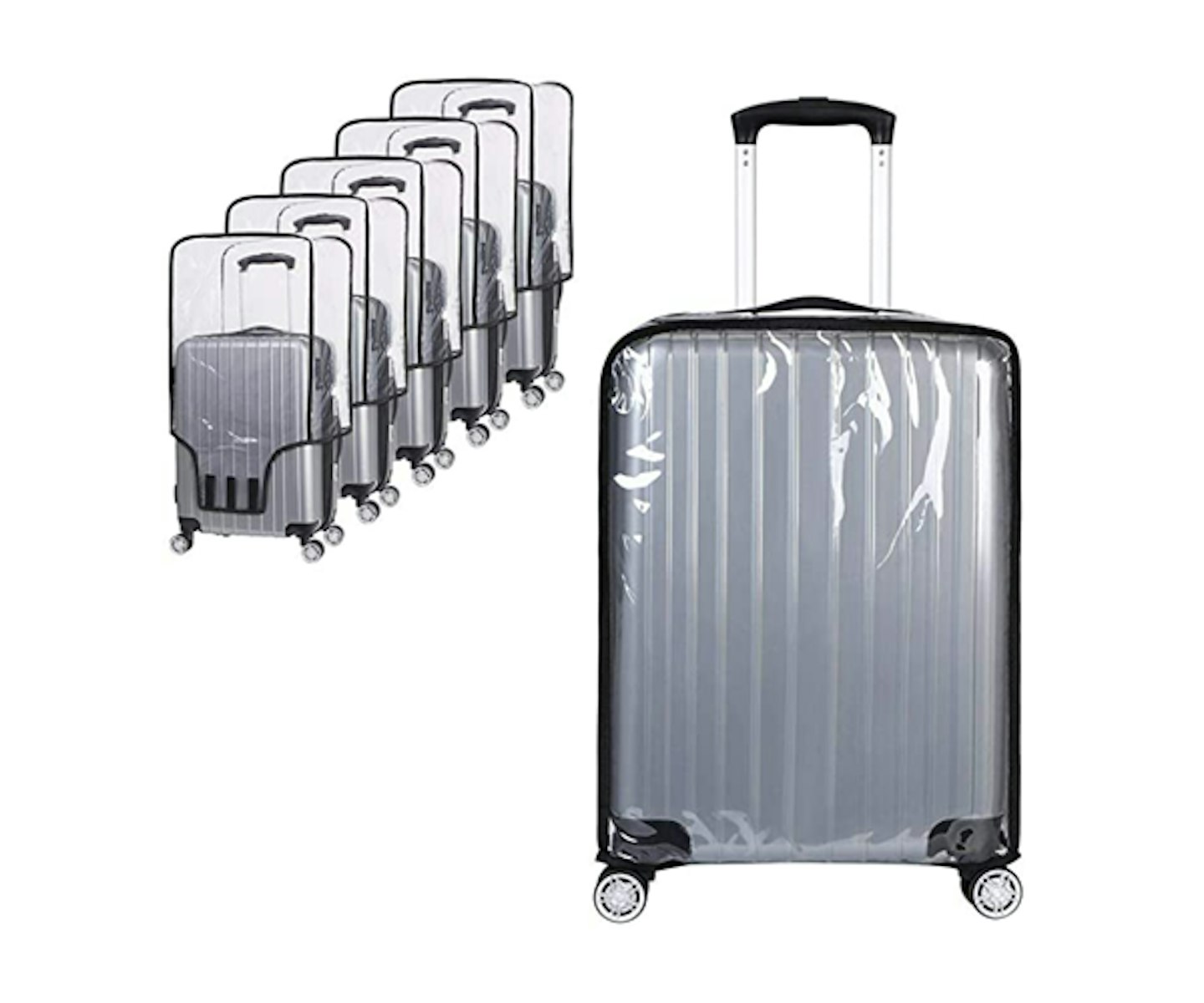 5 of 6
Vicloon Suitcase Cover Protectors
**The best PVC suitcase cover
**This transparent suitcase cover will help you quickly identify your baggage on your travels. The protector is made of clear PVC material to protect your suitcase from scratch marks, dust and wear and tear. Plus, there is no need to fear if you are caught in the rain as it is highly waterproof too. 
There are two openings at the top of the suitcase to slot in the top handle and one on the suitcase's side for the carrying handle. The bottom of the cover will not restrict any wheel movement. 
Material: PVC
Size: Six sizes: approximately 20"/22"/24"/26"/28"/30" 
Can accommodate most luggage
Review: "I am very happy with this suitcase cover! It's well made and looks very sturdy! It fitted perfectly on a large 30" suitcase. I would recommend it, and I'll buy some more for my small one."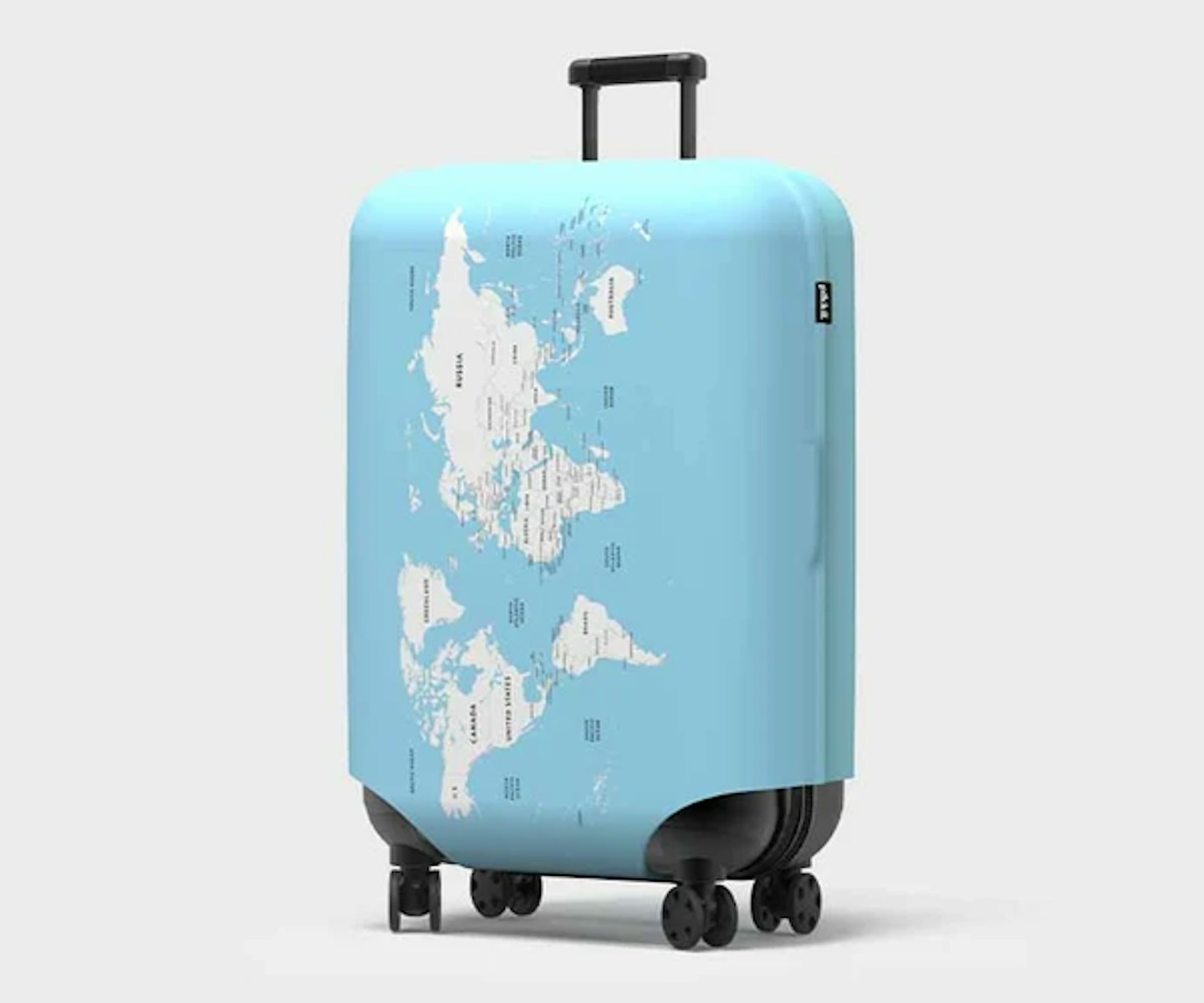 6 of 6
Travel Log Luggage Cover
The best suitcase cover for frequent travellers
Make your suitcase more interesting with this Travel Log Luggage Cover. Just like a scratch map or bucket list, you can tick off destinations on your suitcase so that you can keep track of your globetrotting adventures. The cover features a detailed world map on the front and country and city checklists, guides and resources on the back. Plus, it comes with a fabric pen, so you can tick off any locations you visit. The innovative luggage cover slips over your suitcase and zips underneath, protecting your case from theft damage and making it easy to locate.
Material: Polyester
Size: 75 x 53 x 0.02 cm
Fits most standard medium-sized suitcases. 
Handwash only.
What to read next
7 toddler travel accessories that will make any journey easier