Bridging Europe and Asia, Turkey is not only known for its rich history and stunning landscapes but also as a fantastic holiday destination for families. From the sun-kissed beaches of Antalya to the historic charm of Bodrum and beyond, Turkey offers an array of family-friendly hotels that cater to the whole family.
Whether you're looking for all-inclusive luxury hotels with water parks, serene beachfront getaways for quality family time, or themed hotels that spark your youngster's imagination, the best family hotels in Turkey have it all.
Now we know that choosing the ideal family hotel can be tricky when there's so much choice, so we've rounded up our top ten favourites. These hotels boast spacious rooms, engaging kids' clubs, thrilling water parks, and plenty of entertainment options to ensure that every member of the family has a truly memorable experience. From parents seeking relaxation to kids craving adventure, you'll be spoilt for choice with our selection of the best family hotels in Turkey.
The best family hotels in Turkey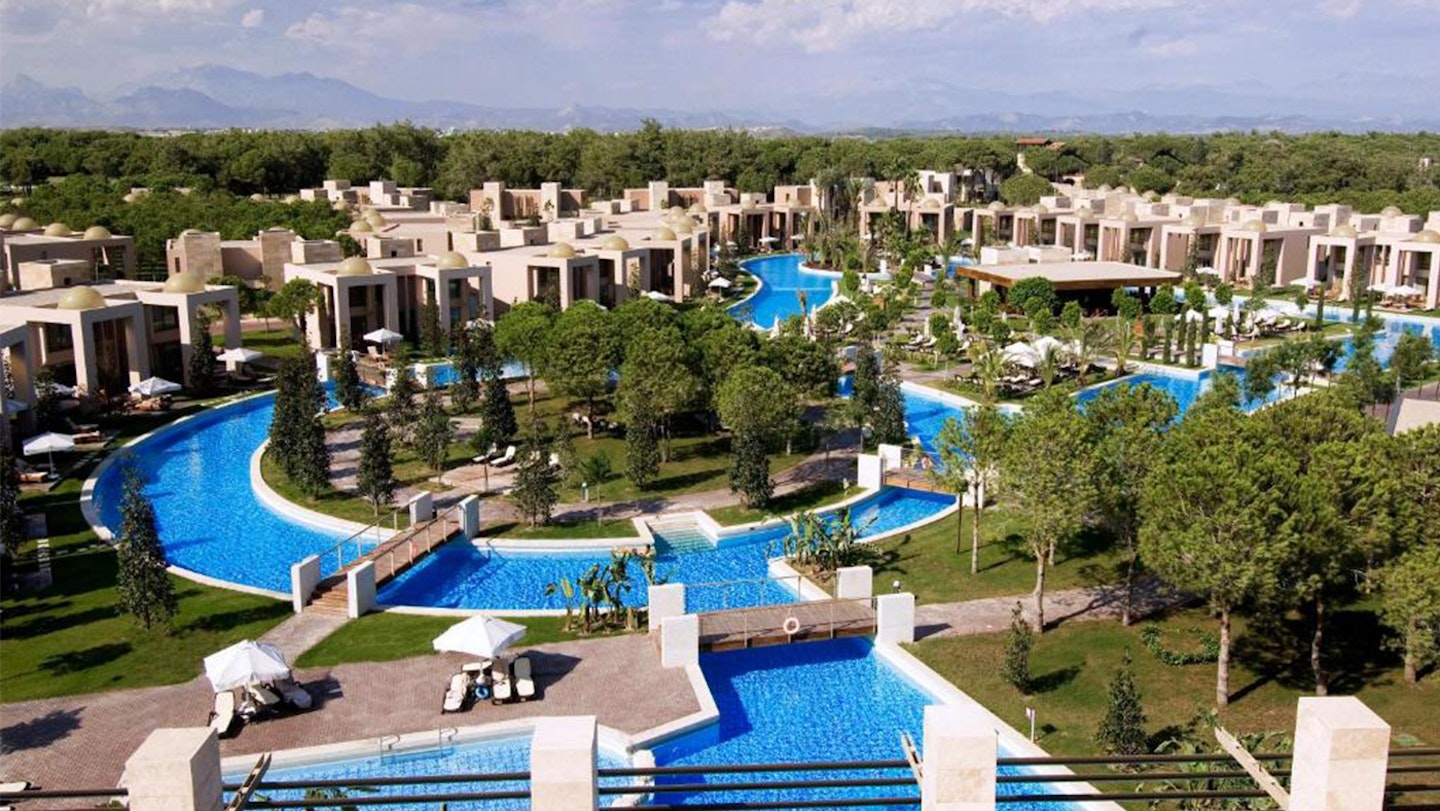 Situated in the stunning Belek region of Antalya, Gloria Serenity Resort is a luxurious all-inclusive retreat that caters to families seeking both relaxation and excitement. The resort offers spacious and elegantly appointed rooms and suites, many of which overlook lush gardens or the mesmerizing Mediterranean Sea. There's a private sandy beach to build sandcastles and (try...) unwind under the sun.
The dedicated children's club, Gogi Kids Club offers a wide range of supervised activities, including arts and crafts, sports, and games. Meanwhile, if you're so inclined, you can take advantage of the resort's championship golf courses, rejuvenating spa, and fitness facilities.
The highlight of the resort is its Aqua Park, boasting thrilling water slides and pools for endless family fun. There are numerous swimming pools, including a relaxing adults-only pool. With multiple restaurants and bars serving tasty international cuisine and refreshing drinks, Gloria Serenity Resort ensures that families have an unforgettable stay.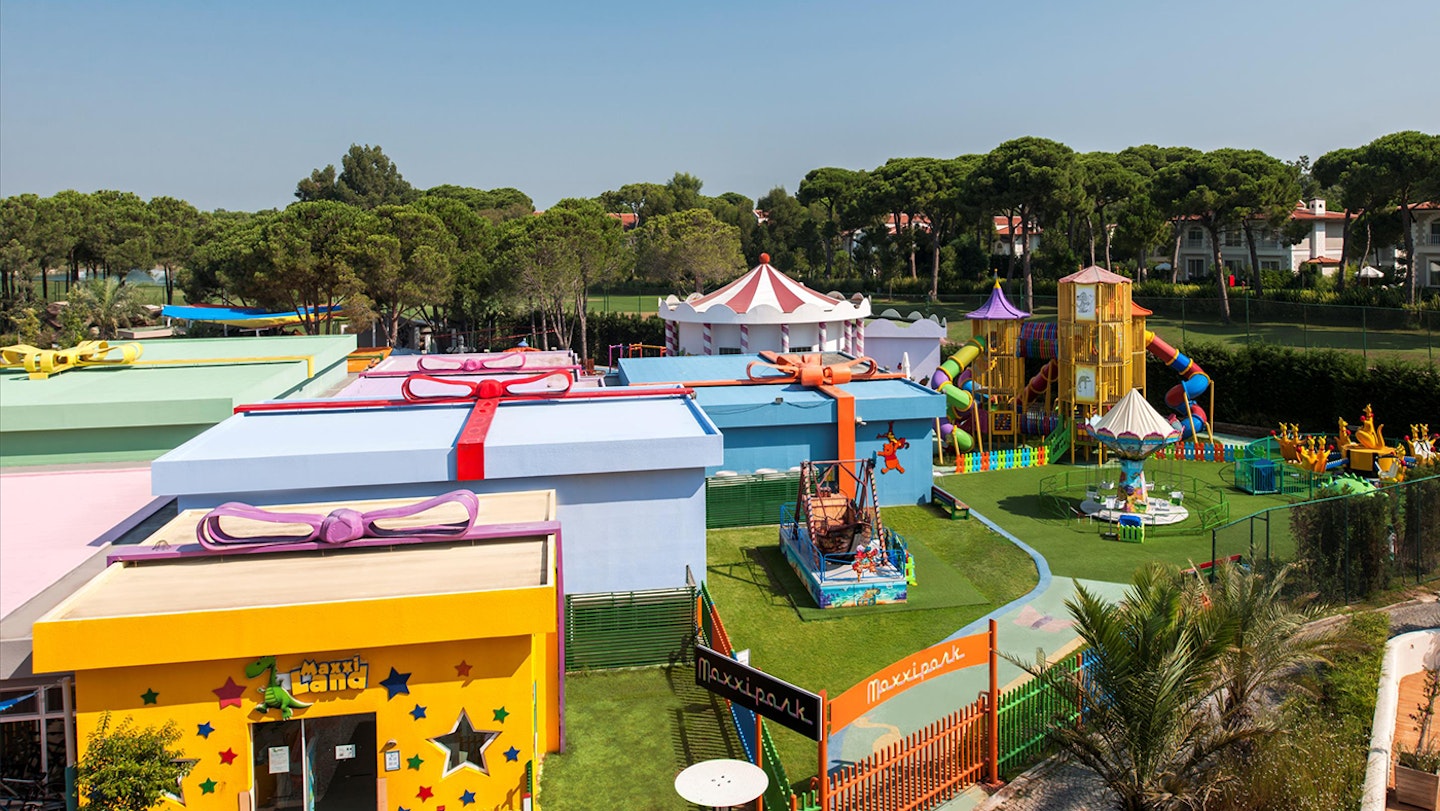 Nestled along the golden shores of Belek, the Maxx Royal Belek Golf Resort is a luxurious and family-friendly haven. The resort offers spacious and elegant suites with modern amenities and stunning views of the sea or the lush gardens. Families can enjoy direct access to a beautiful private beach where they can enjoy water sports or play in the gentle waves.
Children will be thrilled by the Maxxiland Kids Club, which has lots of fun activities and a playground to keep 1-12-year-olds engaged and entertained throughout their stay. The Cobra Kingdom Aquapark, with its twisting water slides and fun-filled pools, will quickly become a favourite spot for the young and young at heart and there's even a Dinoland to explore. You might even get the chance to indulge at the Aven Royal Spa or opt for a round of golf at the Montgomerie Maxx Royal Golf Club, one of Turkey's finest golf courses, but we can't make any promises...
The resort also hosts an array of entertainment shows, live music, and themed parties to keep everyone in the family entertained.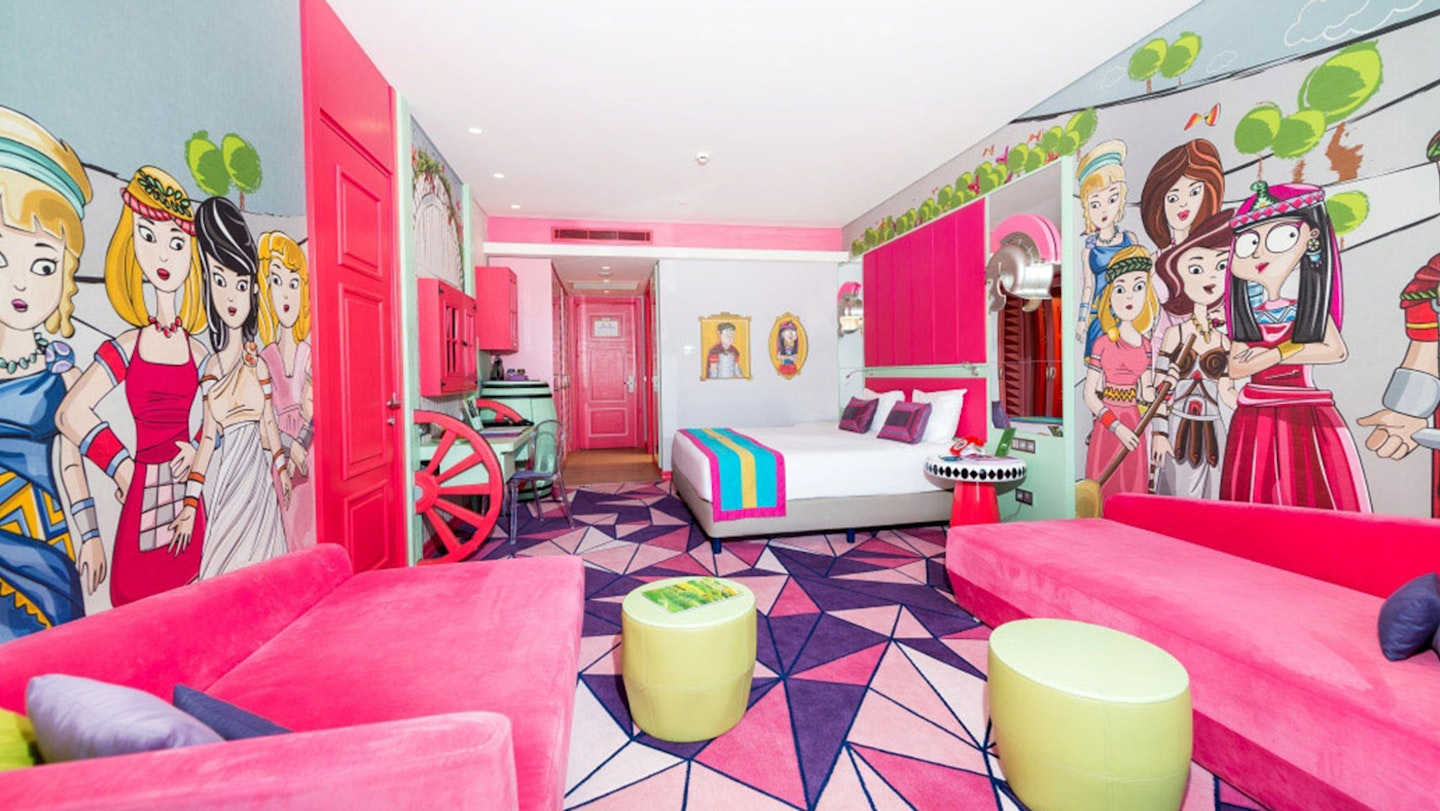 For a truly extraordinary family experience, The Land of Legends Kingdom Hotel takes the concept of themed hotels to a whole new level. Connected to an exhilarating entertainment complex, the resort offers whimsical and lavishly designed rooms and suites that little ones will love, some of which feature direct access to the park.
Families can enjoy unlimited access to The Land of Legends Theme Park, complete with a water park boasting thrilling rides and attractions, including a wave pool and a lazy river. The entertainment continues at the Legends Theatre, where spectacular shows are performed regularly.
The resort's unique shopping avenue, known as The Avenue, offers a variety of boutiques and restaurants, adding an extra layer of convenience when you've got hangry kids. For a special touch, the resort even features an aquarium within its premises.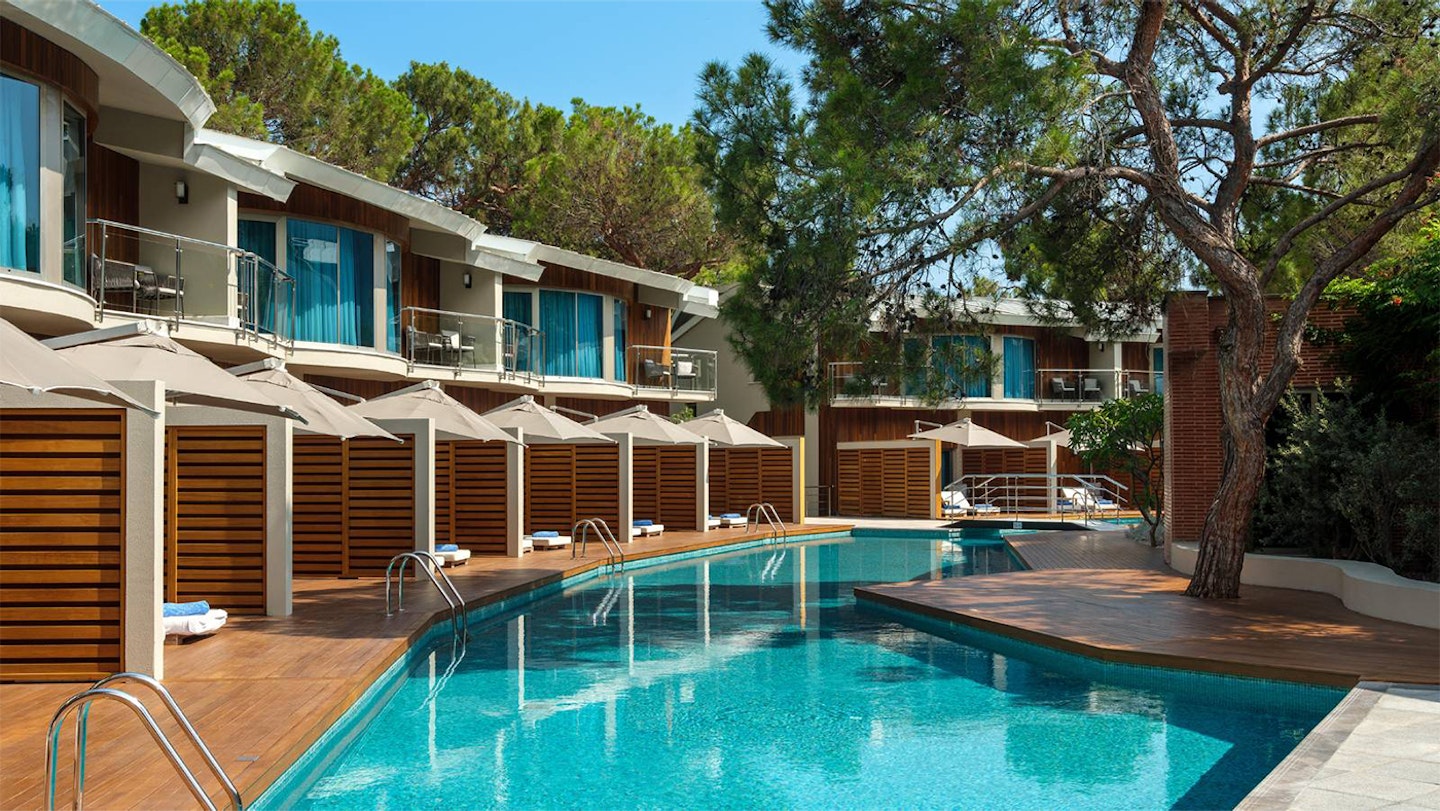 Perched on the turquoise coast of Antalya, Rixos Sungate is a sprawling resort that offers a vibrant atmosphere, making it a paradise for families seeking a fun-filled getaway. The resort's rooms and suites are elegantly furnished, and many offer sea views.
The highlight for children is the Rixy Kids Club, filled with activities, mini-discos and even a mini zoo. Thrill-seeking kids can enjoy the resort's adventure park, trampolines, and various sports facilities and better yet, your whole family will get free access to the Land of Legends Theme Park during your stay.
For adults, Rixos Sungate provides an adults-only pool and beach area, as well as a tranquil spa and wellness centre. The resort's All-Inclusive option ensures that families can indulge in delicious cuisine from a wide range of restaurants and bars, all included in the package.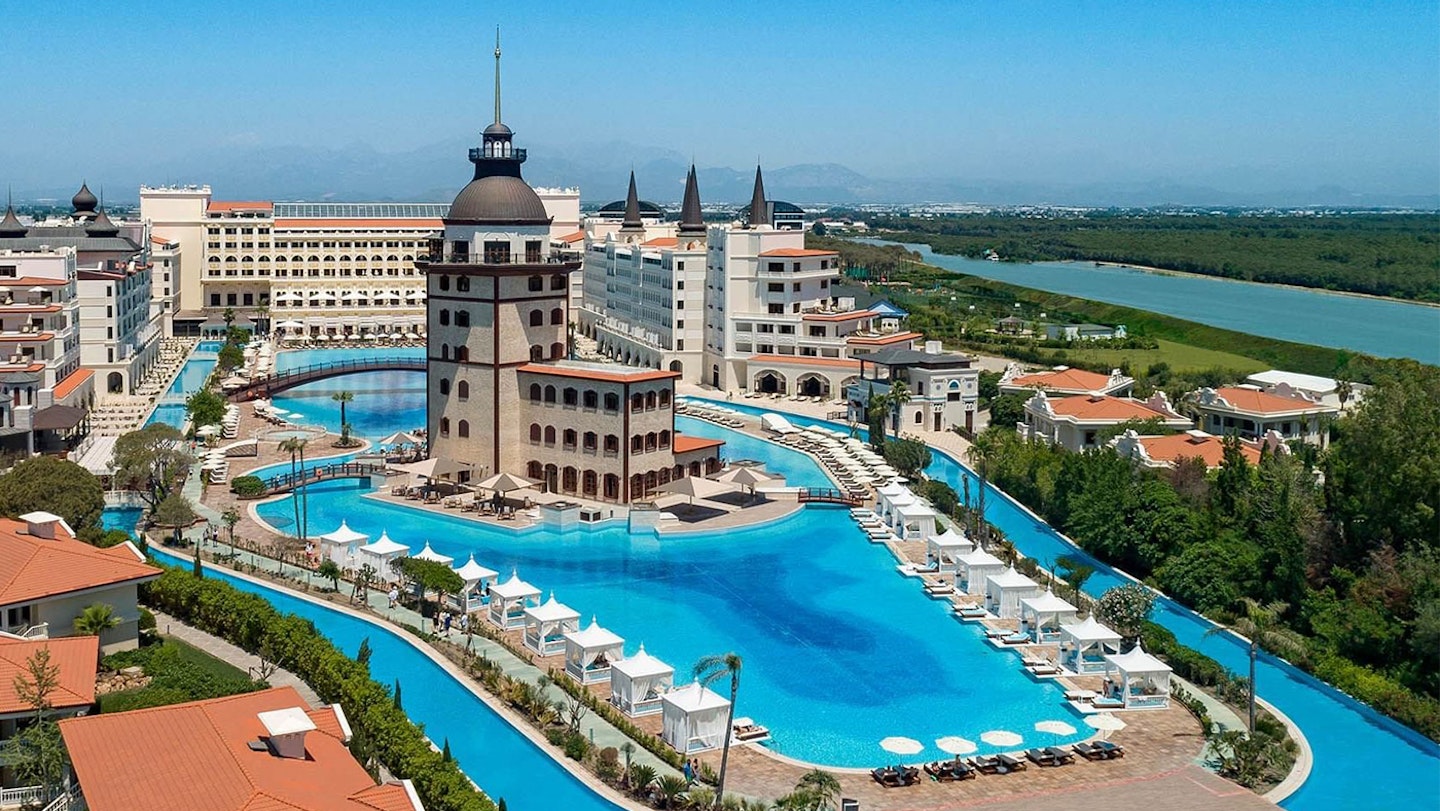 Situated on the beautiful shores of the Mediterranean in Lara, Antalya, Titanic Mardan Palace is a luxurious and family-friendly resort. The hotel's palatial architecture, inspired by the elegance of the Ottoman Empire, provides a unique opportunity for families to immerse themselves in history and luxury.
The extensive Kids' World features a playground, cinema plus a supervised Kids' Club with activities for various age groups. The resort's Aqua Park boasts exciting water slides and pools, perfect for both children and adults.
Parents can take a visit to the resort's lavish spa, offering a range of relaxing treatments, or take part in water sports and sports activities. Titanic Mardan Palace also provides an excellent selection of restaurants and bars, ensuring that everyone's preferences are satisfied.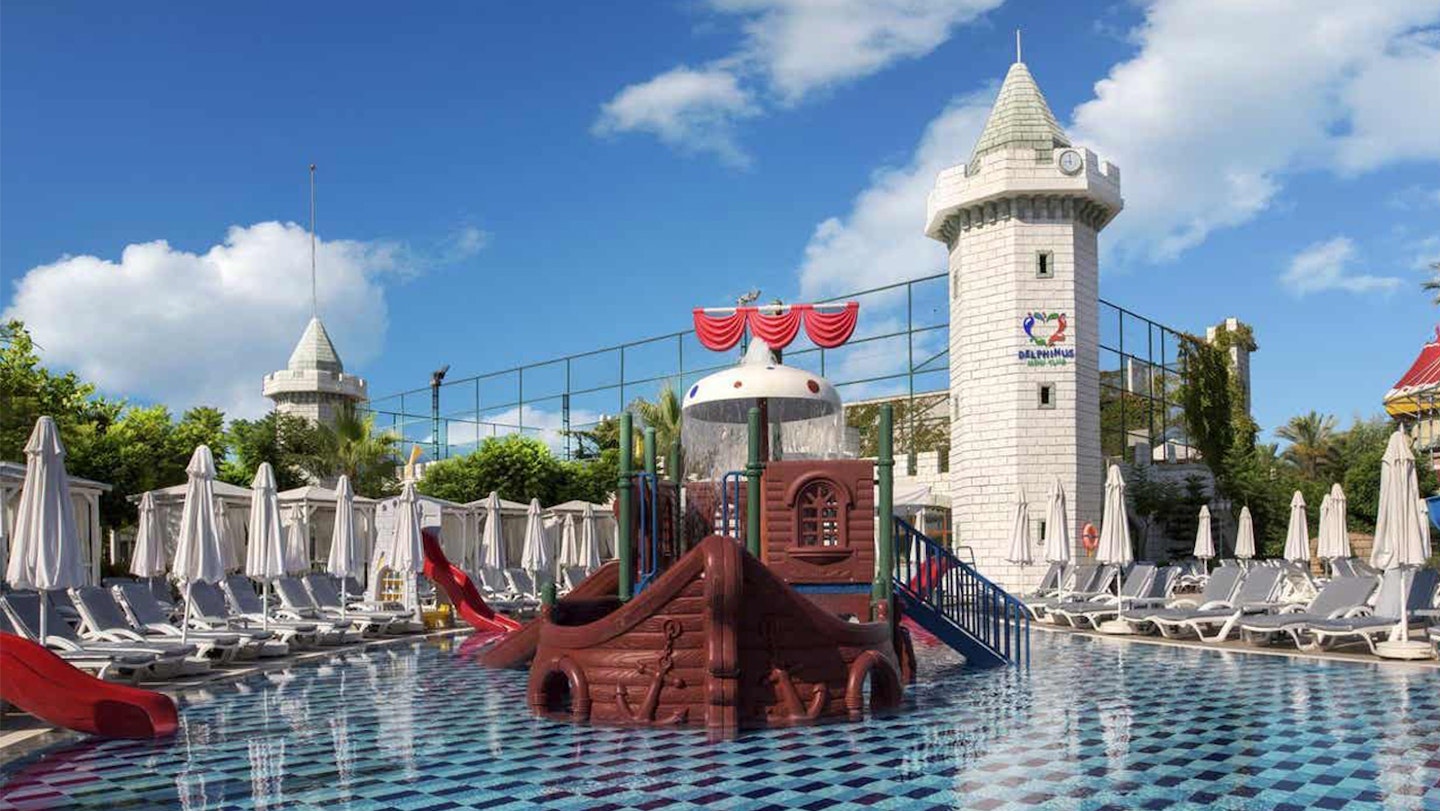 Delphin Imperial Hotel offers an exciting and comfortable escape for families. The hotel features spacious and modern rooms and suites, many of which offer beautiful sea views or even direct access to the beach.
Children will have a blast at the Delphin Mini Club, which offers a playground, kids' pool with slides, and a dedicated activity program. The resort also provides a special buffet for kids, ensuring they have plenty of options.
With its water park boasting thrilling slides and pools, Delphin Imperial Hotel promises endless entertainment for the whole family. For parents seeking relaxation, the spa and wellness centre offer a variety of treatments, while sports enthusiasts can partake in a range of activities, including tennis, basketball, and water sports.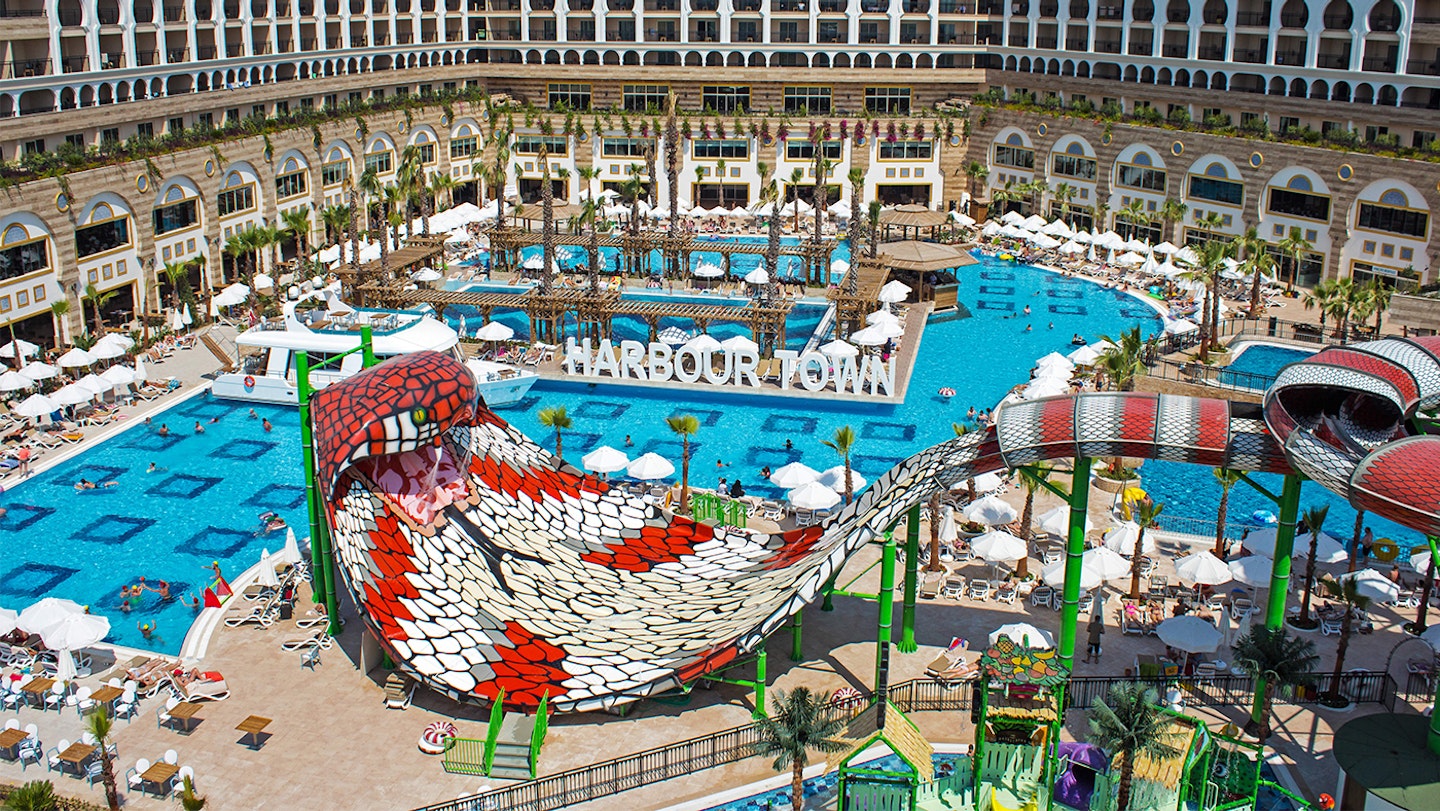 Set in the historical and scenic town of Side, Crystal Sunset Luxury Resort & Spa provides a charming and family-friendly getaway. The hotel's modern and spacious rooms and suites offer a comfortable retreat, no matter the size of your family.
The resort's Aqua Park features an array of water slides and pools, perfect for thrill-seekers. Younger guests will have a fantastic time at the mini club, offering activities, games, and a children's playground.
Crystal Sunset Luxury Resort & Spa also caters to sports fans with its sports facilities, including tennis courts and various water sports options. The resort's restaurants serve an excellent selection of international and Turkish cuisine, catering to different tastes and preferences.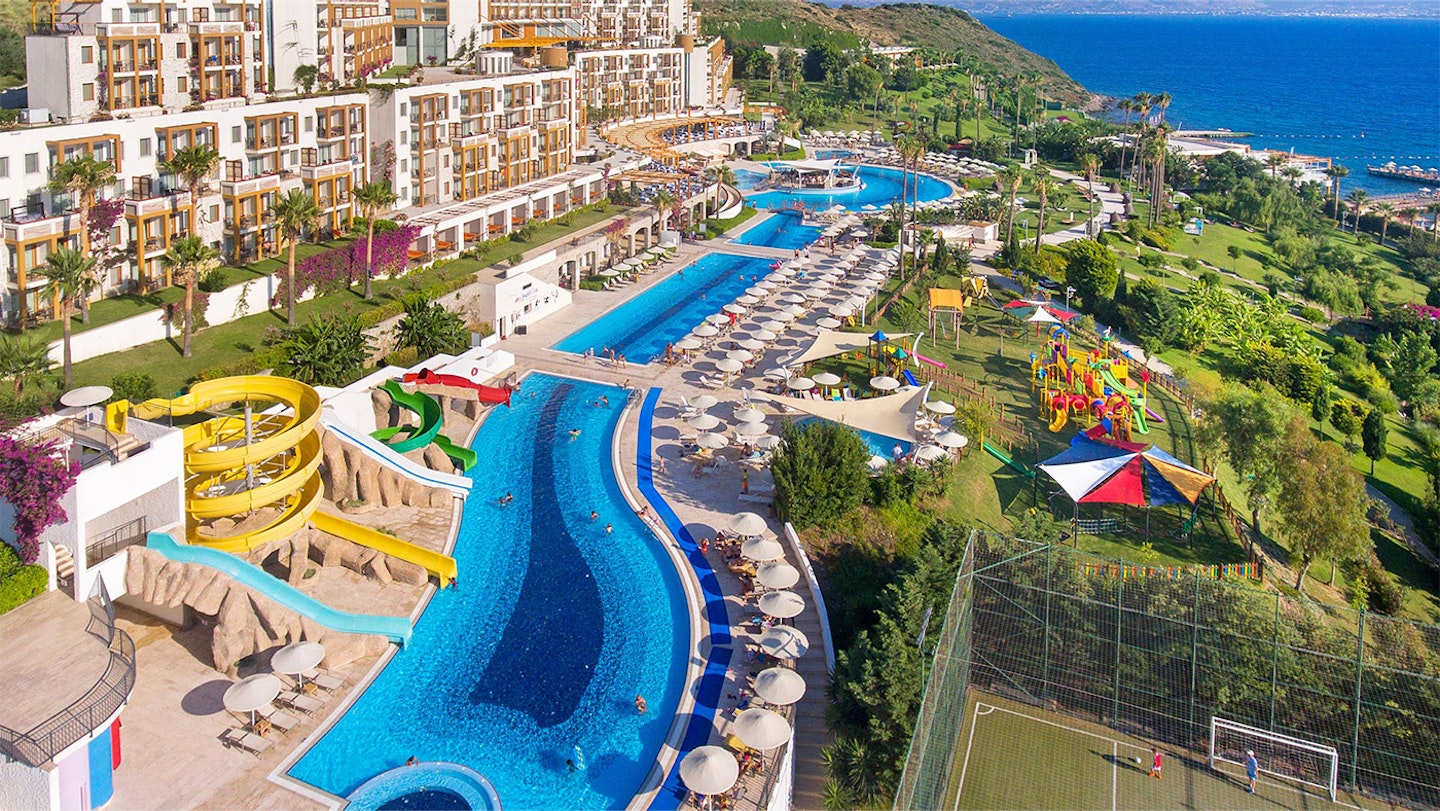 For a serene and family-friendly escape, you can't get much better than Kefaluka Resort which is surrounded by lush gardens and the azure waters of the Aegean Sea. The resort has comfortable rooms and suites, many of which provide stunning sea views from private balconies.
Your family can spend quality time together at the resort's private beach or one of the many swimming pools, including a dedicated kids' pool with water slides. The mini club offers a variety of activities to keep the little ones entertained while parents indulge in relaxation or explore nearby attractions.
In addition to its beautiful beach, Kefaluka Resort offers an array of sports facilities, including tennis courts, basketball, and water sports options. The resort's restaurants serve delicious cuisine, and guests can enjoy a refreshing drink at one of the bars scattered around the complex.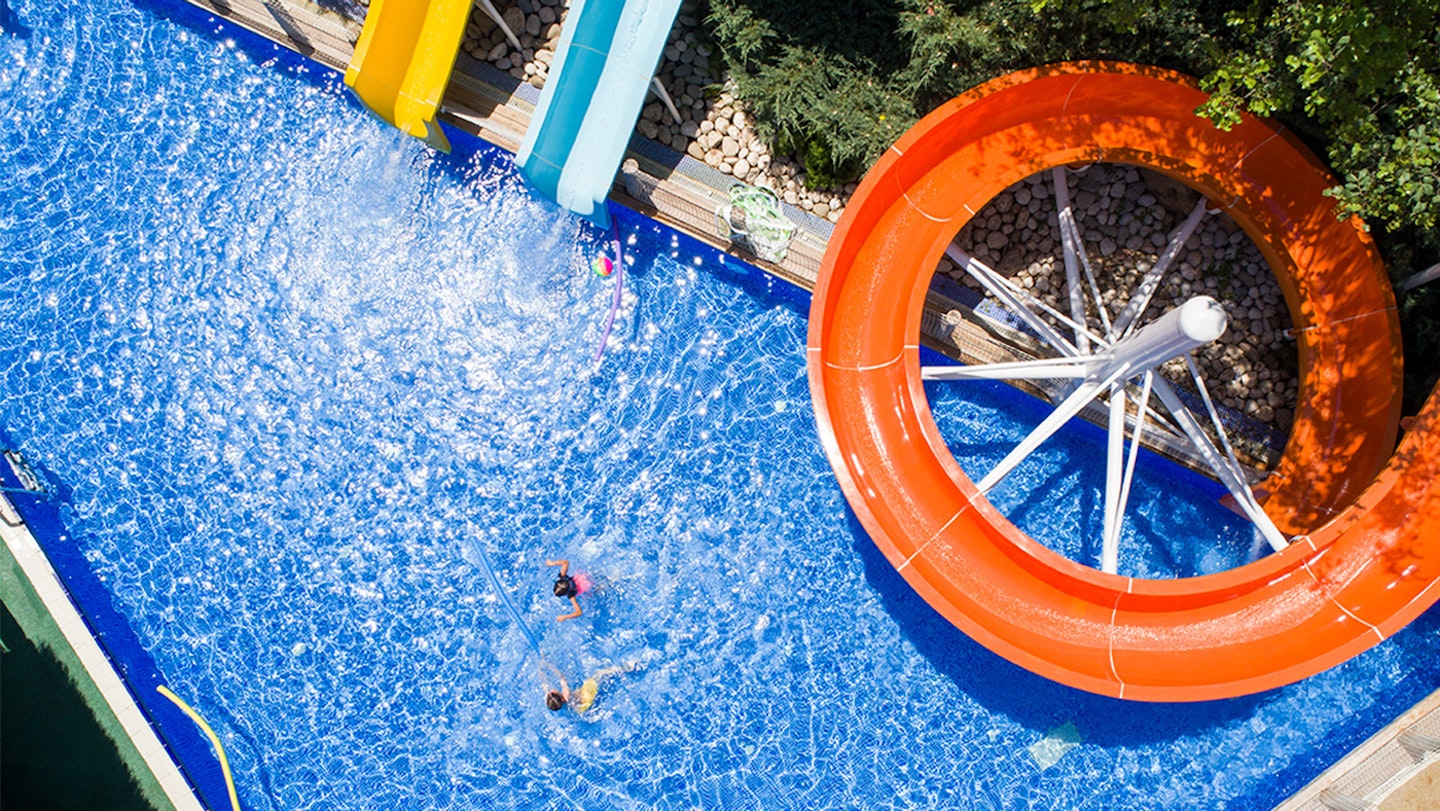 Located in a serene bay near Fethiye, Hillside Beach Club is a tranquil and picturesque retreat perfect for families seeking relaxation and quality time together. The resort features comfortable rooms and bungalows, many of which offer stunning sea views and easy access to the sandy Blue Flag beach, saving you from lugging your beach tent far.
The property is meticulously designed to cater to families with children of all ages. The mini club organizes activities and excursions for little ones, while older kids and teenagers can enjoy the vibrant Teens Club. Your family can bond over various water sports, beach games, and guided excursions, or simply unwind together by the pool.
The hotel's three restaurants offer a range of dining options, including international and Turkish cuisine, while its wellness facilities provide an opportunity for parents to rejuvenate amidst the natural beauty of Fethiye.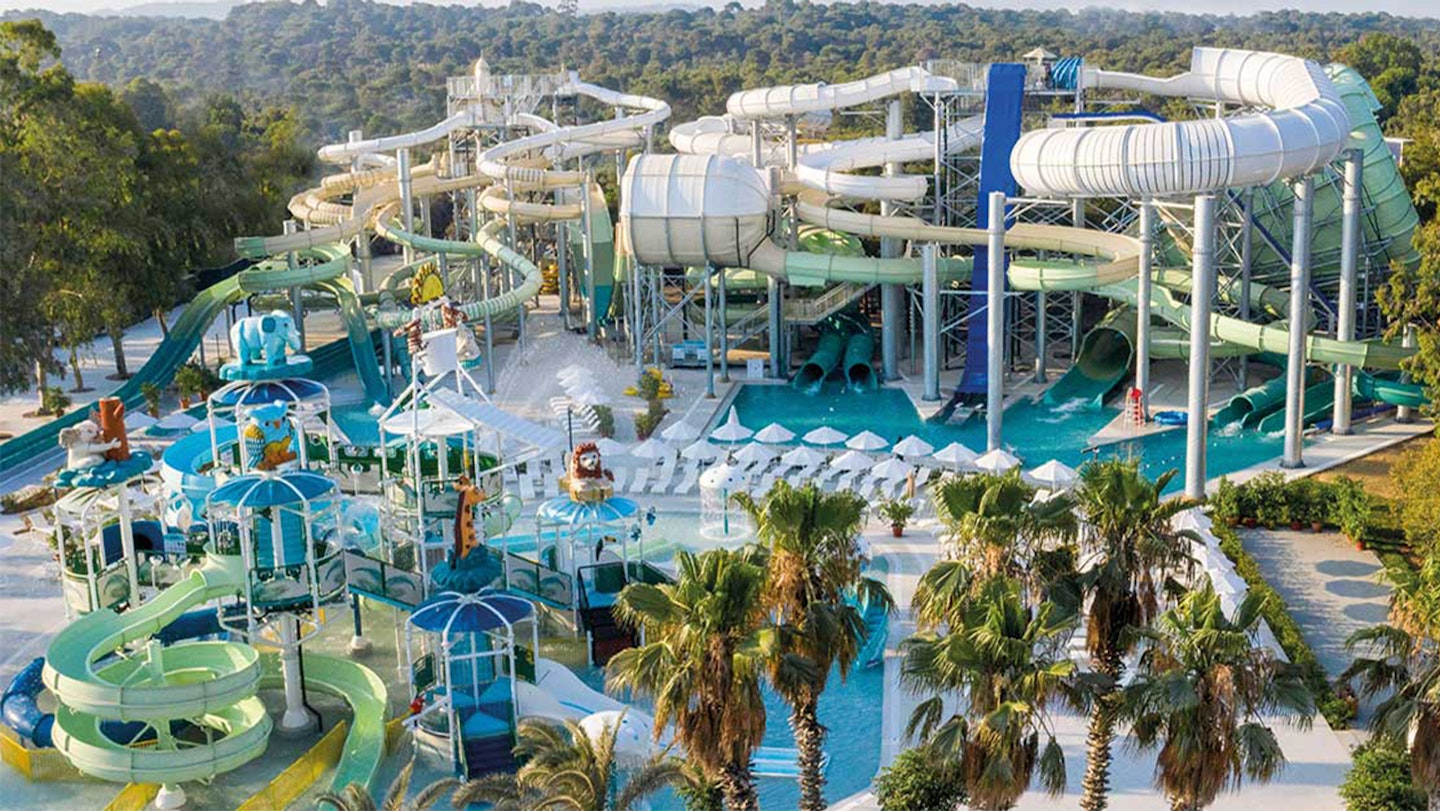 Sitting on the stunning shores of Side, Paloma Oceana Resort will welcome your family with its modern amenities and a plethora of activities for all ages. The resort has comfy family rooms and suites, with some providing mesmerizing sea or garden views.
The resort's Aqua Park is bound to be a highlight for children, featuring exciting water slides and pools that guarantee endless hours of fun. The mini club will ensure your kids are entertained with engaging activities and arts, and crafts which means you'll have time to explore the resort's multiple swimming pools or relax on the beach.
Sporty times will love the land and water sports facilities, including tennis, basketball, windsurfing, and more. The resort's restaurants serve an array of international and local dishes, so you can all enjoy a diverse culinary experience throughout their stay.
Emily Gilbert is the Features & Reviews Editor for Mother&Baby and has written for the website and previously the magazine for six years. Specialising in product reviews, Emily is the first to know about all the exciting new releases in the parenting industry.