With energy prices rocketing and the weather plummeting, there has never been a better time to purchase a hot water bottle. They will keep you feeling warm without the expense of turning on your heating. With that being said, we have scoured the internet to find the best hot water that the family can enjoy.
Please note: Children under the age of four should not have direct contact with a hot water bottle. However, you can use them to warm their bed or cot then remove it before they snuggle down for bed.
Once upon a time, these rubber water bottles were solely used for warming winter beds. They have since evolved and are now recommended as an alternative to or alongside traditional medicines. Even if you are pregnant it is safe to use one for short periods. Leeds Teaching Hospitals NHS Trust recommends the heat vessel in the early stages of labour. The trust advises expectant mummies to put a covered hot water bottle on areas that ache, such as your lower back, underneath your bump or between your thighs to help to ease the pain. This isn't just for pregnancy - it is also the case for anyone suffering from body aches and pains.
So, whether you are looking for a cost-effective way to keep your family warm or a fantastic gift for a mother-to-be, we have found the best hot water bottles for every member of your family from school-aged children to mum and dad.
Best hot water bottles
Description
This luxury Rebecca sheepskin hot water bottle has been made from traditional rubber and 100 per
Cons
Not suitable for vegans
Not suitable for children
Best water bottle for kids
Description
If you are looking for a super sweet hot water bottle to keep your little one warm, this Helen
Pros
Toy included
Sweet design and soft
Suitable for children
Description
Filled with cereals and lavender, this is no ordinary hot water bottle. Not only is it the cutest
Pros
Made from 100 per cent organic materials
Cons
Some excess moisture may form during the first few applications
Not suitable for diabetics or people with circulatory problems
Best for the whole family
Description
If waiting for the kettle to boil doesn't float your boat, this is another speedy option. Another
Pros
Soft and cuddly - double as a toy when not heated
No water so no risk of scalding
Suitable for all ages
Cons
Contains fragrances that may cause allergies
Description
When you are pregnant, those aches and pains come in an abundance and even those areas you didn't
Description
Is there anything worse than 'man flu'? Well as mums we know the answer is a resounding yes.
Cons
There is no real treatment for 'man flu'
Best faux fur water bottle
Description
This is the larger hot water bottle designed by Helen Moore. Unfortunately, it doesn't have the
Pros
Suitable for vegans

Multiple colour choices
Premium quality and softness
Best wearable hot water bottle
Description
Hot water bottles can be a fantastic alternative to painkillers or in addition to medication. This
Description
You can now get the iconic Percy Pig hot water bottle and we are obsessed. The M&S iconic pig
Pros
Fantastic for M&S fans
Super cute
Best hot water bottle gift set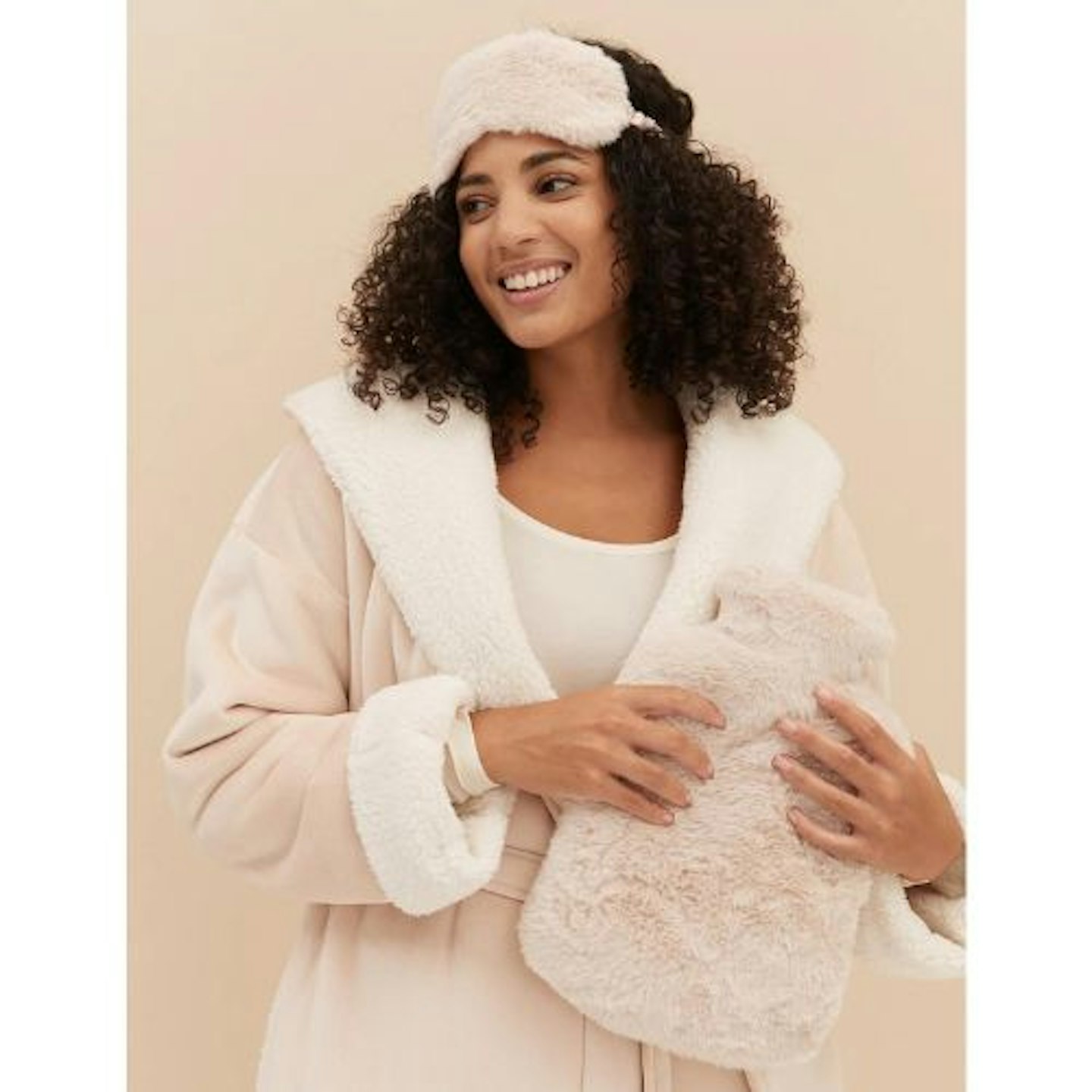 M&S
Description
Give the gift of a brilliant nights sleep with this faux fur water bottle and matching eye mask.
Cons
Dressing gown pictured is sold separately
The best hot water bottle safety advice
Using a hot water bottle may seem simple, but there is some safety guidance to follow:
• Use a cover and ensure that none of the rubber bottle is exposed
• Hot water should be filled by a responsible adult and never a child
• Do not lay on top of a hot water bottle
• Do not use if you are allergic to latex
• Use warm, cooled-down kettle water to fill
• Replace it every three years