While we'll happily take a hot chocolate whatever the season, it's understandable they are particularly popular during the colder months. There's something so lovely about the whole family curling up with a warm mug of hot cocoa.
A trend that has quickly become popular in recent years is using a hot chocolate bomb for your warming drink. Usually in the shape of a ball (though many now come in cute animal figures) and filled with small marshmallows, all you have to do is gently drop the bomb into your mug of hot milk and stir as it melts, creating a delicious chocolatey drink. Alternatively, you can place the hot chocolate bomb in first and then pour the hot milk over the top before stirring.
While there are plenty of options you can buy, creating your very own hot chocolate bombs is actually pretty simple and makes for a fun activity to do with little ones. Why not give this BBC recipe a try?
Ingredients
200g dark chocolate, melted
6 tsp hot chocolate powder
50g mini marshmallows
gold lustre to decorate
milk, to serve
You will also need
12 silicone semi-sphere moulds (roughly 7cm)
Method
Put 12 silicone semi sphere moulds flat on a baking tray. Using a pastry brush, brush the melted chocolate over the inside of the moulds until they're all covered – don't worry about being too precise.

Tip the moulds upside down and shake the excess chocolate onto some baking parchment, and scrape the top using a palette knife. Place back on the baking tray, and in the fridge for 10 mins to set completely. If your remaining melted chocolate has hardened, give it a quick burst in the microwave to melt.

Brush the second layer of chocolate in the moulds so they're evenly covered. Place flat on the baking tray again and leave to set in the fridge for 1 hr or overnight. Once set, carefully remove from the mould by peeling back one side and get ready to assemble by getting your hot chocolate and marshmallows.

Place a frying pan over a high heat for 1 min until hot. Remove from the hob and place one of the chocolate spheres down on it for a second. Fill with 1 tsp of the hot chocolate powder and 1 tbsp of the marshmallows. Briefly place another one of the chocolate spheres down on the warm frying pan, and press both spheres together to form a filled ball. Repeat until you have six filled hot chocolate bombs.

To decorate, dust them all over with edible gold lustre. Heat up a mug of milk and stir in the hot chocolate bomb to serve.
Hot chocolate bombs to buy
If you don't fancy making the effort, here are a few hot chocolate bombs you can buy instead!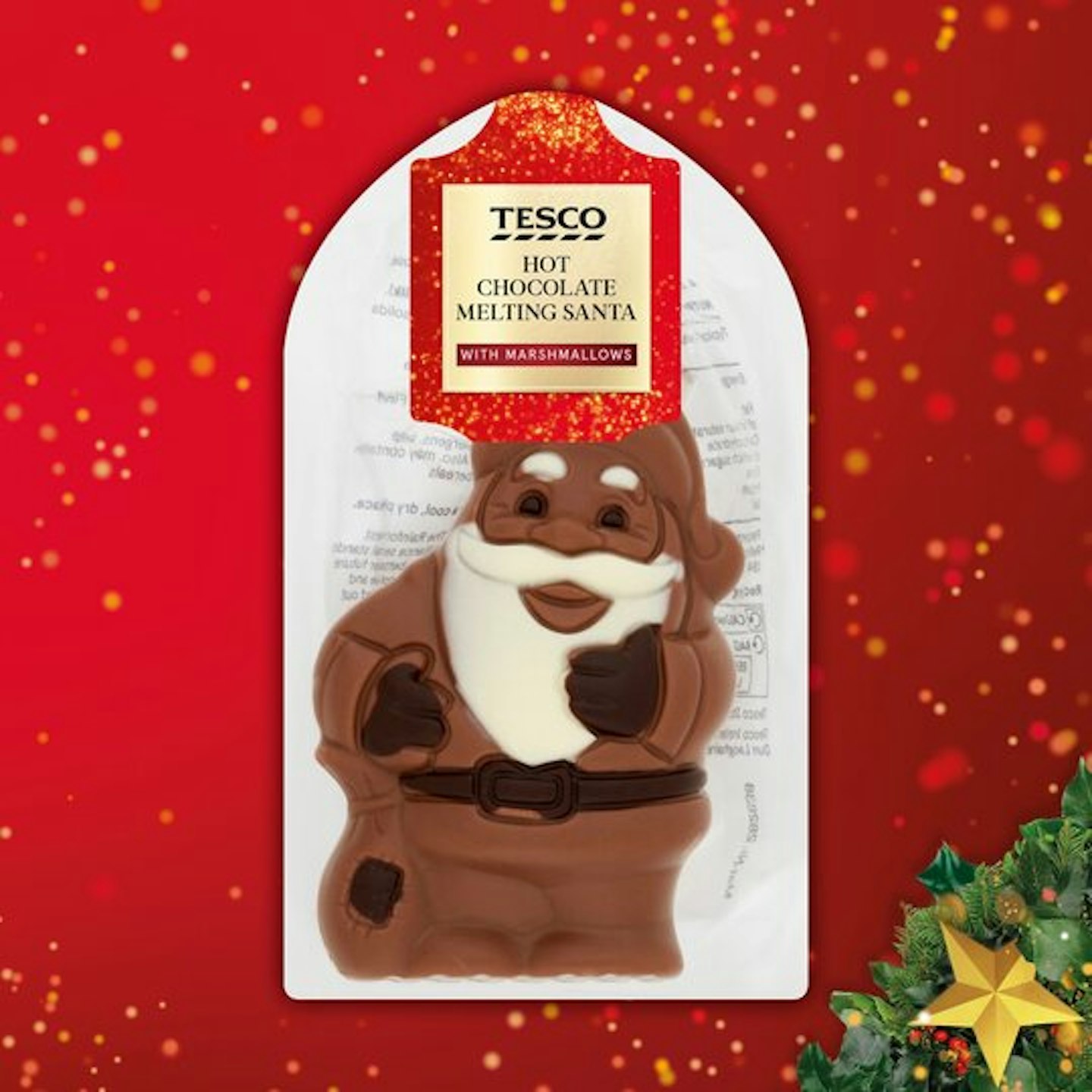 1 of 5
Tesco Melting Santa Hot Chocolate Bombe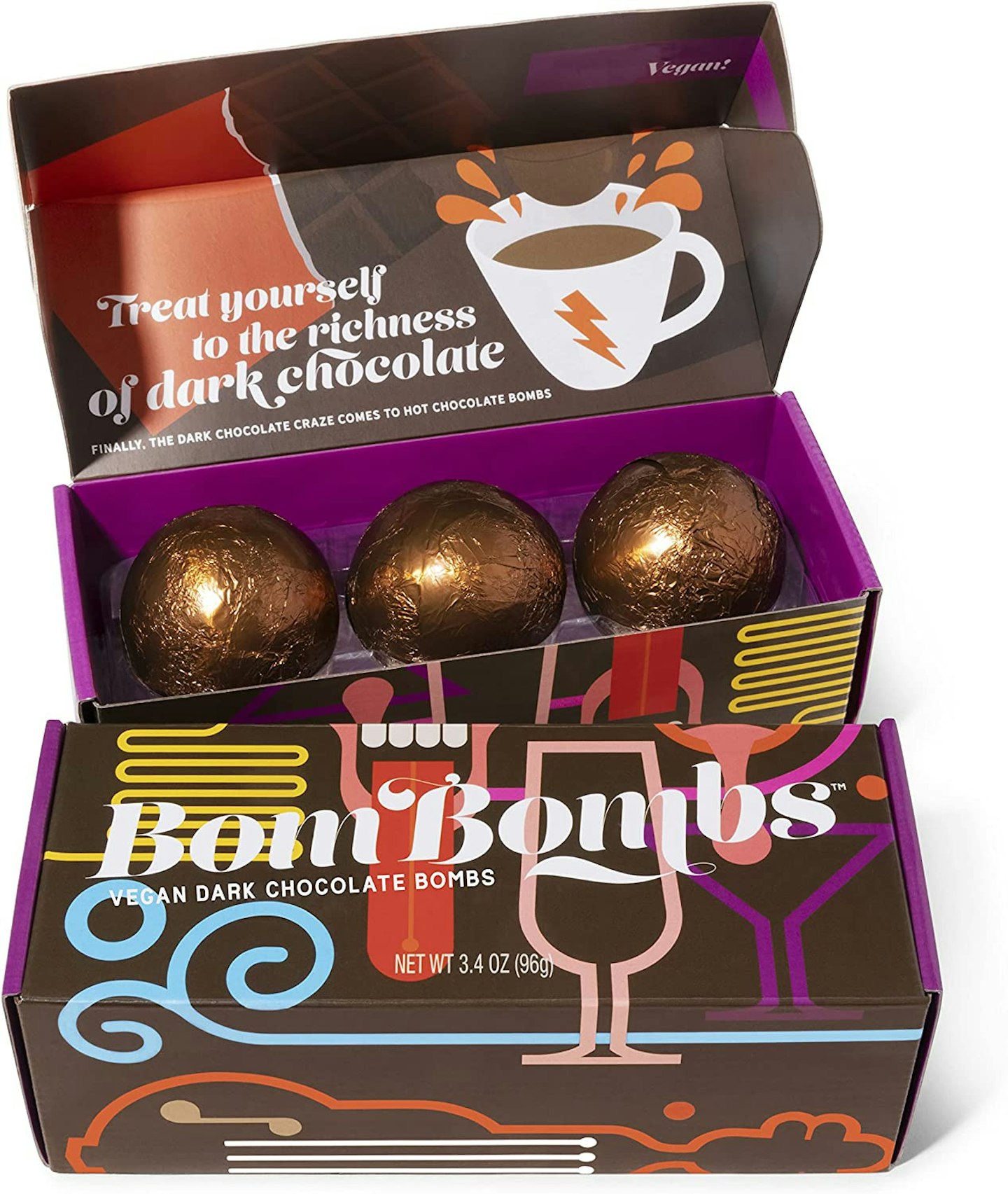 2 of 5
Vegan hot chocolate bombs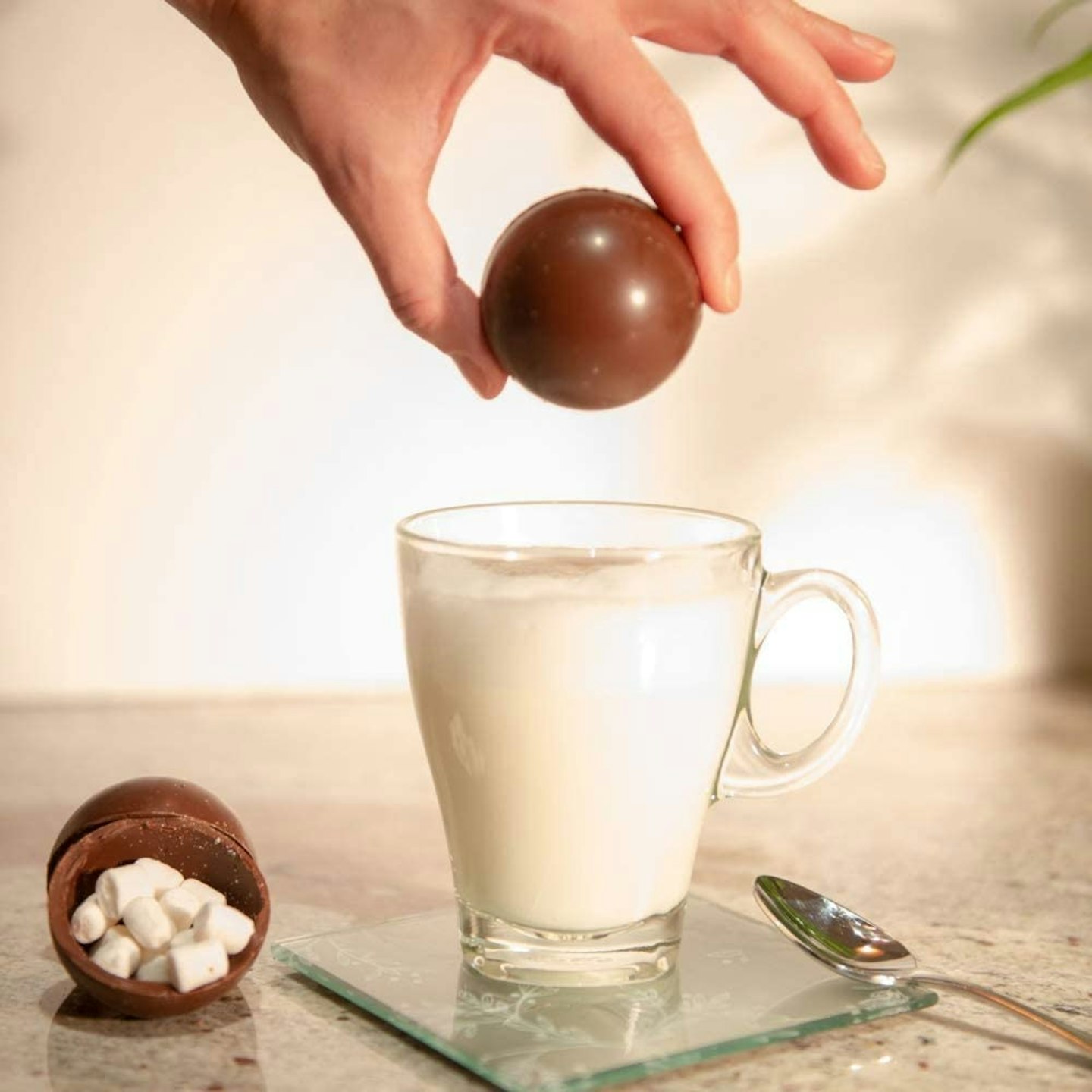 3 of 5
Funtime Gifts The Original Chocolate Bomb Trio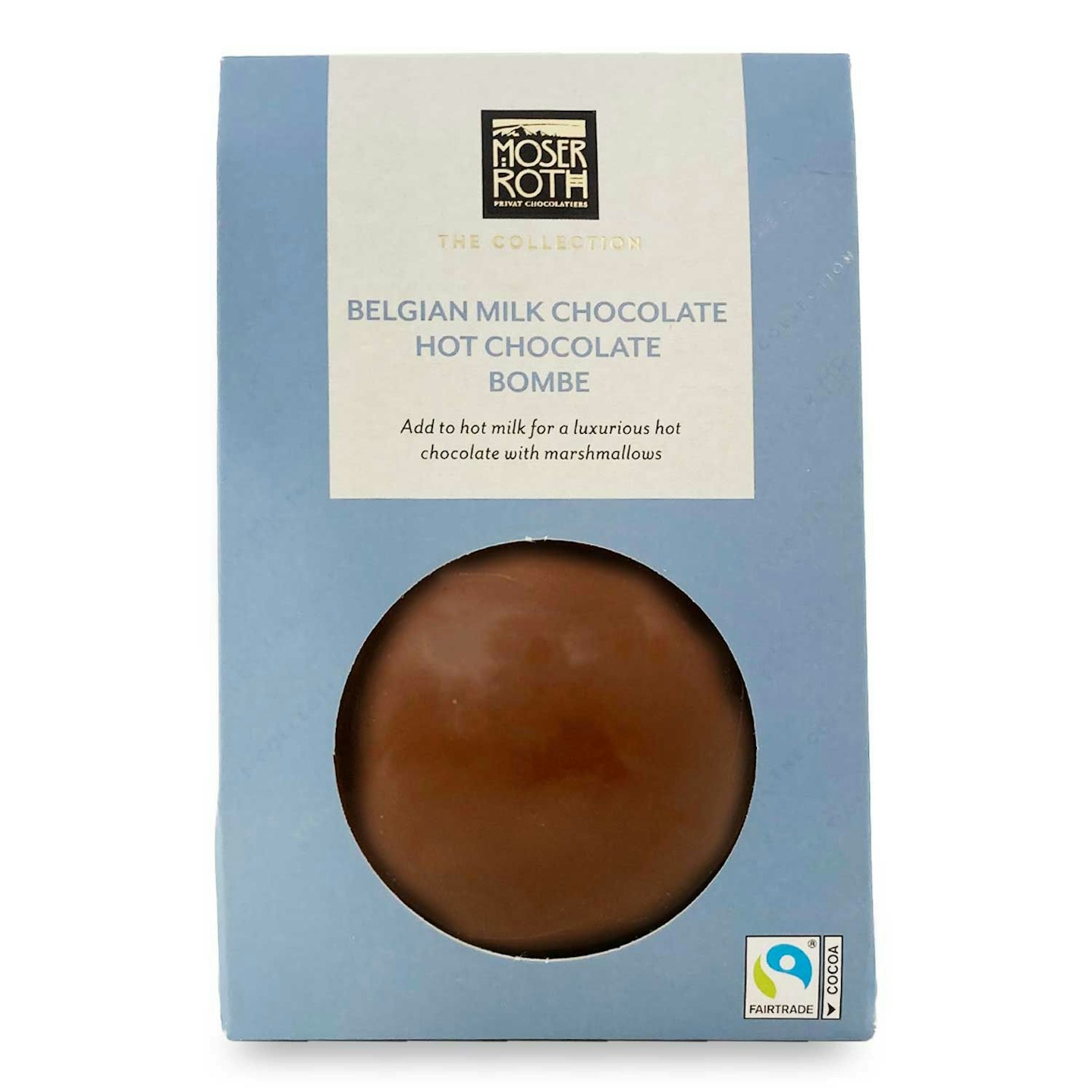 4 of 5
Moser Roth Belgian Milk Chocolate Hot Chocolate Bombe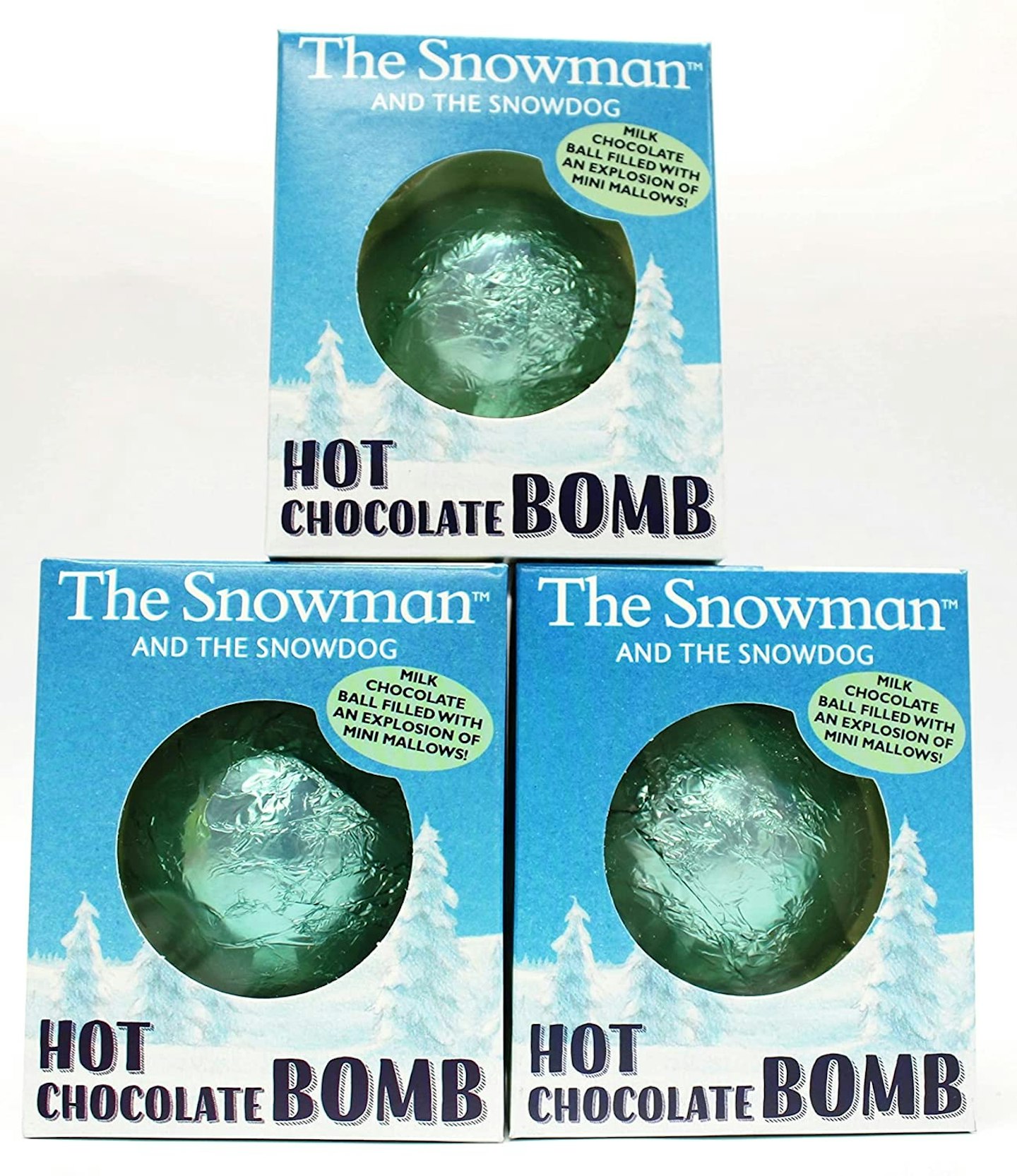 5 of 5
Pack of 3 Milk Hot Chocolate Balls
Popular articles to read next