Whether your child is starting out at primary school or has outgrown their old uniform, Asda George is no exception when it comes to providing excellent school uniform that meets the requirements of different school establishments.
However, Asda has gone above and beyond this year as the first major retailer to create not just a savings scheme to help parents with free bonuses for the big back-to-school shop, but a new range of uniform that helps make school life more comfortable for those children with sensory-sensitive needs.
We've included links to the new uniforms worth investing in below, the 'hidden' changes which makes this particular range so important and how you can get free bonuses to spend when it comes to buying the school essentials.
The new Asda school uniform praised by mums
Asda has launched their new Easy On Easy Wear range which caters to all children, including those who have sensory-sensitive needs like autism.
Shared earlier this month on Facebook, it's already been praised by thousands of shoppers and mums who have struggled to find a uniform for their little ones.
Mum Amy Potter wrote: "Brilliant! My 7 year old has sensory issues with clothes and will only wear jersey pinafores with no waistband (so it just goes straight down and not cinched in) but everyone seems to pinch the waist in nowadays."
Jackie Price-Jones said: "Brilliant Asda well done about time someone did something for autistic children 🥰🥰🥰❤️"
And Mary Duce shared: "I've bought some of these for my daughter who will start reception in September. She has a lot of sensory issues and these will hopefully help her be able to put her clothes on and off herself. Plus they feel really nice quality."
What makes this Asda school uniform range different?
In its research, Asda George found that 8 in 10 parents of children with specific needs felt that getting them dressed each day was difficult and that it takes twice as long to dress them compared to children without these needs.
Most clothing is designed with neuro-typical children in mind and so tight necklines, waistbands or buttons have become a regular part of kid's school uniform.
By making small changes to the uniform in the range, Asda has made a huge difference for parents by creating clothing that'll make the school run easier and extra-comfortable for their kids who have specific sensory needs.
Tom Purser, Head of Campaigns at the National Autistic Society, said: "It's great to hear that George at Asda will be developing autism-friendly clothing for children. Parents often tell us how sensory sensitivities can mean that autistic children struggle with clothing, like an itchy label, a scratchy seam or an uncomfortable fabric.
"Finding clothing their children can wear can make shopping for clothes time consuming and stressful. Many parents have to scour specialist shops for everyday items that other families are able to buy easily."
It makes a real difference when a major retailer takes this on and as the first major retailer to do so, we're hoping their actions will spearhead change with other retailers and encourage similar ranges for older children and adults too.
Description
This sweatshirt eradicates having to fit into a tight neckline with the press stud fastening on
Description
This long sleeve shirt features soft threads for extra comfort, a printed care label and pull on
Description
This shirt includes the same features as the girls long-sleeve shirt with soft threads, non bulky
Description
These polo shirts have proven extremely popular and comfortable for school wear. The front planket
Description
This shirt features the same comfort and care considerations as with the other polo in the Easy On
Description
Another highly popular uniform piece among parents with sensory-sensitive children, these trousers
Description
These stretchy and soft jersey fabric trousers come with a comfortable stretch waistband which
Description
Perfect for PE, these joggers are made extra soft and comfortable with the cotton rich fabric and
Description
The classic school dress in gingham check is a must-have for the summer, and comes with a pretty
Description
Designed as a 2-in-1 dress, this pinafore works well on its own or as a replacement to a skirt and
Description
This two-pack skater skirt gives great stretch and comfort with the stretchy waistband and soft
Description
These skirts share the same qualities as the other skirt in the Easy On Easy Wear range, just with
Does Asda have other school uniforms?
Yes! As well as the new exciting range making the moves, Asda have a great range of school uniform for neuro-typical children so whatever you're looking for, they'll have. Kit your kid out top-to-toe with quality uniform that'll keep them looking smart, made to withstand the classroom, playground and beyond. Here are some quick links to find the uniform you need:
The Asda School Shop Savings Card
As well as helping to make school prep easier for parents, Asda have launched a savings card to help you save for the big school uniform and essentials shop this year. The more you save, the larger a free bonus you'll earn to help go towards whatever your kids need for back-to-school this autumn.
To get started, simply order a card online or pick one up in-store. Top up your card automatically throughout the year with the money you'd like to save for your school shopping and depending on how much you've saved, Asda will give you a cash bonus of up to £15 to spend.
You can use your savings card across the full uniform range, whether you need the Easy On Easy Wear uniform, shoes, PE kits or even stationery.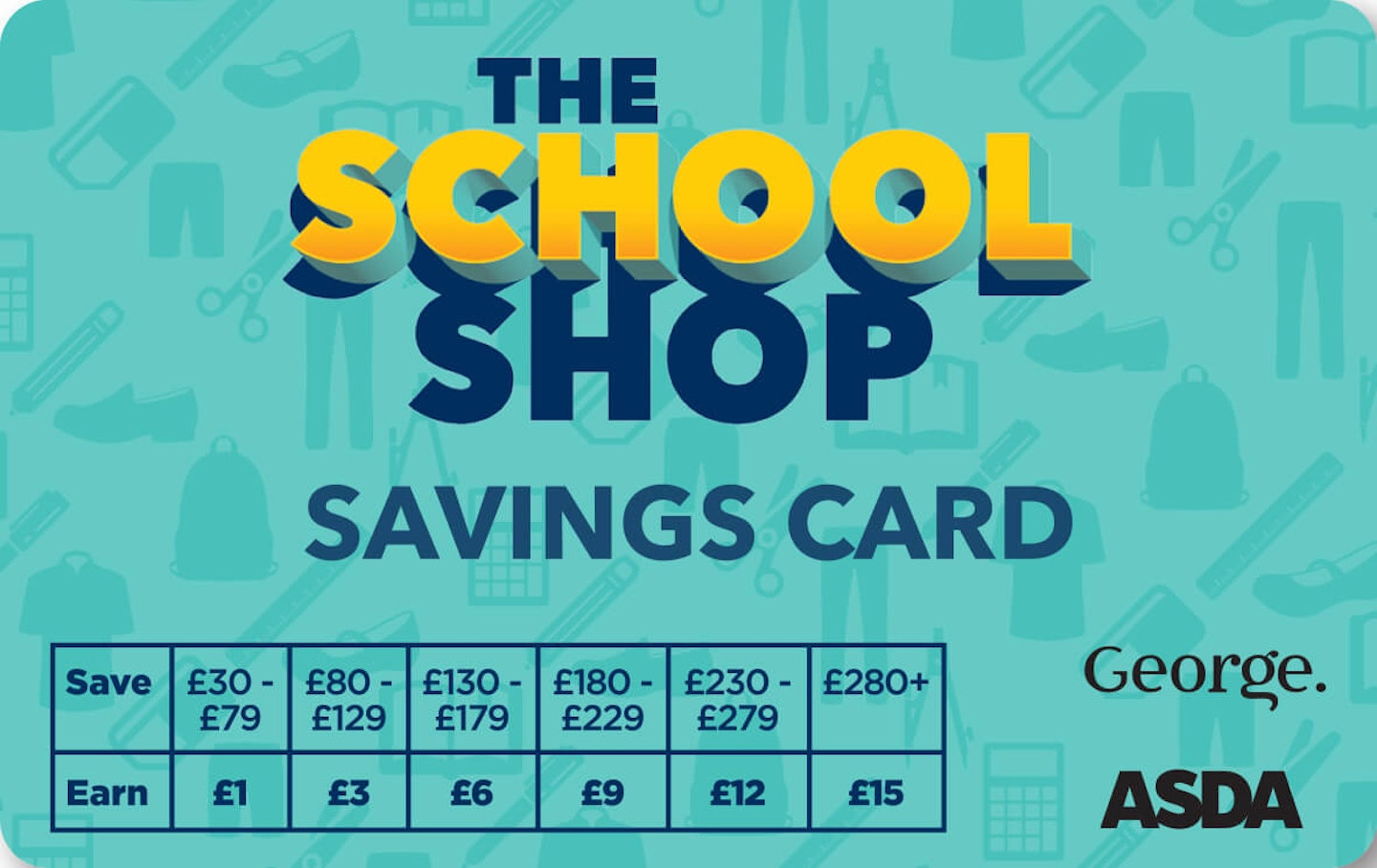 The cash bonus will be rewarded on the cut-off date of August 8, so the idea is that you start saving now so you can start preparing for the new school year during the summer holidays.
We think this is a great way of making sure you've put money aside to shop so you don't get a nasty school bill later in the year, and you get a free bonus too that'll really help.
And don't worry about your money being locked in - you can spend your savings as you go if you have any unexpected mid-term buys and can ultimately spend the money on anything in-store or online, including groceries, so if you've bought all the school supplies you need, nothing goes to waste.
What to read next