A paddling pool is a rite of passage for any youngster and with temperatures soaring to 30 degrees this summer, playing games in a paddling poolis a fun way to keep both you and your baby cool in the heat.
Sink or swim
Gather a tub of objects and stand together with your toddler next to the paddling pool. Ask her to guess if they'll float or sink, and then put her in charge of throwing them in to find out. If she's right, she gets to retrieve the object and put it in her pile, but if she's wrong, you nab it for your pile –the person with the biggest pile wins! Play it a few times and she'll enjoy it more and more, as she starts to remember what floats and what sinks, and wins all the time!
Make a splash
Position your garden slide with the end in the paddling pool. Let her drop her toy cars down the slide – the bigger the car, the bigger the splash!
More from Motherandbaby.com
Net a prize catch
Freeze some paper cups filled with water overnight, then throw the ice blocks into the paddling pool. Give your tot a fishing net and she'll delight in the slippery fun of trying to scoop them up. Hand had a bucket to empty her ice catch into – a great game for her fine motor skills!
Fish for treasures
Toddlers love a game where they get to follow instructions in a fun way. Shallow-fill your paddling pool and, together, throw in a collection of items such as a bath toy, a car, a wooden spoon, an apple – the more random the better! Stand together a few metres from the pool and shout out the name of one of the items for your little one to bring back to you, having lots of fun climbing into and out of the pool as she does. Want to make it more tricky? Challenge her to fetch something red, something squashy, something with wheels…
Race to the finish
Transform your garden into an obstacle course for your toddler. Have her crawl under the bench, and wind in and out of a few upturned flowerpots, before she races to the finish – a wade through the middle of the paddling pool! Make the game harder and float a few balls in there that she'll need to avoid touching in order to win the race.
Fancy something different to a paddling pool? Try a splash pad instead
Create a ball pool
Have your tot stand at few metres away from the paddlng pool with a bucket of balls and ask her to throw them into the ball one by one to earn points. She'll love it if Mum's sat behind the pool on her deckchair and gets 'accidentally' splashed in the process! To make it harder for older tots, float a hula hoop in the pool – can she hit the target and get her ball inside it?
Have a singalong
If she likes singing The Wheels on the Bus already, then she'll love a rendition in the paddling pool where the actions lead to lots of splashing. And mix up the songs to suit: ask her to splash her hands instead of clapping in If You're Happy and You Know It, and splash instead of shake in Dingle, Dangle Scarecrow.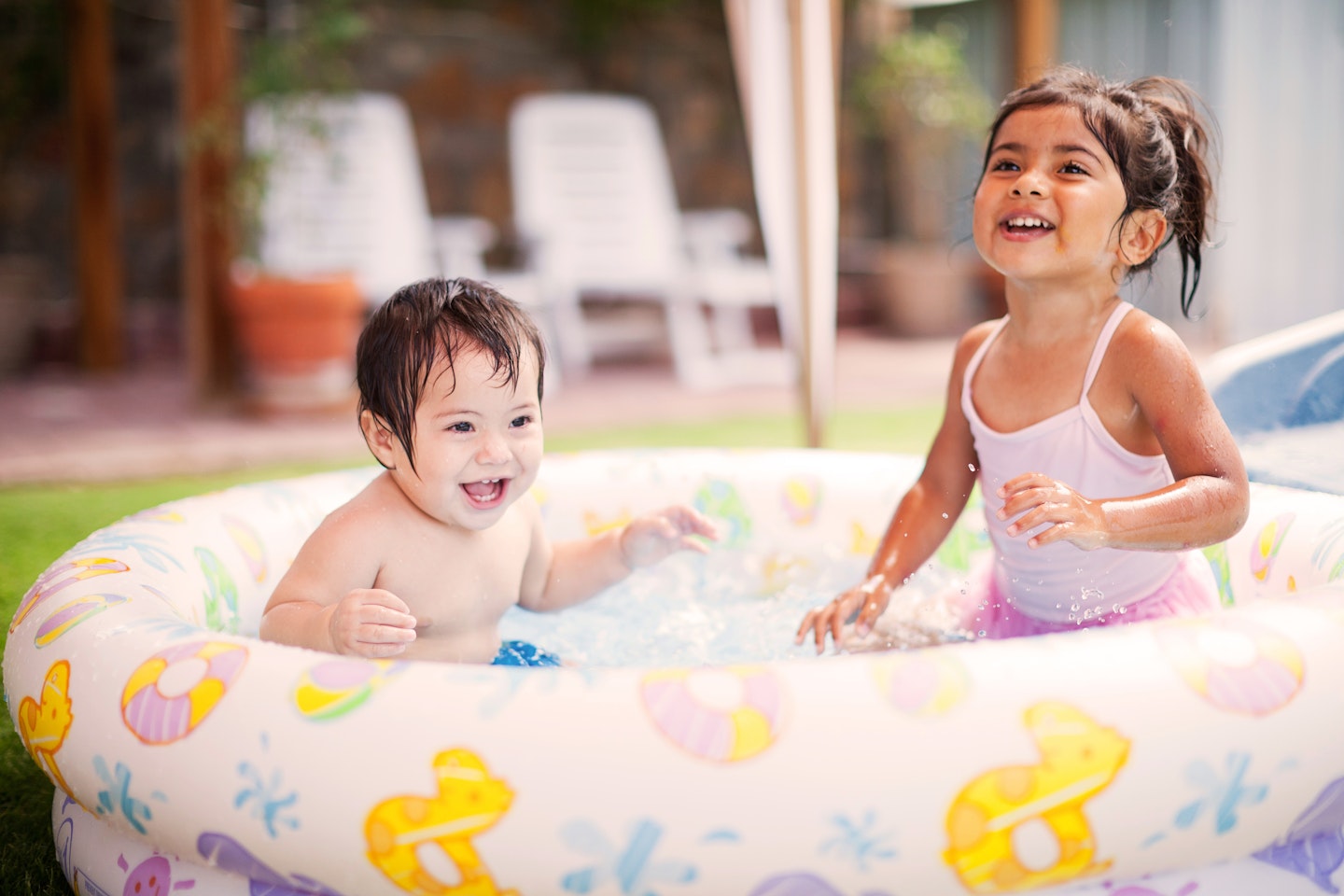 Have a pool party
Pretend the paddling pool is a swimming pool, and take dolly for a dip! Suggest that your tot is the parent and the doll is her baby, and just watch what she does and listen to what she says. She might sit the doll on the side of the pool and pretend that it's scared to go in, or she might dunk the doll underwater and tell you that it's crying. Whatever, you'll get a great insight into what your youngster's worries about the swimming pool are.
Dive in!
Create a deep-sea scene together, using stones and flowers to build a coral reef and leaves for the fish who live there. Tie some string to the end of a stick, and you've got yourself a fishing rod, too. A large stone with a handful of sand makes for a fab desert island. Why not pop in a toy boat to sail there?
Bring bathtime outdoors
Garden still toasty warm? Then move bathtime to the paddling pool on a balmy summer evening. Warm the pool with a few kettle-fulls of water and add a few drops of her regular bubble bath, mixing it in well, then let her scrub-a-dub-dub outside. She'll love to listen to the birds singing as you wrap her up in a big, fluffy towel. Why not finish up with storytime out there too?
Make a mud bath
Fill your pool with just a couple of centimeters of water and let your little one throw in some soil (a couple of handfuls is enough to turn the water brown, and it's easy to rinse out with the hose), leaves and big sticks to create a savannah watering hole. Add her toy lions and leopards to roam around and roar!
On the lookout for a new paddling pool?
Best paddling pools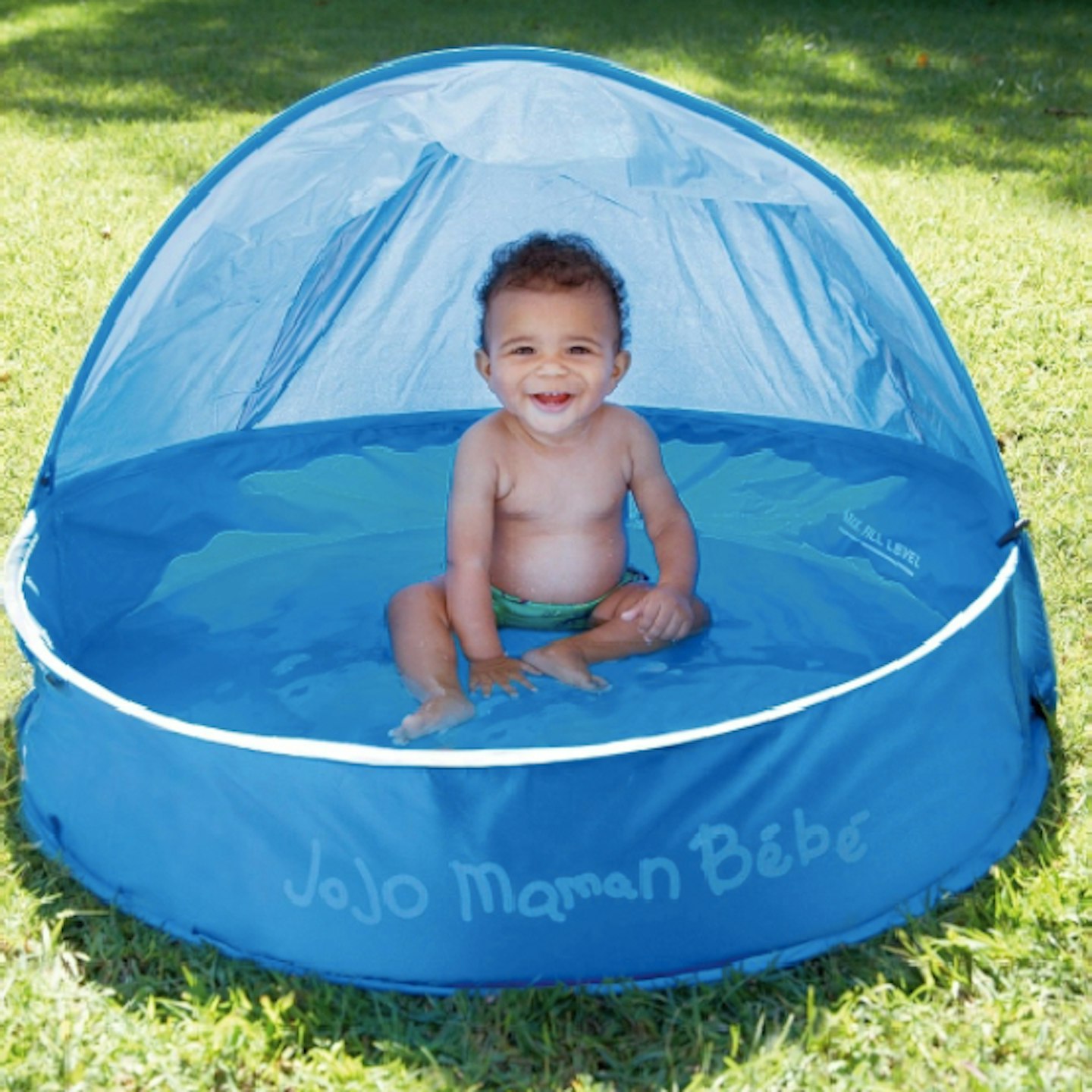 1 of 8
Jojo Maman Bébé Pop-Up Paddling Pool
Not only will your baby love cooling off in this pool but they'll be protected from harsh sunlight too thanks to the overhead sunshade and UPF 50+ protection cover. Best of all, its pop-up design means you won't have to mess around with fiddly pumps and it folds away into a 40cm carry bag when not in use which is ideal if you want to take it on holiday or to a friends' house.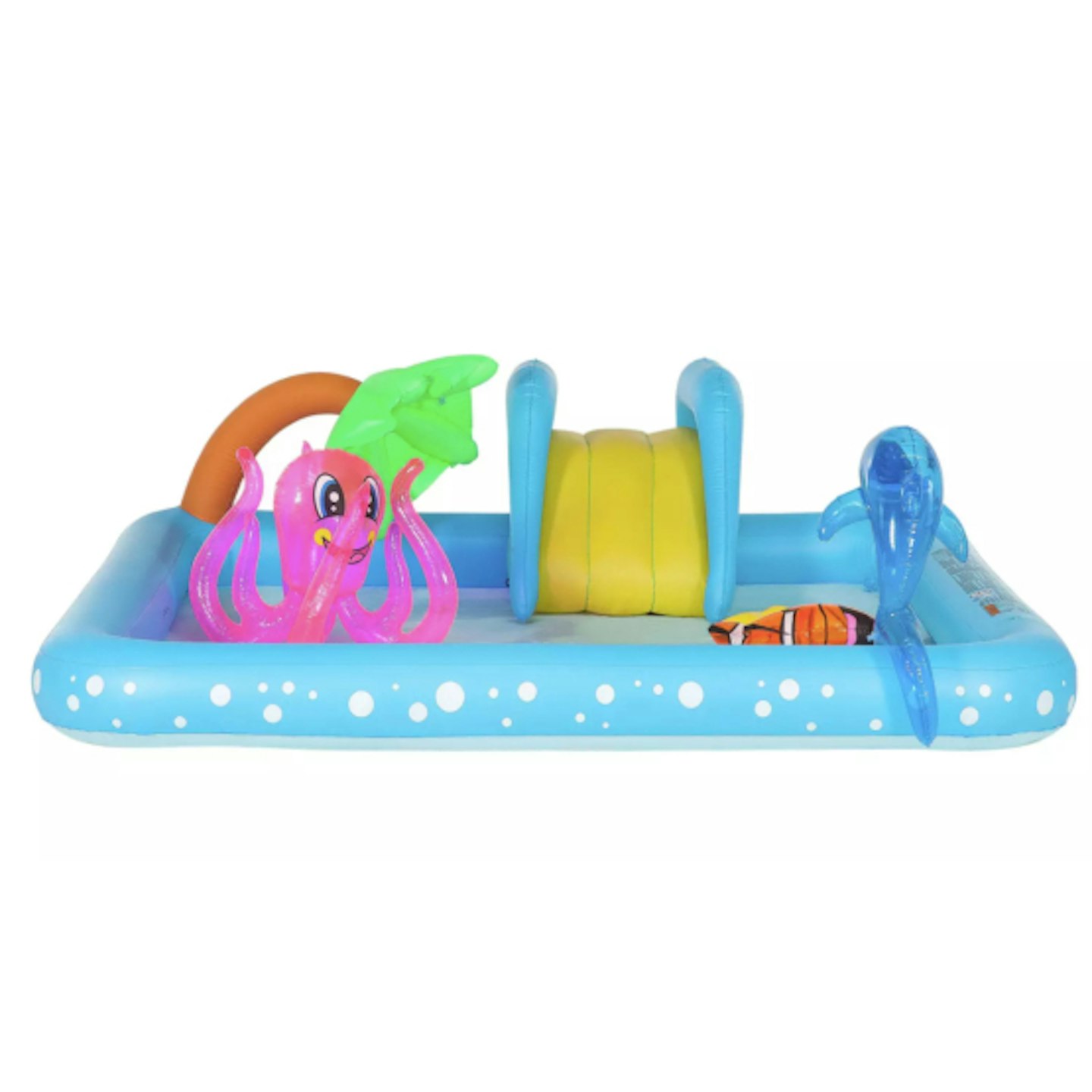 2 of 8
Chad Valley Aquarium Activity Pool
Little ones will have endless fun in this eye-catching play pool that comes complete with a blow-up dolphin, clown fish, octopus, slide and palm tree sprinkler. There's plenty of space for three or four children to enjoy playing in and it all folds away nice and flat for easy storage when playtime is over.
3 of 8
Intex Lazy Snail Paddling Pool
Another great option for younger children as they will love the colourful and playful design. The inflatable floor is super comfy and mean it works well on harder ground like a patio or decking, while the built-in sunshade will keep them safe from UV rays. This could even double up as an indoor ball pit when the weather isn't great.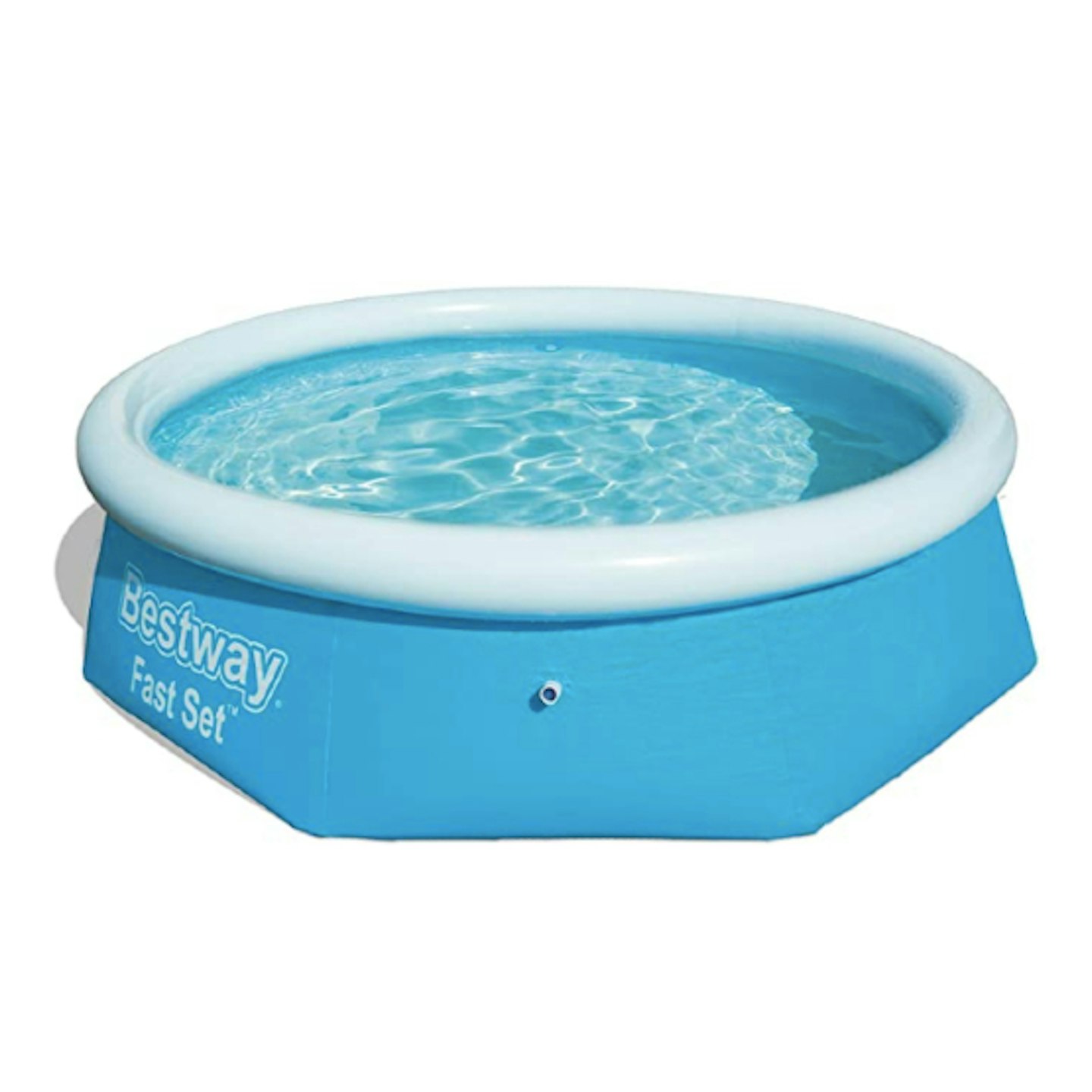 4 of 8
Bestway 8ft Fast Set Paddling Pool
If you're after a model that won't take forever to inflate, fast set pools are the way to go. Only the upper ring needs blowing up as the rest can be filled with water, so you and your family will be splashing about in to time at all. It's just as easy to put away too thanks to the built-in drain in valve and space-saving storage box. Another bonus is the heavy duty TriTech material which is super durable.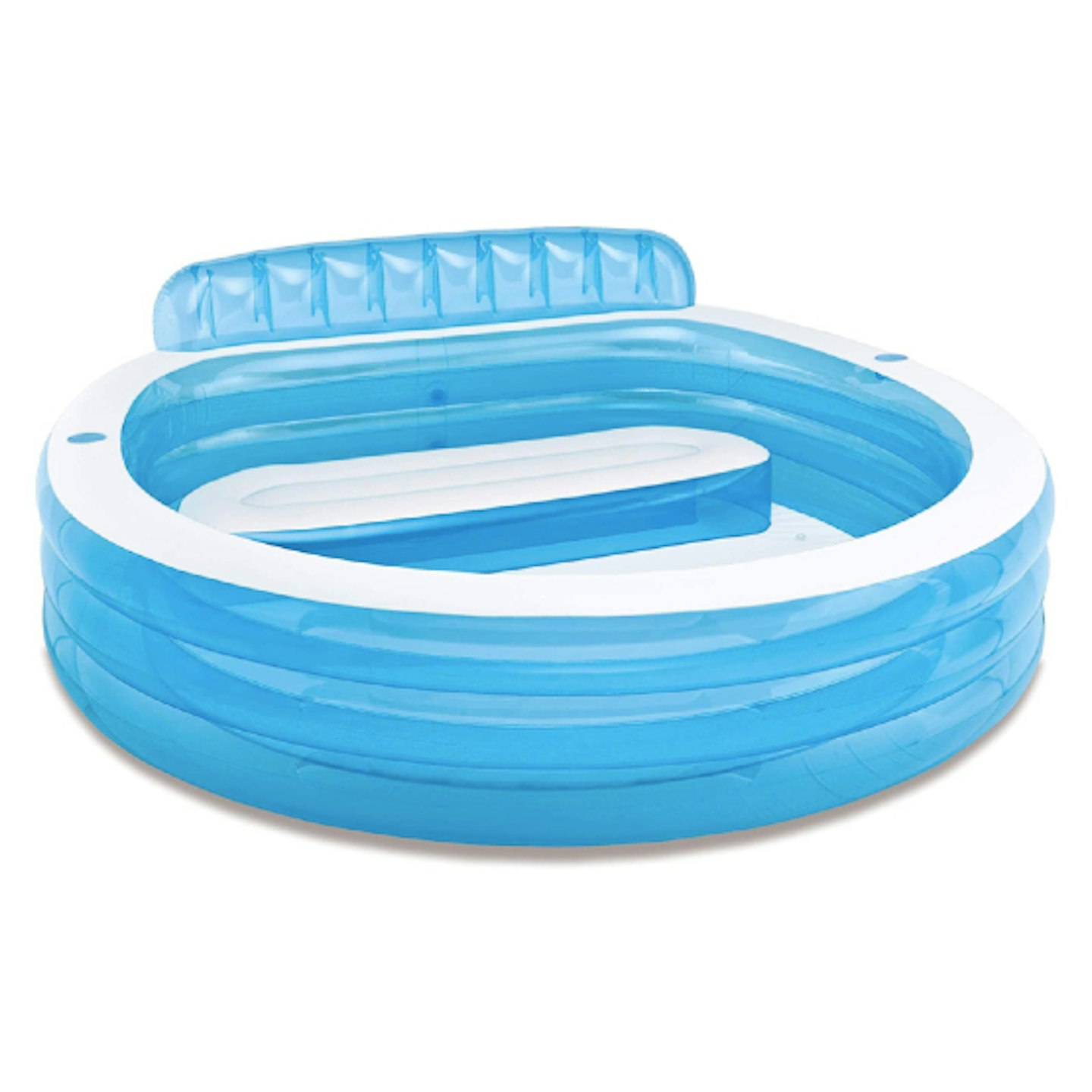 5 of 8
Intex Swim Centre Family Lounge Pool
The whole family can cool off in this fabulous lounge pool that comes with an inflatable bench so adults can sit back and relax while the kids paddle about. There are even two cup holders, which is a nice touch.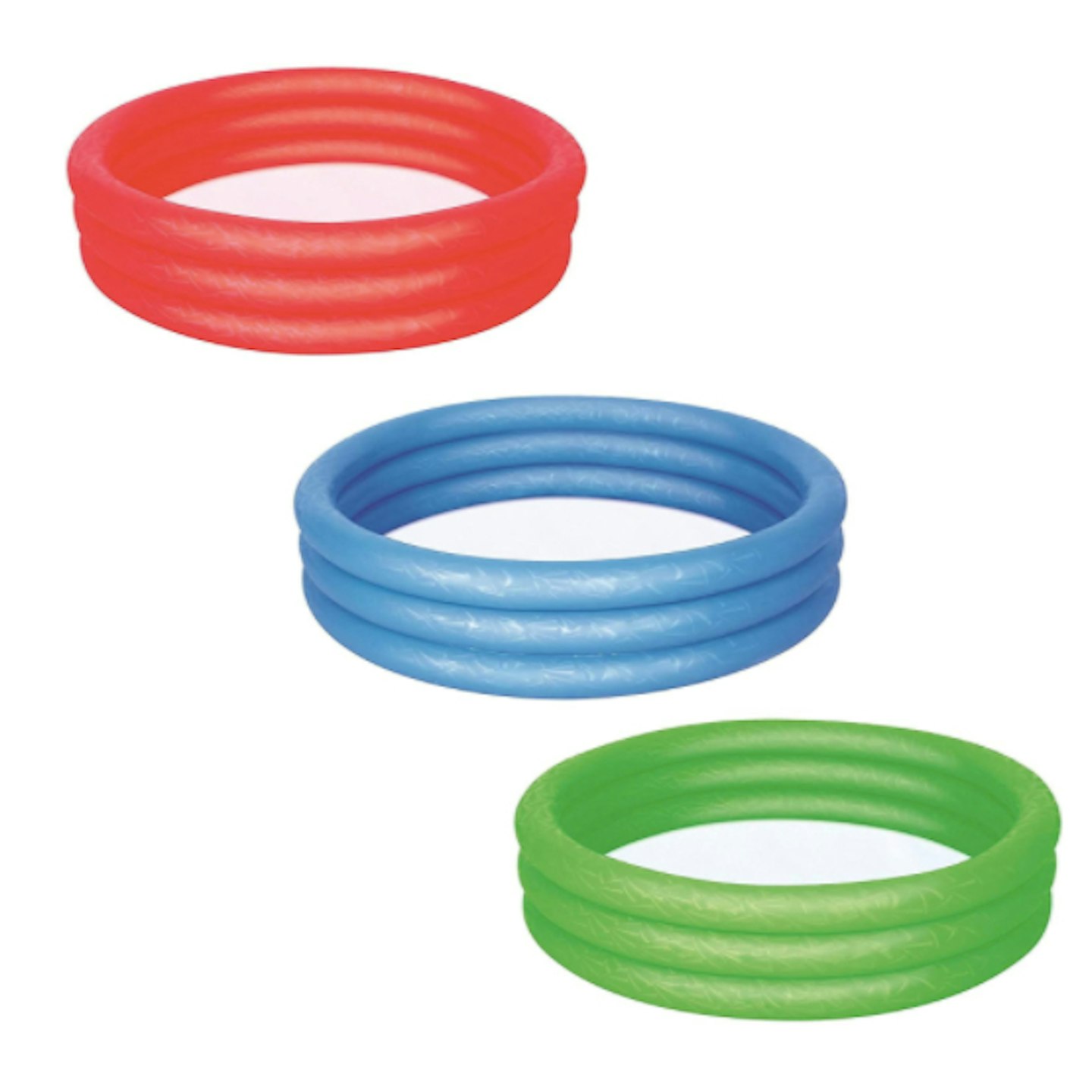 6 of 8
Bestway Splash and Play Three Ring Pool
It may only set you back less than a tenner but this three ring inflatable pool, which comes in three different colours, provides all the water fun your toddlers need. It's quick to inflate and won't take long to fill up either. It's only 45 inches in diameter so perfect if your garden is on the smaller side. Reviewers say it's excellent value for money too.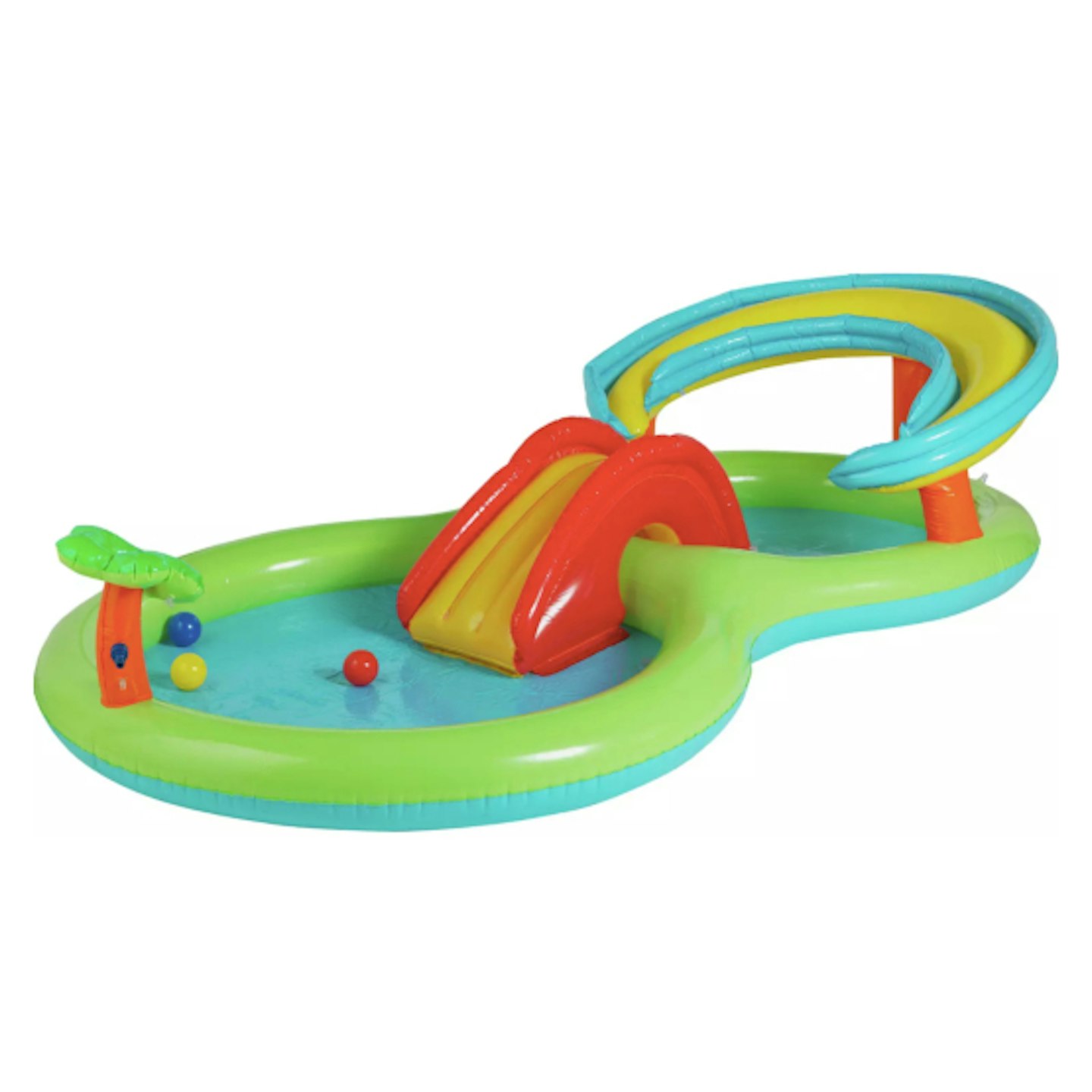 7 of 8
Chad Valley Activity Pool Play Centre
There's lot of fun to be had with this inflatable play centre, which can be used as a ball pit and a paddling pool at the same time. Tots will also love the slide and palm tree sprinkler. With its vibrant and colourful design and focus of play, your little ones will be able to enjoy this pool for hours.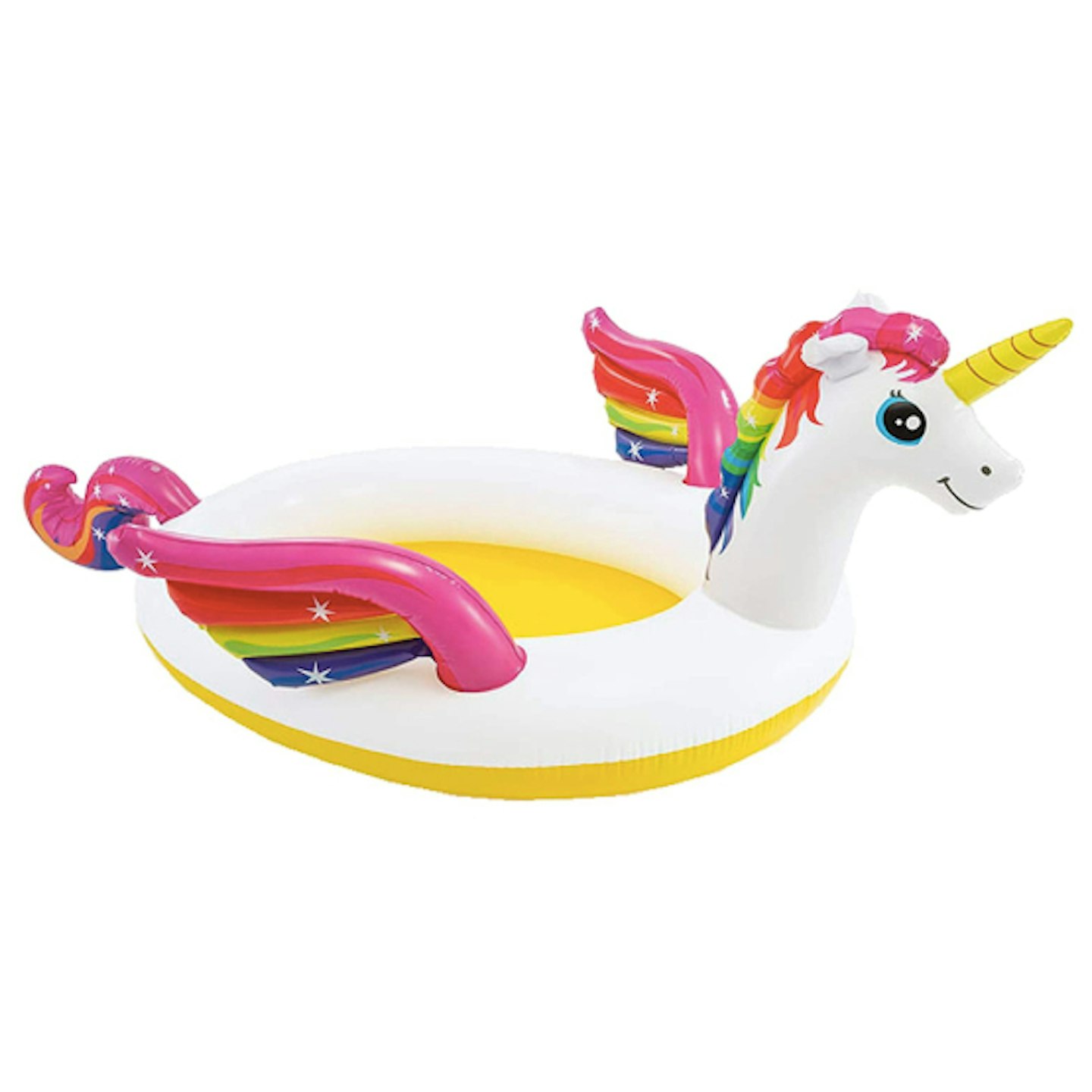 8 of 8
Intex Mystic Unicorn Spray Pool
Kids will adore the magical unicorn design of this paddling pool, which has a built-in sprinkler to keep them extra cool as they splash about. This also wins major brownie points for its convenient drain plug.
More related articles from Mother&Baby:
We want to know what you're going through, what your experience is, what your concerns are - post now in mumtribe where we, or one of our thousands of mum members, will be able to help! You are not alone! We are #onemum. We are #mumtribe.