Christmas is a time for spending with close family and doing fun activities together, so why not get creative with your little one and create some of these fun and creative handmade Christmas card ideas or homemade Christmas gifts to send out to all the family?
Choosing cards can be incredibly stressful, it's always crowded in the shops and the messages inside the cards aren't always very personal. Making your own DIY handmade Christmas cards is a lot of fun and there are so many different designs that you can create together with your children.
The best handmade Christmas card ideas 2023
We've found more of the best handmade Christmas card ideas from Pinterest for you to make with your baby or toddler. They're super simple but just as effective and cute. It can be quite messy, but your little one will have a lot of fun!
If you're nervous about paint getting all over the place as your little Picasso gets to work, put down some newspapers, or a splash mat, and dress them in an art apron or old worn-out adult shirt to protect their clothes.
Reindeer footprint
If you're struggling for ideas, we took some inspiration from mum and model, Sarah Tarleton, who shared her own Christmas card design with help from her baby daughter Margot and husband Jim Chapman. Sometimes, it's a two-man job for little wrigglers!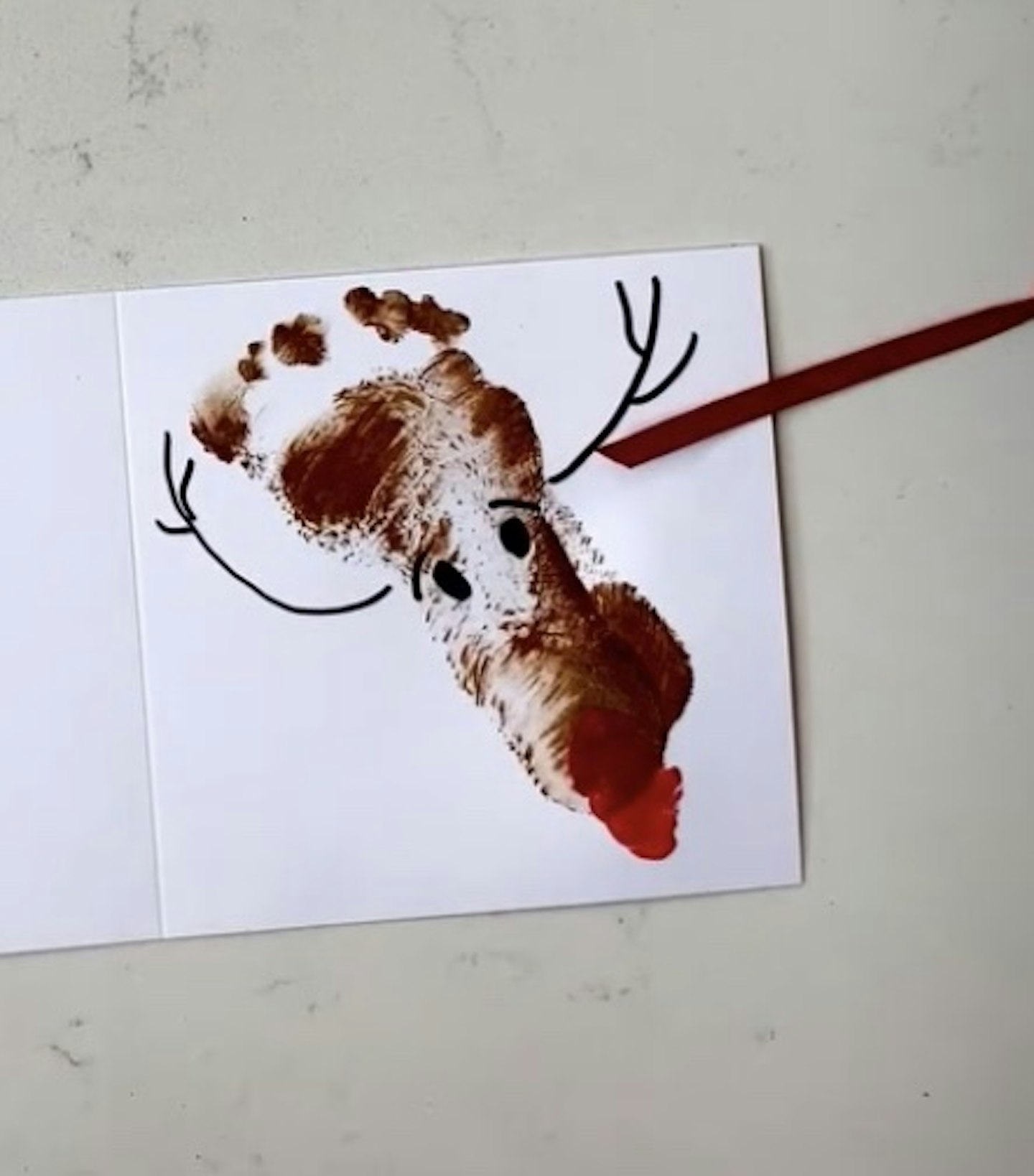 Together, they created some adorable Rudolph-themed Christmas cards. For the face, they used Margot's footprint dipped in washable paint on a paint pad and then used a fingerprint for the nose and a Sharpie pen to add the extra details.
Santa Claus Handprint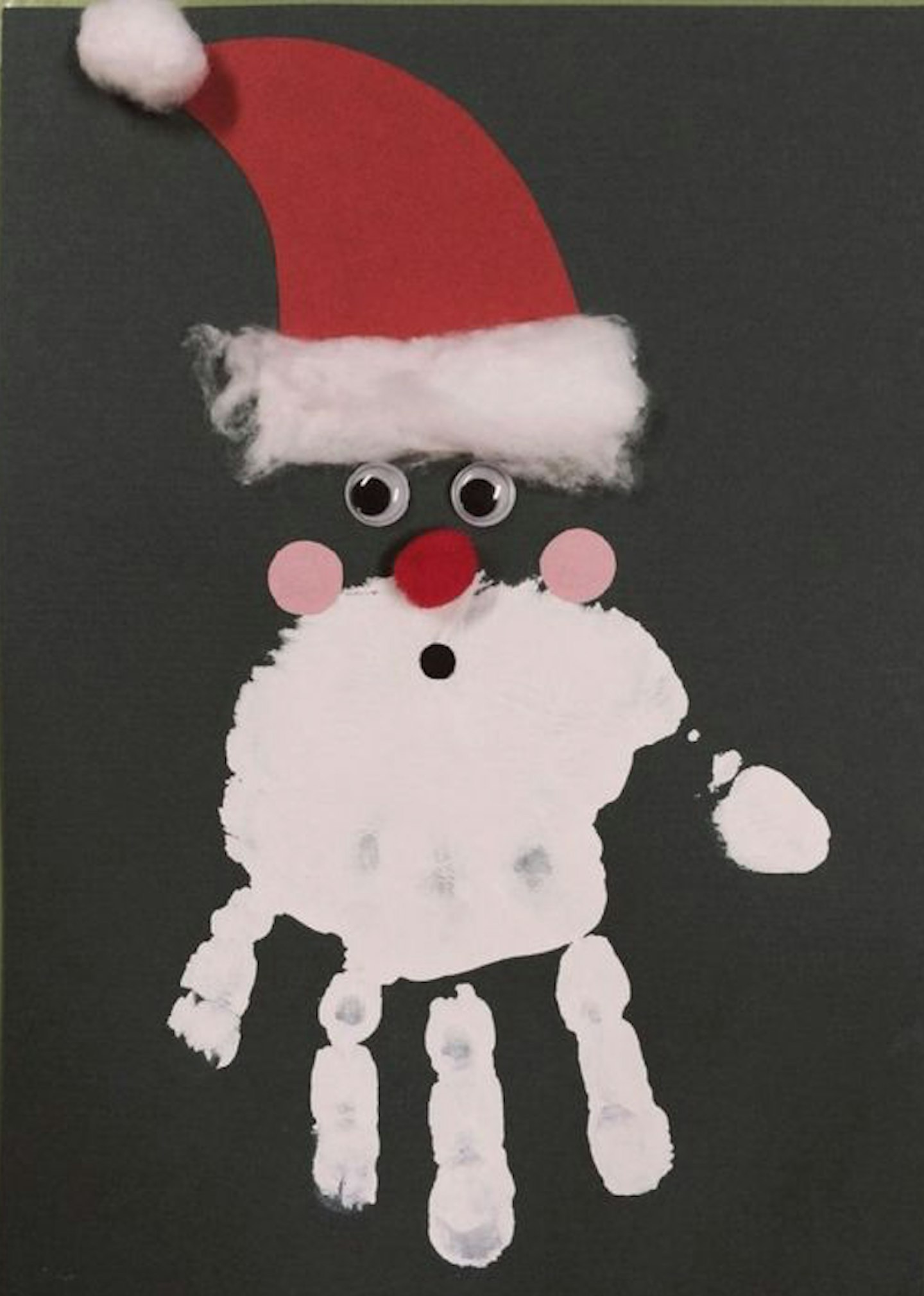 This lovely Santa Claus card is fun to make, and once your little one has made the white beard they'll have fun sticking on his eyes, nose and hat!
Reindeer family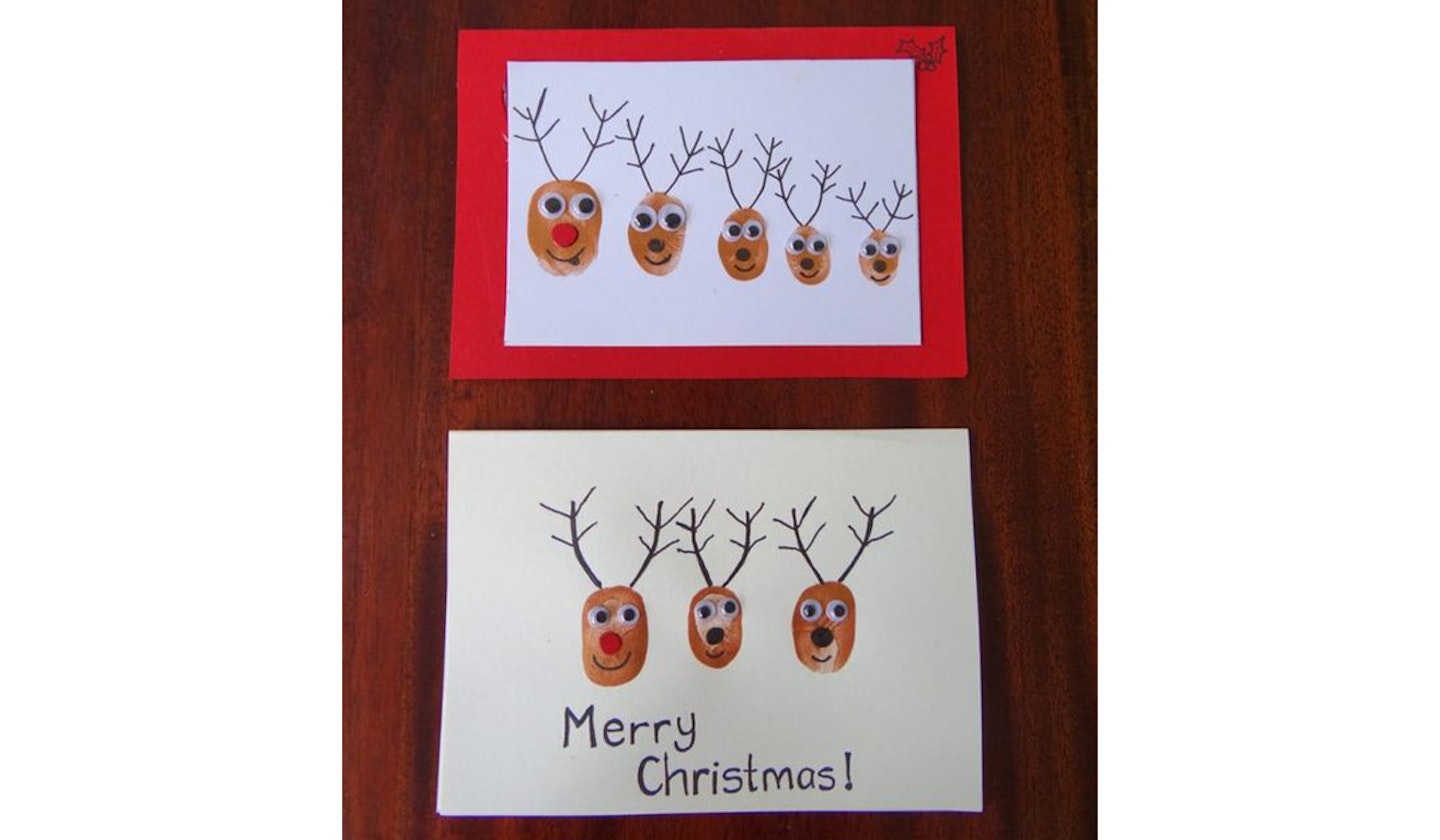 Recreate your own little family in the form of these finger print reindeers. Simply ask all members of your family (you could even try it with the dog!) to print a brown finger print on the card, weight for it to dry, then add the reindeer designs.
Christmas Tree Footprint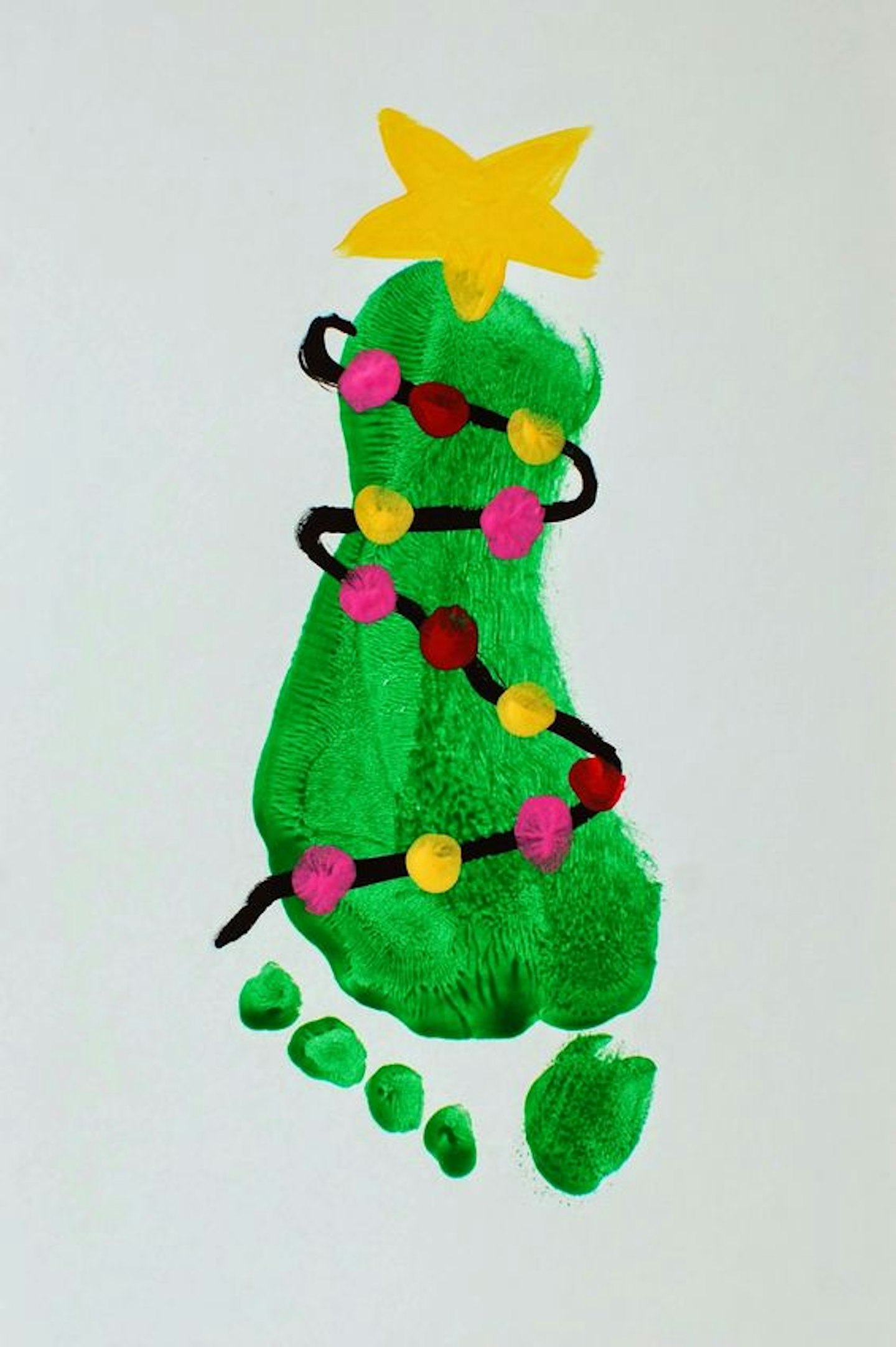 How sweet is this little Christmas tree print? Once you've made the tree print, let it dry and then let your tot finger paint the lights onto the tree! You can even add a sprinkle of glitter for some Christmas sparkle.
Minimal reindeer card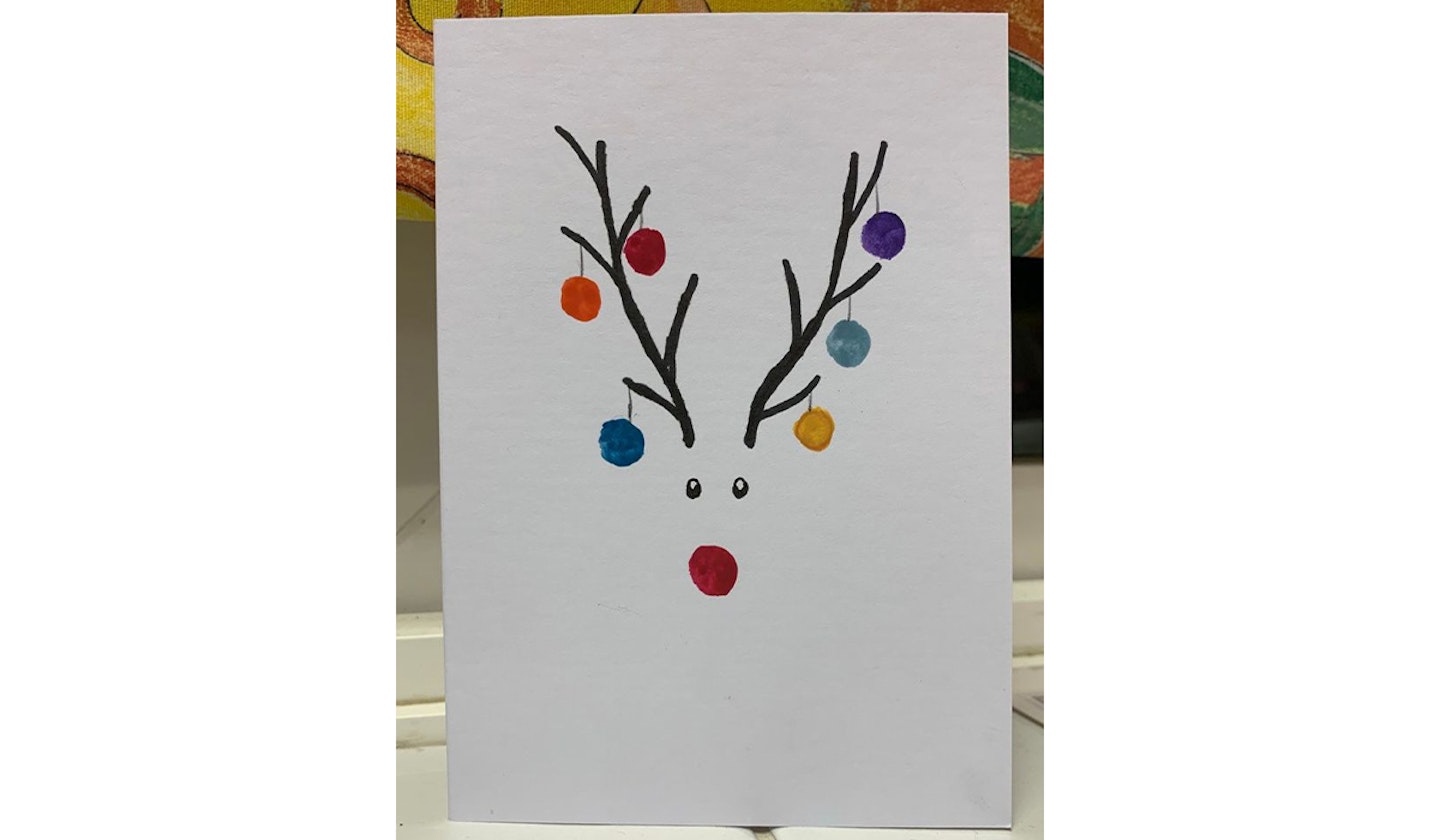 For a more minimal look, try this simple reindeer design using simple paints and sharpie pens. Your little ones may want to help with the colourful baubles.
Fingerprint Christmas Tree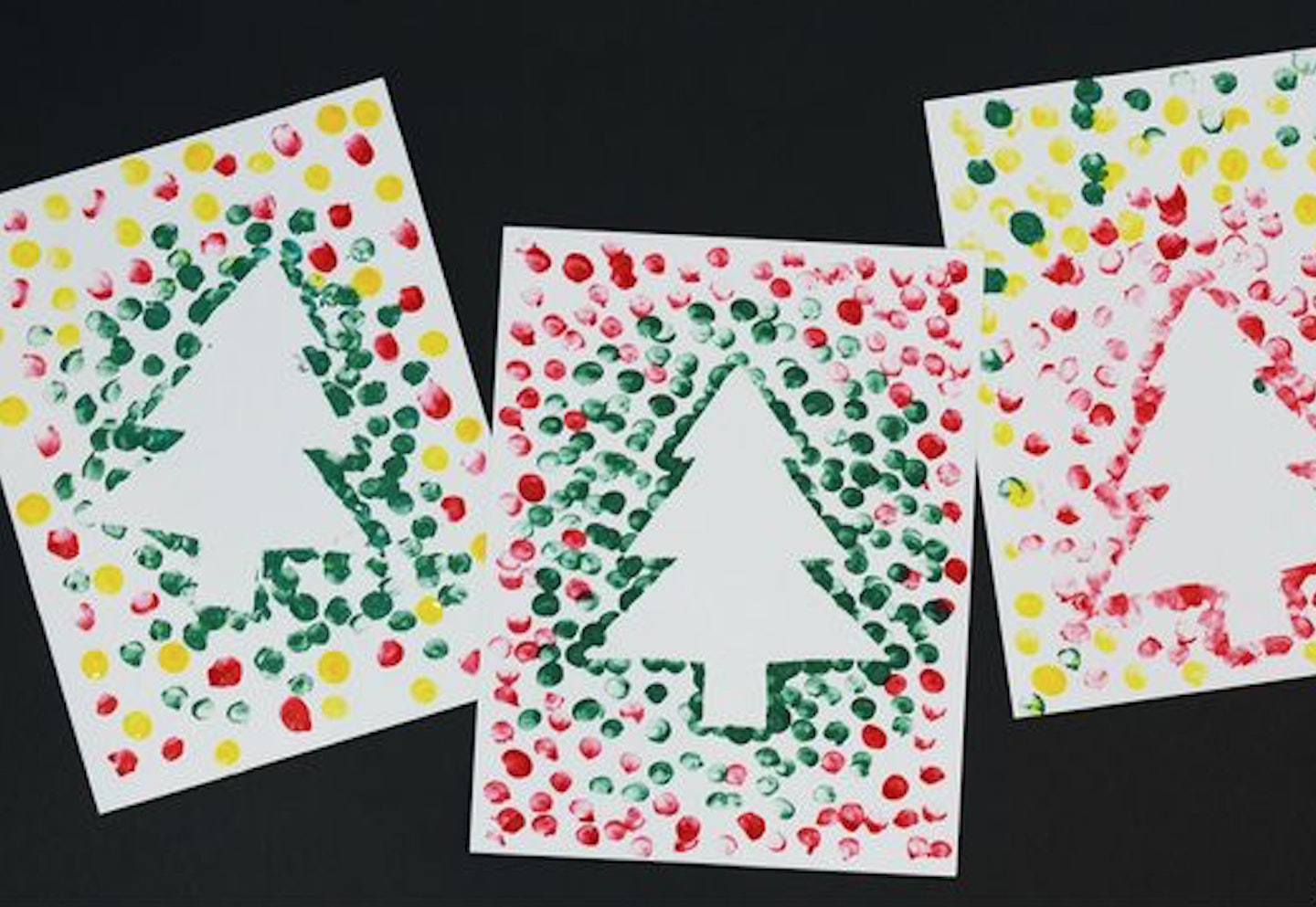 It might be a little messy making this card, but your little one will have a lot of fun! All you need to do is Blue Tack a cut out Christmas tree onto the card, then let your tot get creative with paints. Once the cards dry, peel off the tree for the final result.
Reindeer Footprint with Pom Pom Nose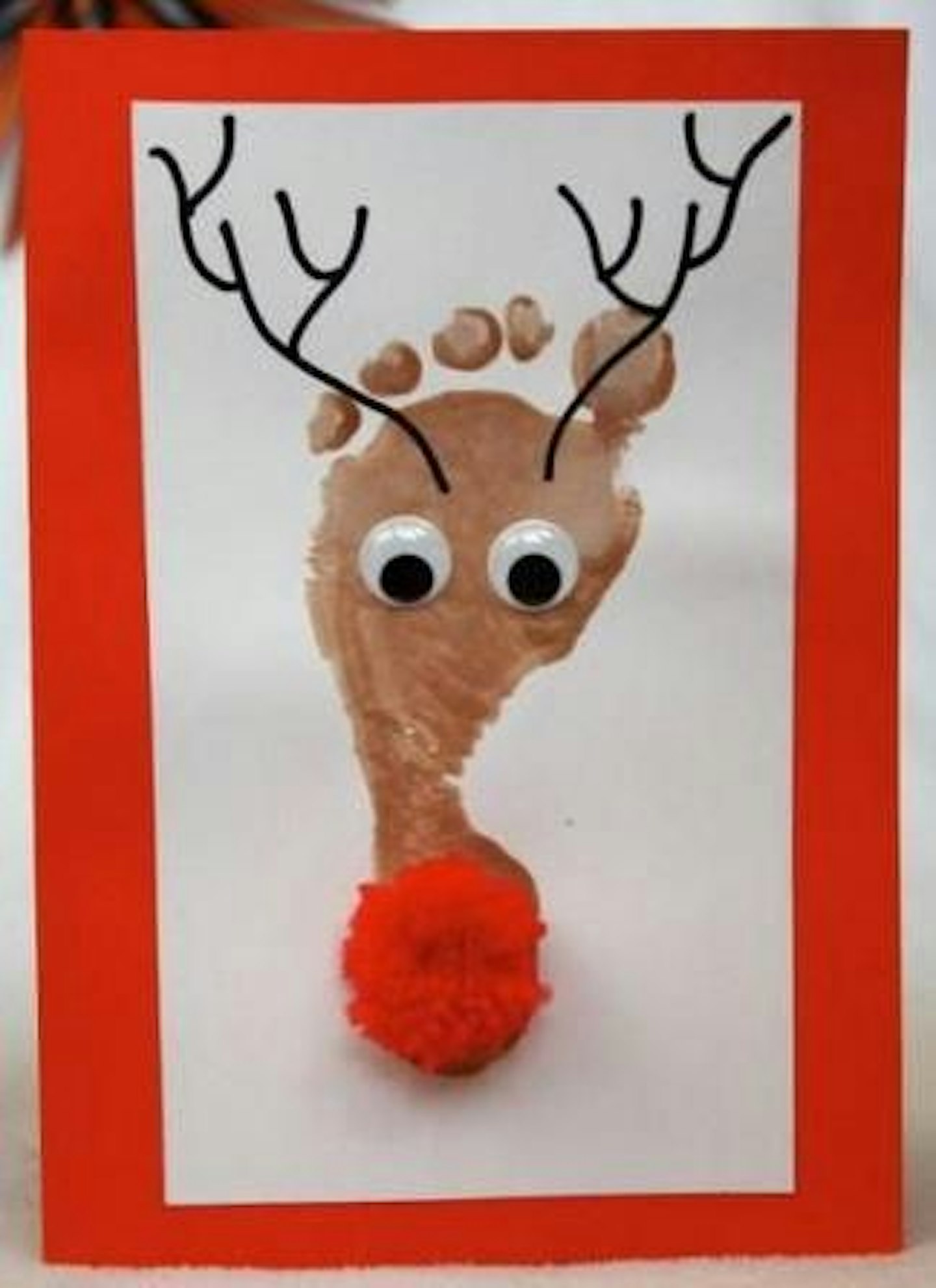 If it's your baby's first Christmas, this card would be the perfect one to make! It's a lovely, personal way to create something to remember their first Christmas. How cute is the caption, too?
Mistletoes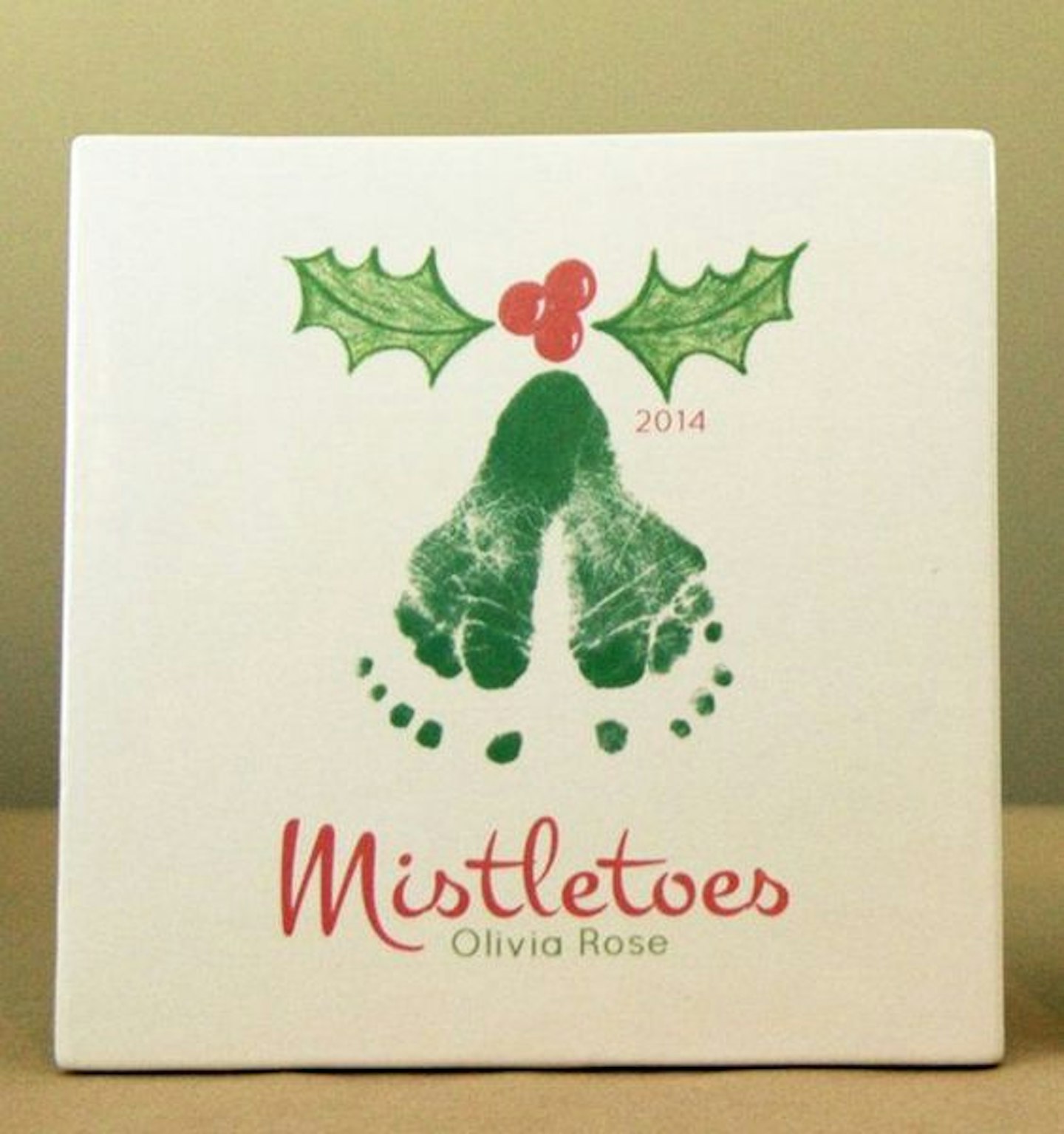 If it's your baby's first Christmas, this card would be the perfect one to make! It's a lovely, personal way to create something to remember their first Christmas. How cute is the caption, too?
Robin family card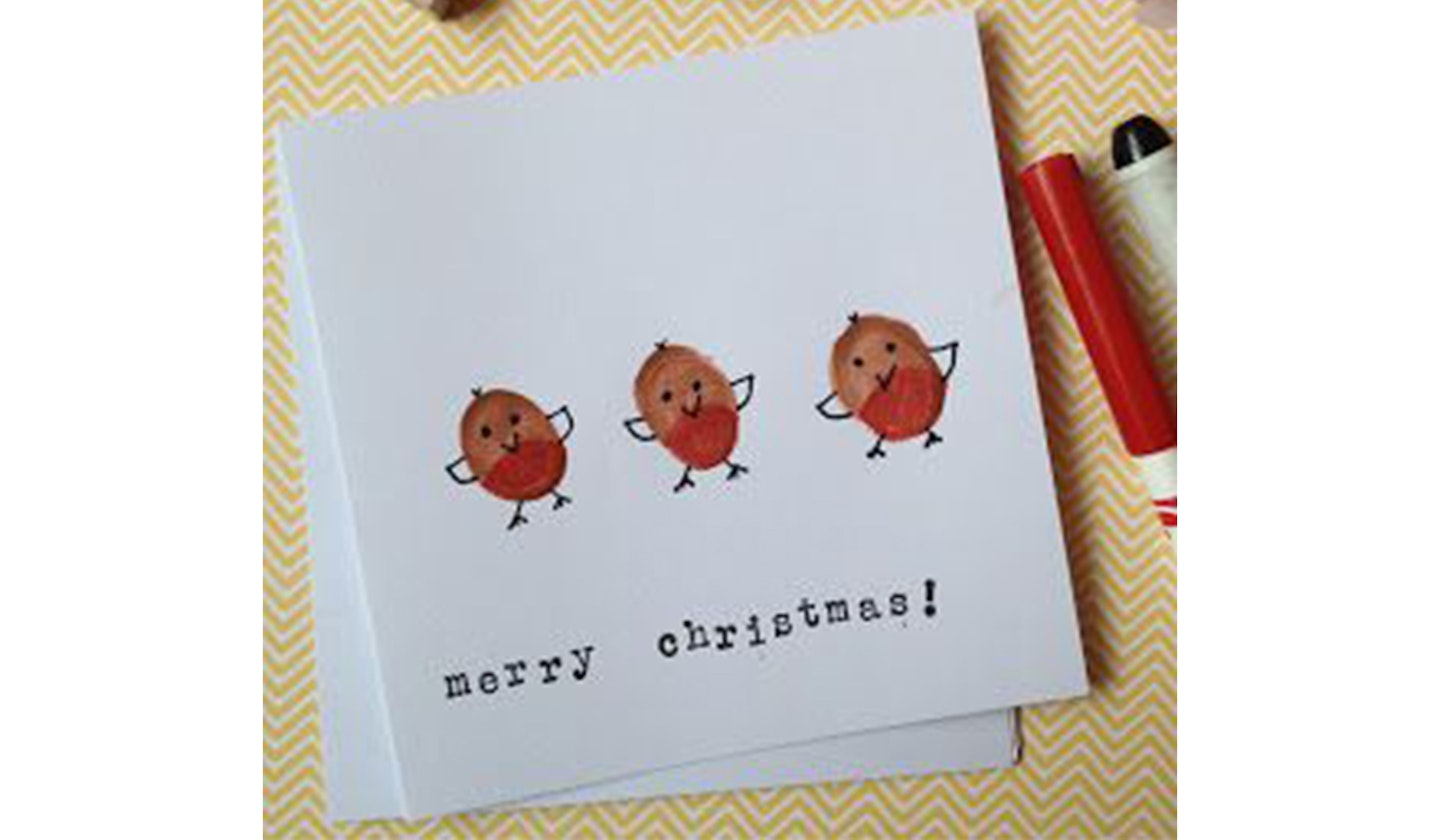 Similar to the reindeer design mentioned above, these adorable robin characters can be just like your family using everyone's finger print. Use a small brush to paint half of your finger tip brown and half red and press on the card.
Snowman Footprint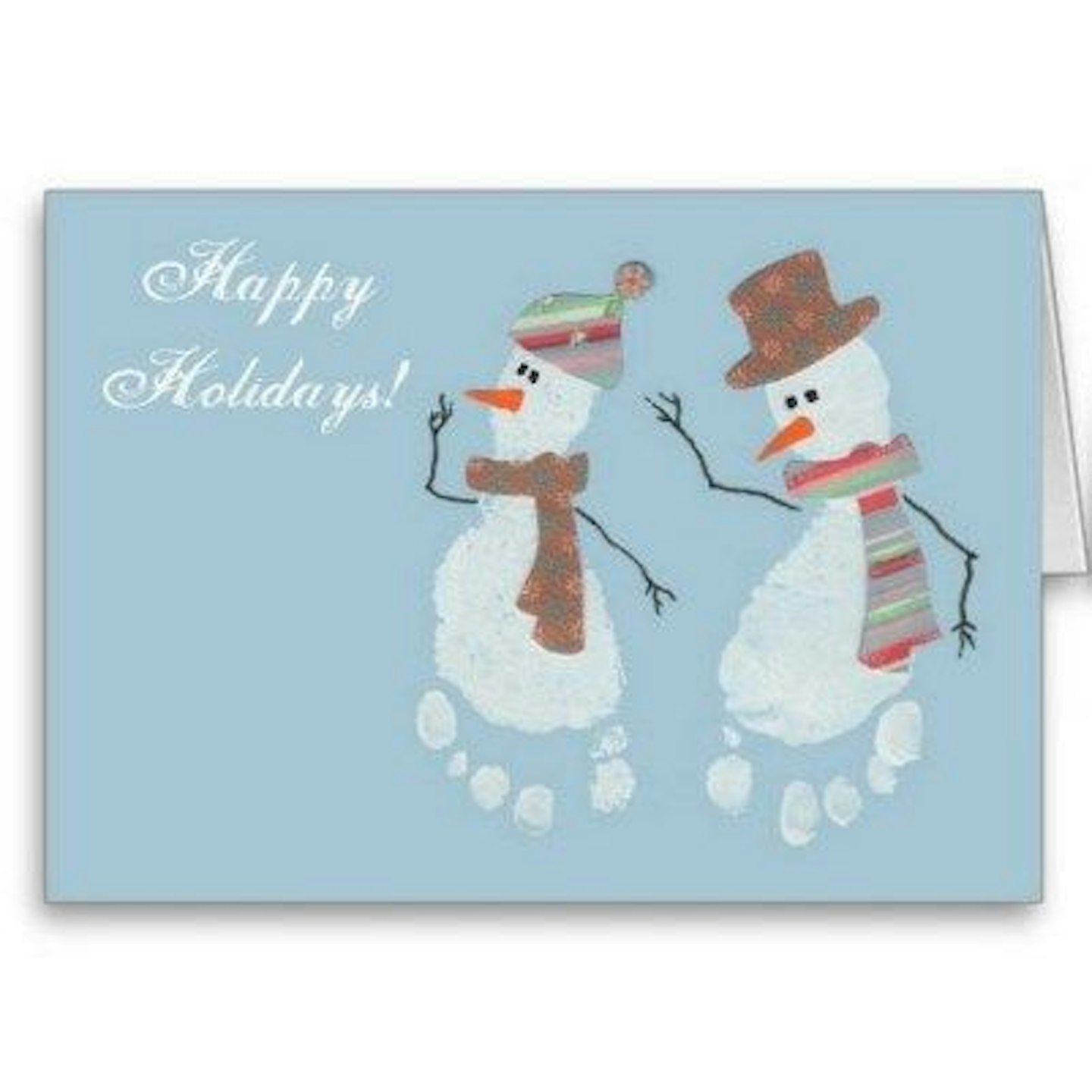 If you have more than one child, you can do two or more different prints to make different-sized footprint snowmen. It's a great festive card that's in the spirit of Christmas.
Pom Pom wreath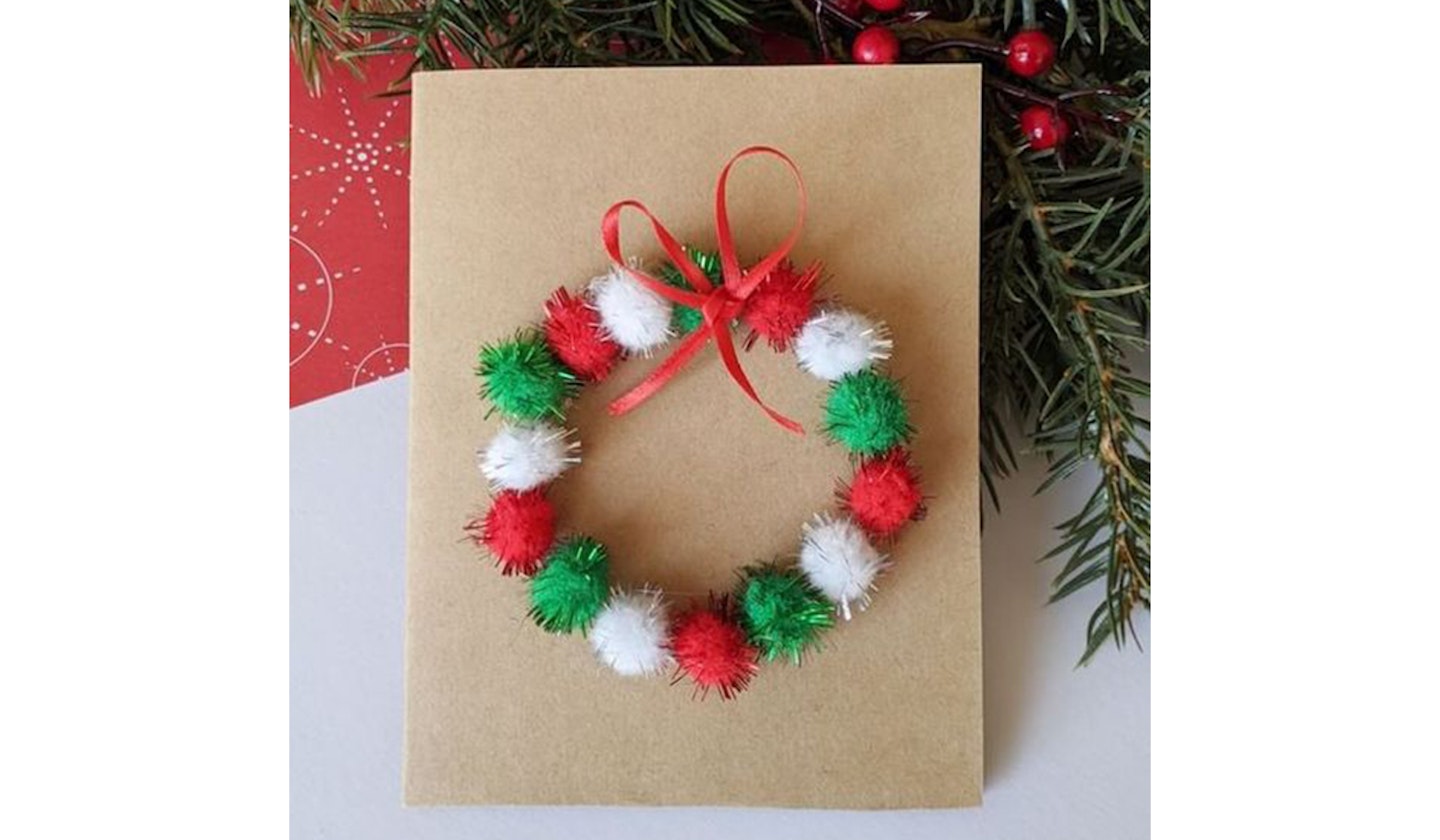 Who doesn't love a fun pom pom when it comes to crafting? Using a festive red, green and white, create your own little wreath on a card using some glue to secure.
Gingerbread Footprints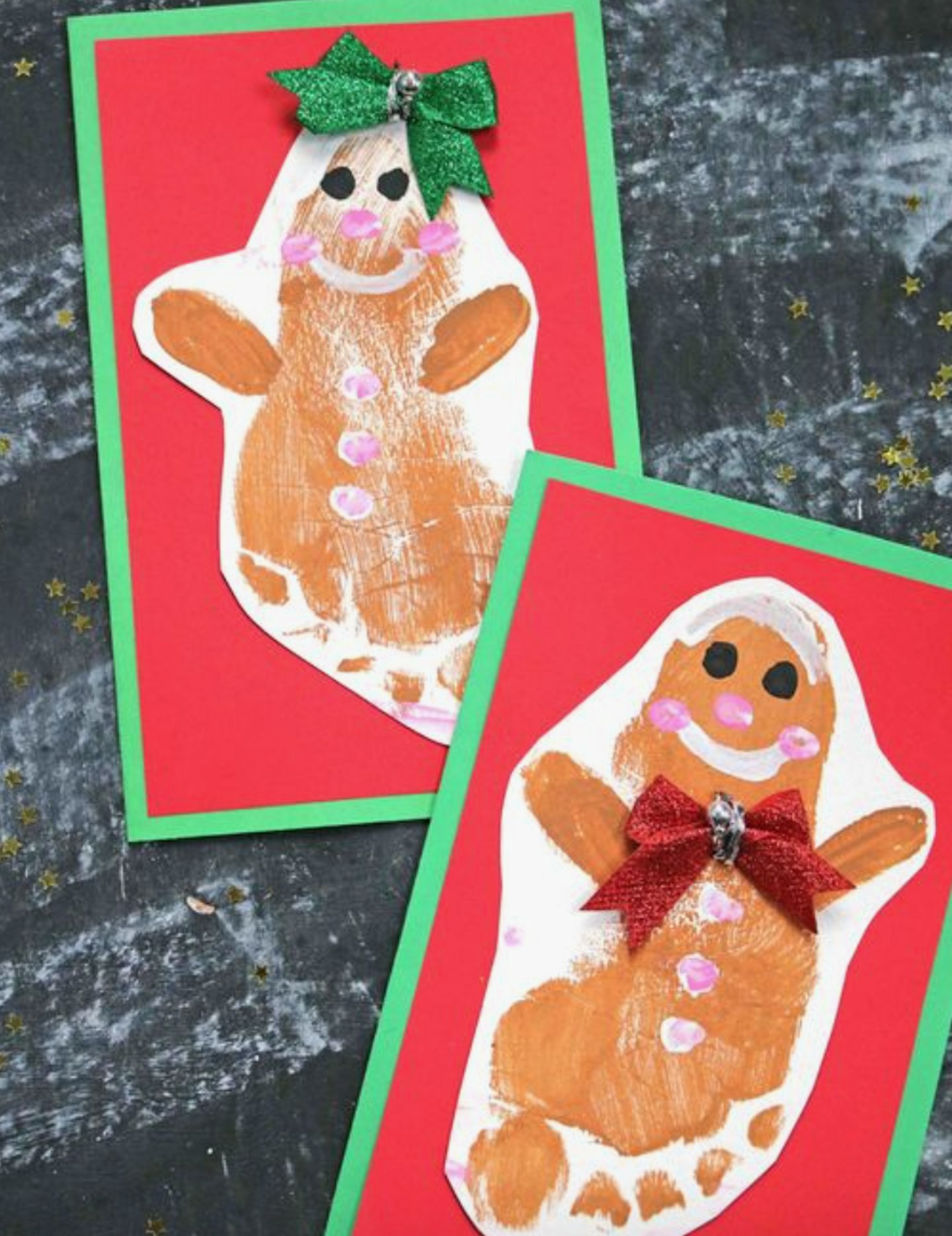 Once your child has made the gingerbread footprints, let them get creative by adding different shaped buttons, bows, glitter and googly eyes!
Fork-Print Christmas Tree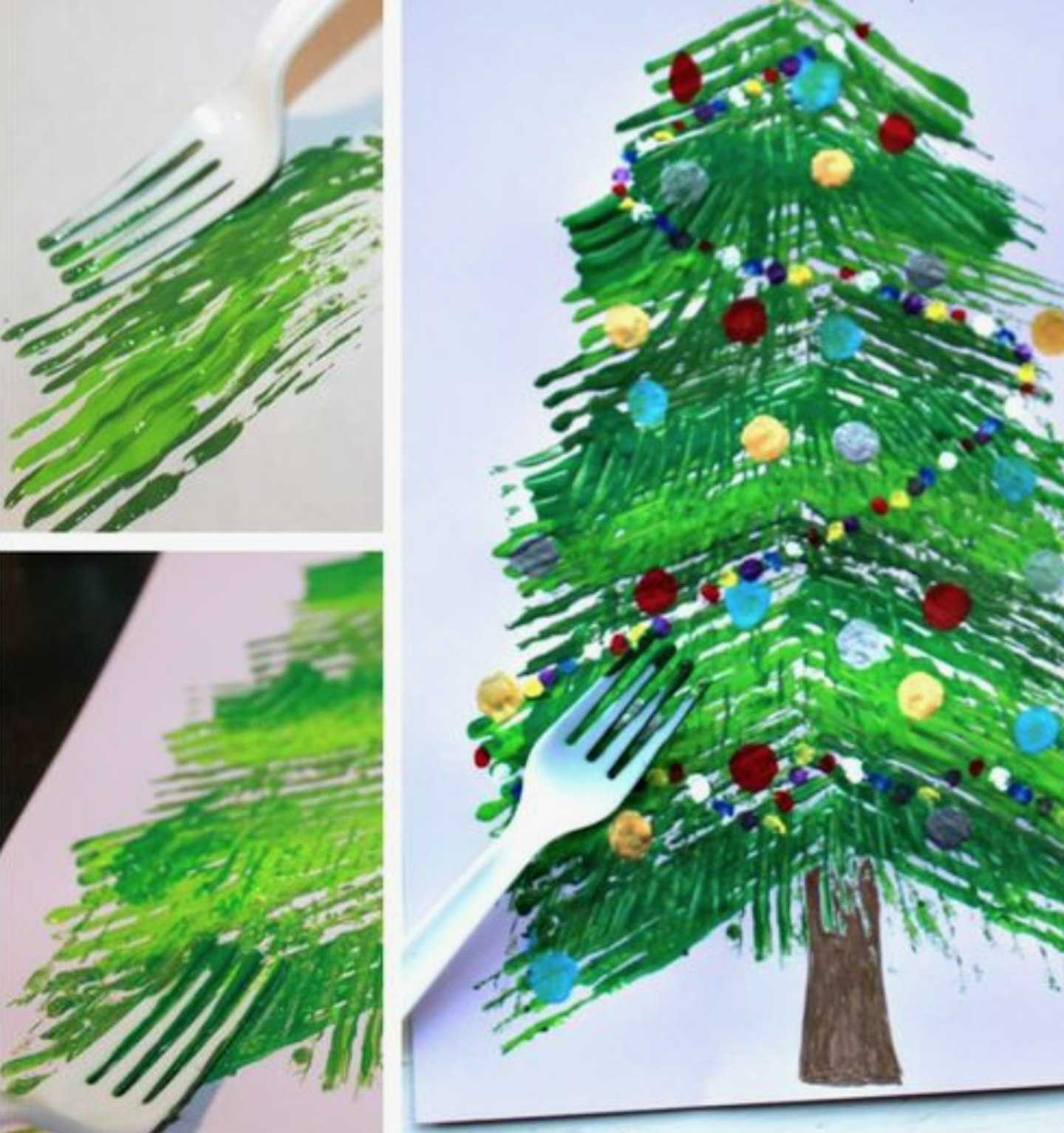 This could get messy, but the messier the better! Mix different shades of green, then let your baby splatter paint into the card with a soft fork.
Fingerprint Christmas lights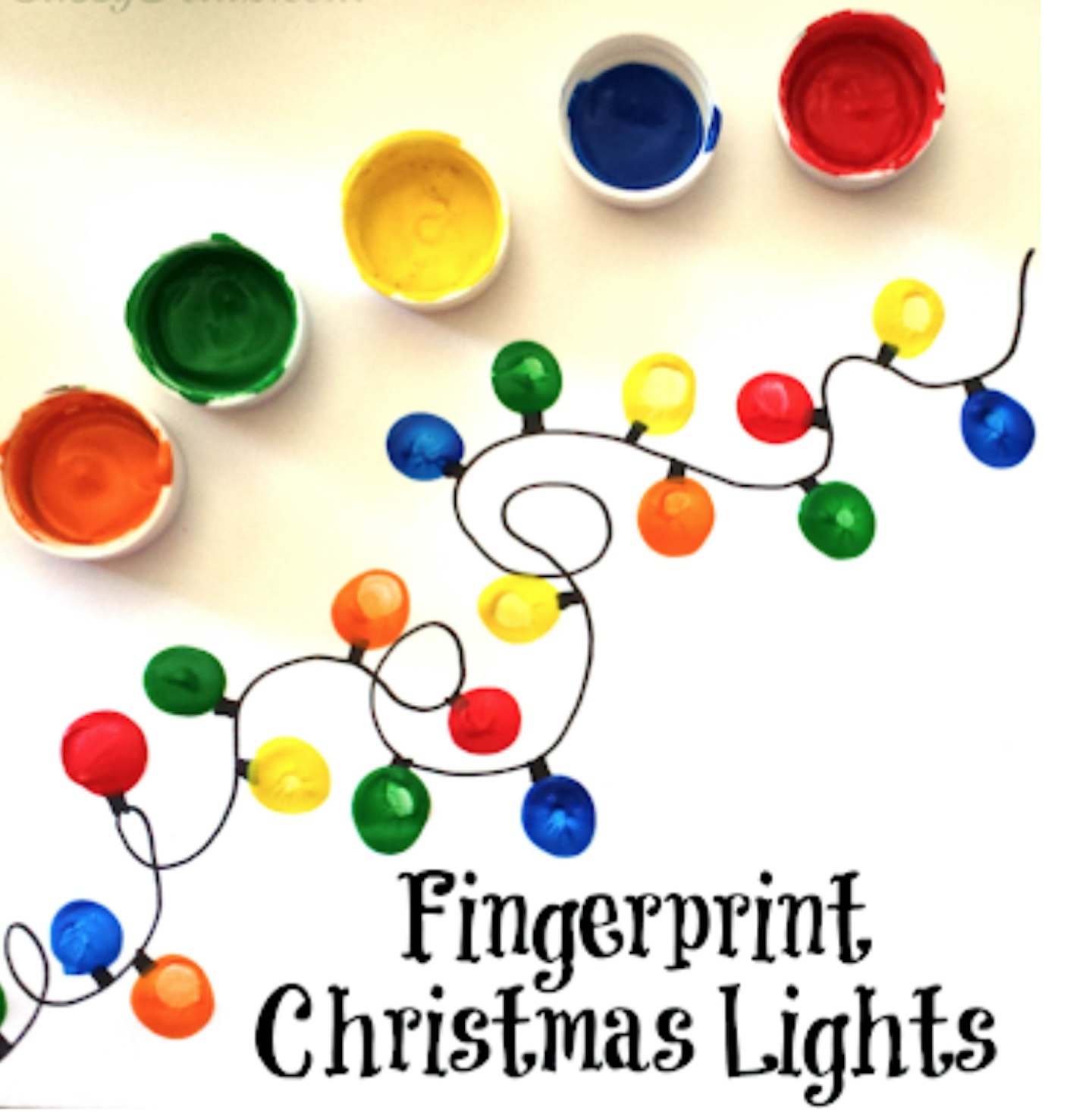 This is an easy homemade Christmas card to make, but it's fun and colourful! Either draw the Christmas string lights and add your baby's finger print along, or let your tot go wild finger painting and add the string later!
Reindeer Handprint Card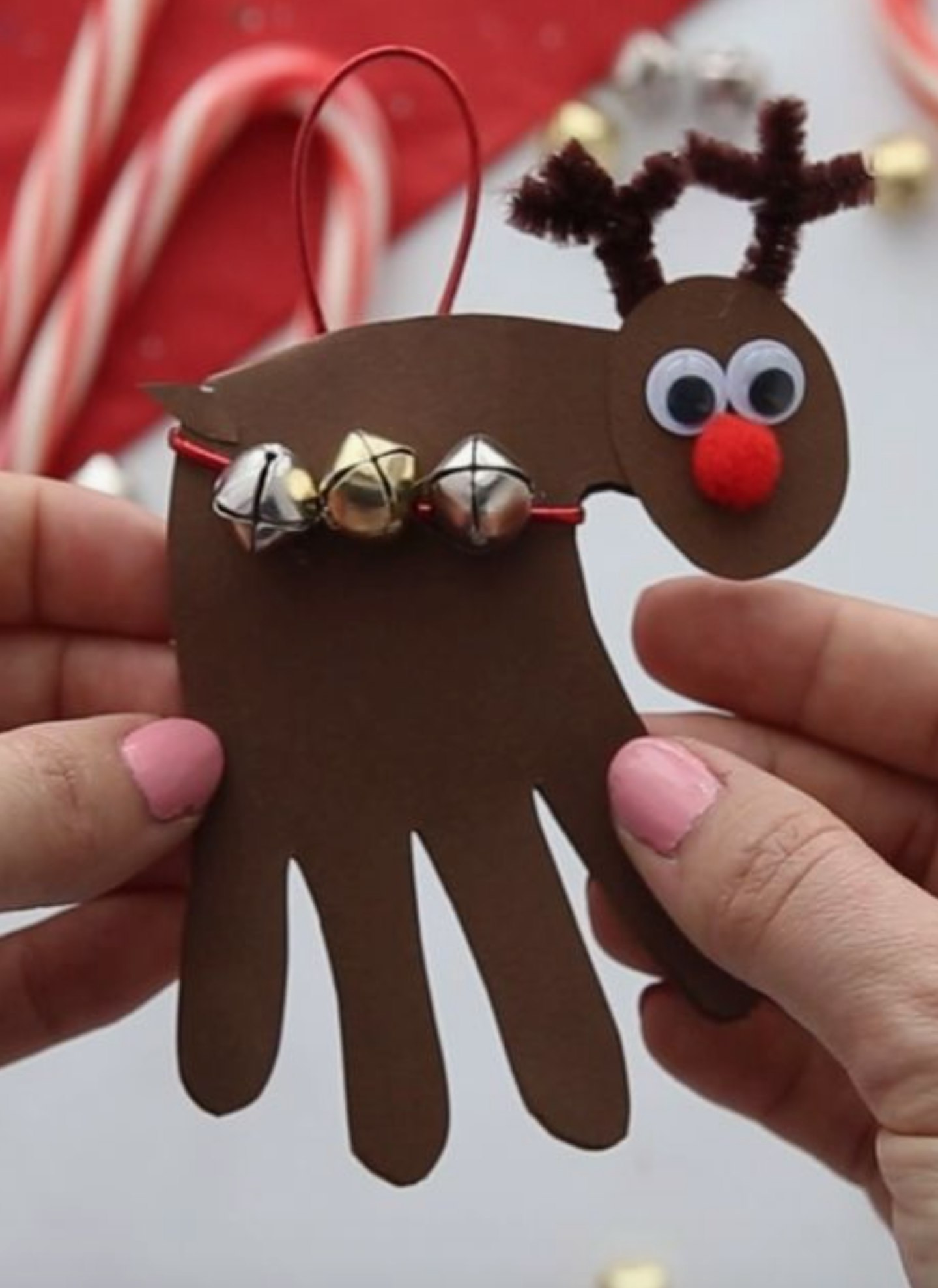 Not only are these cards really adorable, but they would also look great hanging on a Christmas tree each year! Draw around your baby or toddlers hand to create the card shape, then let your tot pick out coloured bells and pipe cleaners.
Pipe cleaner Christmas tree card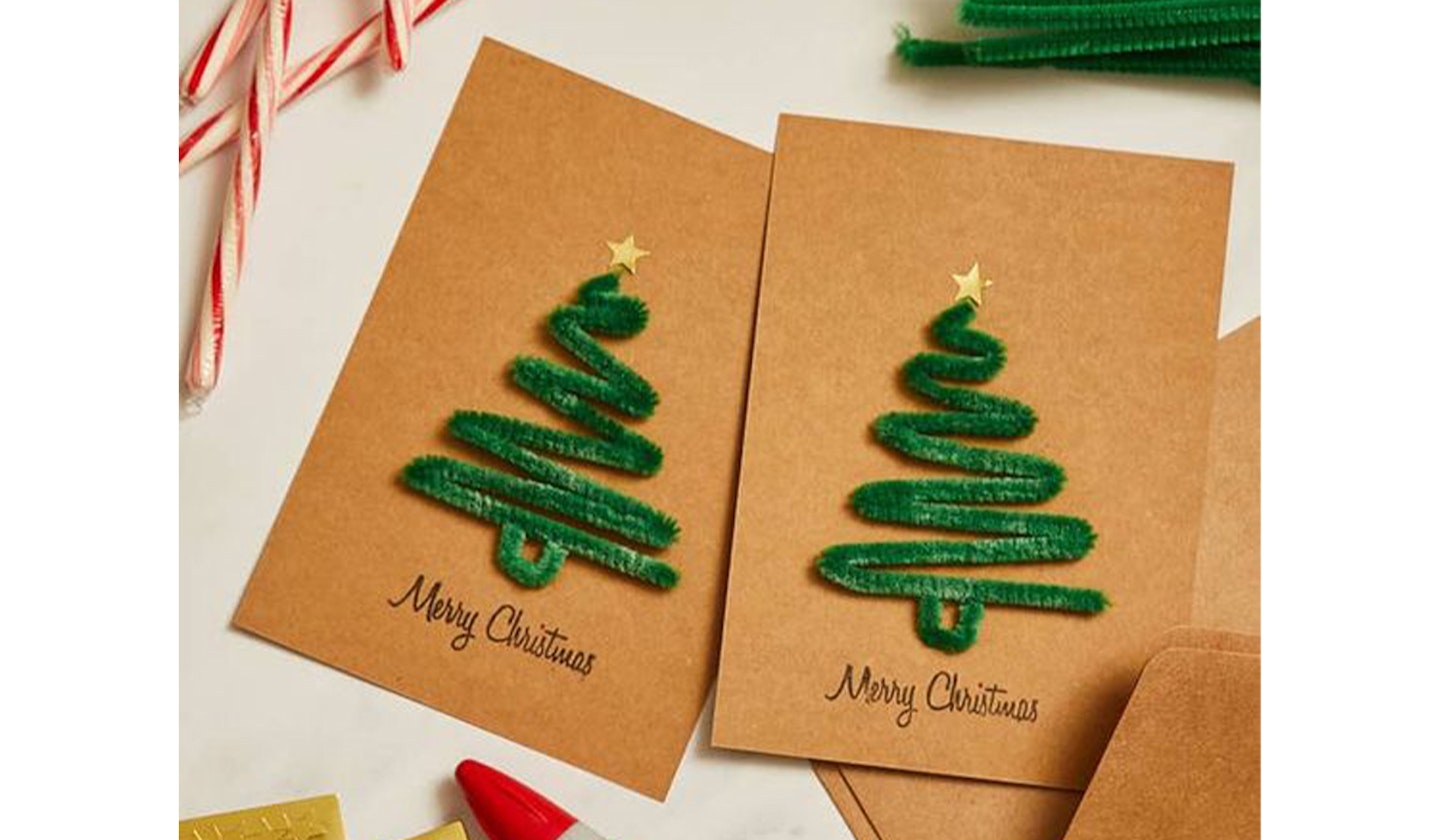 Pipe cleaners are a classic essential in every crafters box and we love these simple Christmas tree designs with a sweet gold star at the top.
3D Christmas Pasta Wreath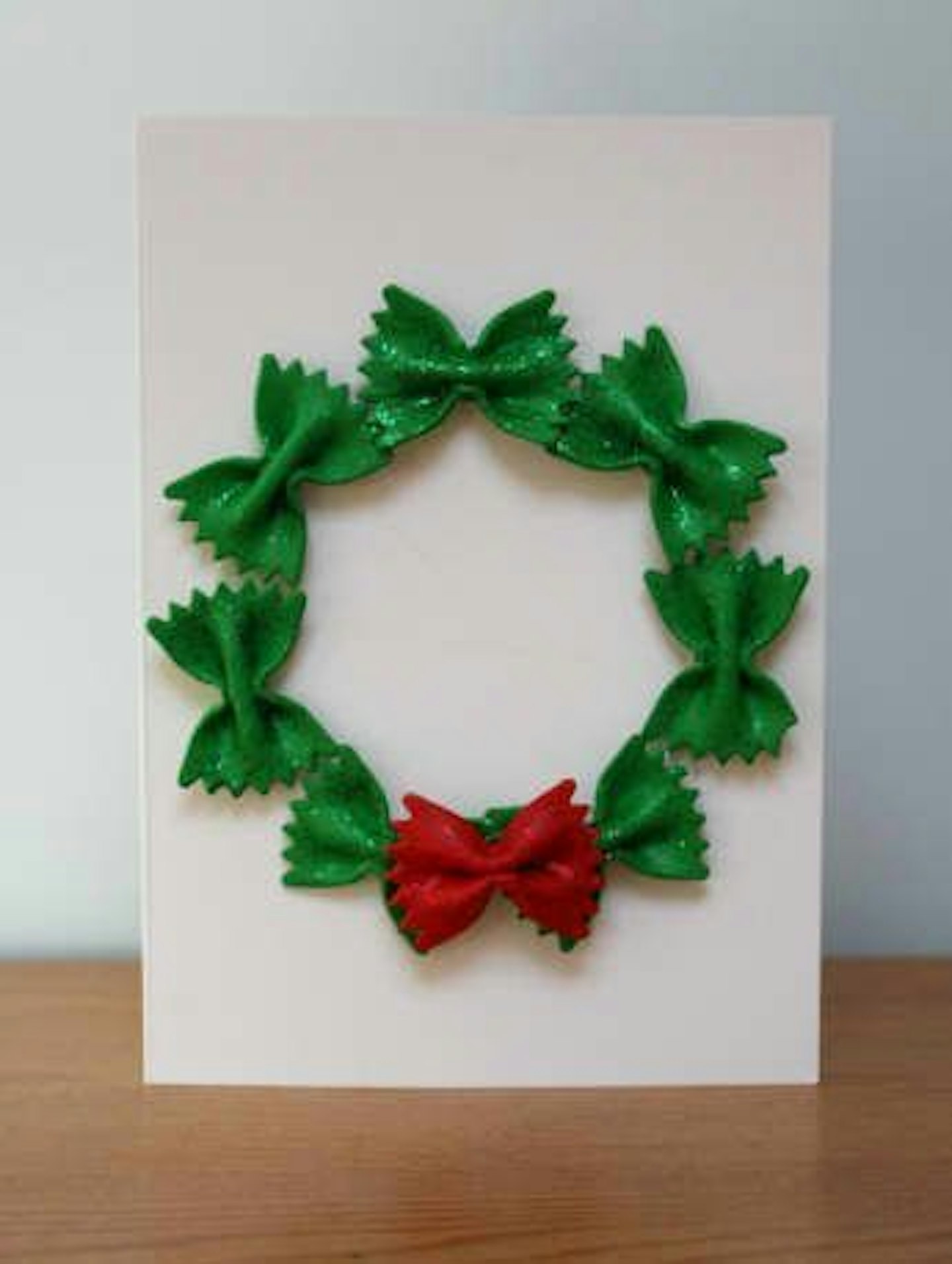 There are a lot of creative ways you can use dried pasta and different ways to paint them. Let your tot dip or paint pasta bows in Christmas colours to create a magical Christmas wreath card. You could even brave the glitter for a wreath with a bit of sparkle.
Fingerprint Snowman Family
We don't get much snow to make real snowmen, so these finger paintings will have to do instead. The fun family snowman prints are a great idea for a family card and you can create a lot of different versions! Add family members and let your tot paint different colour hats on, too.
Angel Hands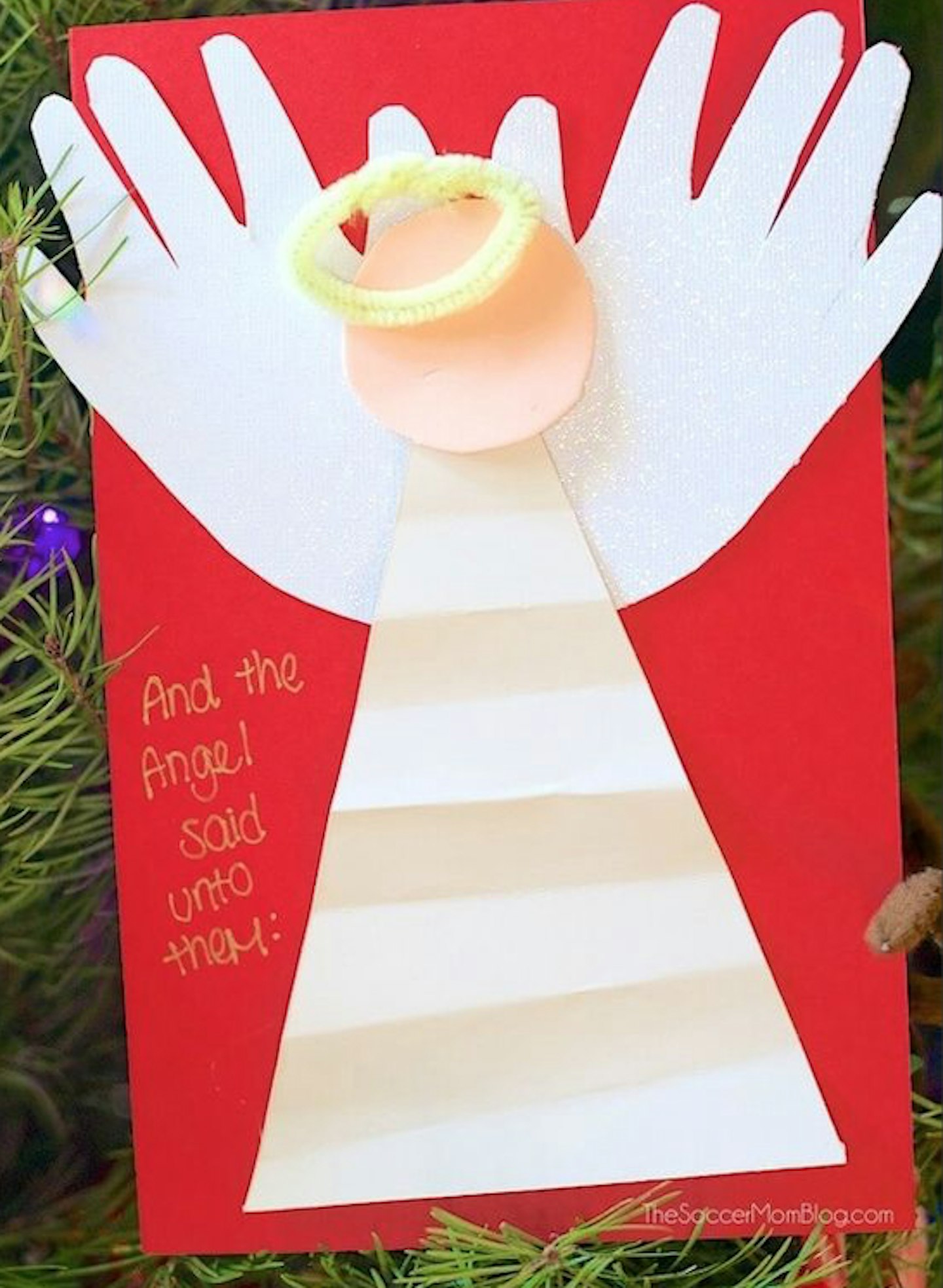 This creative idea doesn't involve a lot of mess. Help your little one draw out an angel on different coloured papers, and draw around their hands for the wings. All you have to do then is cut out the shapes and glue them onto the card!
Pipe Cleaner Christmas Trees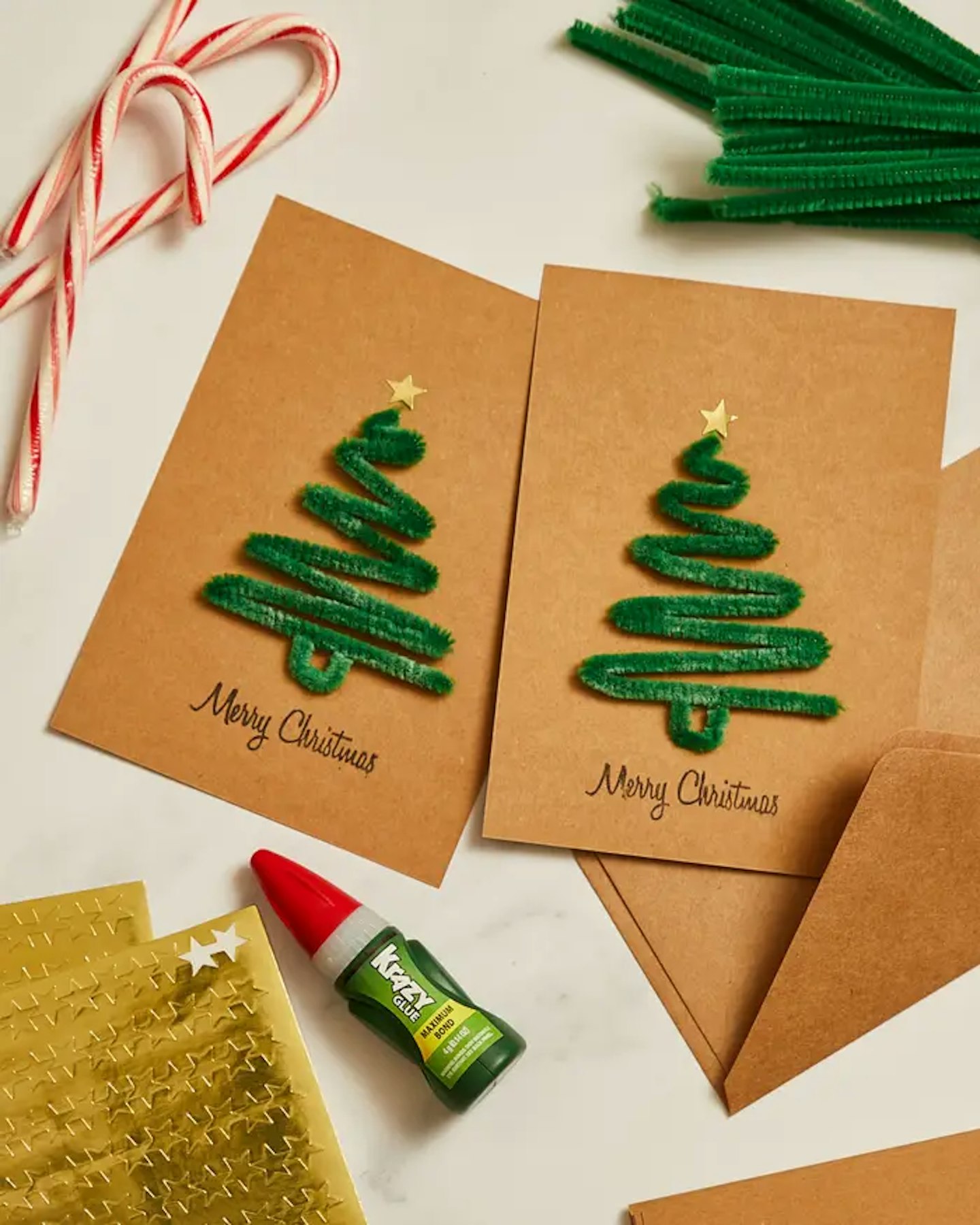 A good one to make with older kids, these pipe cleaner Christmas tree cards require some glue and star stickers to pop on top of the tree. You could add pom-poms or extra decorations to the tree.
Paper Christmas Tree
If you have any old books lying around, why not give this one a try? If you can't bring yourself to tear up anything from your beloved home library, you could use newspapers, magazines or printouts that you no longer need.
Potato Printed Trees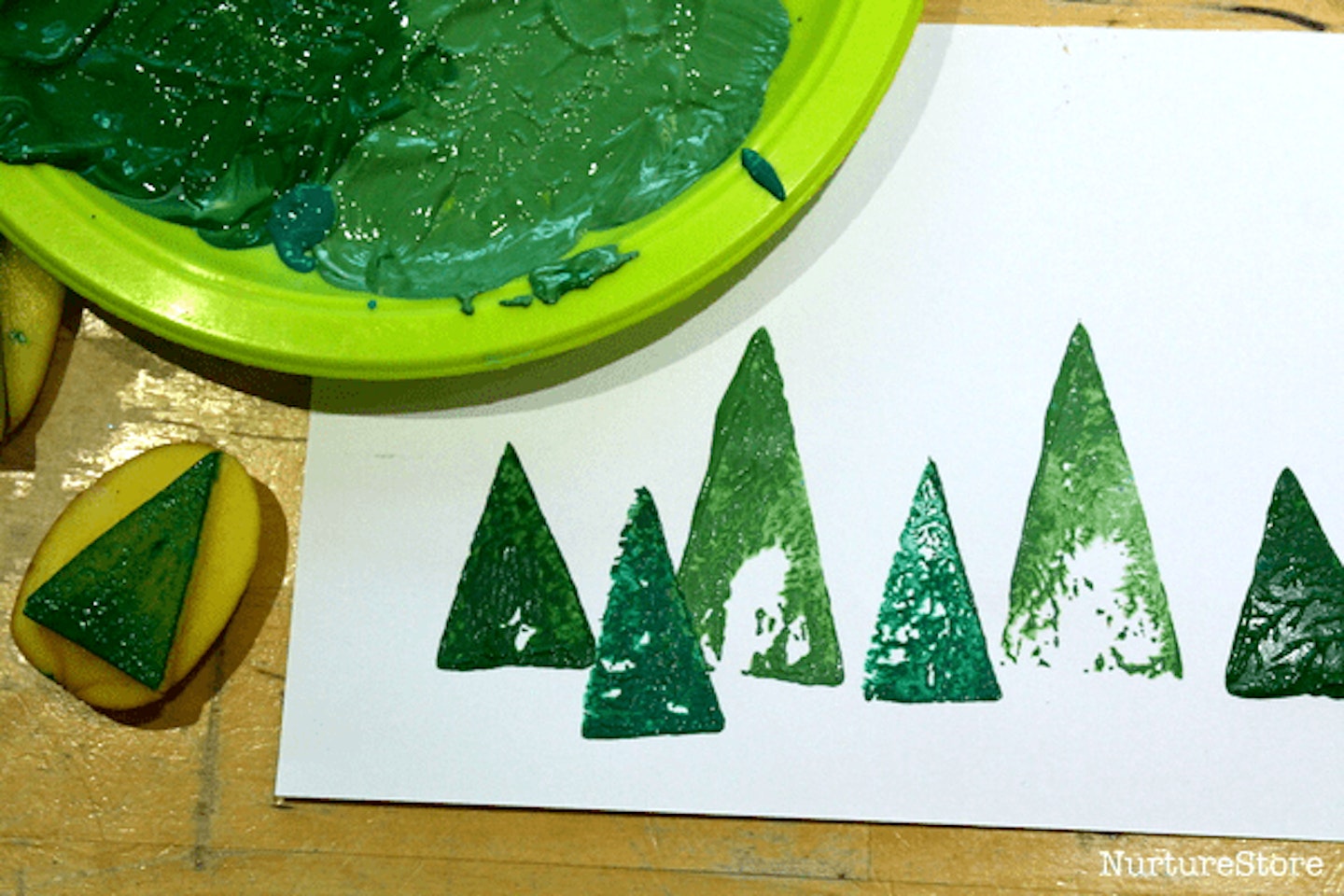 You can't beat good old-fashioned potato printing as a craft idea for kids. Simply cut out a triangle shape to get this tree effect. Or use some yellow paint and cut out stars if you're wanting more of a challenge.
Fingerprint Reindeer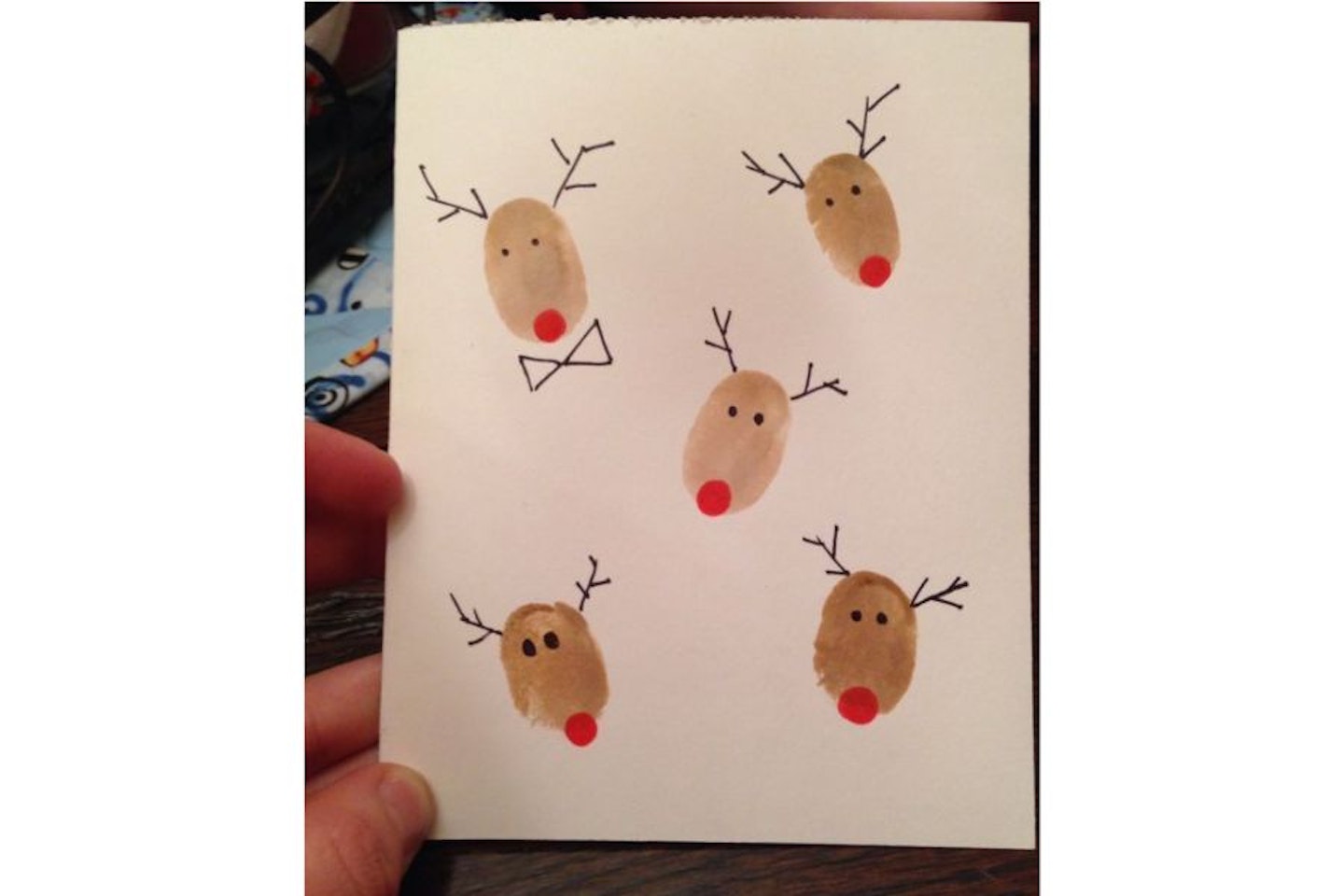 This one is an easy one to try with youngsters of all ages. You can create as many reindeer as you'd like. Why not add some penguins or double fingerprints for snowmen?
Christmas Tree Paper Strips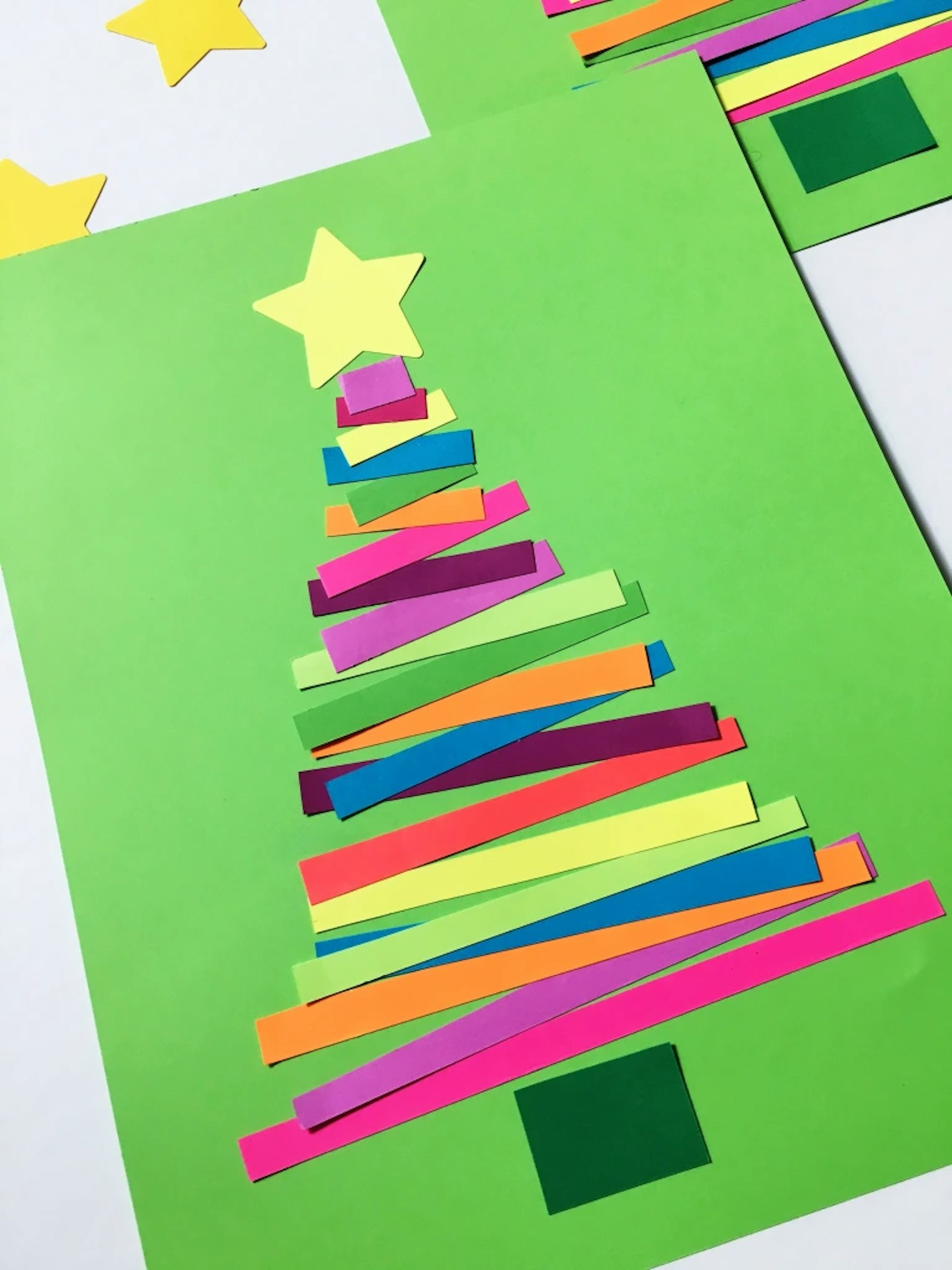 Use up any spare bits of paper you have lying around for this Christmas card craft idea. You could cut up some recycling or sticky notes or draw some little doodles on each sliver of paper.
Glittery Baubles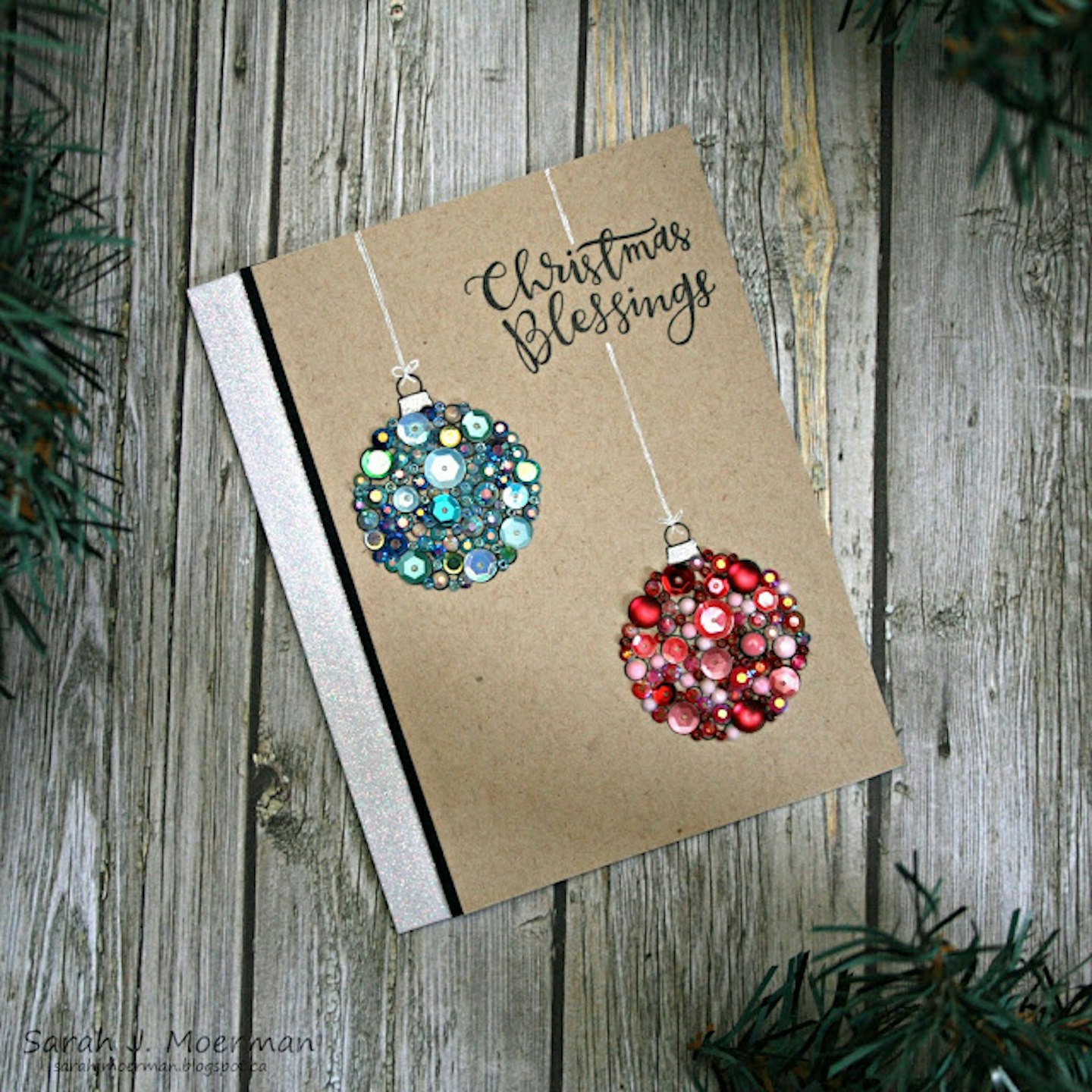 A great one here that not only encourages creativity but hand-eye coordination, fine motor skills and colour recognition too. Make sure that little ones don't put any sequins or gems into their mouth!
Paper Snowmen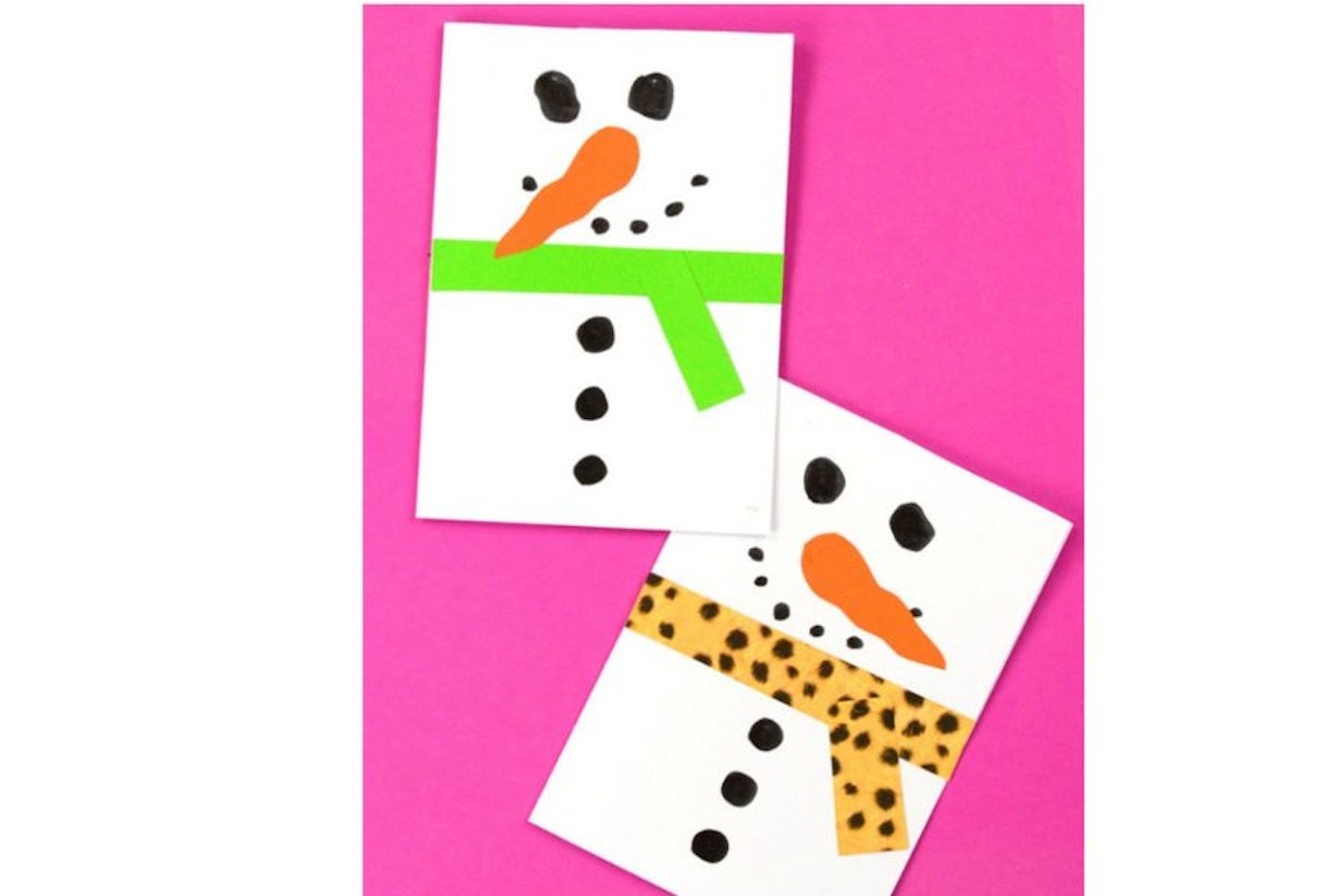 If you've forgotten to buy Christmas cards or you've left making them until the last minute, these snowmen-themed ones only take a short amount of time to make and they don't require much skill.
How to make a simple handmade Christmas card
When it comes to handmade Christmas card ideas, it's best to keep things simple - especially when you're crafting with toddlers or little ones. Fingerprints, handprints and footprints are easy to accomplish and look like reindeer (if you use brown paint). You can also keep one for yourself in a memory box to remind you of how small they once were.
Another quick and easy method is to use strips of paper to make Christmas trees or decorate pre-drawn designs. You can rip them up yourself or get your little one to practice cutting them out with scissors. Have a go at finding fabrics and materials with different textures if you don't want to use paper.
You can't go wrong with a box of crayons, pens or pencils. Either print out a design or draw your own and let your little one scribble and colour in until their heart's content.
Everything you need to get started on your handmade Christmas cards
Description
This is the exact washable paint pad that Sarah used with baby Margot. Measuring 15cm, it's
Description
Whilst you could use an A4 piece of card folded in half, these cards will make sure you not only
Description
This set of six bright washable paints is perfect for kids to get creative with. They're easy to
Description
For colourful handprints, fingerprints, and footprints, we'd recommend the Baker Ross Jumbo Paint
Arabella Horspool is a Commercial Content Writer for Mother&Baby and Yours at Bauer Media. She's a bookworm who enjoys cooking and spending time with her many pets.