Diwali, also known as the festival of lights, is one of the major religious festivals in Hinduism, Jainism, and Sikhism and it is a great time for families to come together and enjoy the celebrations. There are lots of Diwali activities for kids to keep them entertained and help them get involved in the festival.
Each year the date for Diwali changes, but it usually falls between October and November to coincide with the New moon in the Hindu Lunar calendar. This year the main date of celebration is on October 12, 2023.
In India every region has different traditions for Diwali, but it is usually celebrated with people decorating their homes, buying gifts, having feasts, fireworks and lots of lights and oil lamps being lit on the streets and in people's homes.
The festival lasts five days, with the third being the most important and the festivity generally symbolises the victory of light over darkness and is a sign of new beginnings.
If you celebrate Diwali yourself and you want to get your kids involved in the celebrations, or you simply want to educate your child more about the religious festival, there are some lovely Diwali activities for kids to try, including some easy craft ideas, baking or sharing a story.
1. Read a story together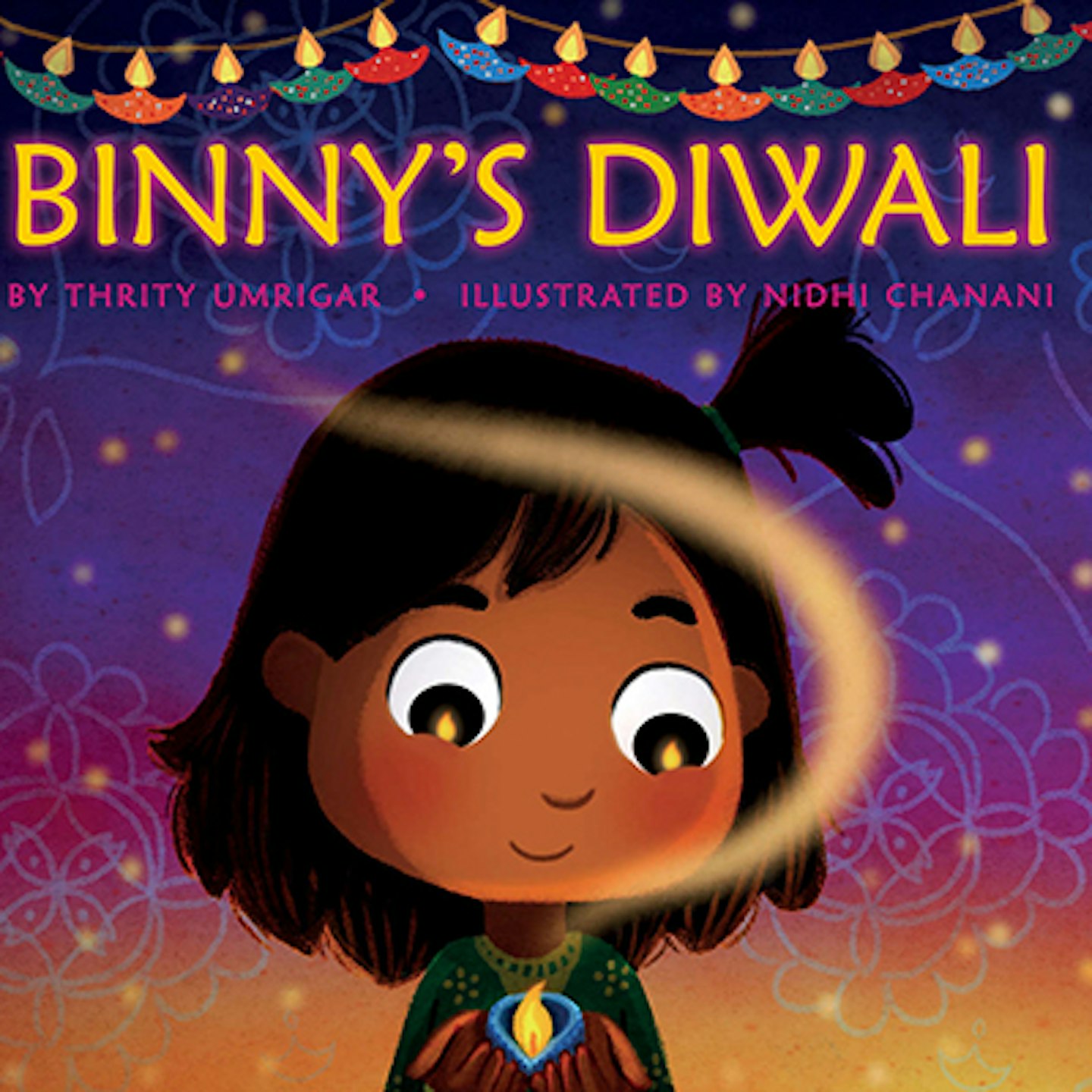 Amazon
Description
Reading is brilliant for bonding with your child. This easy to read picture book follows a young
2. Do a Diwali word search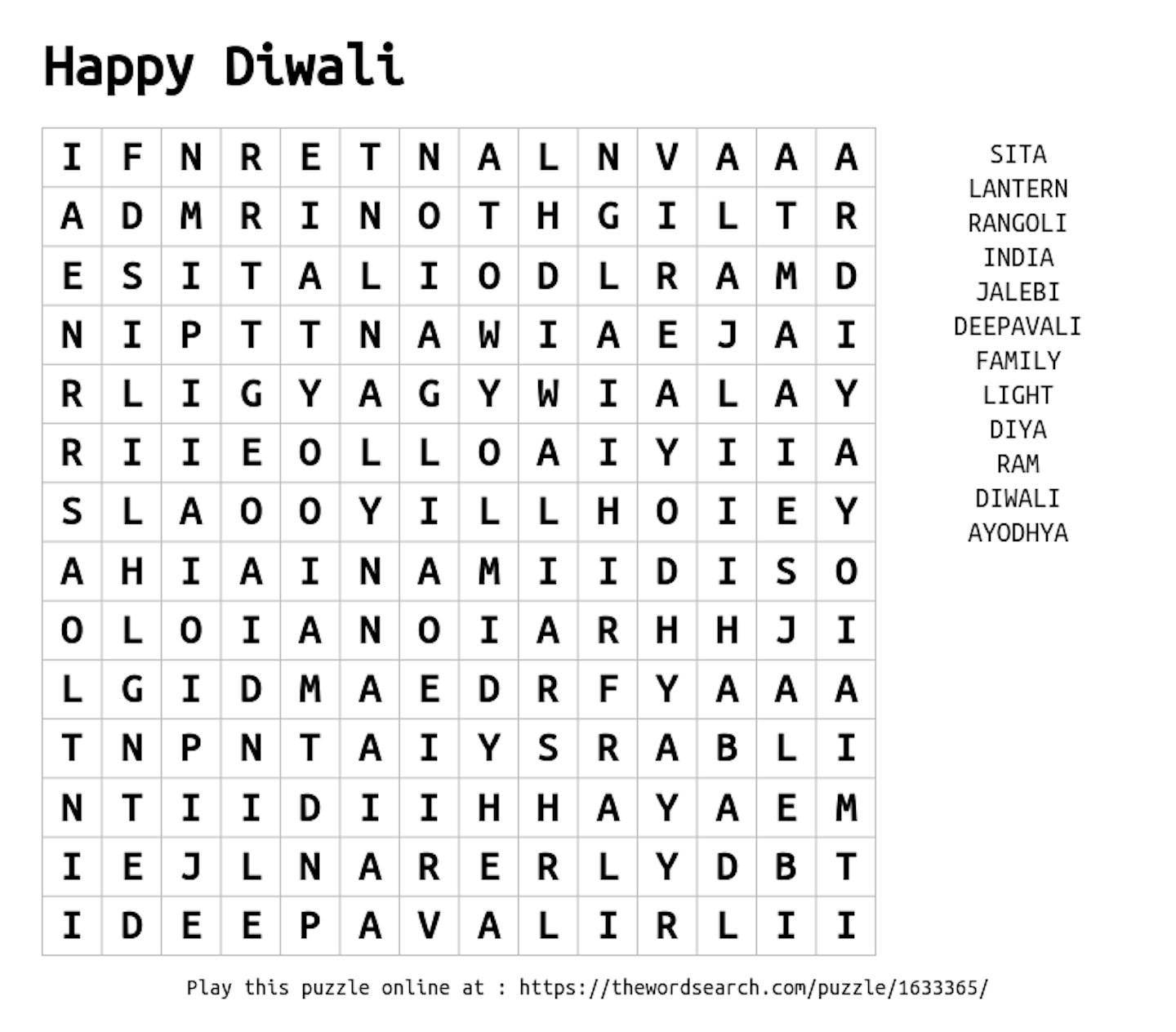 This is a great educational activity to do alongside your child, as you can both take some time to learn about the keywords associated with the festival as and when you find them. There's plenty of free templates online or you can download this one from thewordsearch.com, which you can then print out. This is not only one of the more relaxing Diwali activities for kids, but educational too.
3. Create a paper lantern
The word 'Diwali' actually means 'rows of lights' and during the festival people decorate their homes and the streets with lights and oil lamps, which are called diyas. To make a paper lantern it is very simple, all you need is two pieces of coloured A4 paper (if you don't have coloured you can always colour in two plain sheets), glue, scissors and some sticky tape. You can even decorate your paper with paint or glitter. They'll look lovely hung all around your home!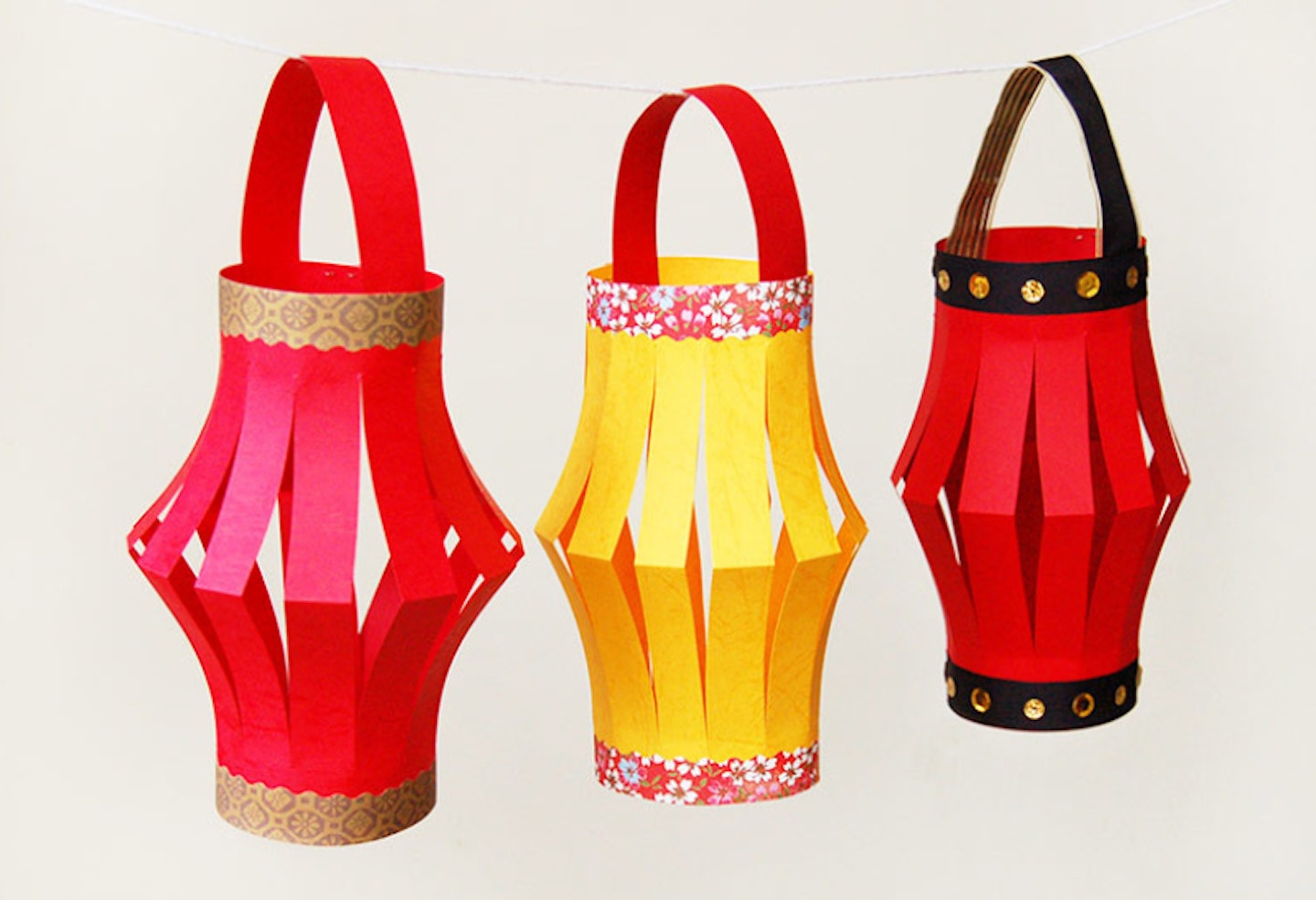 4. Make a rangoli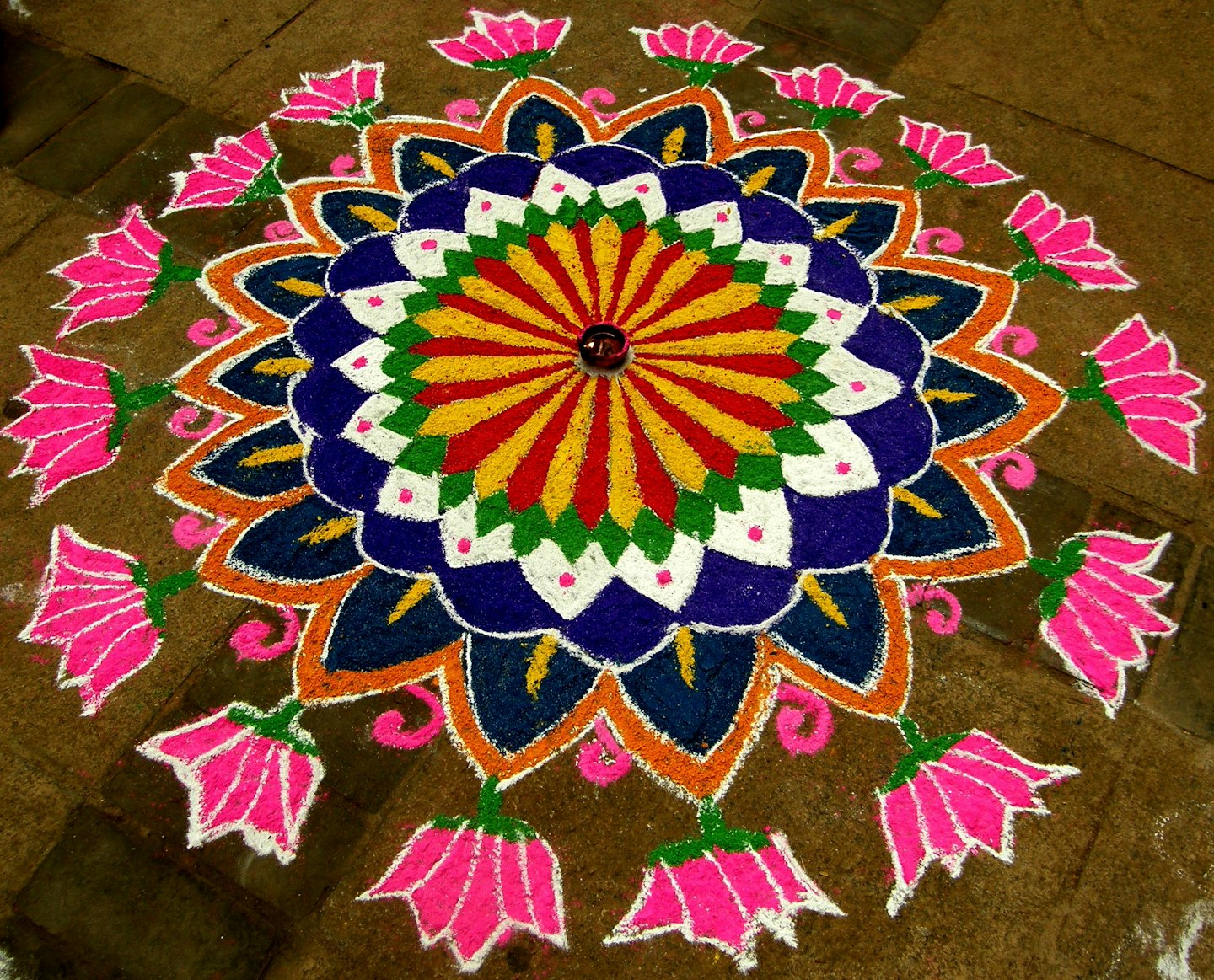 Rangolis are colourful designs created on the floor near the entrance of a persons home to welcome guests during Diwali. Let your child colour in their own Rangoli either by designing it themselves, or using a Rangoli template. Make sure they use lots of beautiful bright colours. They can either lay them on the floor afterwards or stick them near the entrance of your home.
5. Cook together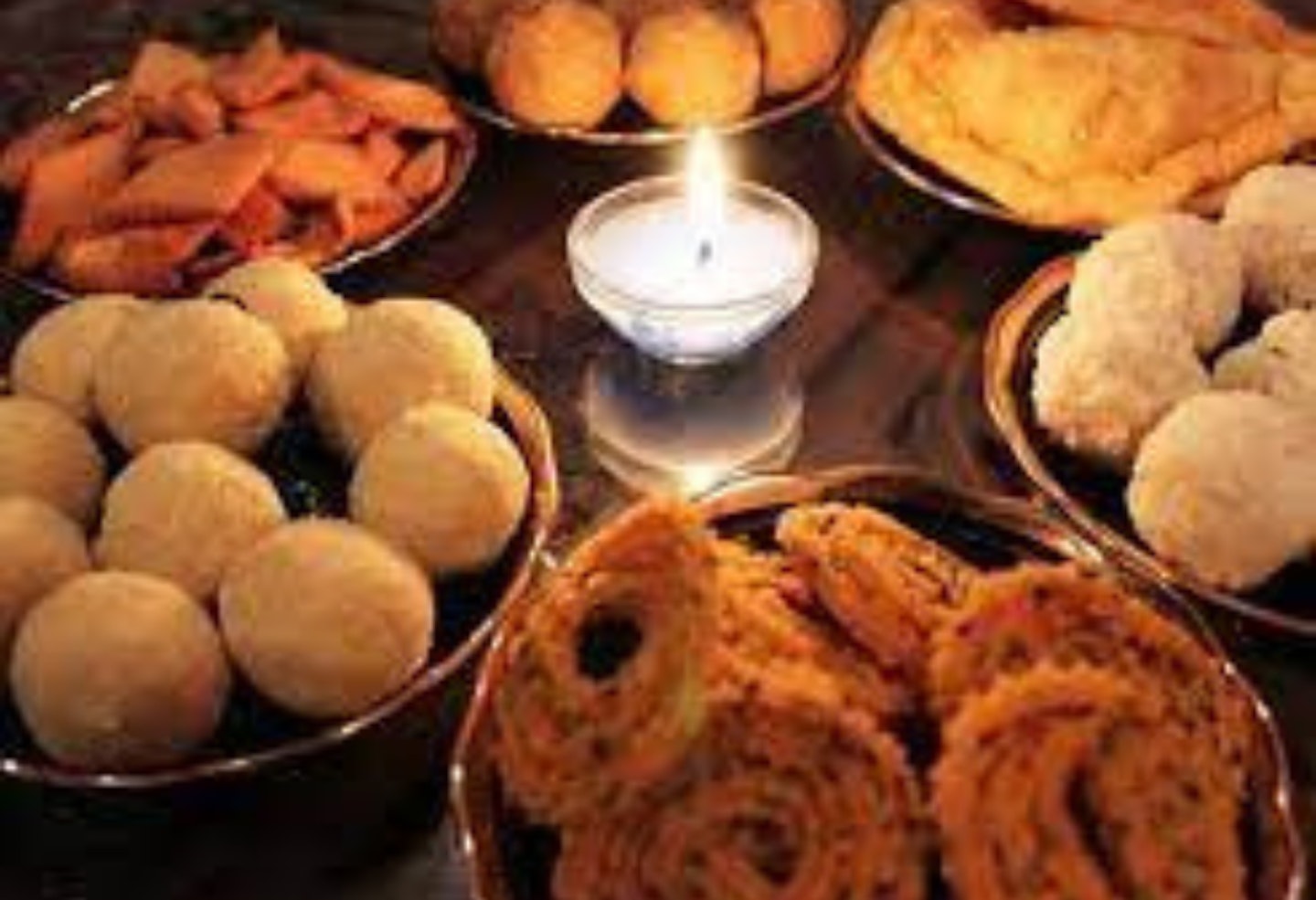 Many families and friends enjoy lots of delicious feasts during the five day festival, so why don't you and your child try cooking up some traditional Diwali food together? You could try making a simple curry recipe together or if you fancy something sweeter why not try some sweet recipe ideas for children that are perfect for Diwali. Your child will love sharing their creations with all the family, reducing some of the cooking you have to do, as well as creating engaging Diwali activities for kids.
6. Make some salt dough Diyas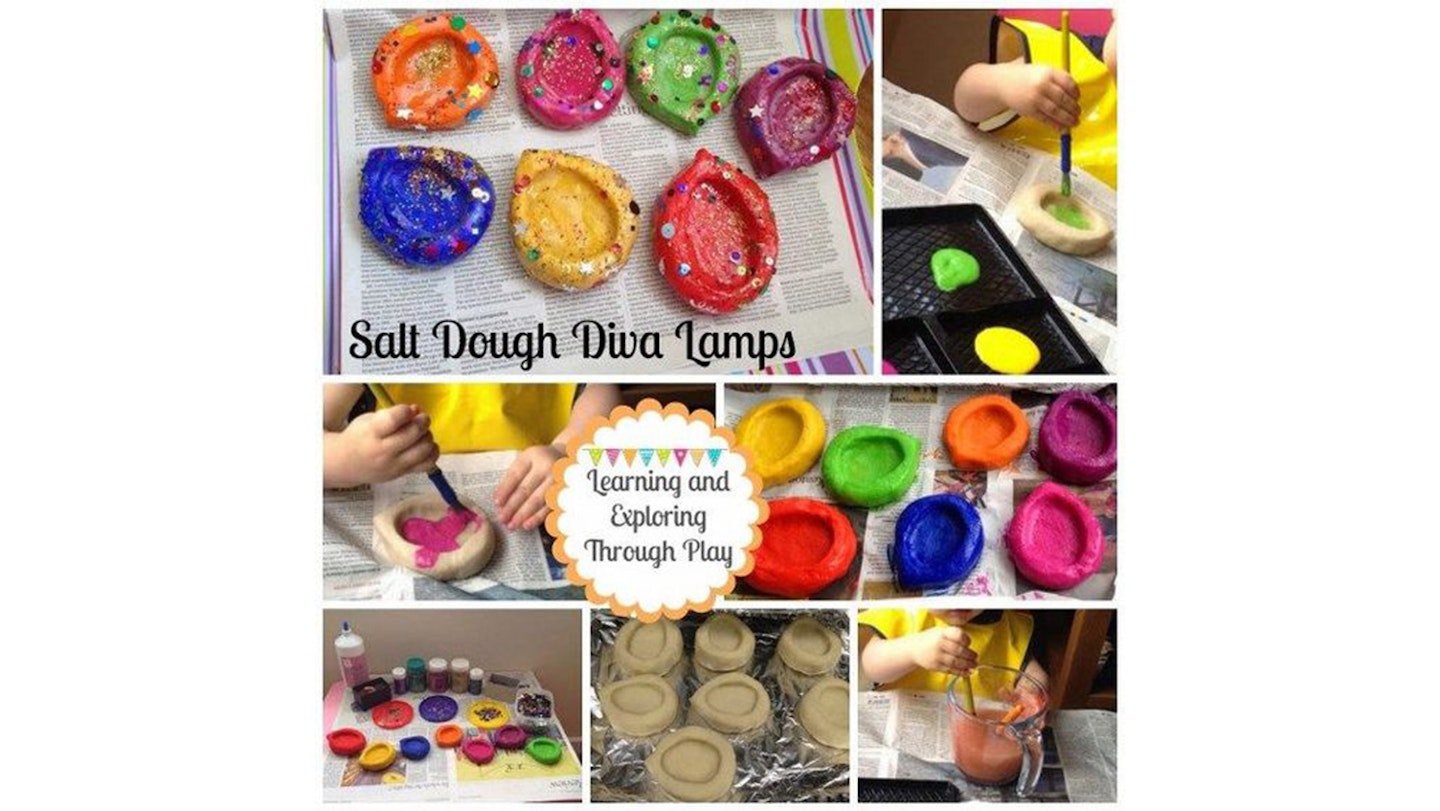 Salt dough is a fun craft project to make with your little ones and it's a go to activity for many playgroups and nurseries. These little salt dough lamps are used for cultural festivals around the globe and they're very easy to make. They will be the perfect finishing touches to your Diwali celebrations.
7. Play Dough Rangoli Mandalas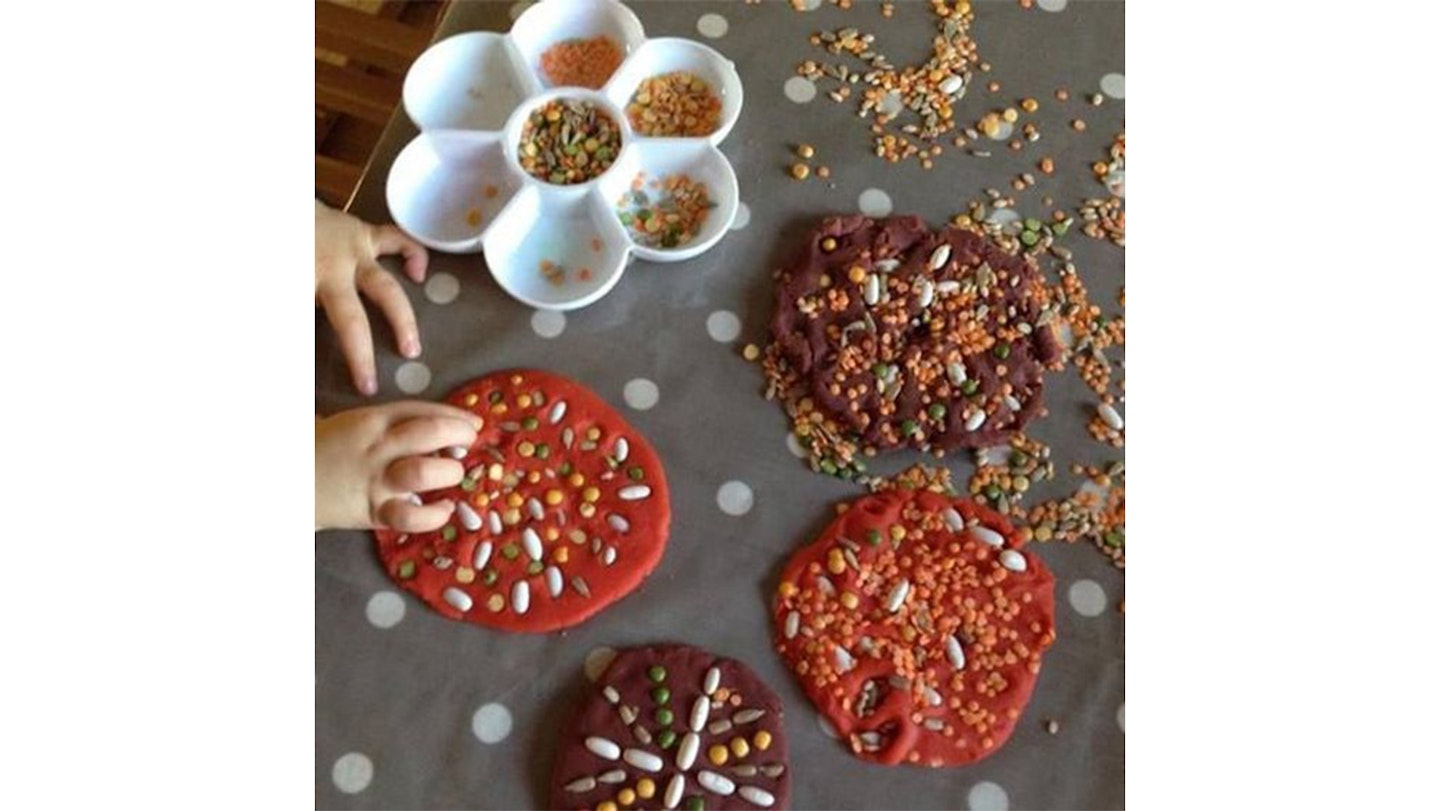 These play dough Rangoli Mandalas are brilliant for sensory play. They use natural textures such as seeds and dried pulses to create pretty patterns on the play dough. It's also a brilliant activity for developing their fine motor skills.
8. Foam Diya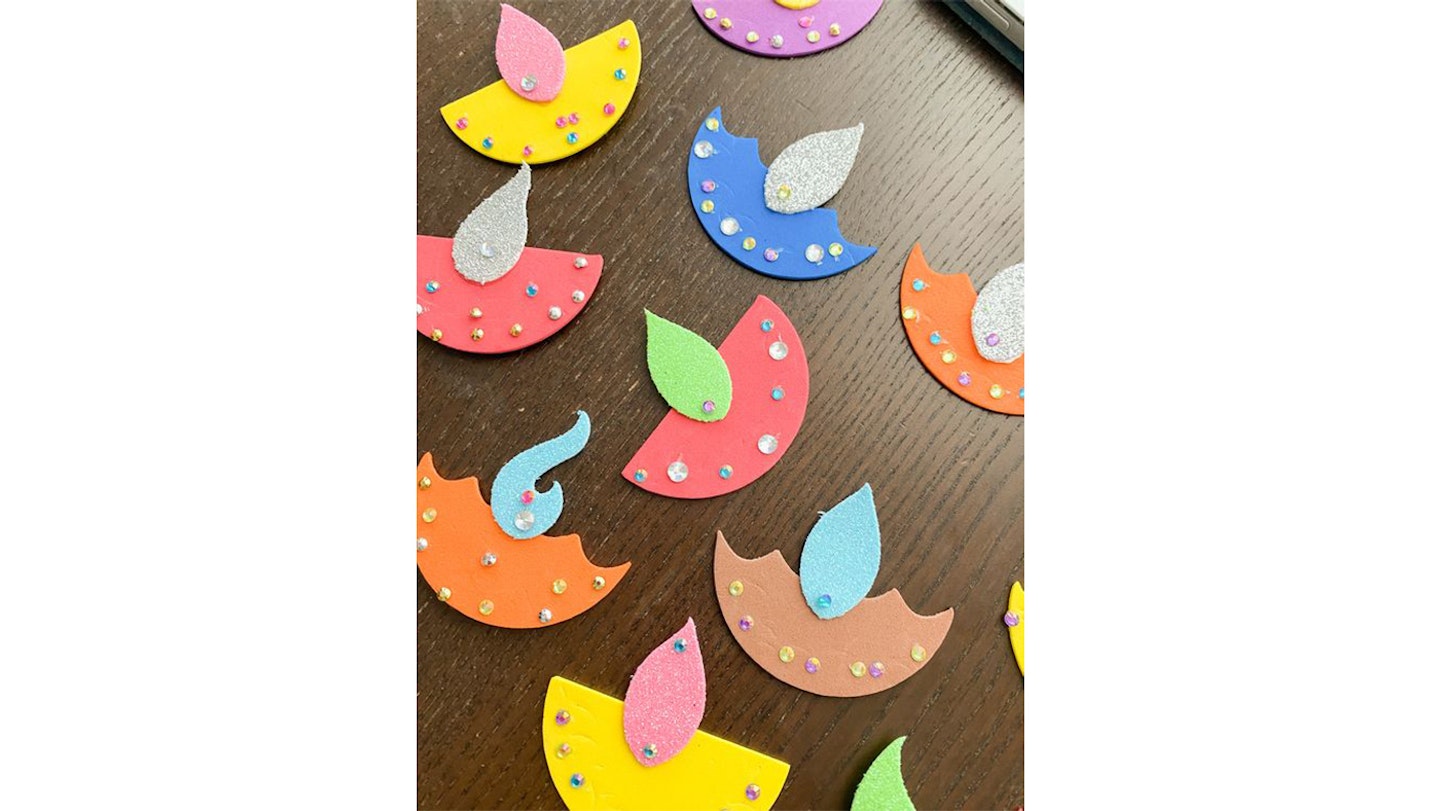 Foam is a great material for crafting with kids. There are no risks of little paper cuts and they're fun to be creative with, also foam is more durable than paper and so there is less chance of their beautiful creations getting torn. These mini foam Diyas can be placed around the home or stuck on greetings cards.
9. Rangoli suncatcher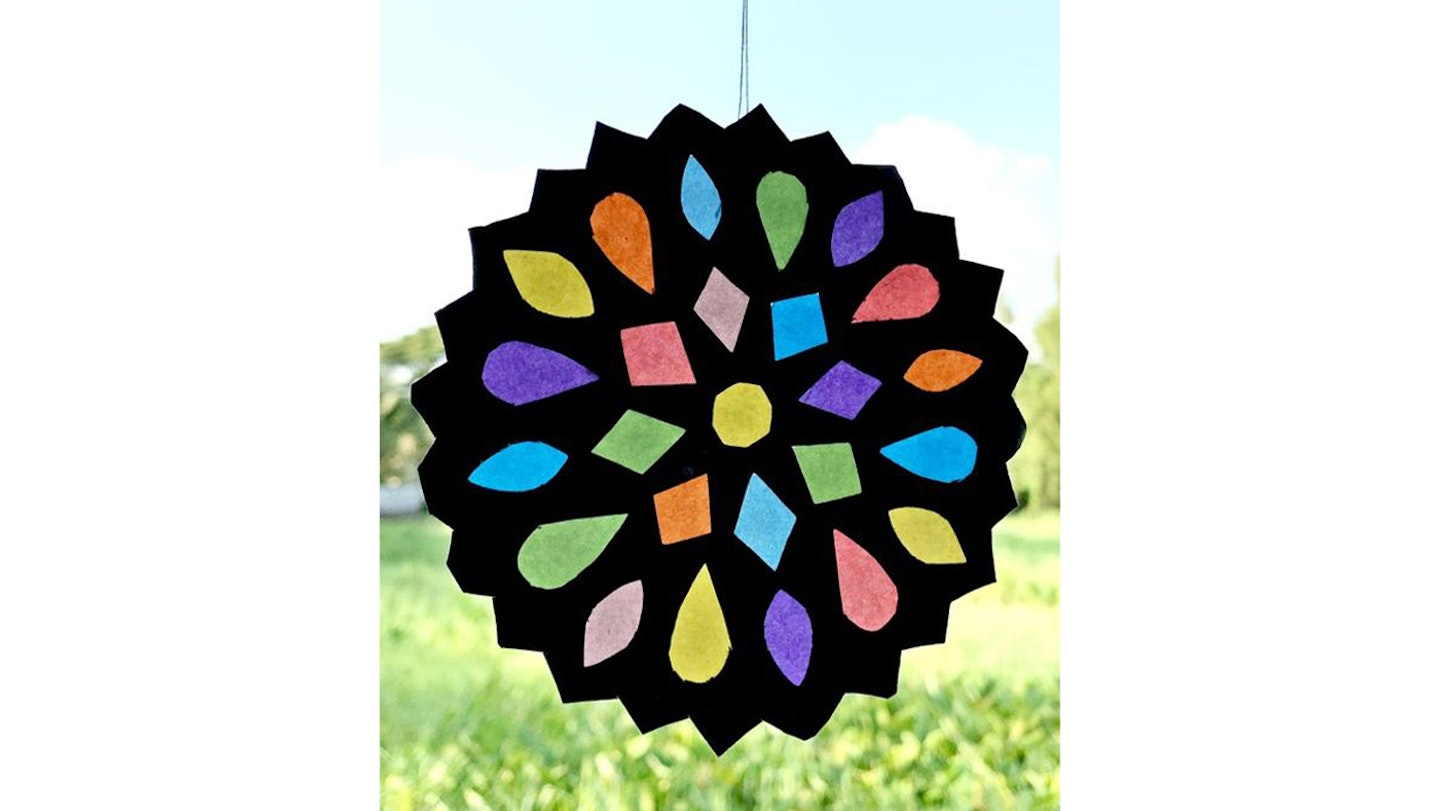 Ideal for those sunny yet frosty mornings in October and November, this Rangoli sun catcher is made using black card and coloured tissue paper. This one takes a bit of skill using scissors, making it ideal for older children. Once complete, it can hang beautifully in your window.
10. Have fun with coloured salt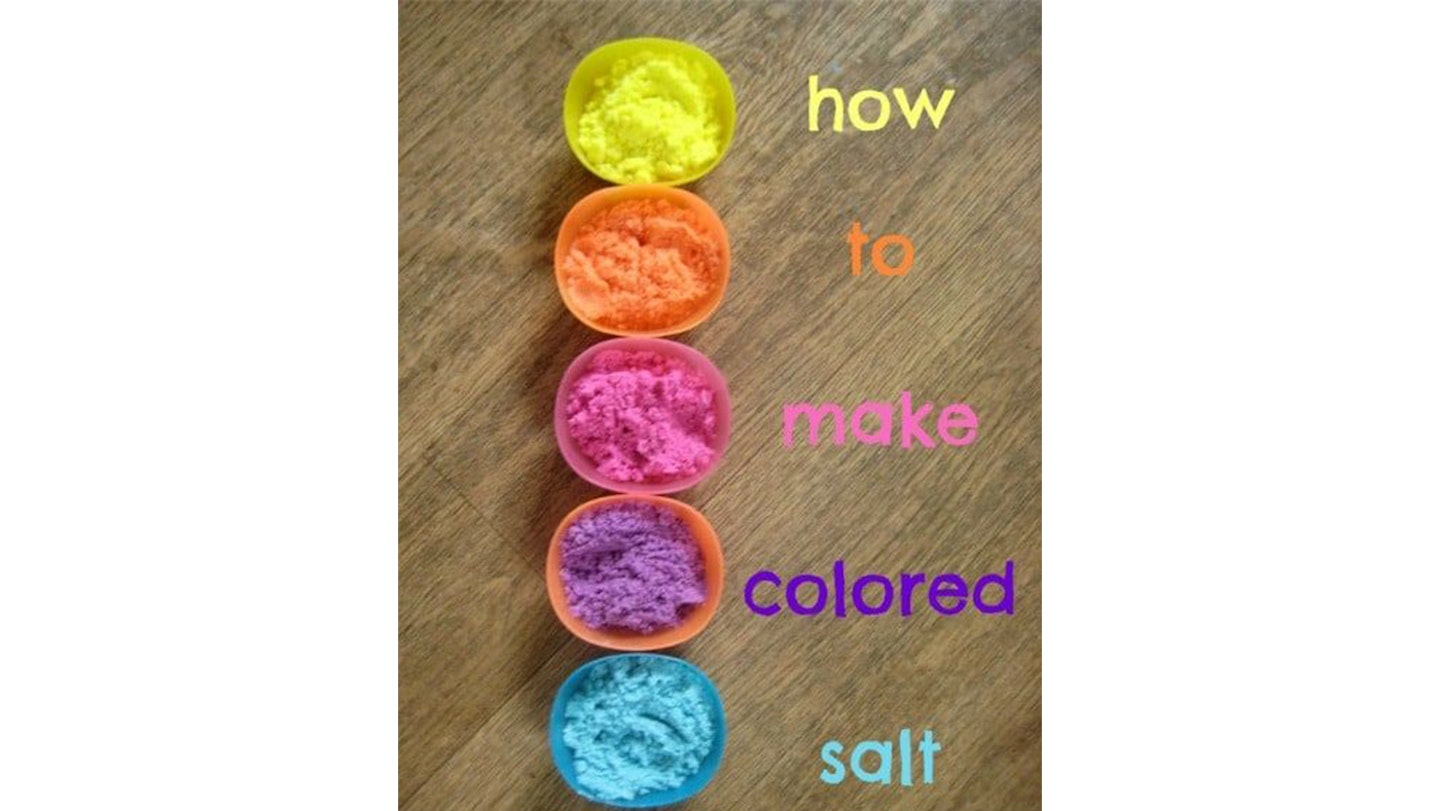 Using colourful salt for a Rangoli is a popular activity at Diwali, not to mention how fun it is for sensory play. Once dyed, the salt can be used to create pretty art and patterns, either completely freely or by using it to decorate a hand drawn or printed Rangoli template.
11. Flower lamps
We're always looking for an excuse to get some more candles in our home, and these lovely little flower lamps made using old cardboard toilet roll tubes are brilliant to make and look lovely in the home with battery-operated tea lights in the centre.
12. Rice rangoli designs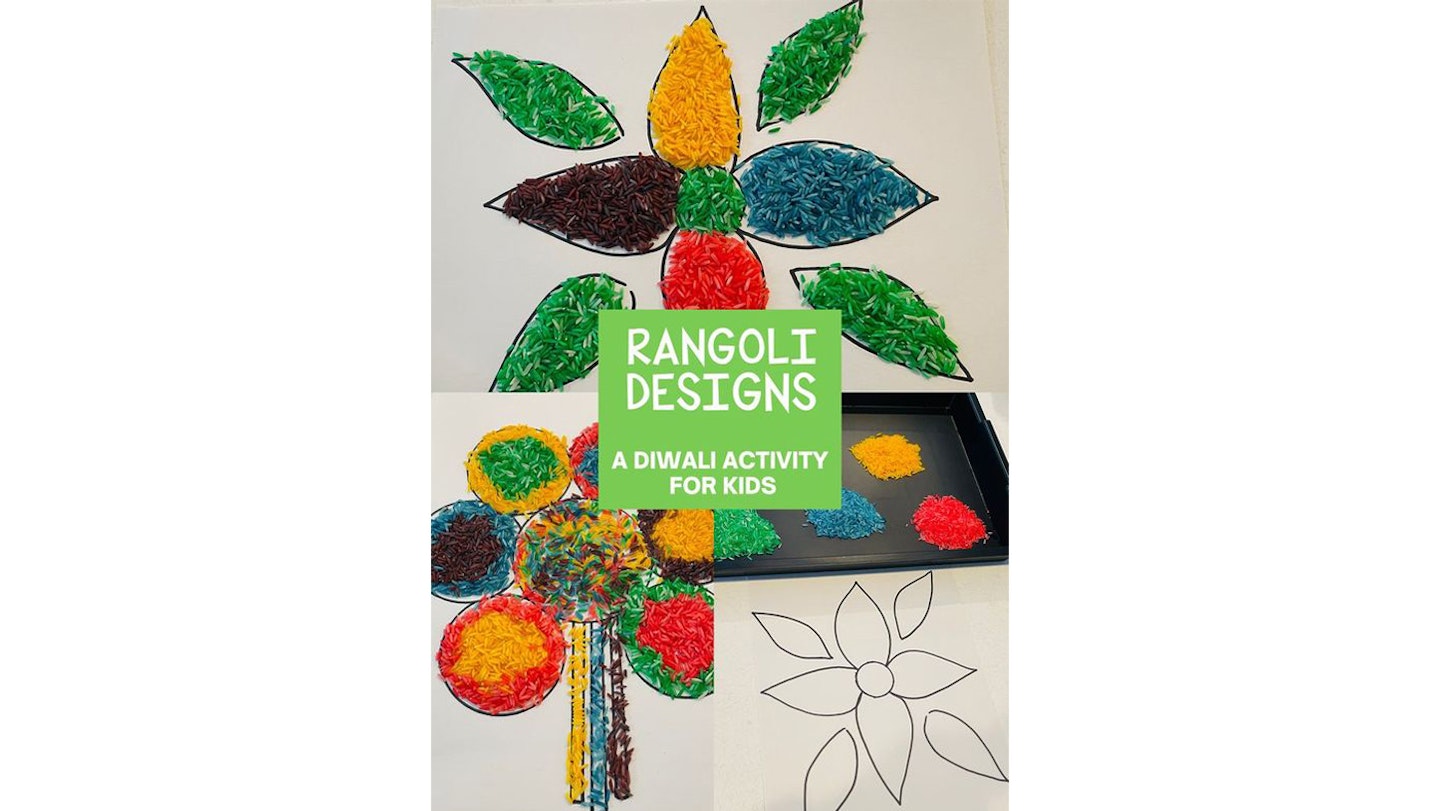 Similar to the salt designs, this involves colouring dried rice with various dyes then, once dried, organising them into different Rangoli rice shapes and patterns. This is another fun sensory activity your little one will love.
13. Diwali garland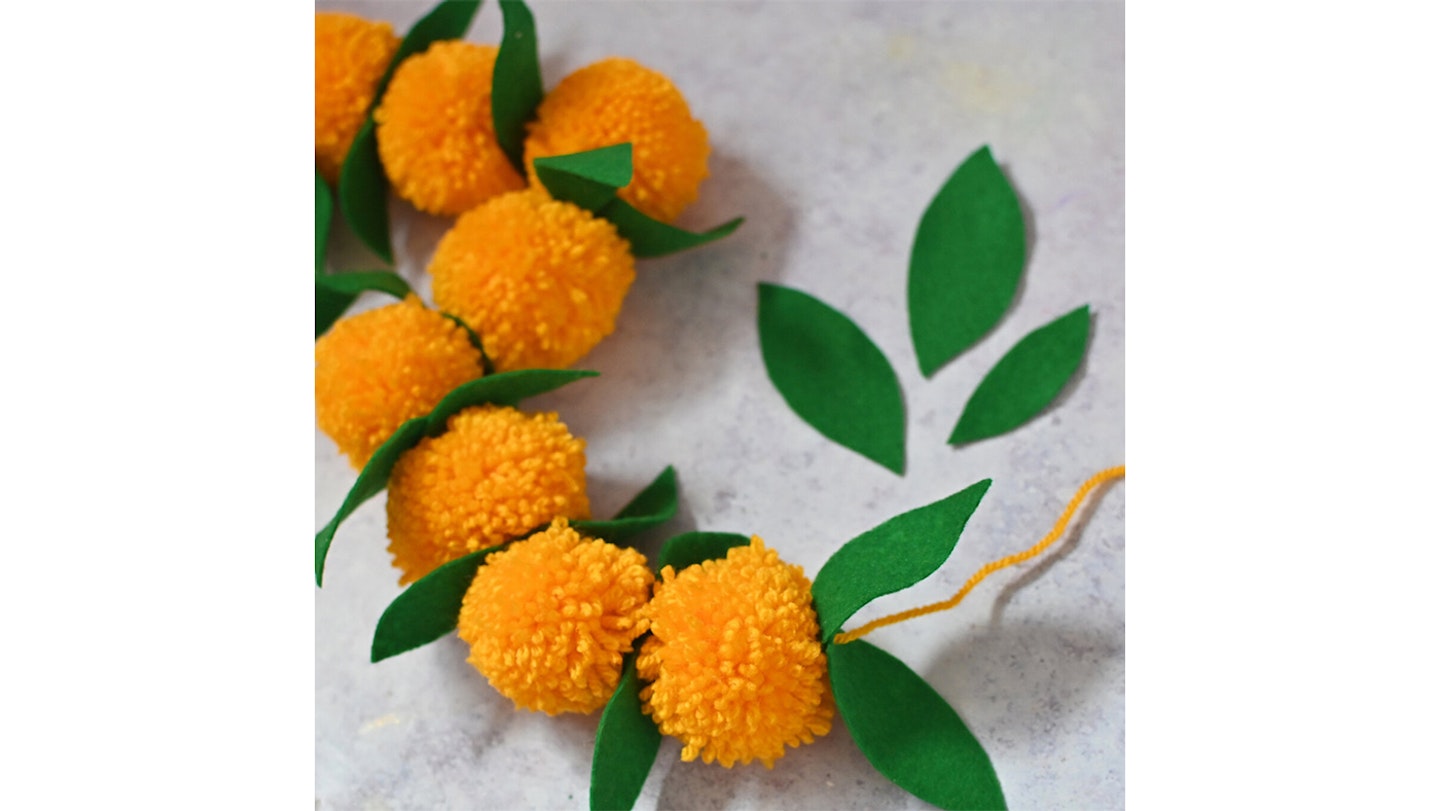 No celebration is complete without a garland. Traditionally, marigolds are used in Diwali garlands to symbolise success and new beginnings. We love this reusable pom pom wreath that's made to look like marigolds and will really brighten your home during the celebrations and all year round.
14. Paper plate Rangoli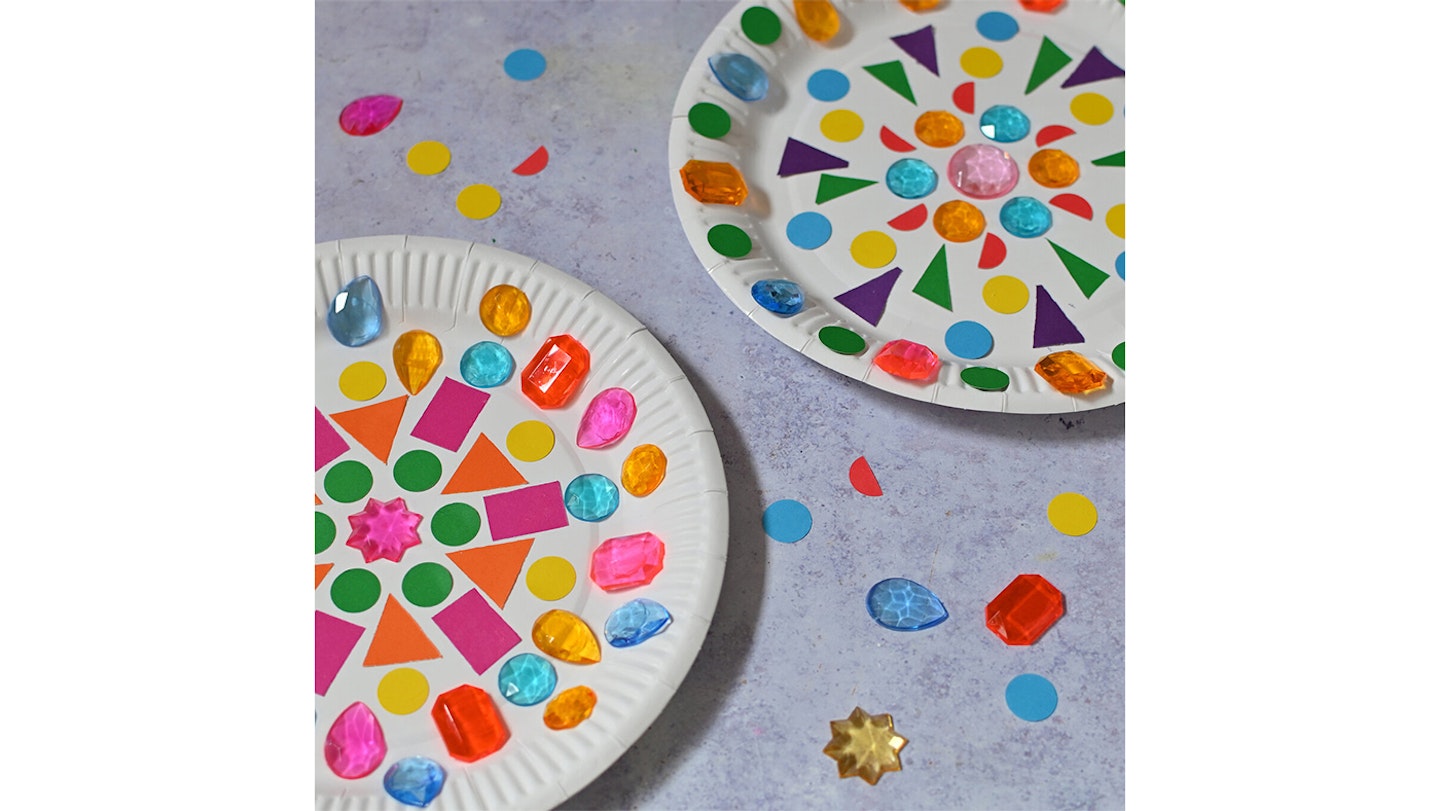 Looking for a colourful project? These pretty Rangoli paper plates are full of bright gems, stickers and colourful paper. They can be hung up around the home or be made into a garland and your little one will love using their imagination to create their own design.
15. Pumpkin seed and pom pom Mandala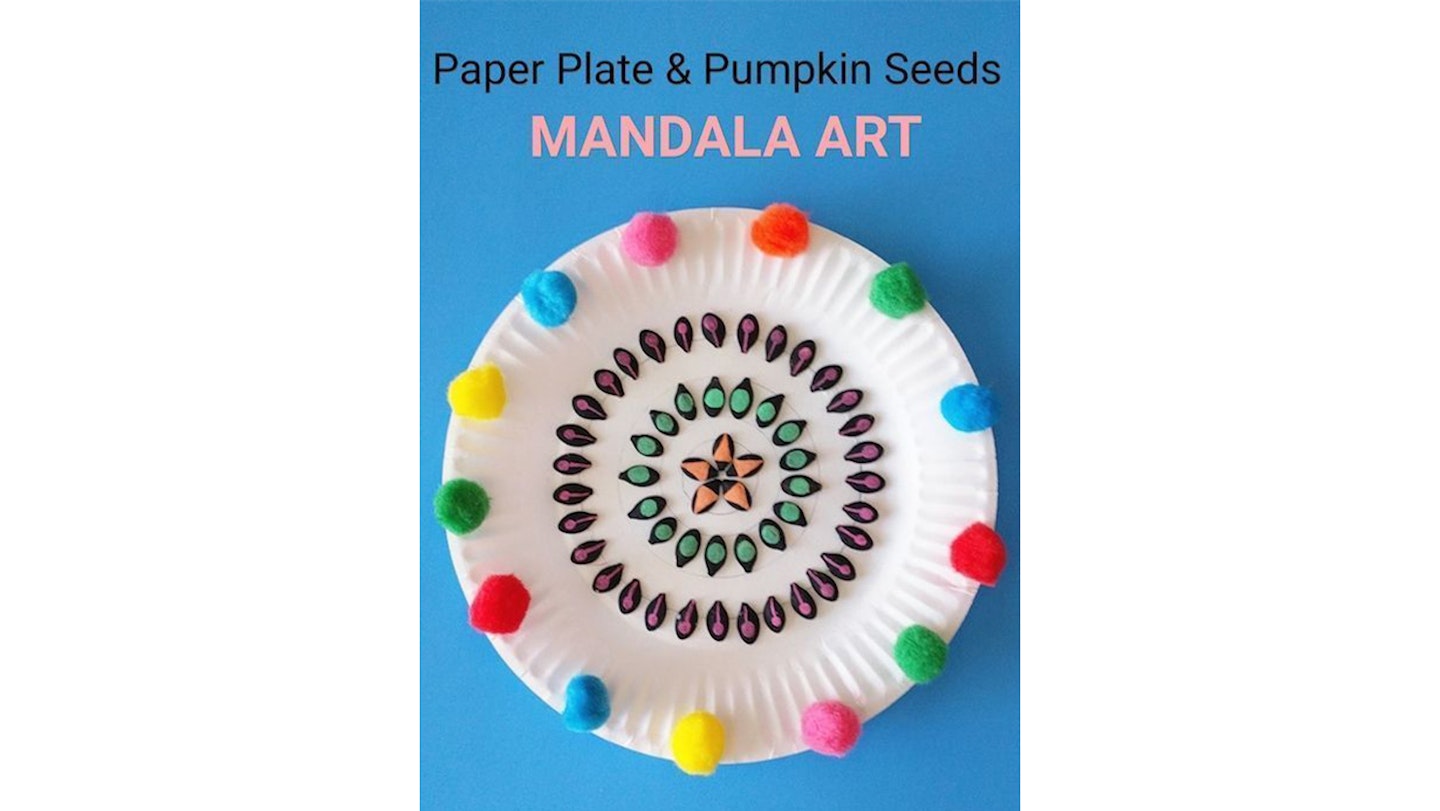 This quick and easy craft is a great option if you're looking to use up your pumpkin seeds from Halloween. We also love the addition of some bright pom poms and paint on this mandala art which really focuses on the little details of pattern. A great way to develop fine motor skills too.
16. Hand art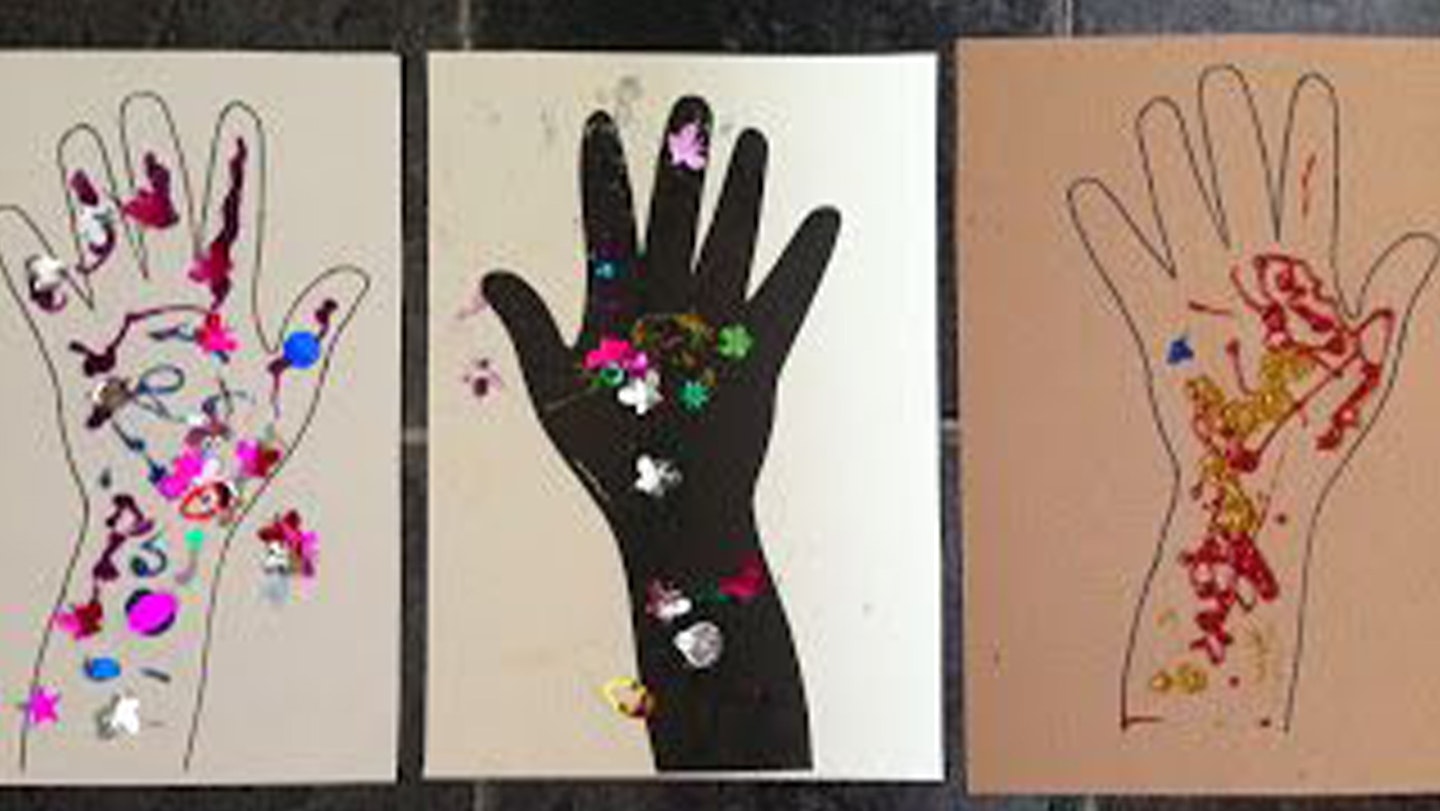 There's something so fun about drawing round their little hands. Once you have the outline of their hand, you can decorate it in a henna style using glitter, colourful pens and sequins for some beautiful Diwali hand art. Plus it will be nice to keep the hand drawings through the years and watch how their little hands grow in size making it one of the Diwali activities for kids you can do again and again.
17. Milk bottle lantern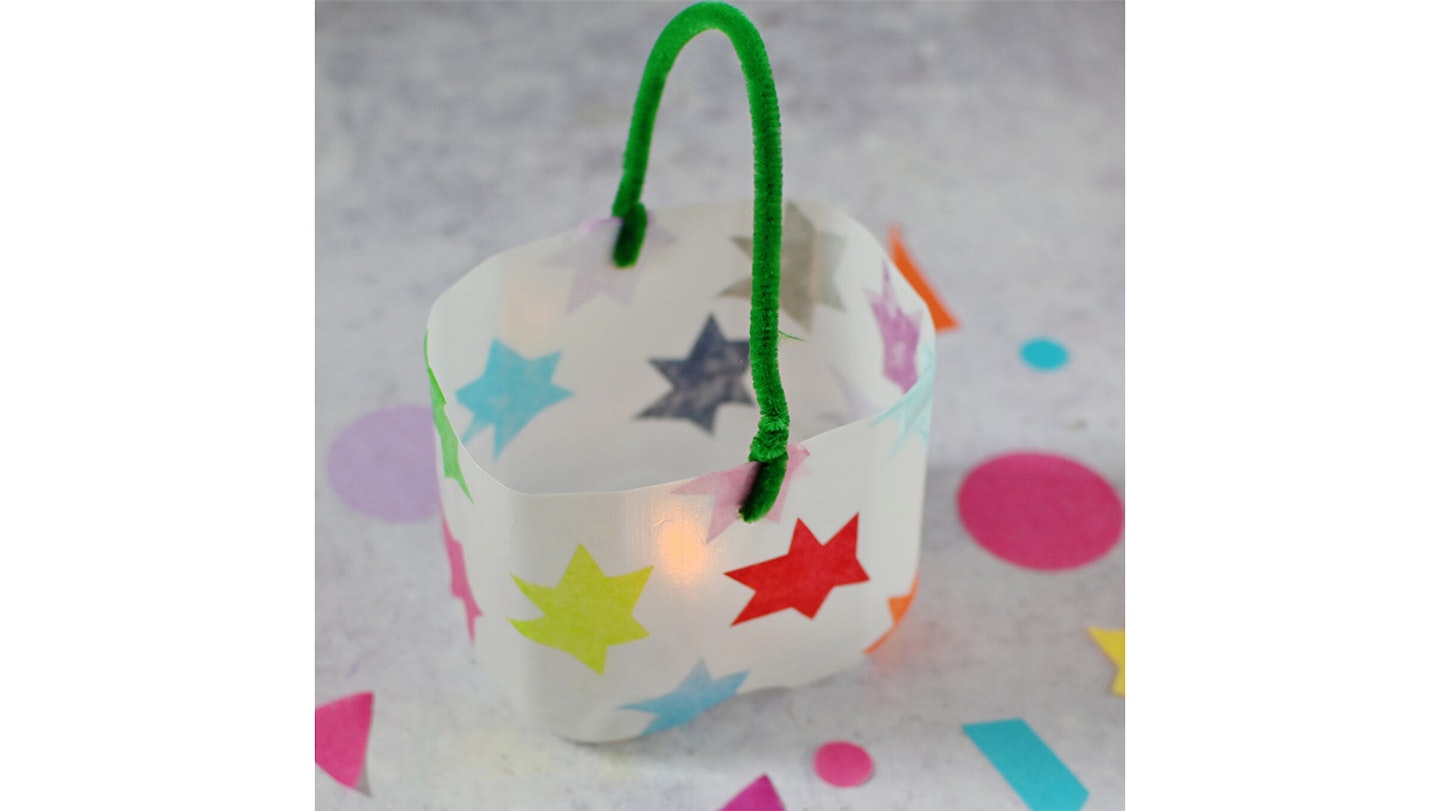 We love a craft that uses up your old milk cartons. These adorable milk bottle lanterns look very sweet around the home or placed on your doorstep (if it's not raining). All you need is an old milk bottle, coloured tissue paper, pipe cleaners and glue, then place a tea light inside when it's finished for a gorgeous lantern.
18. Fork fireworks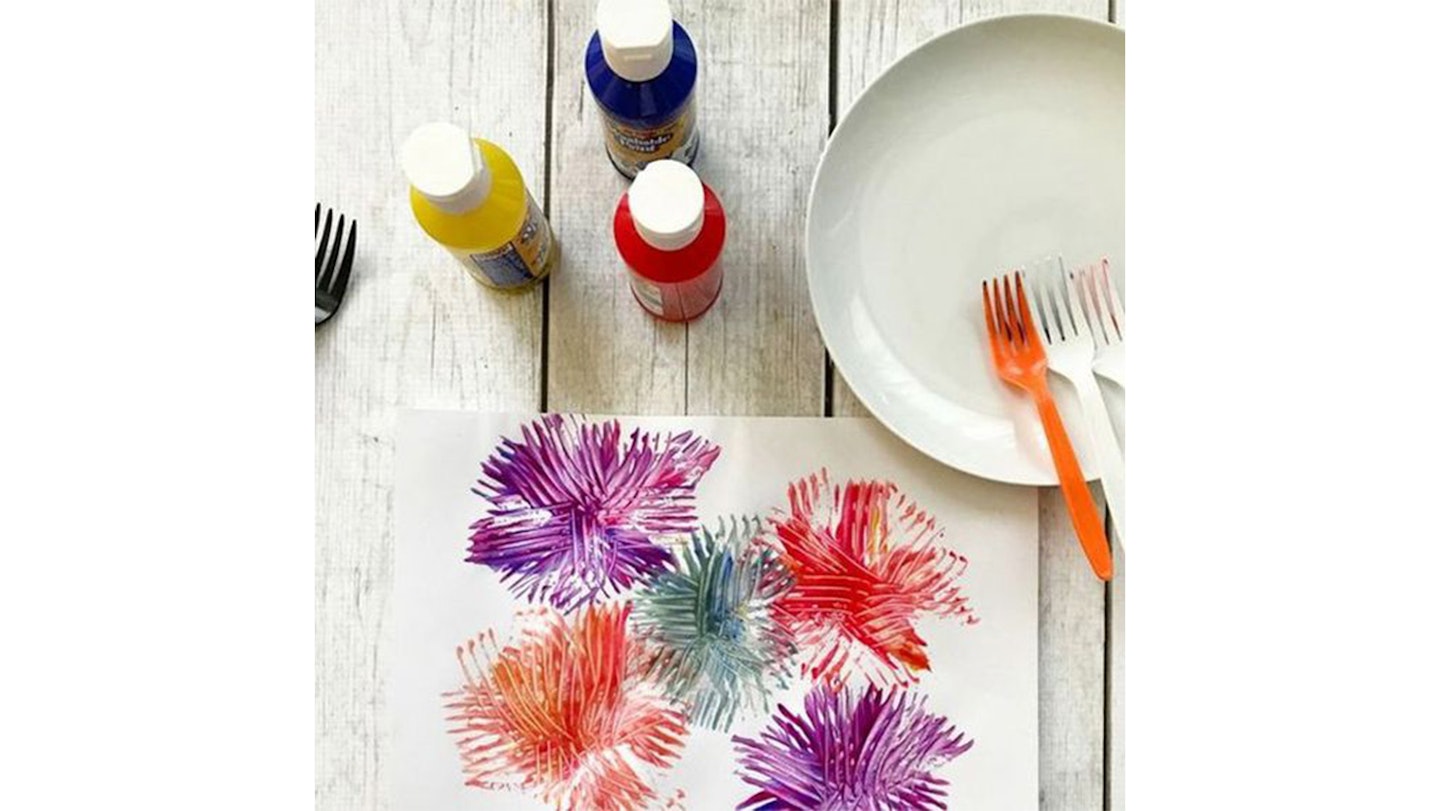 This super simple craft just uses forks (metal or plastic work fine) some colourful paint and paper. Simply dab your fork prongs into the paint, and make some fork firework shapes on some plain paper. This will be a much quieter, but equally exciting, firework show than the real thing. You could even add some glitter for extra sparkle.
19. CD candles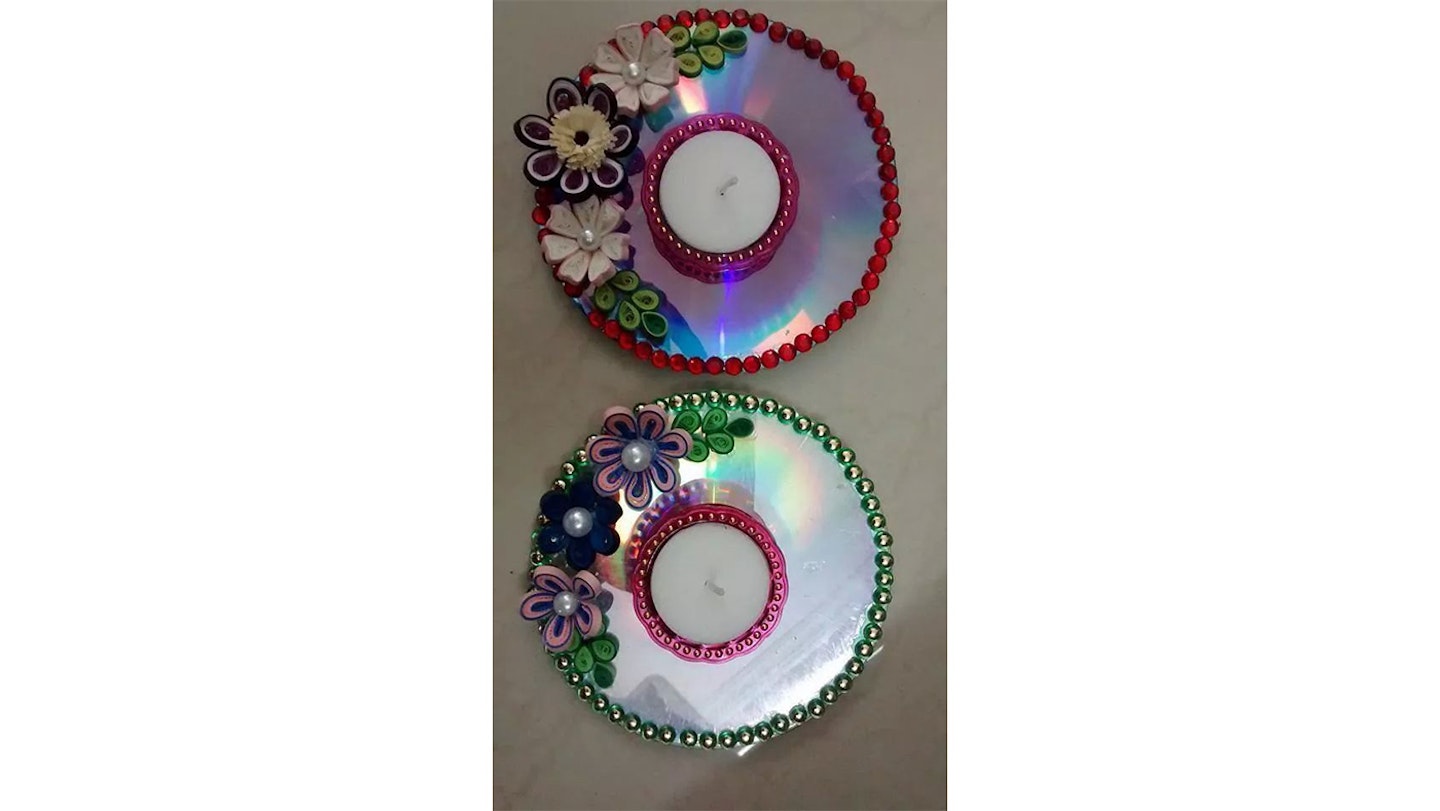 It's sad but true that CD's are a thing of the past so make use of your old CD's and make these shiny candle holders using gems and flowers to decorate some CDs. With tea lights added in the middle they will make an eye-catching Diwali decoration.
20. Create an interactive story for Diwali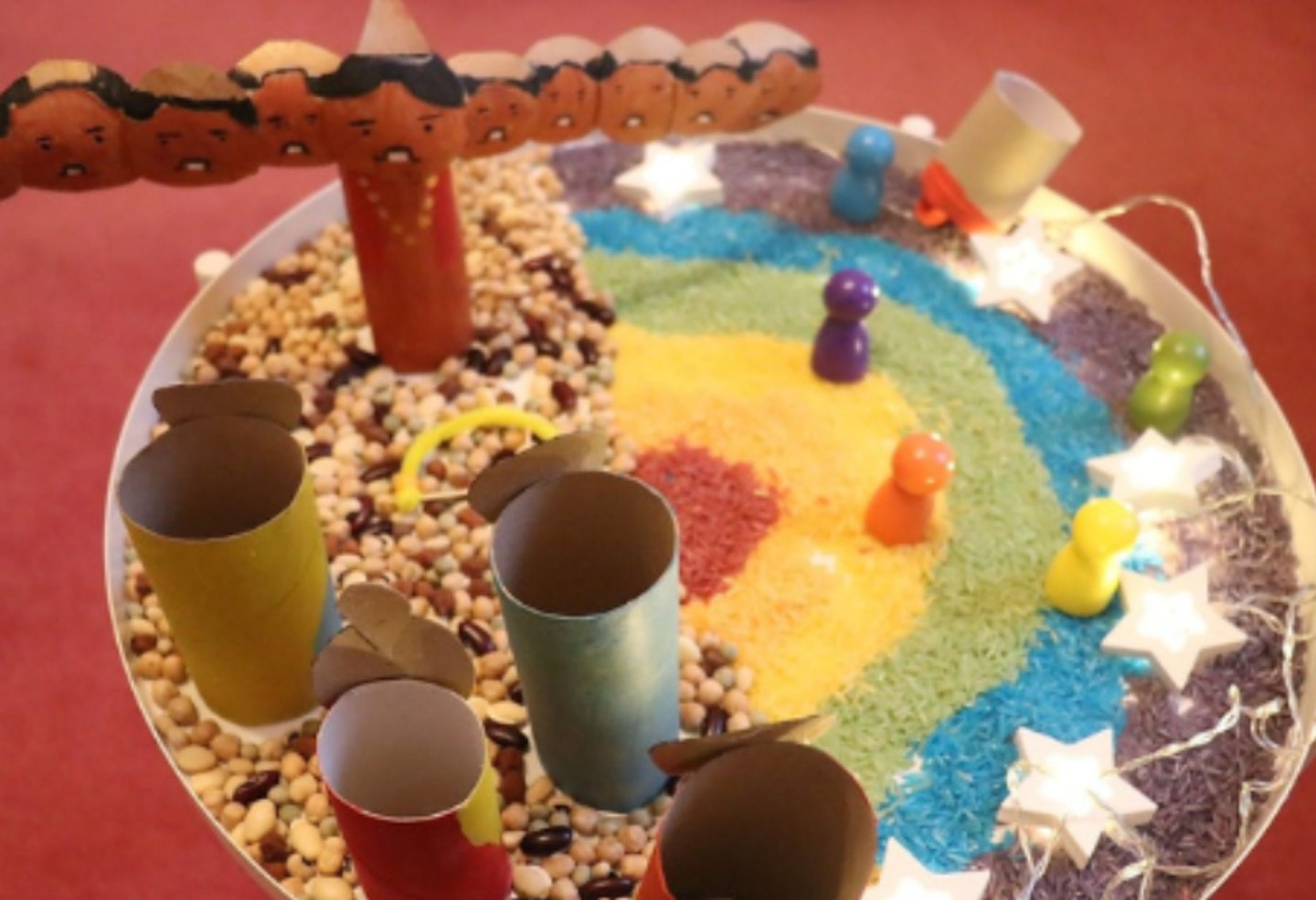 A creative way for children to learn about Diwali is making a puppet show to tell the story. Together, you and your little one can make the characters, Rama, Sita, Hanuman, Lakshmana and Raven, using toilet rolls and painting them. Fill a bowl with rice as a base and even use food colouring to make it colourful. If you have any little wooden peg dolls they could be villagers and then decorate it with battery operated tea lights to represent the diyas and finally use some tissue paper as fireworks. Not only will it be fun to make but a lovely homemade decoration too.
21. Playdoh Rangoli
Children love play dough and it is extremely versatile. During Diwali why not make a play dough Rangoli with your kids? First draw your Rangoli on a piece of paper and leave spaces for tealights. There are some great Rangoli designs on sites like Pinterest. Next, get some different colour play dough and use it to make the shapes you have drawn. You can then place it on the paper, along with the tea lights, and use it as a decoration, or even a table centrepiece.
Will your Child learn about Diwali at school?
Children not already familiar with the festival will learn about Diwali at school. The educational website Twinkl has lots of suggestions for Diwali assembly ideas which are also great to do at home too. All the above craft ideas would also be fun and engaging in the classroom, or your little one might come home with something different to celebrate Diwali, a new craft or drawing, or perhaps something they have cooked. Learning about the festival in school will give your little one chance to share their thoughts and explain how special it is to their friends who will be eager to hear all about it.
Celebrating Diwali with children
It is lovely to spend time crafting with your children and making beautiful decorations like paper lanternsor coloured rice Rangolis for the house and table as well as to welcome guests but don't forget to relax and enjoy yourself too. Traditionally at Diwali it is a time for families to spend time together and not only illuminate their homes but visit the local temple for prayers and share meals, or even perform Diwali dances. Children may also get gifts or sweets, or Diwali gift bags are also available which are a lovely gesture. It is a celebration of new beginnings and often new clothes are worn to signify the start of the new Lunar year.
Your child will love all the festivities, the lights and the food and the decorations, but most importantly, during this festival of light, they will love spending time together as a family.
Laura Healy is a Commercial Content Writer for Mother&Baby. She is a mum-of-two girls and loves writing about all things parenting. She has a PhD in Creative Writing and enjoys reading and attending literary festivals, as well as writing fiction.