We have fond memories of playing with puppets as children; telling imaginative stories, going on elaborate adventures, and putting on shows for the whole family. Puppets are a great toy for kids to encourage them to explore their creativity, play with language, and don't worry, they don't need to be quite so unnerving as the classic Punch and Judy puppets.
We've found some adorable, fun, and exciting puppet toys and puppet theatres for your little one to enjoy and play with siblings, friends, or on their own. Perfect for setting the stage, and we're sure you'll have fun getting involved too!
What age is appropriate for puppets?
From babies to adults, puppets are great fun to play with and will have everyone giggling with their antics. From pretend play to tummy tickles, Peek-A-Boo to puppets that double as soft toys, they're not only versatile for play but for child development too. Playing with puppets can:
• Help them to learn and develop language through conversation with the puppet and imitation
• Develop their fine motor skills and hand-eye coordination playing with the puppet
• Build their social skills and self-confidence, using the puppet as a tool and for performance
• Be used to teach children about emotions, the world around them, manners, and more
• Practice their creativity and story-telling
Not only that, but they're a particularly useful tool to help children with Autism, ADHD, or anxiety who can use a puppet to communicate and build their social skills.
What are the best types of puppets for kids?
The world of puppetry is bigger than you think! But if you're looking for the best types of puppets for kids, these are the best:
Hand puppets
Hand puppets are the best puppets to buy for kids, full of personality and soft making them safe for most ages. They can double as play toys, often have moveable mouths, and are extra durable to withstand those wild story-telling adventures. If you wanted to make one yourself, you are best using a funky sock to make into a sock puppet, as they're trickier to make otherwise compared to other types of puppets.
Stick puppets
Stick puppets are super easy to make at home and it gives your child the freedom to make a puppet of their own design. They can simply draw their fun-loving character on a piece of card before you cut out and glue or tape to a stick. These puppets are only two-dimensional and can be a little flimsy but it's great for letting your little one's imagination run wild. You could even add moveable parts with split pins and extra sticks, or use a wooden spoon as a base for the puppet for extra support.
Finger puppets
Much like the hand puppets, these soft little characters will be fun to play with on a smaller stage. They're colourful, 3D, and durable, but their smaller size means they're more likely to get lost! They can't move their mouth like most hand puppets, but little finger wiggles will still give the illusion of speech. You can easily make your own using the fingers of old gloves.
Shadow puppets
Shadow puppetry doesn't leave much room for design, but your child will love creating shapes, props, or simply use just their hands to tell stories against torchlight. This is the easiest form of puppetry for children, though it may not keep their attention for as long as the others.
The best puppet theatre toys
We've put together a list of the best puppet theatres and puppets available to buy for little storytellers.
The best puppet theatres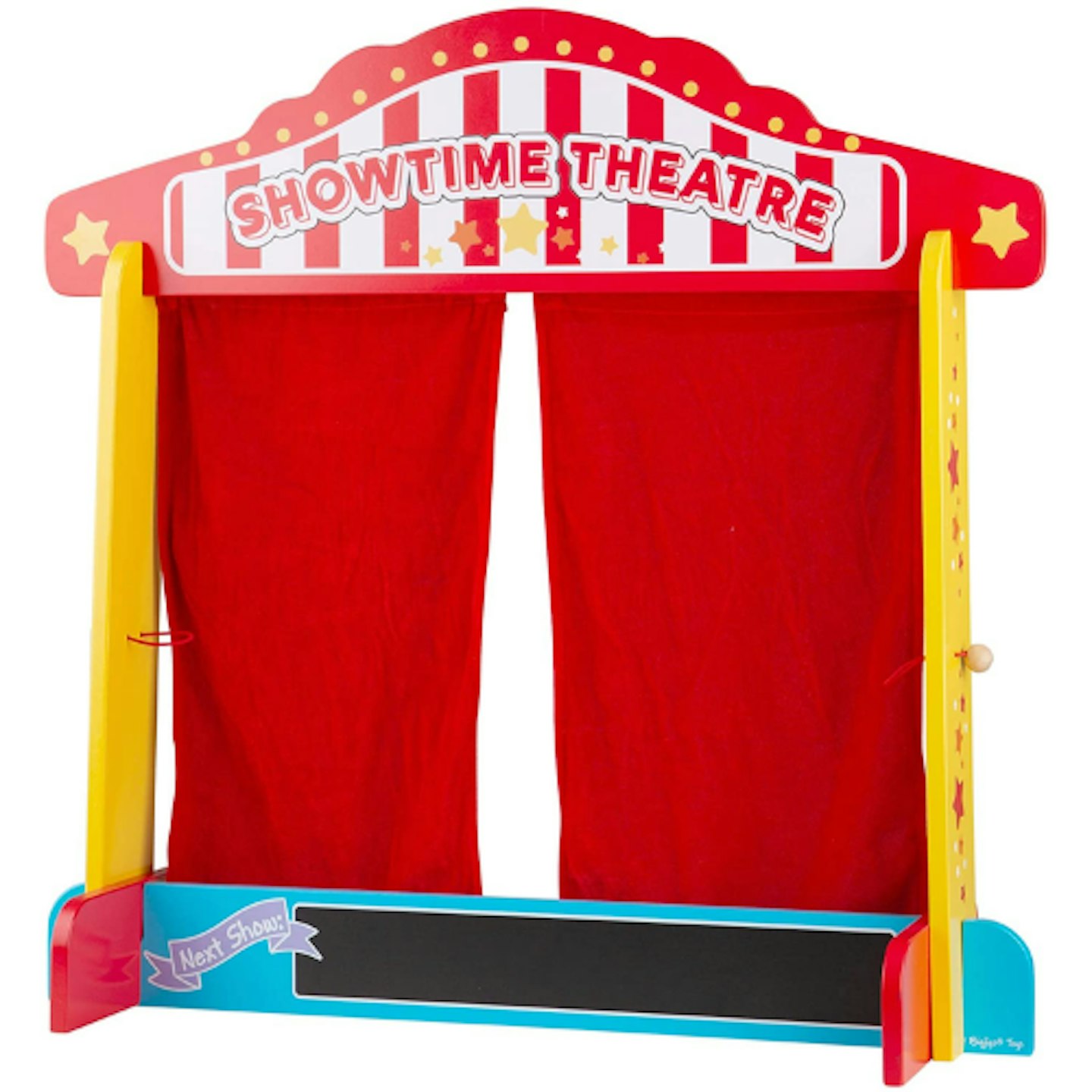 1 of 7
Bigjigs Toys Wooden Table Top Theatre
This wooden table-top puppet theatre gives your child no-bounds to their backstage area, and with a chalk board on the front, they can add showtimes and their show name. This sturdy stage also comes with a red silk effect curtain so they can truly perform.
Review: "For a nearly 6 year old with a great imagination this was an instant hit with a few bought hand puppets and a few home knitted finger puppets. Big cousin (8) also enjoyed making up stories and 'performing'. The whole fits together easily for transportation and storage, very strong and well made.
The curtains can be fixed back with knobbed ties and draw across well. Very very satisfied all round!"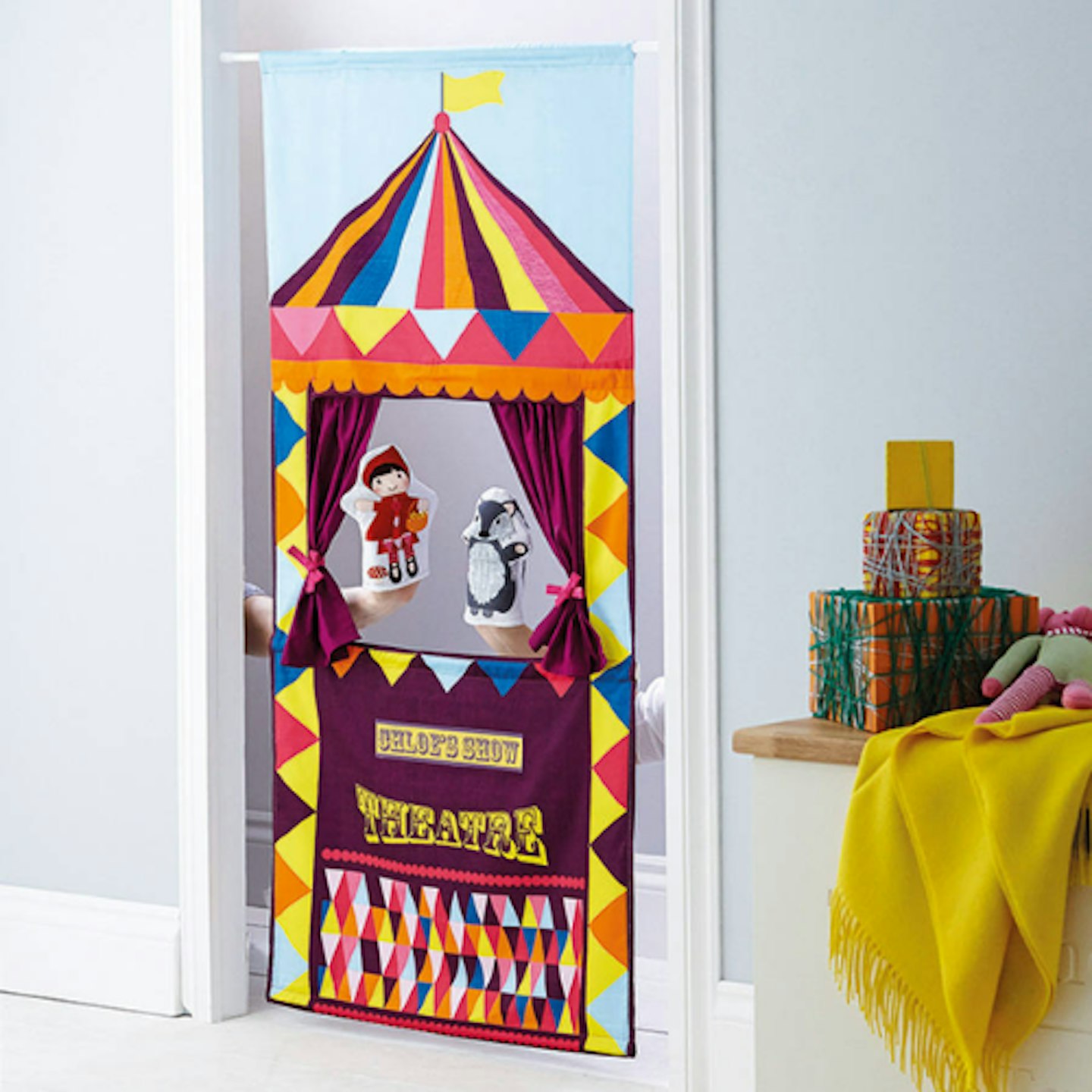 2 of 7
Personalised Imaginary Puppet Theatre
If little ones would prefer to keep their backstage area more hidden, this doorway puppet theatre lets them hide of sight below the stage and to the wings. This funky fabric puppet theatre can be suspended from doorways up to 100cm in width and can even be personalised with your child's name for that extra special touch.
Review: "I am delighted with this puppet theatre. Its beautifully made and great quality. I cannot wait until Christmas morning to see both my girls little faces. Would highly recommend, will provide hours of entertainment. Fast delivery."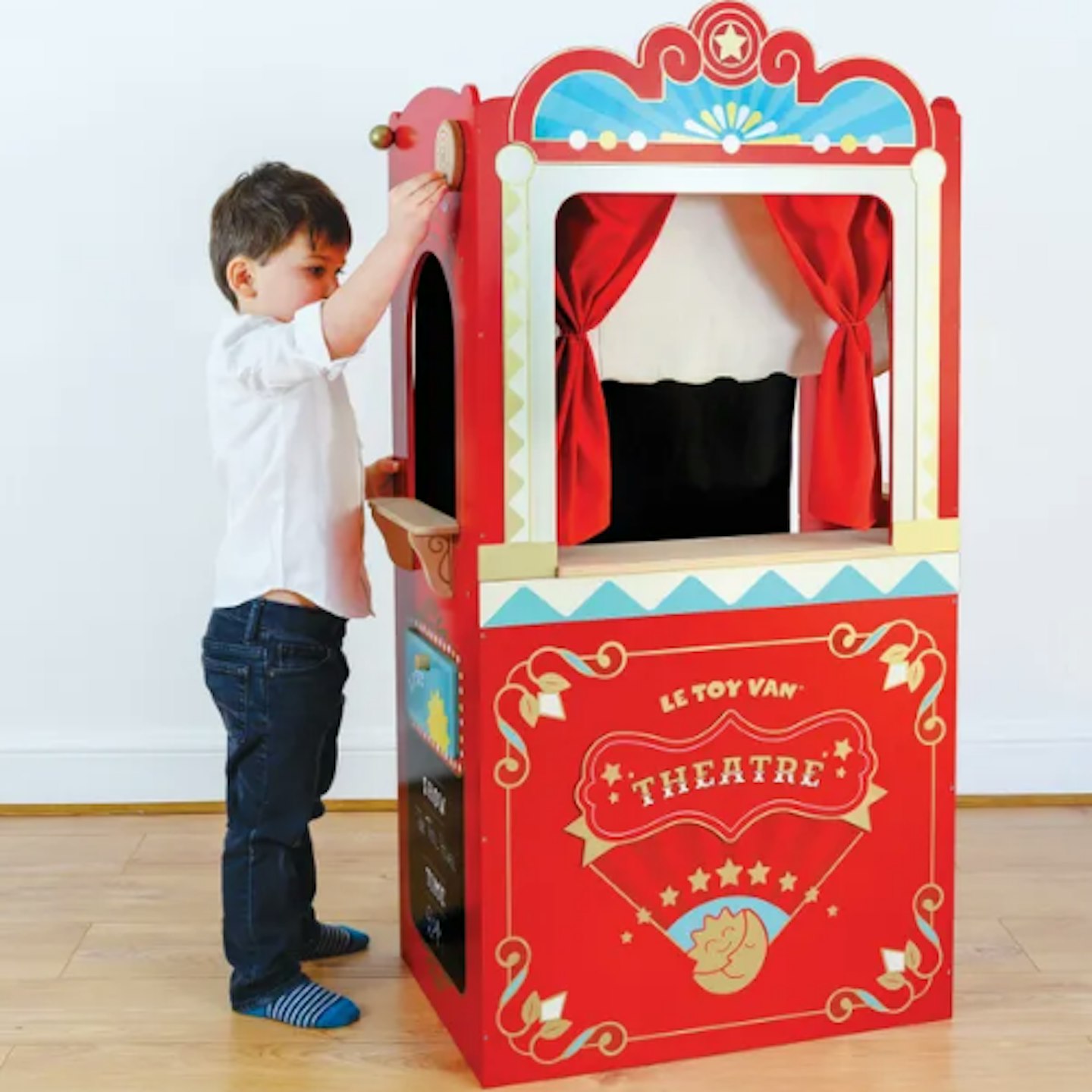 3 of 7
Le Toy Van Showtime Puppet Theatre
Part of the multi-award winning Honeybake collection, the Le Toy Van Showtime Puppet Theatre is for seriously superb showtimes. The interactive wooden theatre has three different play windows for extensive imaginative play, a unique, retro design with a 'live' and 'interval' reversible sign, a stage door, and two chalkboards.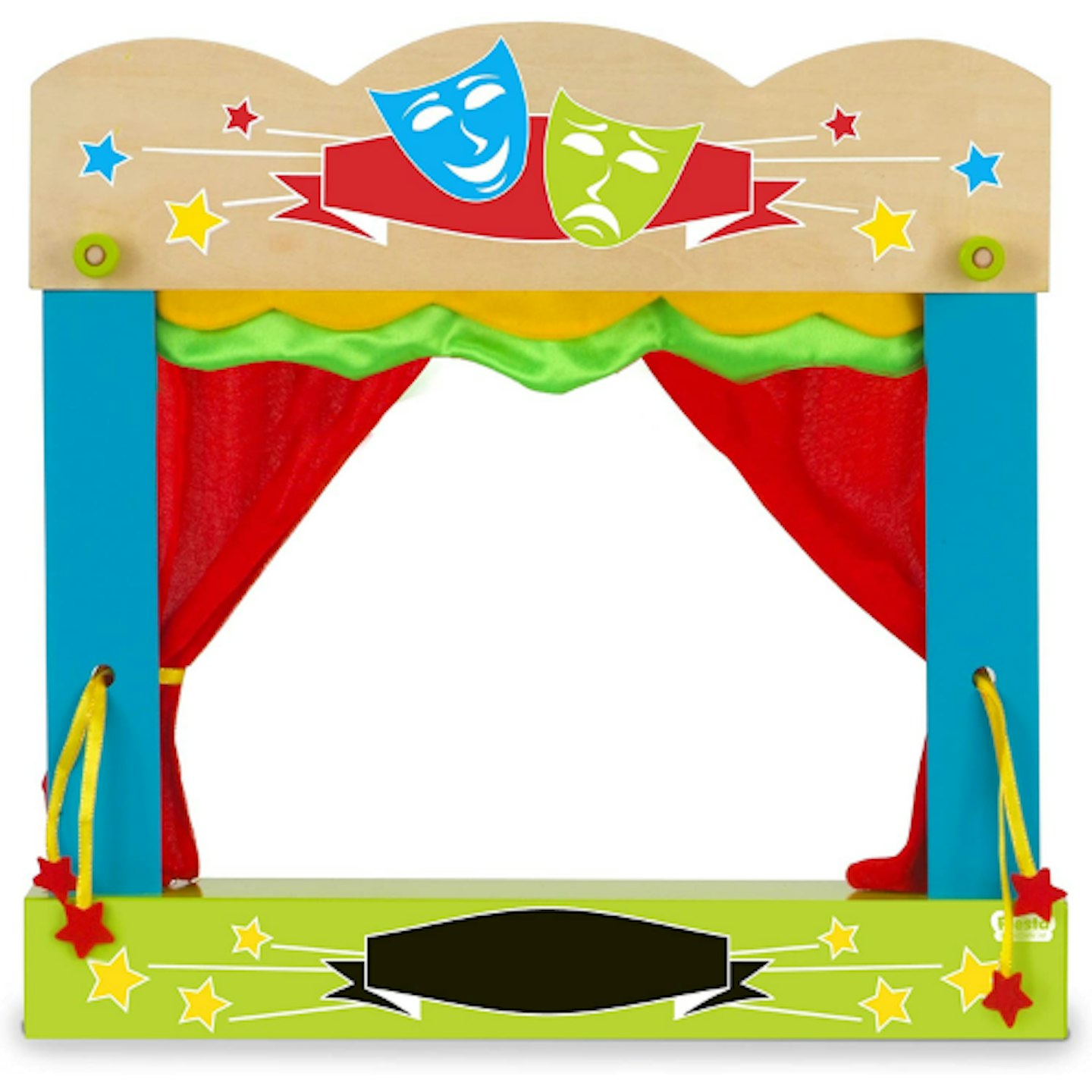 4 of 7
Fiesta Crafts Carry Case Puppet Theatre
If you want to spark your child's imagination without a theatre taking up too much space, the Fiesta Crafts Puppet Theatre can neatly pack down into a wooden carry case, great for taking on holiday or for visiting the grandparents too. On the smaller side, it's best for finger puppets and measures 47cm high when built.
Review: "This is a great idea, a theatre that can be packed away and brought out when required. It was easy to build and the children enjoyed helping. As a family with love taking turns making up strange and funny stories so it seemed a great idea to buy a theatre and get some puppets to bring them to life. I particularly like the ease of packing it away (when the grand children go home) and the children enjoy the setting up and creating their little adventures."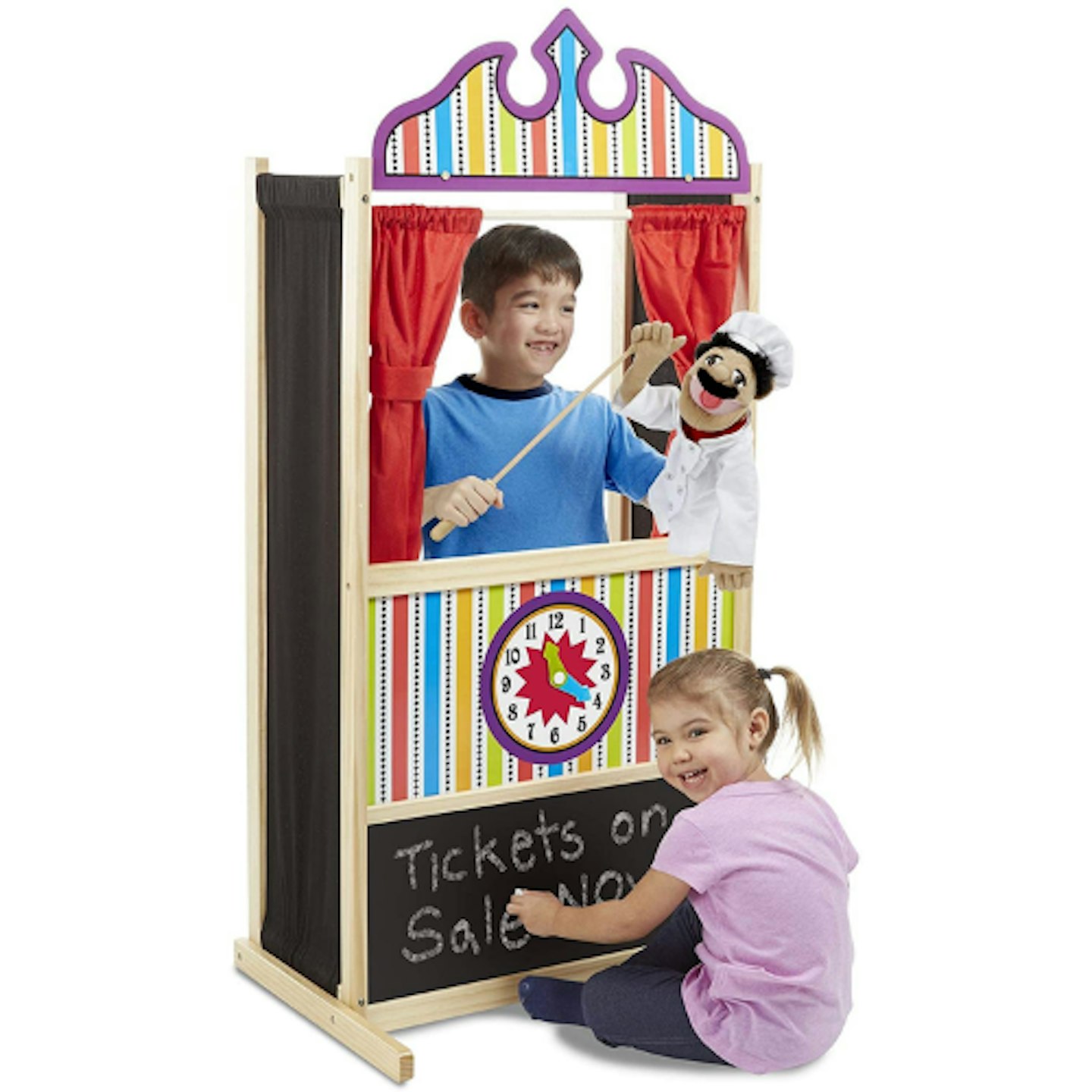 5 of 7
Melissa & Doug Deluxe Puppet Theatre
This big, sturdy wooden puppet theatre provides plenty of space for a single puppeteer or two thanks to the open back design. This theatre features a sturdy, non-tip base, plush curtains, a clock, and a chalkboard and is pretty simple to pack down when not in use.
Review: "Fantastic - looks great, good quality and sturdy. My two year old loves it and I can see this lasting many years to come. We have it in the front room at the moment and she does little shows and warbles little songs. We have a good time with this as a family - lovely!"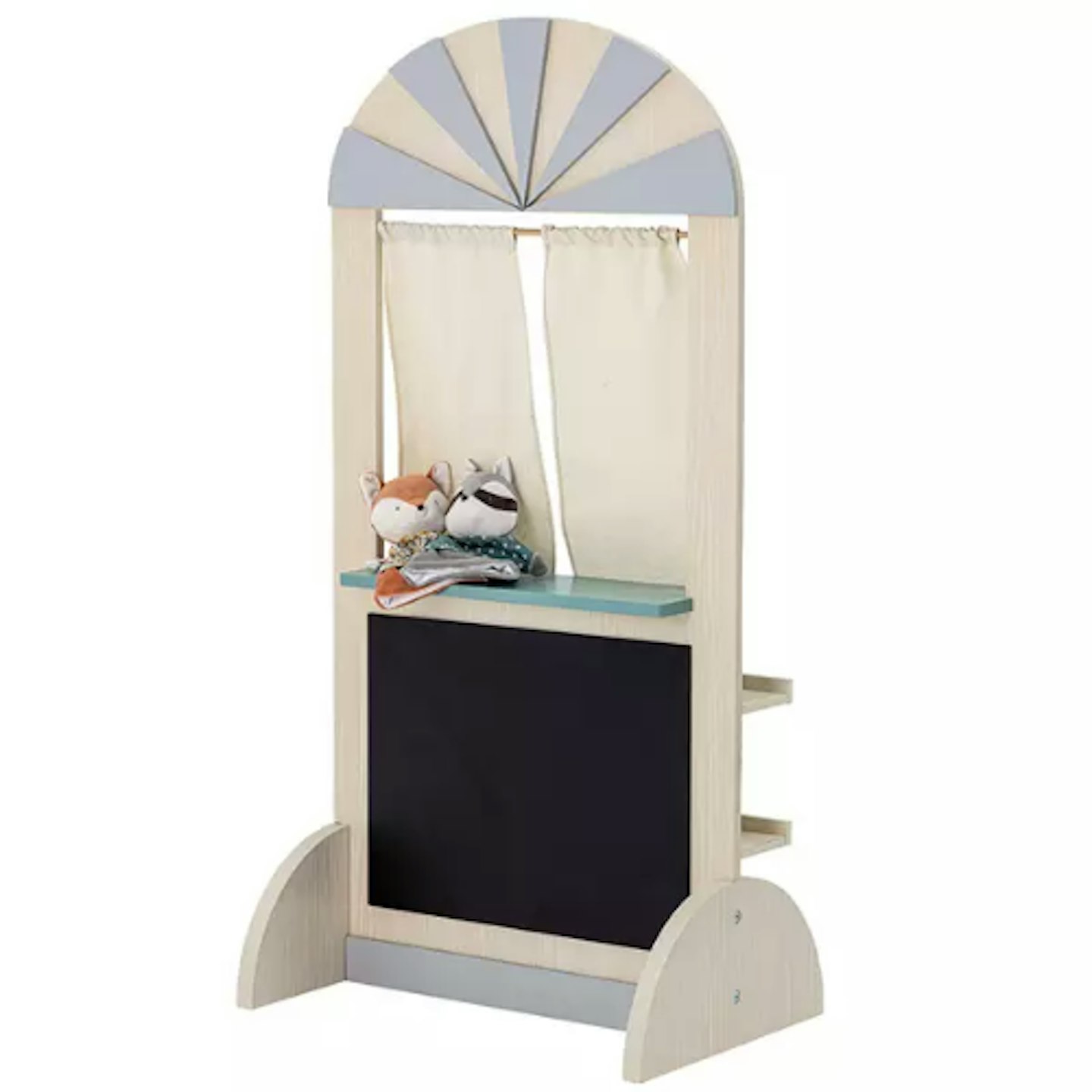 6 of 7
Bloomingville Bertine Puppet Theatre
The Bloomingville Bertine Puppet Theatre provides another solution for space saving in the playroom. With a reversible design, it can be used as a puppet theatre with curtains and a large chalkboard to add showtimes on one side, and as a play shop on the other. The shelving can be used to store props during the show or it can be used as the shelves in their pretend store selling their wares.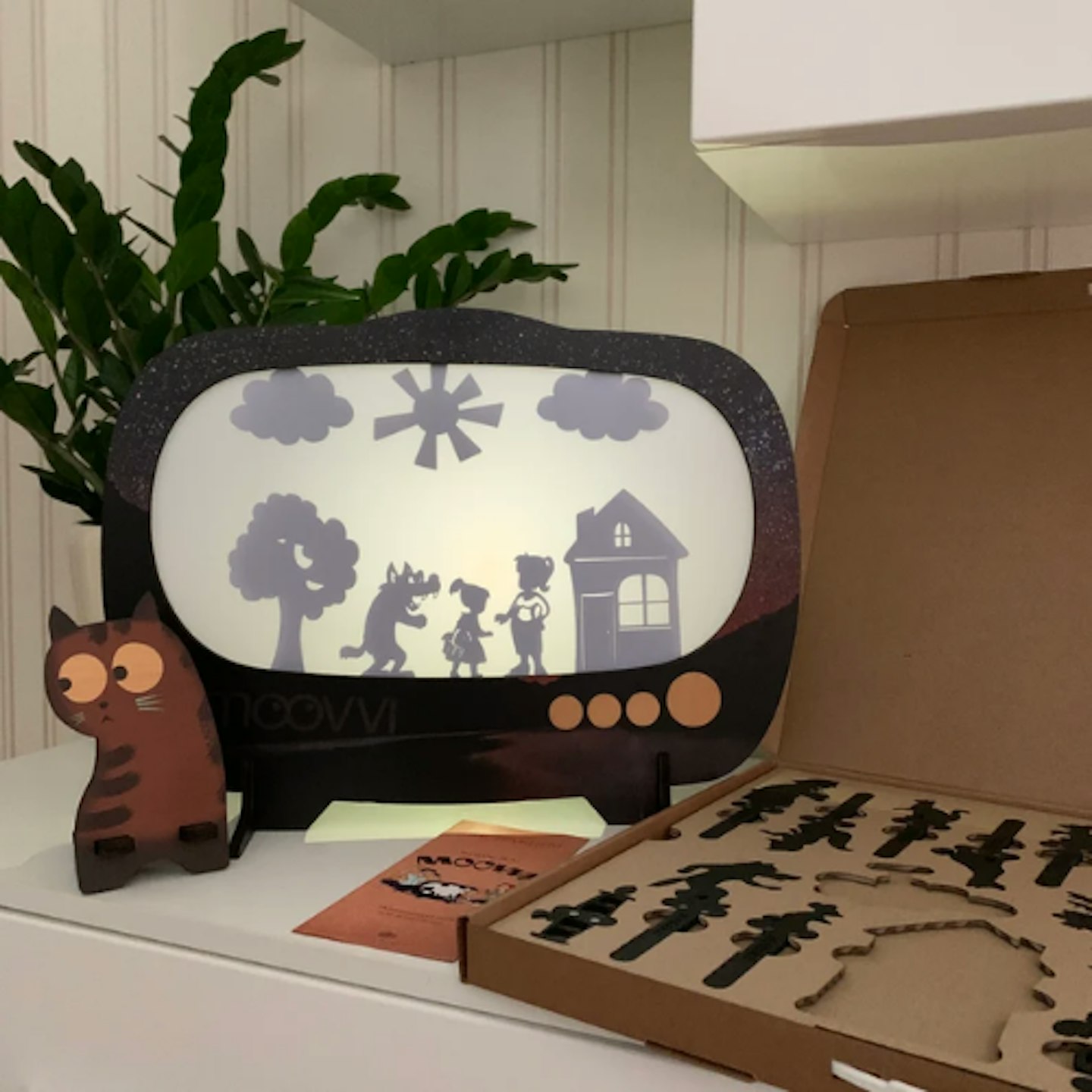 7 of 7
Tabletop Shadow Puppet Theatre with Famous Fairy Tales
For shadow puppetry, we'd recommend the Moovie Tabletop Shadow Puppet Theatre with optional Famous Fairy Tale puppets at extra cost. Designed to look like a TV screen, this provides a stage for your shadows for fun and engaging storytelling for kids and adults alike. It has a special light-scattering screen, but you can remove this to project larger onto an entire wall.
Review: "This is such a great shadow theatre! Great design, excellent attention to detail, and ingenious idea to add the magnets to the little figures. I am very happy with this purchase and can't recommend it enough. Thank you very much again!"
The best puppets for kids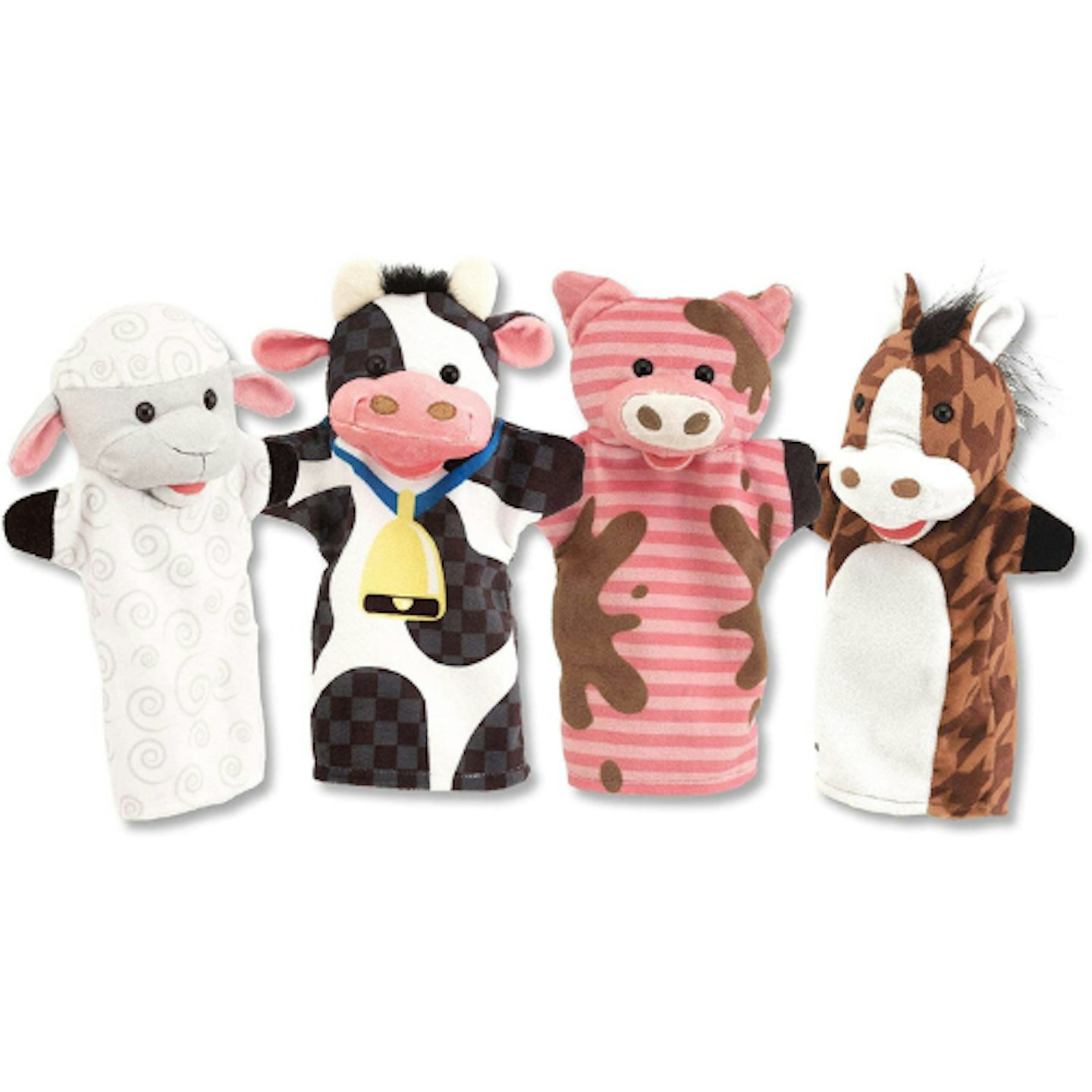 1 of 12
Melissa & Doug Farm Hands Animal Puppets
The Melissa and Doug Farm Hands Animal Puppets set includes four soft hand puppets including a cow, a horse, a sheep, and a pig. It's sized to fit children and most adults and fits well with the Melissa & Doug Deluxe Puppet Theatre.
Review: "Bought for my little nephew. He absolutely loved them. Excellent quality product. Soft and keeps him entertained!"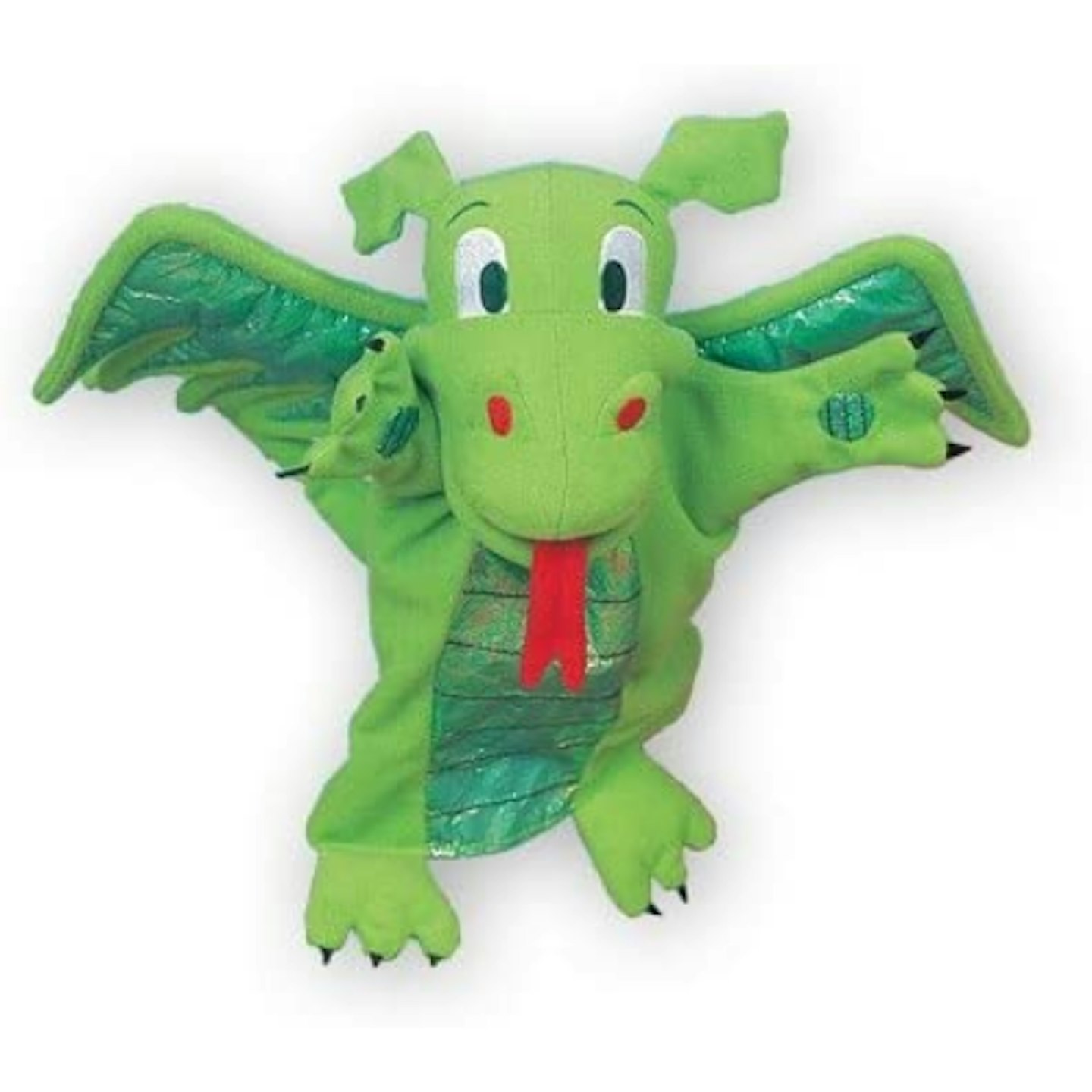 2 of 12
Dragon TellaTale Puppet
Most fairy tales include a dragon, right? This soft and friendly dragon has legs and feet so it can be animated to 'walk' and 'run' with the shiny fabric on the wings and tummy adding an engaging touch.
Review: "My 9 month old girl is mesmerised, fits perfectly and very expressionate in its features. Shininess in the chest and wings is certainly noticed by my daughter. So happy with it, I've ordered a second for a friends little one."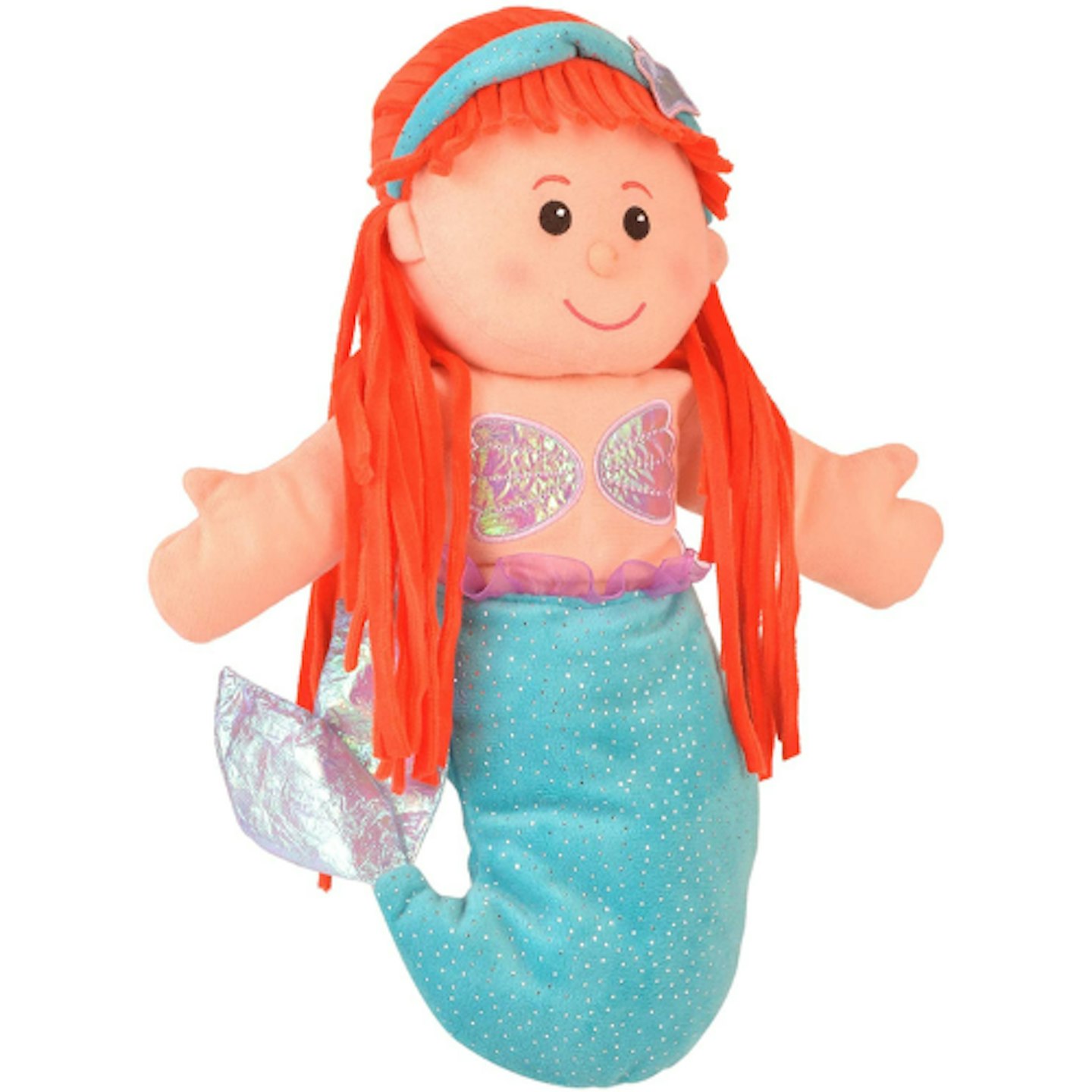 3 of 12
Fiesta Crafts Little Mermaid Hand and Finger Puppets Set
This little mermaid hand puppet is a much-loved character and perfect for kids to retell the classic story or create a new underwater tale. Measuring approximately 30cm tall, it's made of a soft fabric with embroidered details and moveable arms and head.
Review: "Fantastic quality, my girl loves the characters."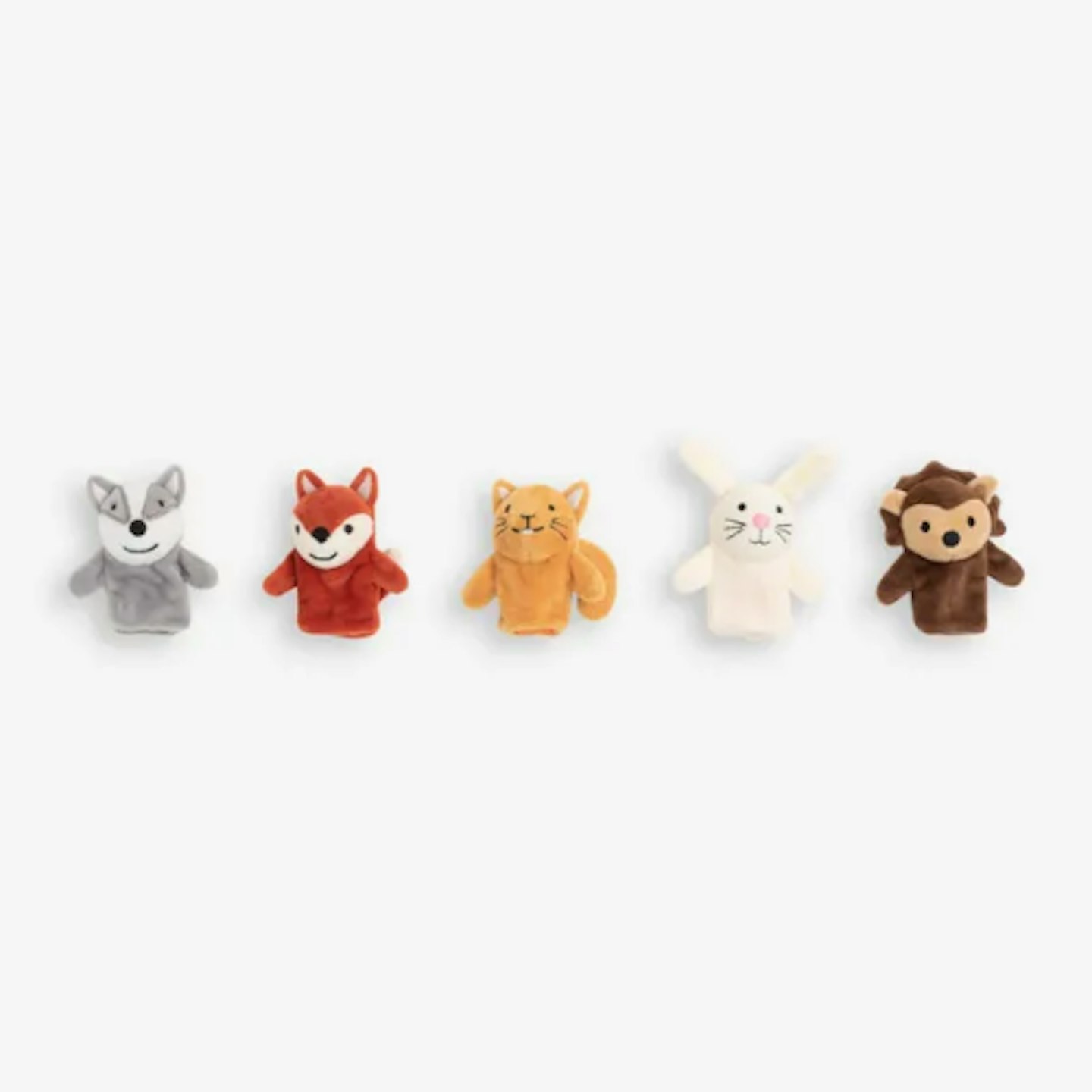 4 of 12
Woodland Finger Puppets
How cute are these Woodland Finger Puppets? With five furry friends for each finger, these will encourage hours of imaginative play. The set includes a squirrel, hedgehog, fox, badger and rabbit, each measuring about 8cm long.
Review: "Excellent quality puppets, my 6 month old daughter loves them, great fun to play too."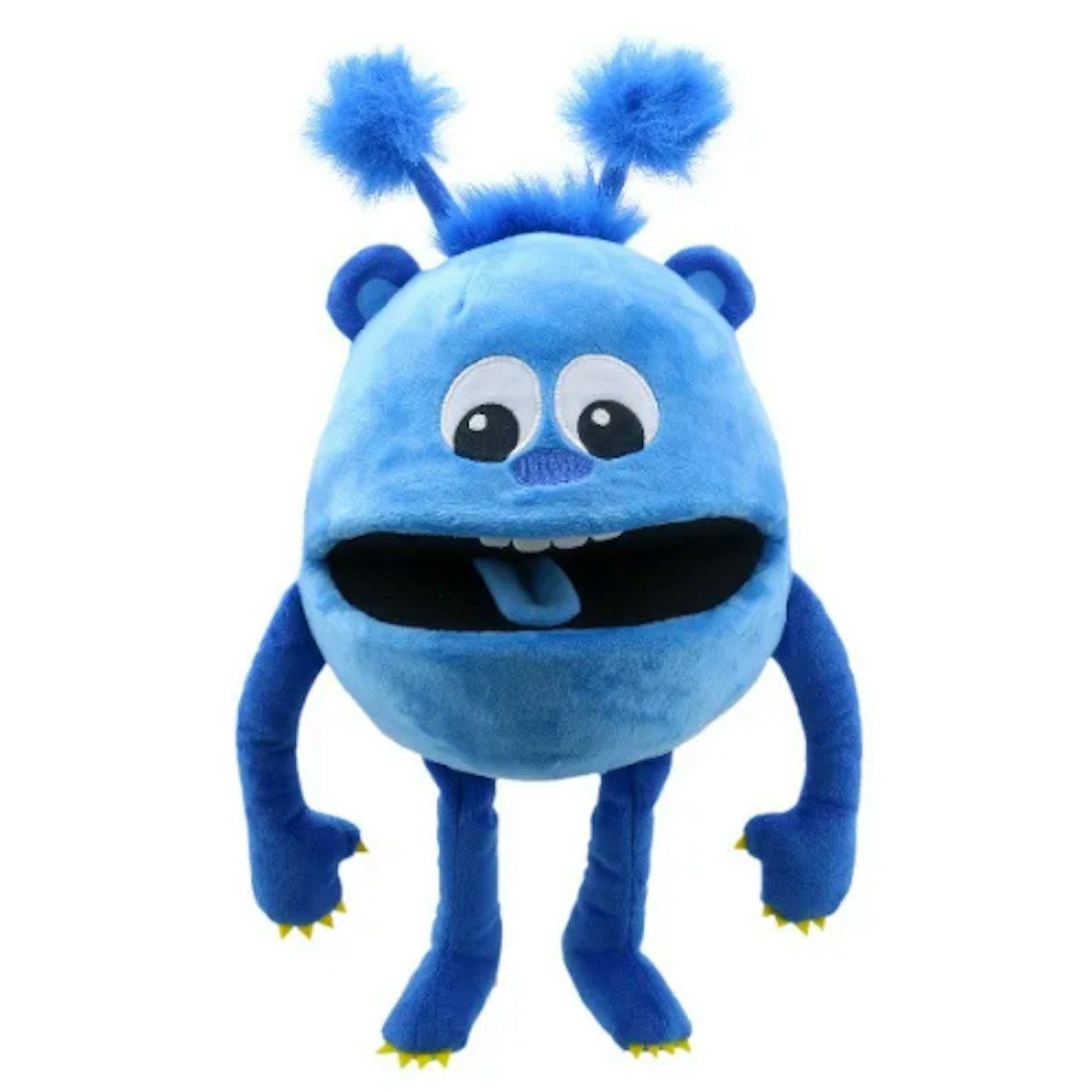 5 of 12
Baby Monster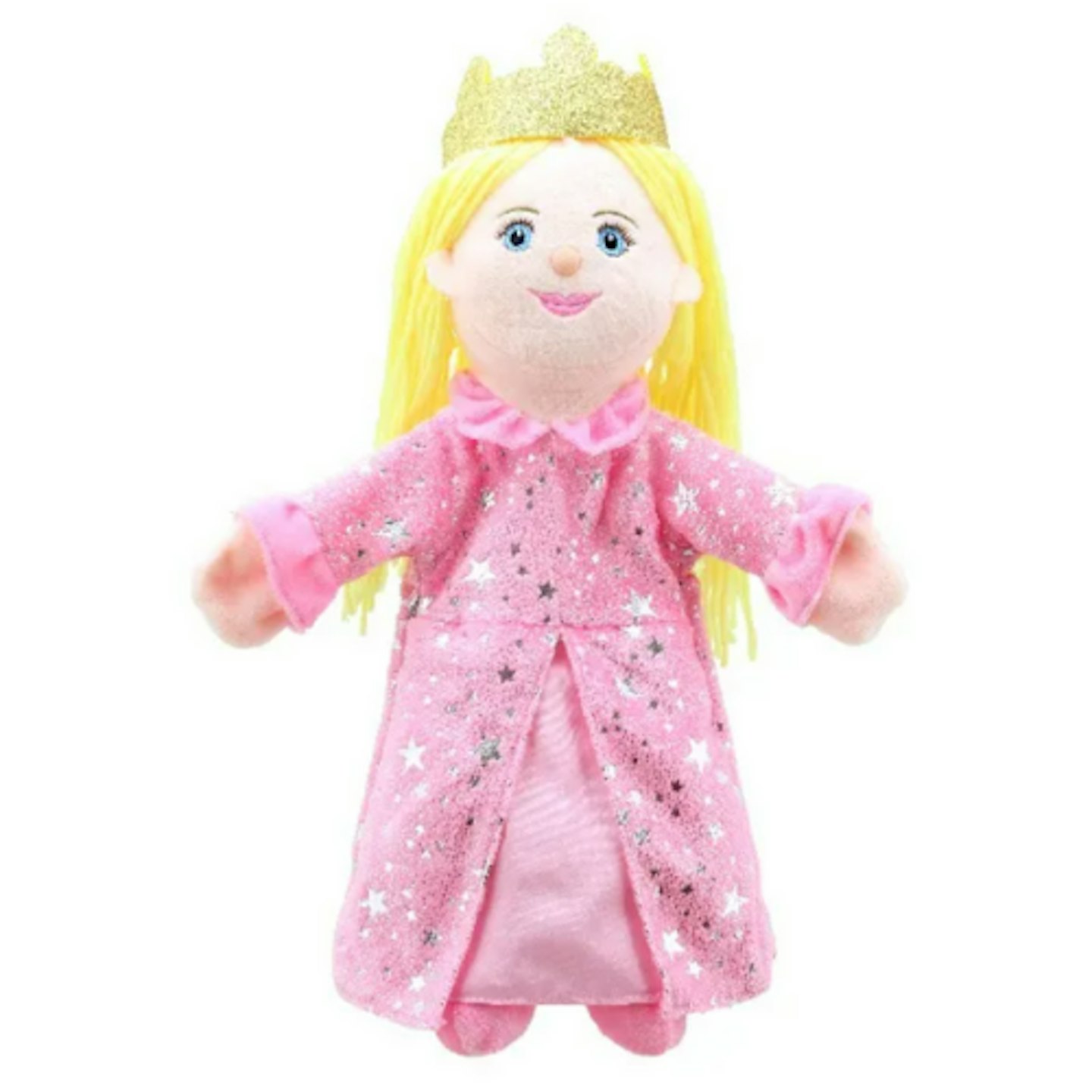 6 of 12
Story Teller Princess
This classic fairy tale princess is a must for little fans of princess stories - you could use this puppet for everything from Cinderella to Sleeping Beauty. Measuring 38cm tall, it fits children and adult hands with the ability to move the head and arms.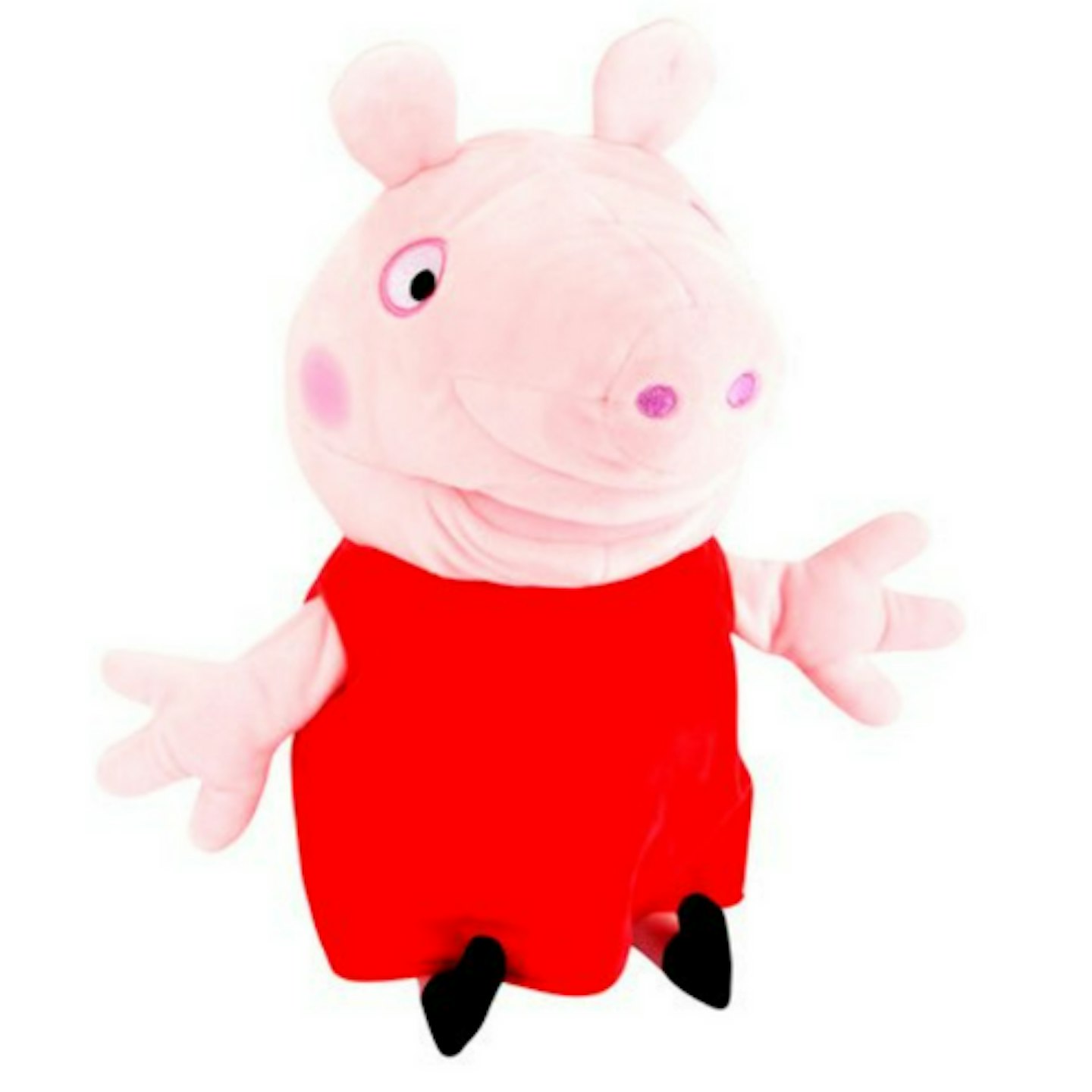 7 of 12
Peppa Pig Play & Say Hand Puppet
We couldn't resist this Peppa Pig Play & Say Hand Puppet, perfect for use in a large puppet theatre or for just playing and cuddling with. This super soft hand puppet comes with fun phrases and songs from the Peppa Pig show that kids will adore singing along with.
8 of 12
The Puppet Company Sockettes
You could make your own sock puppets, or try on one of these larger than life characters for size! This fabulous, fun, knitted sock puppet has a large moveable mouth and a squeaker in its tongue, and is brightly coloured to encourage tots to play along.
Review: "My goddaughter absolutely loved this, she was is fits of giggles as her Mummy and Daddy entertained her with it and they said it was the best gift she has had. Lovely big bright face and great quality."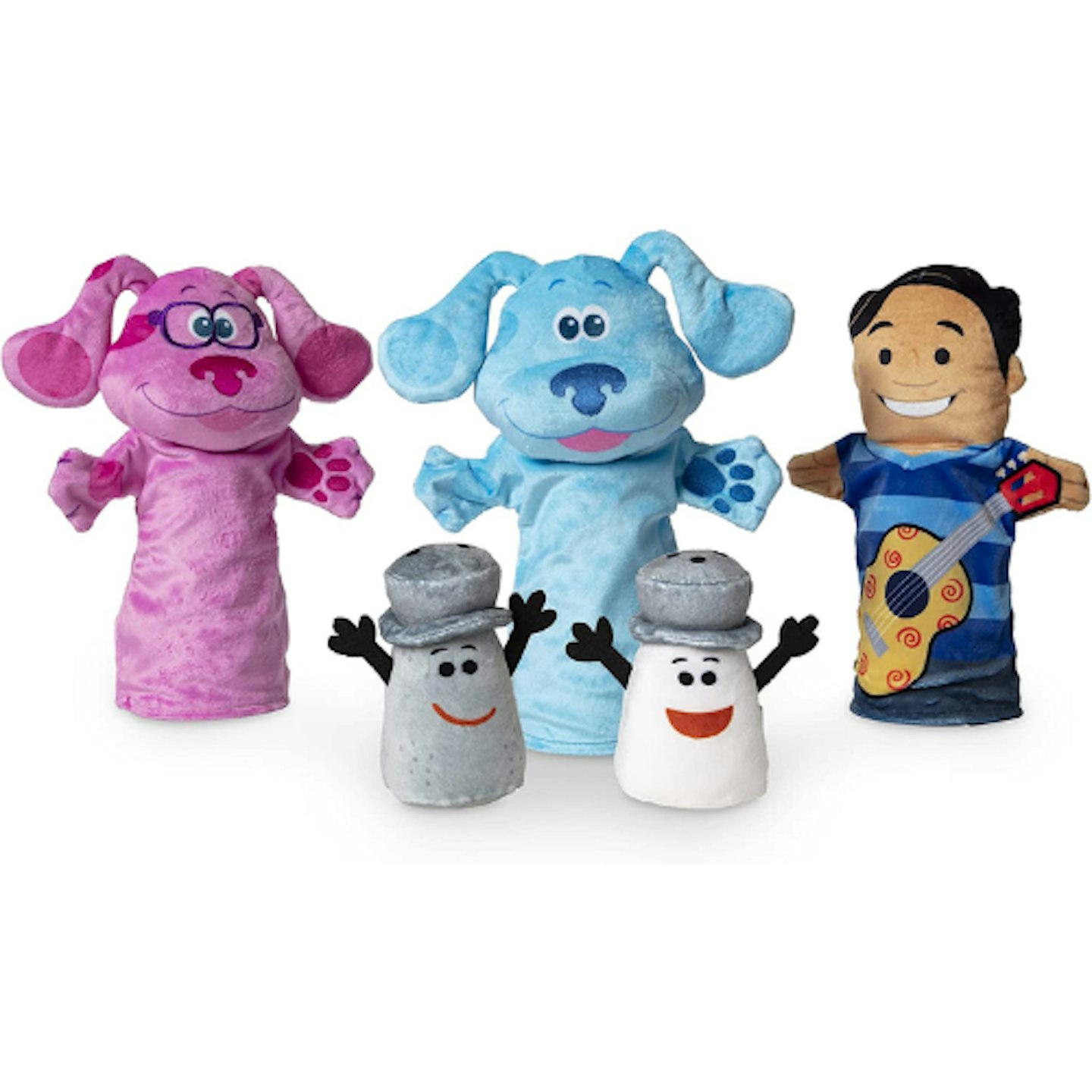 9 of 12
Melissa & Doug Blue's Clues & You! Hand & Finger Puppets
As well as their Farm Hand Puppets, you can tell fun and fascinating stories with the Melissa & Doug Blue's Clues & You! Hand & Finger Puppets. Featuring three hand puppets, Josh, Blue and Magenta, and two finger puppets, Mr Salt and Mrs Pepper, this is going to be a hit with fans of the show.
Review: "This is a rather adorable, nicely made set of puppets featuring characters from Blues Clues and You. The set is a mix of full hand puppets (Blue, Magenta, and Josh), and finger puppets (Mr Salt and Mrs Pepper). The puppets are well-made and were readily recognisable to my little nephew.
"All 5 characters are made from a fine-pile, printed plush fabric with internal padding – though Blue and Magenta both have embroidered noses, Magenta has embroidered-on glasses, and the finger puppets have felt arms. Soft, cuddly, and very sweet."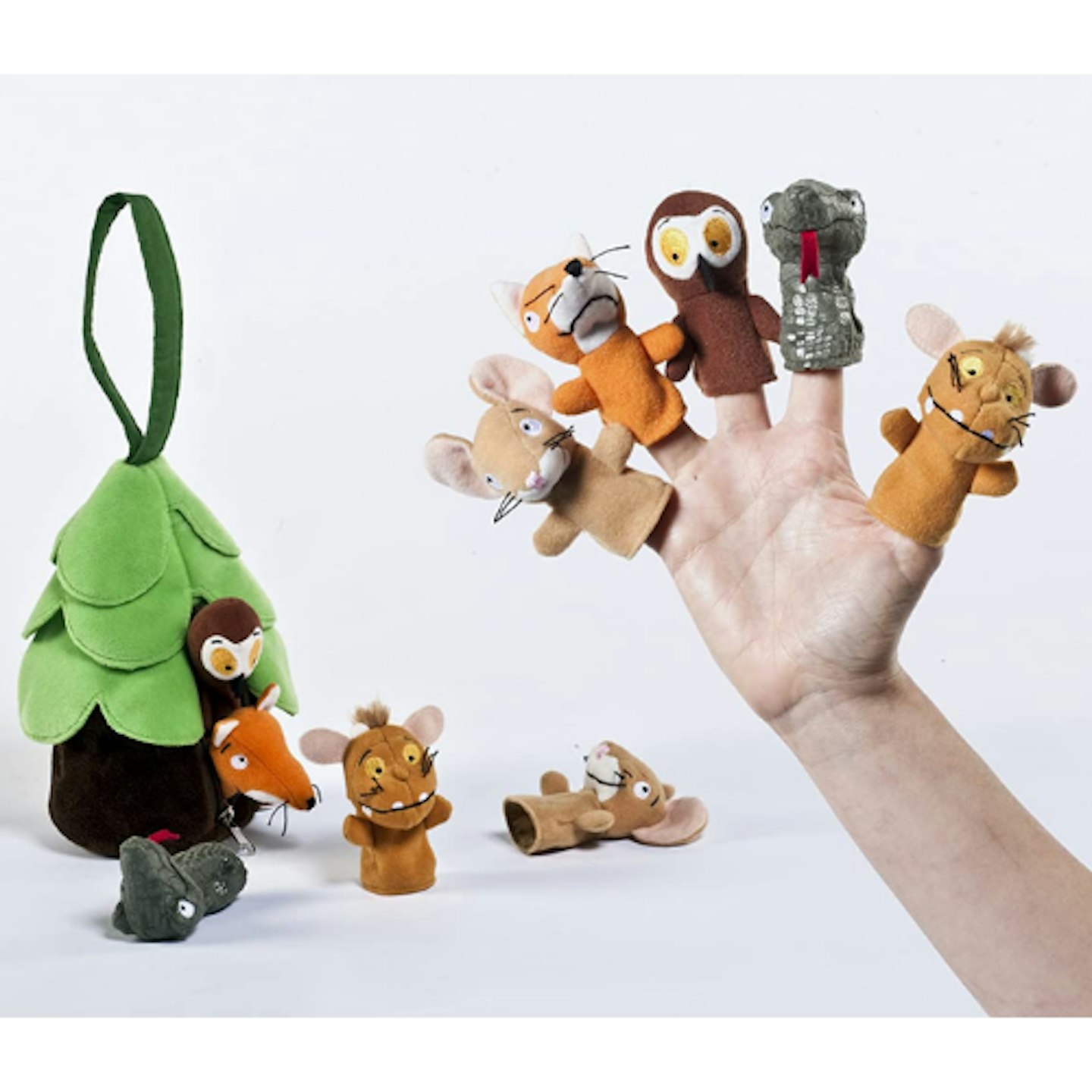 10 of 12
The Gruffalo's Child 12972 Finger Puppets
Another story children will love to bring to life, is The Gruffalo's Child. These finger puppets featuring the main characters from The Gruffalo's Child book are perfectly sized for children's fingers, and they'll love telling their own stories or playing with these as you read the modern classic book. Alongside the puppets, there's also a tree carry case, ideal for storing or using as a prop in their storytelling adventures.
Review: "Bought this for my grandchildren. As they love the Gruffalo Child book they adored these finger puppets. They are well made and I particularly like the sturdy tree house to store them in."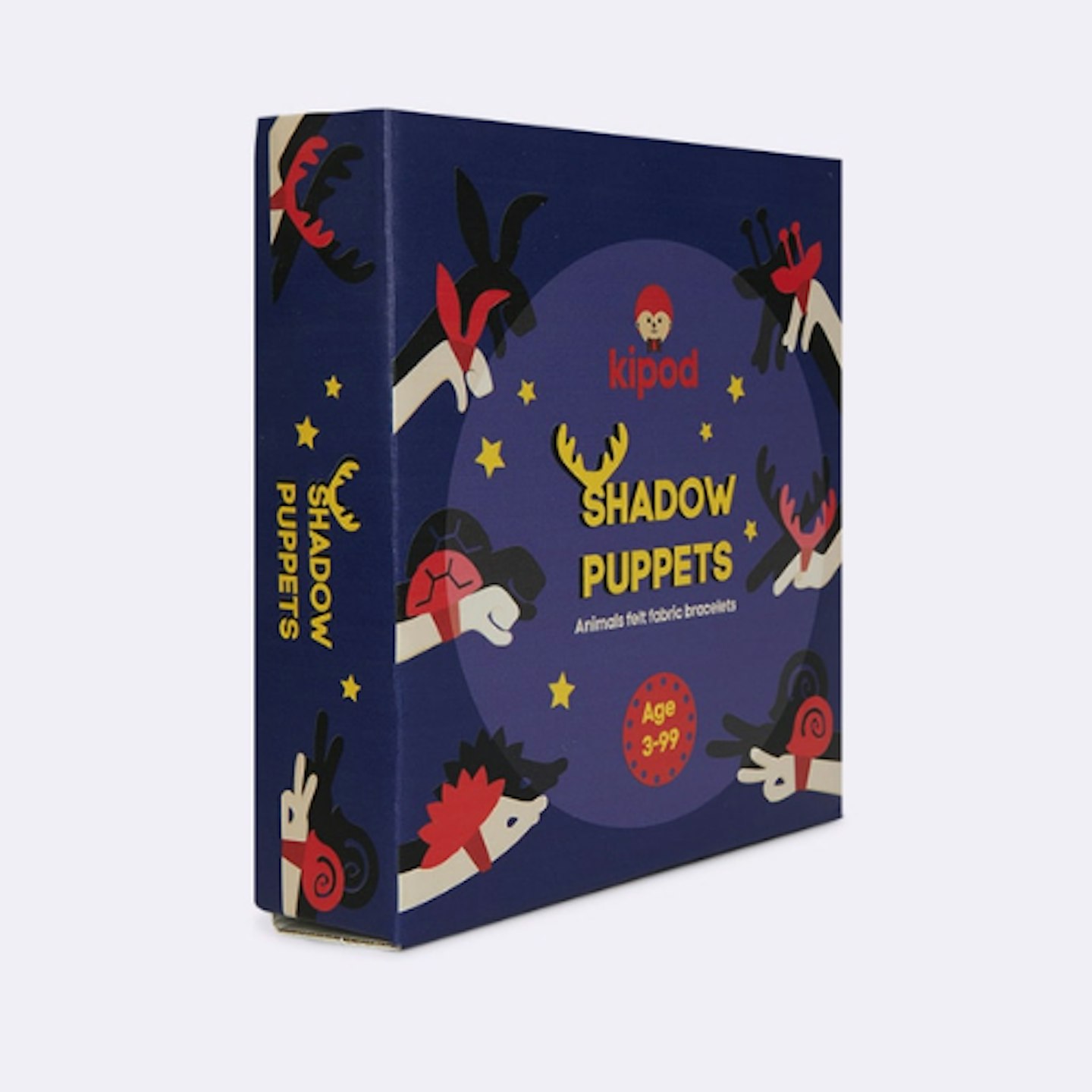 11 of 12
Kipod Shadow Puppets
Whilst shadow puppets may seem easy to make, what you try to make with your hands may not be so easy to distinguish when projected onto a wall.
This pack of six animal fabric bracelets will help turn your child's hand into a hedgehog, deer, turtle, snail, bunny, or giraffe, instantly recognisable for effective storytelling. All you need is a lamp and a wall.
Review: "These are very effective and fun! The felt is quite stiff so they hold their shape very well."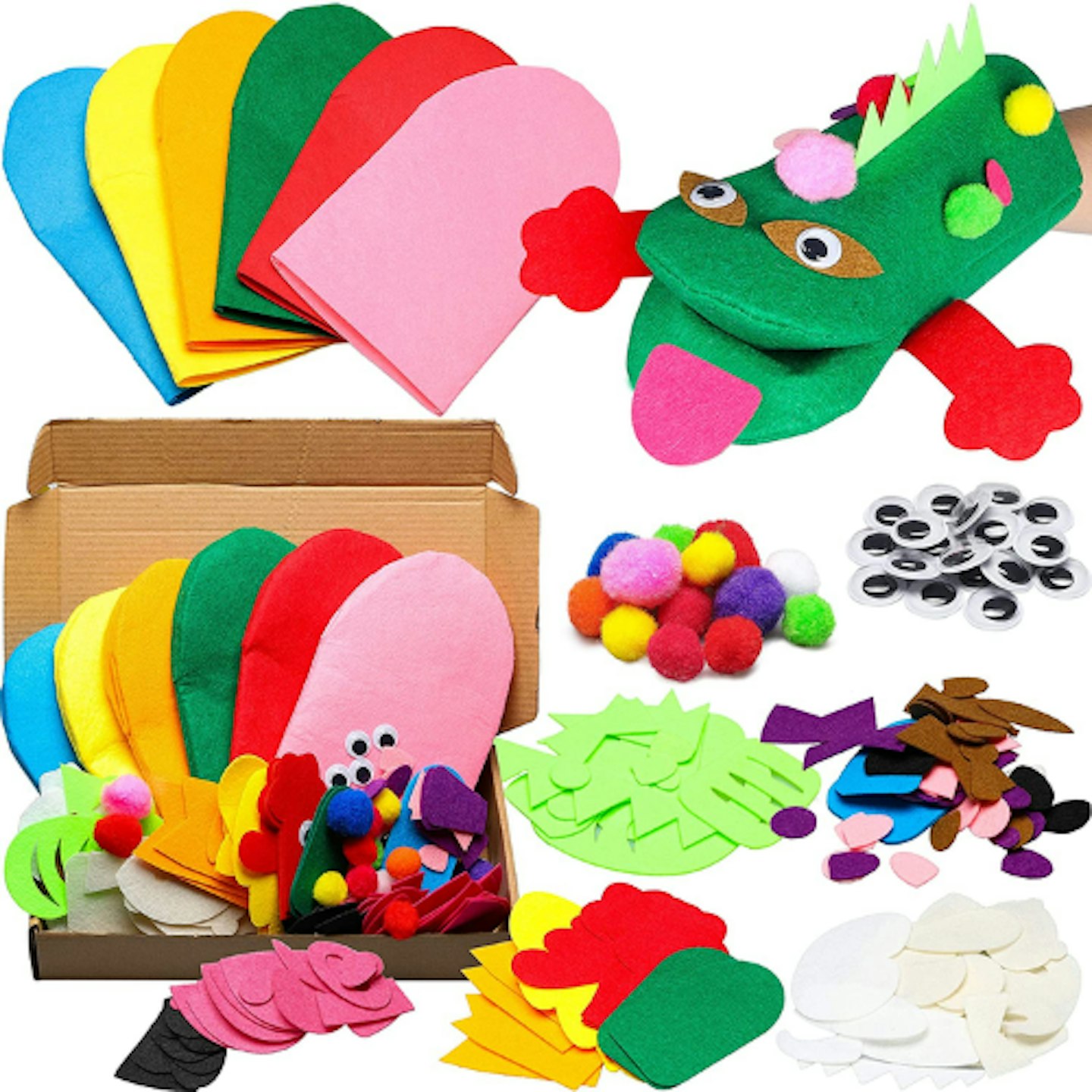 12 of 12
WANTINC Animal Hand Puppet Making Kit
For extra creativity and imagination, get your kids to create their own puppets! You can do this with bits and bobs around the home, but this set provides great value and everything you need to make fun and friendly characters from scratch. There's googly eyes, decor felt shapes, colourful pompoms, and more.
Review: "Me and my 18months old had a great fun creating puppet animals. So easy to use and so much entertainment once they were made! There is so many different pieces so we ended up creating some other animals."
How to make a puppet theatre at home
If you fancy getting creative or want to create a home project for your little one, creating your own puppet theatre is really simple to do. Simply grab an old cardboard box, cut out a window for the 'stage' and a space for your child to puppeteer from, and let them decorate the box to create the theatre of their dreams! For special touches, you could add some stage curtains, stick in a 'back drop' to set the scene, and personalise with your child's name.
If you're looking for some inspiration, you could follow this tutorial from BBC Good Food, or try out the below tutorial and template to help you create your work of art.
What to read next
Best fidget toys that all families are getting their hands on