We caught up with former JLS band member and host of CBeebies Down on the Farm, JB Gill, for his own parenting tips on how to talk about food with children, fussy eaters, and how he is getting on with the Organix 'Good for planet. Good for me.' rainbow journey to encourage his children to enjoy a healthy relationship with food.
How do you get your children involved in family mealtimes?
"Well, I've always enjoyed cooking and that whole process of food from the field to the plate. And I think that journey is just as important for young children as it is for us adults. I like to include them in understanding that the eggs they're having for breakfast came from the chickens. Obviously we've got the farm, so the kids can be there feeding the animals, and so on.
"Then when we make pancakes or whatever, I get out all the different ingredients, and I've always got at least one of the children leaning over my shoulder, watching what I'm doing. I get the kids cooking as many meals as possible with me, or at least get them involved.
"I think that's a great way to start their own personal journey and their conversations with food, and understanding food and touching things, feeling things. And I think it's really, really important to start that as early as possible."
How do you talk to your children about where their food comes from?
"One of the things I like to do, personally – my wife is not a huge fan, and I know a lot of parents are similar to her – but I enjoy going food shopping with my kids. Yeah, I mean, picking up the fruit and veg, talking about how it grows, for me that's all part of the process. And it's all part of the understanding, especially when it comes to respecting your food. I get my kids to go and fetch bits and pieces, we talk about spices and stuff that goes into seasoning the food.
"Then, like I said, I continue this when I'm cooking, we'll get them to smell and taste stuff, you know, even if it's something as simple as pasta. I'll ask my eldest to try it and tell me if it's done and he'll say 'oh it's not quite there' so he knows this now, he knows the process rather than just being presented with the finished plate of food.
"I think that's one of the key takeaways that I had from the 'Good for planet. Good for me.' campaign with Organix is that when people start to know more about the foods that they're eating, you're more likely to taste new things. Whereas if you're given something you've never seen before, it might not look that appetising, perhaps, or you know, it might be something that we're just less likely to try. It's exactly the same, if not more so, with children, you can actually show them the squash or whatever it is that they're going to have mixed into their mash and they'll be happier to try it and eat it and enjoy it."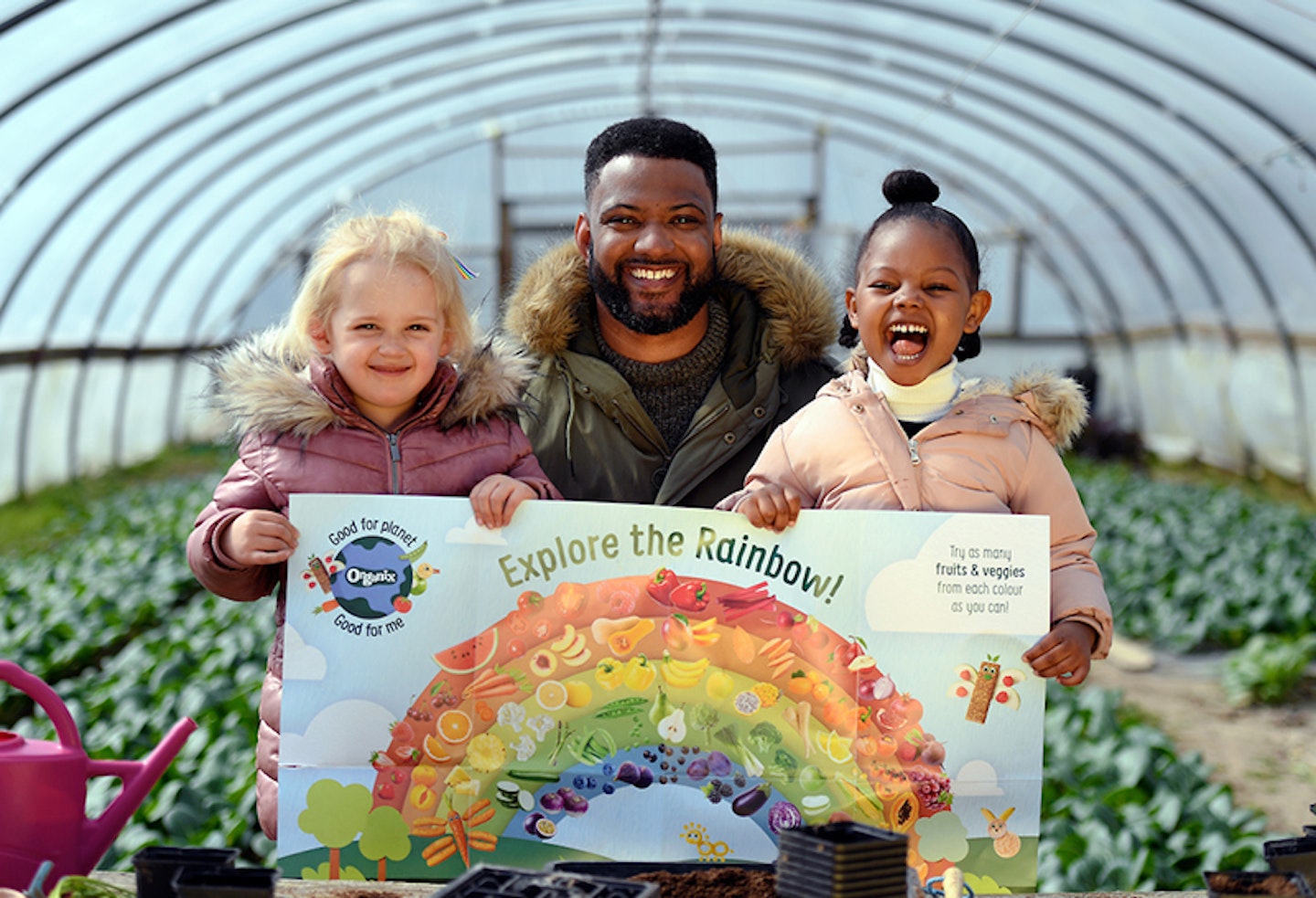 Would you say there's a lot of pressure put on parents to ensure their children are eating healthily?
"Pressure is definitely internal, you know, it's pressure that we put on ourselves. For me, I have that with my daughter Chiara because one day she'll eat a whole bunch of strawberries, the next day, nope. Nothing's guaranteed! And of course, you want to get five portions of fruit and veg a day and stuff like that. Ultimately, what we want is for our children to be eating healthy foods, to get children eating more variety and obviously encourage them to take that forward into their adult life as well.
"I think that their relationship with food when they go to nursery or school is just as important. And, of course, you know, parents do put pressure on themselves in that respect, but I think it is something that other parents can help with, as well as the schools and the nurseries.
"Mealtimes are frustrating, because both parents have had a busy day at work or whatever, you come in, you're tired, you're hungry yourself. You always seem to be getting the kids ready for school, getting them dinner, getting them into bed. There's not that much time to play around with young kids. So it's pressurised already. Then you add more pressure with food and trying to coax them into trying something new or at least eating healthily!"
How can parents take the stress out of dinner time?
"Well, it's actually a takeaway that I had from the campaign, which I hadn't tried before, but the suggestion is basically that you try new foods at any time other than main meal times. So, rather than introducing a new food as a snack, one thing that I've done is to basically put a plate of food together for myself when I'm with the kids around the house, and just have that plate on the side, and I'll go ahead and just pick up whatever – it might be cucumber chunks, or dried apricot, or nuts or whatever it is.
"Often, I find that the kids will then want to have what's on my plate, or will go up and help themselves. If I put that same plate down and said, 'right guys, lunchtime', nine times out of 10 they won't eat any of it.
"It's just about keeping them guessing, making sure that there's lots of variety and that they have an opportunity to eat during the day rather than sort of pressurising yourself and them to be eating it at one particular time."
Are your children fussy eaters?
"My son, Ace, is very good – he'll eat three apples a day, no problem, a whole range of fruits. Vegetables, you can persuade him even with things like asparagus and broccoli and cauliflower. And I'll put my hands up, I wasn't like that as a child, I didn't enjoy vegetables!
"Now with Chiara, even if you do mashed potato, it's a real struggle. She's actually okay with broccoli, and corn and peas, but other than that no luck. She won't eat apples, she won't eat a plum. She's almost the prime candidate for this campaign because it's about keeping variety in mind and about not pressurising ourselves to make sure that she's getting good food.
"We have to be creative. One of the ways that we've managed to get more fruit is with smoothies, she doesn't drink a lot of juice or anything like that, but that will be her one sweet drink for the day. And you can pack that full of all sorts of stuff, spinach and kale – stuff that she wouldn't even look at!"
What are some other creative ways you introduce new foods to your children?
"Chiara is quite hands on when it comes to cooking and preparing food. But she's nearly three now and getting more independent, so she wants to do more in the kitchen now – she's there wanting to flip the pancakes and actually use the frying pan! But smelling the food, touching the ingredients, those are the things you can do. And of course, like baking and stuff, that's all fun. Because you can do that you can prep all of that before anything goes in the oven. So it's a great introduction.
"Last year we got apple and cherry trees, so we went out and picked some and we made a cherry crumble and stuff. We also planted some potatoes, and we didn't actually harvest them the last year, I think we planted them a little bit too late, they were really small. But we went to go and prep all our stuff for planting this year and there are these almost fully formed potatoes in there and the kids are having a great time digging them up and talking about them. That sort of stuff really goes a long way I believe, planting the seeds, growing your own, all of that."
What are your 5 tips to help parents deal with fussy eaters?
Persevere

Be varied. Keep mixing it up.

Try new foods outside of mealtimes.

Make the food journey interesting.

Use all the senses.
Read more popular articles