We all know that babies try to put all manner of things into their mouths, including objects they definitely shouldn't. But if you want to get creative with your little one and do a bit of baby-friendly painting, why not make your very own baby-safe paint!
Babies move at the speed of light when they want to, which means it's important to choose your arts and crafts materials carefully to ensure that your little one won't be at risk of harm, should they attempt to pop something in their little mouths.
It goes without saying that no paint should be ingested (by any of us!) but our DIY method for edible baby-safe paint is a great messy play idea that requires minimal supplies to pull together, buying you invaluable peace of mind as a parent. We've also included some non-toxic paint options you can pick up online as an alternative too.
Adult supervision is required for any arts and crafts project.
Edible baby-safe paint method
Ingredients
1 cup of cornflour
1 cup of cold water
3 cups of boiling water
Liquid food colouring
Method
Combine the cold water with the cornflour in a bowl until mixed together.

Add in one cup of boiling water at a time to the cornflour mix, stirring in before adding the next one.

Pour the mixture into a saucepan over medium heat until it begins to thicken to the consistency of custard.

For different colours, separate the mixture into as many different bowls as you want colours, adding your chosen liquid colouring to each one until happy with the colours.

Once the mixtures have cooled, it's time to grab some paper and get creative!
Store the paint in separate jars for up to three weeks.
Non-toxic baby-safe paint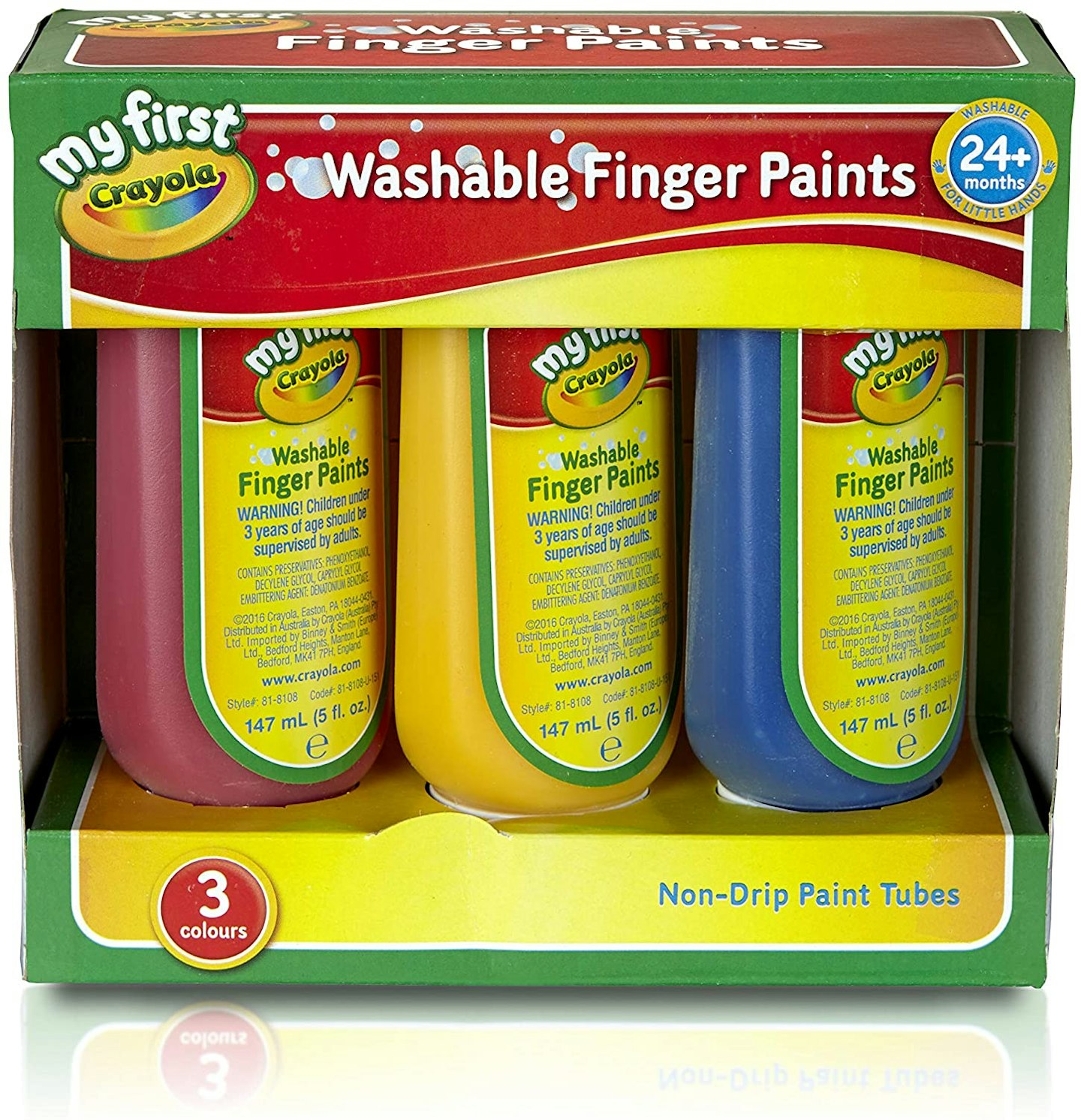 1 of 5
My First Crayola Mini Kids Washable Finger Paint
With squeezy, non-drip bottles for easy dispensing, this set of three paints easily washes off skin and clothing.
Review: "I brought it as it is washable and that is true. It is extremely easy to wash off your hands and I popped the clothes in a quick wash for 15 minutes in the machine and no stains on the clothes!"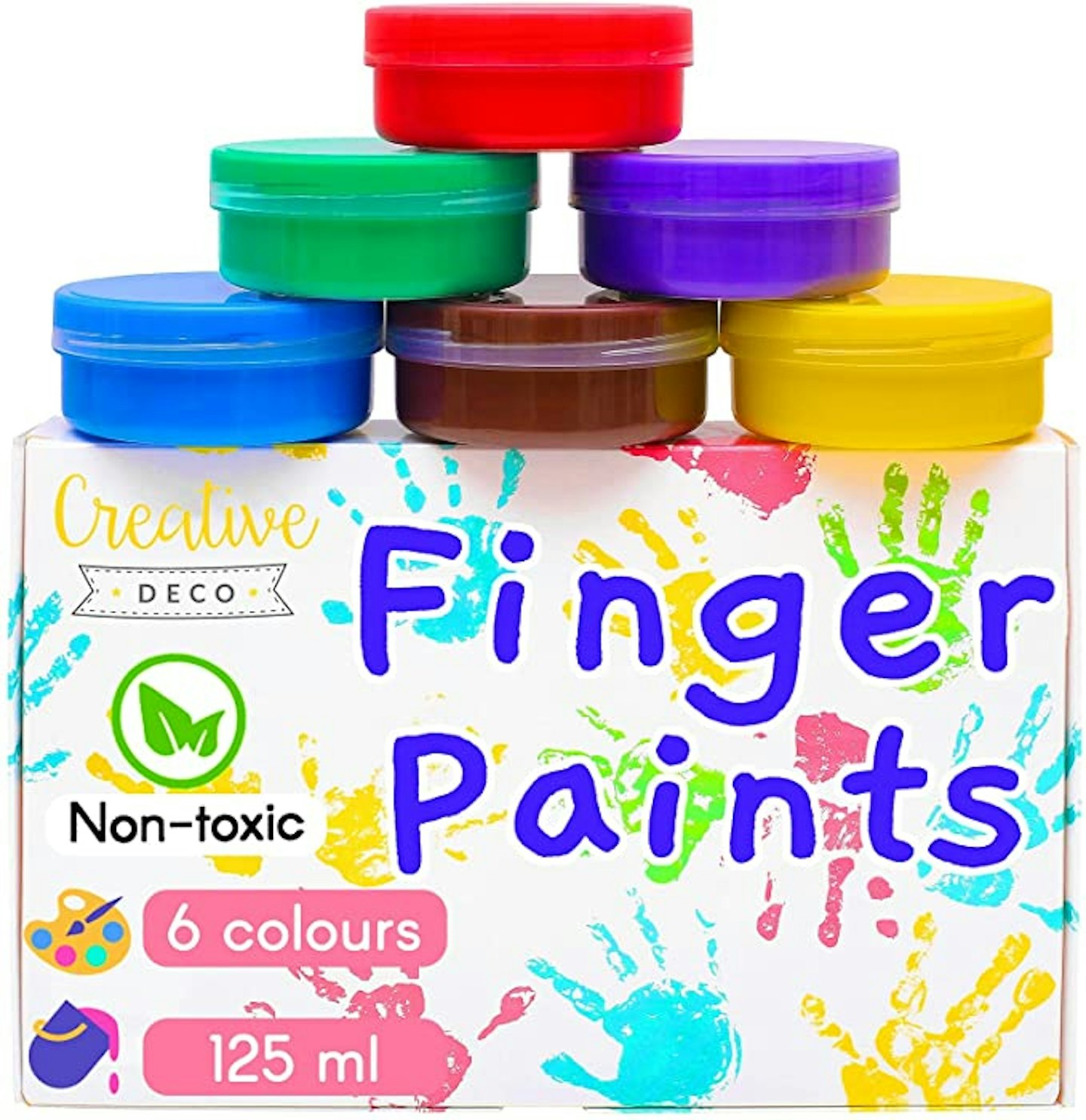 2 of 5
Creative Deco Washable Kids Finger Paints
This six-pack of paints can be applied with fingers, brushes, a sponge or more. The water-based formula means the paints are non-toxic as well as easy to wash off.
Review: "I absolutely loved these paints for my 22-month-old daughter. She had a lot of fun with them over the summer. Very thick, and great value for money."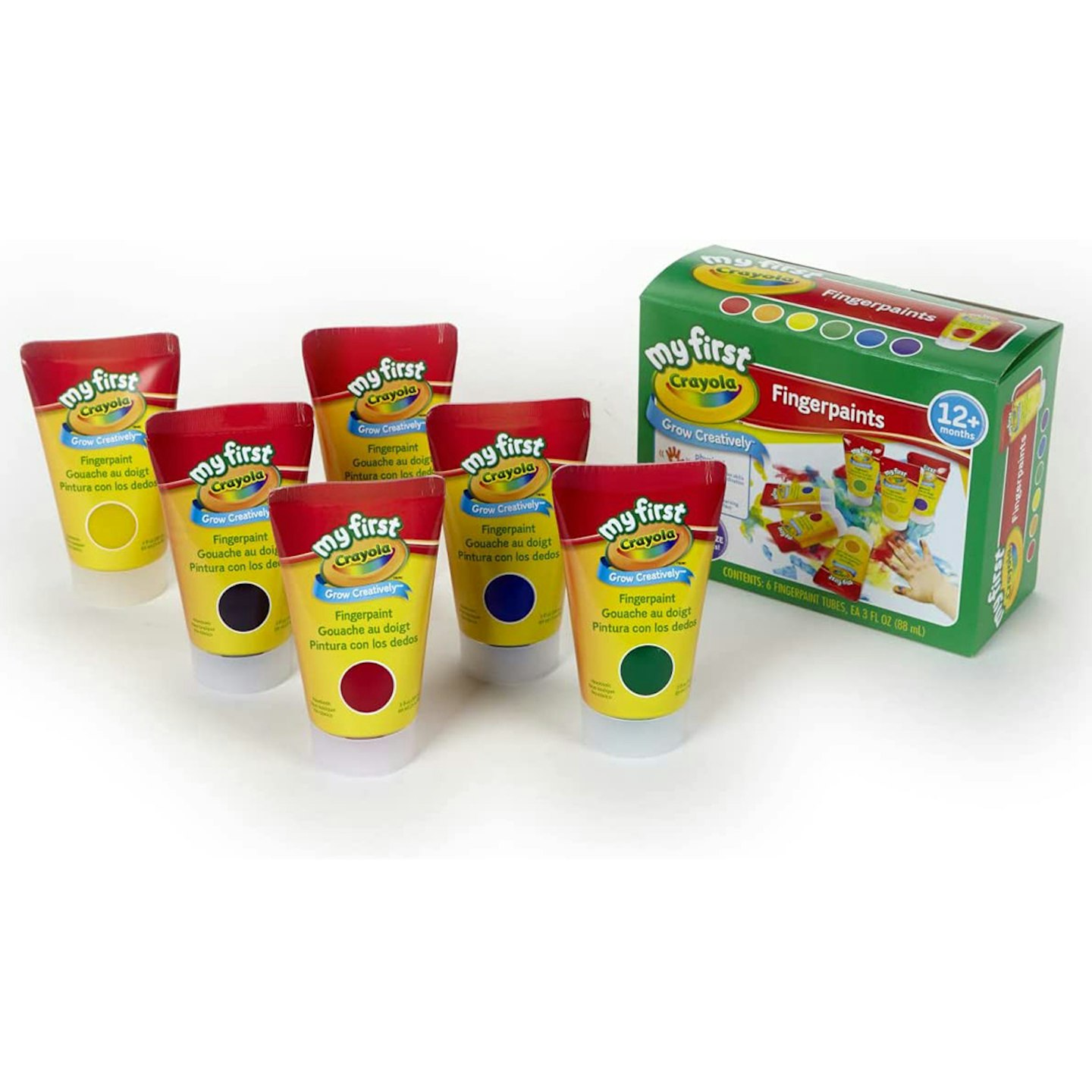 3 of 5
Crayola Washable Fingerpaints
Offering six choices of colours, this fingerpaint comes in easy-squeeze paint tubes for precise dispensing. It's washable too so your child can explore their creativity without making (too much!) mess.Review: "Purchased for my 1.5-year-old - excellent choice! These paints are perfect for making small art projects at home with little ones, and they really do clean up easily."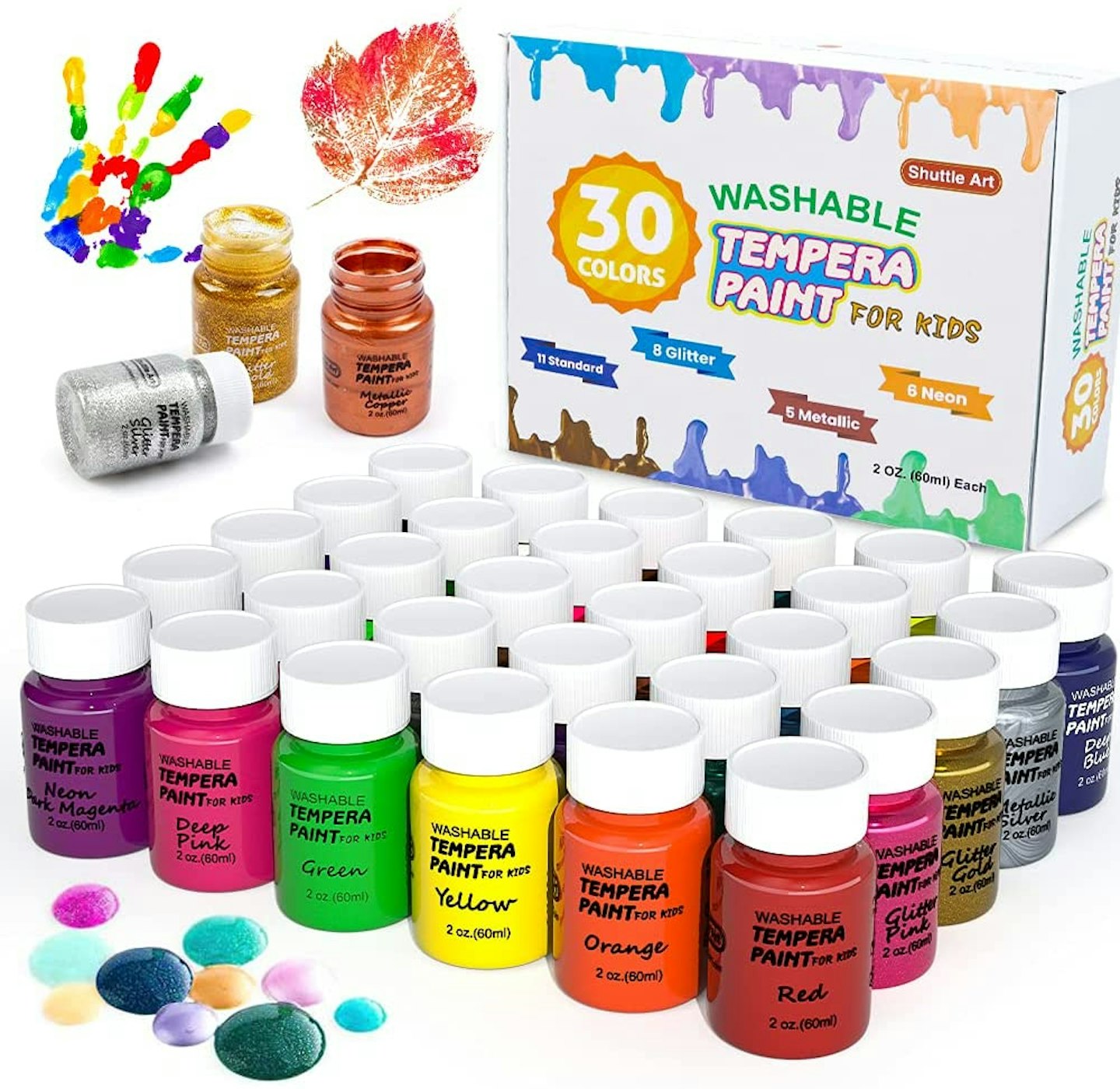 4 of 5
Tempera paint
This set contains a whopping 30 different colours including glitter and neon options so the possibilities really are endless. With brilliant, rich colours, they are acid-free, non-toxic and eco-friendly.
Review: "Big selection of colours. Good value for money. My son loves to use it and paint."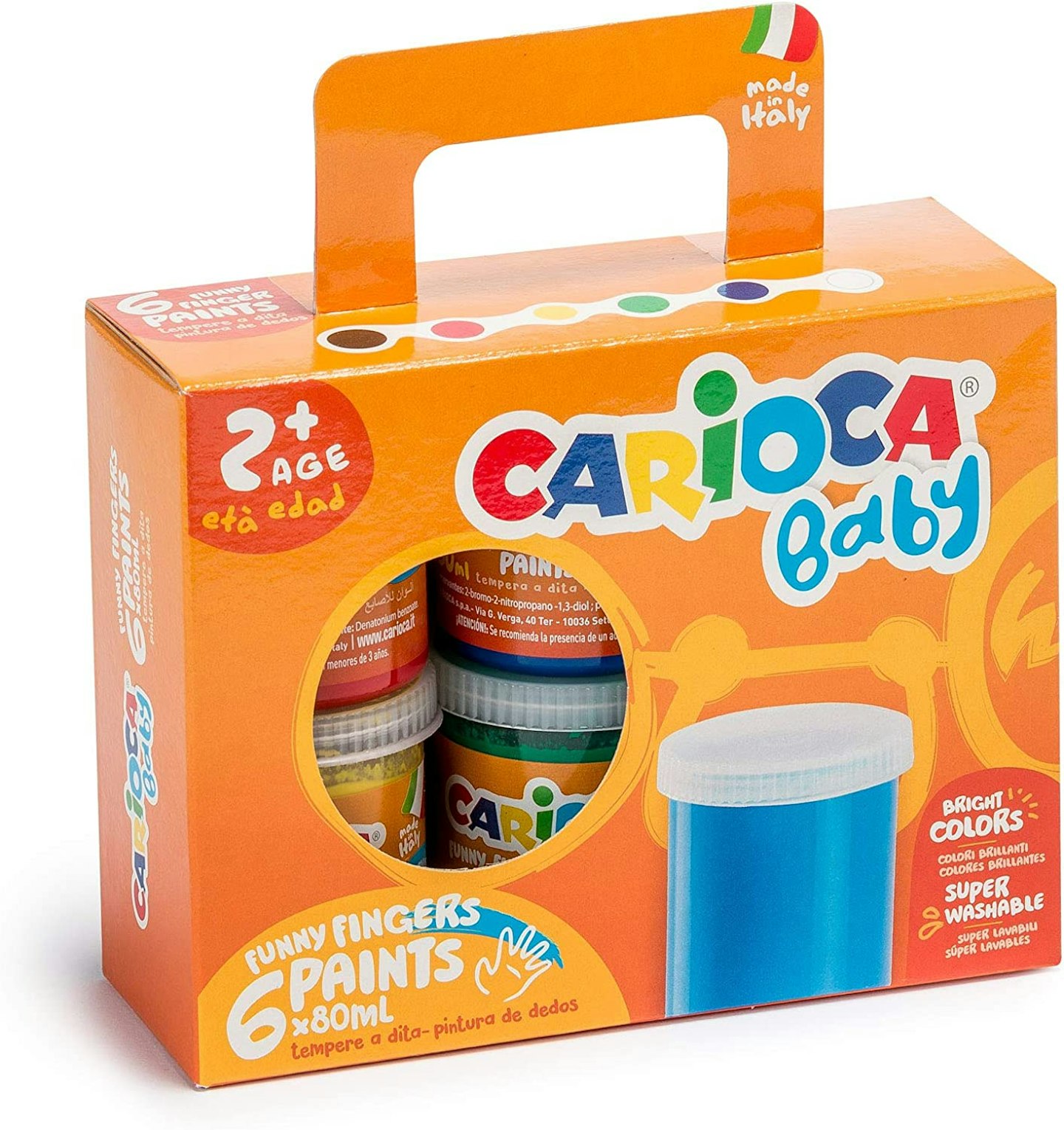 5 of 5
Carioca Baby Finger Paint
This set of non-toxic and odourless paints is dermatologically tested and made with high-quality pigments for rich colours. Washable from skin and most fabrics, they're suitable from two years.
Review: "The colours remain bright even after drying and even when mixed. My baby paints with both his fingers and brushes."
Baby-safe paint FAQs
What age can babies use edible paint?
Baby-safe edible paint is suitable from six months old, which is when most babies will start weaning.
Can babies eat food colouring?
Although it's probably not something that your baby will be having on a day-to-day basis and certainly not on its own, food colouring is safe for little ones to consume, whether that be in the likes of colourful cupcakes or our DIY baby paint method above.
What paint can I use for baby handprints?
This entirely depends on what you want to display your baby handprints on. For example, if you're looking to display those sweet prints on fabric, you'll want to use a specific baby-safe fabric paint. Or if it's just on paper or card, regular baby-safe paint such as the options above will be perfect.