For thousands of new mums, the pandemic was the backdrop to the birth of their babies and the early years of their children's lives. New motherhood is already a life changing experience without having to live through a pandemic at the same time.
Welcoming a new baby is filled with joy, but it can also be a very emotional, isolating, and stressful time. The support of your family, health care professionals and community are essential. But what happens when all of a sudden you can't see your mum, your health visits are via Zoom and there's no mother and baby group to go to?
The pandemic affected everyone in the UK. But perhaps for those with babies and small children, it brought an added layer of worry. How would our kids cope, how would this affect them, how could we make up for all they were missing as a result of being locked down?
We cannot change what happened, but one thing we can do is learn from the experience.
Your story, your experiences can help the UK Covid-19 Inquiry and help to shape the future. Stories collected as part of Every Story Matters will give the Inquiry an understanding of the very serious impact it has had on all our lives, including on parents and help to inform recommendations for dealing with future pandemics.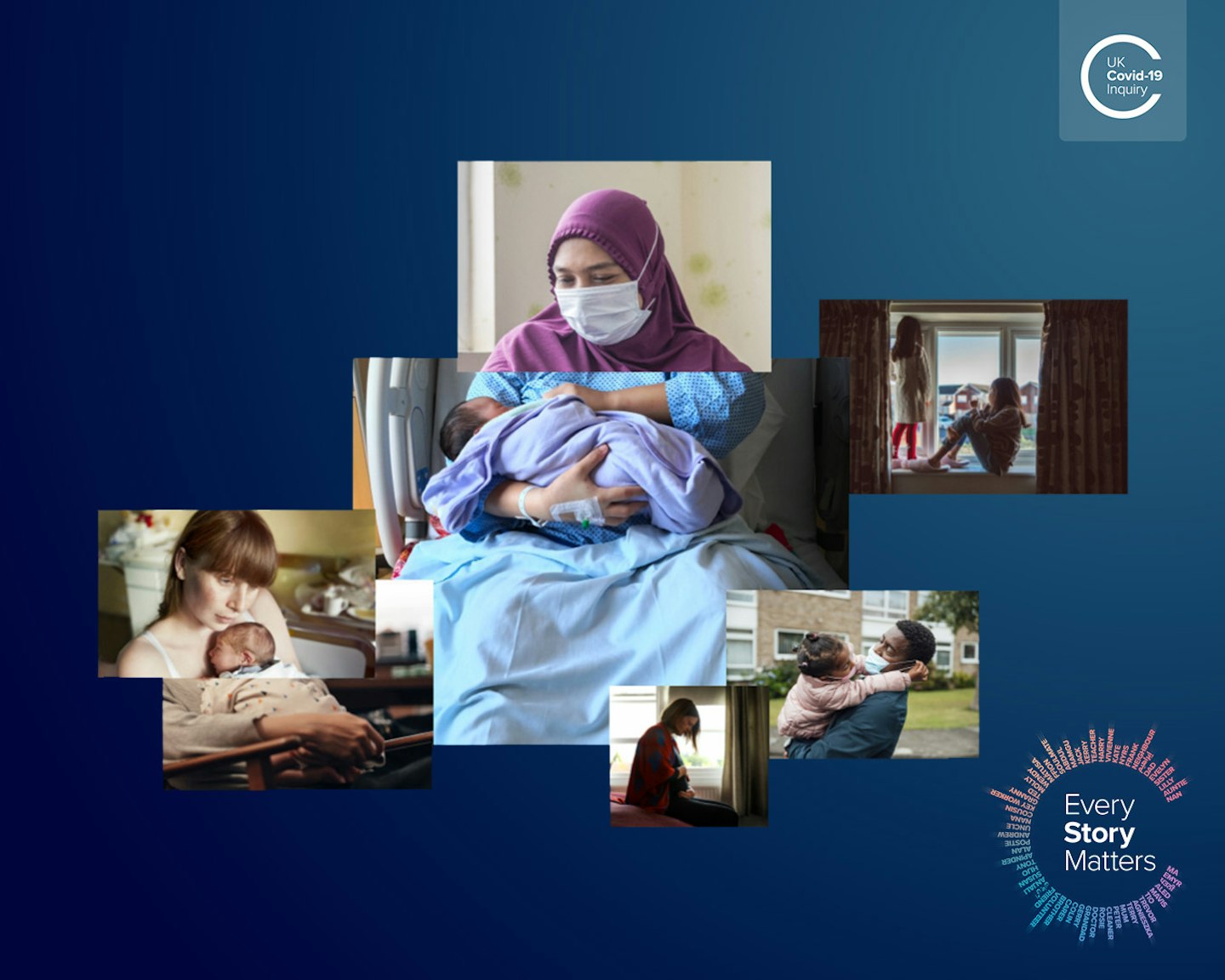 Every Story Matters is gathering experiences and information, anonymously, to be analysed by the UK Covid-19 Inquiry and included in their independent investigation. And every story really does matter. Stories like Katie's.
Katie's Story
'I was a first-time mum settling into the rollercoaster which is motherhood, with a seven-month-old baby, when the pandemic escalated into a full-time lockdown. When I realised that this would mean no more socialising with my NCT group or fun walks around the parks with my fellow mum friends, I really panicked. My partner was immediately told to start working from home and we both felt trapped in the endless cycle of breastfeeding, nappy changes, washing, weaning and sleepless nights. It was the biggest challenge of our relationship to date.
Before the lockdown started, we had arranged for a night nanny to come to stay with us to finally crack our baby's sleep issues. This was cancelled in the lockdown and after two months of struggling with sleep deprivation, I arranged a Zoom call with our NHS health visitor to try and tackle this problem. The health visitor came up with a new routine for us and some amazing solutions which became invaluable to our new lockdown life.
During the lockdown, I started to notice that I was feeling depressed and not enjoying everyday things like I once did. I really missed socialising although we set up online quiz nights with our friends and tried to meet up with people when we could. I really struggled with the monotony of some of the aspects of mum life without the outlet of work to change up the pace. I contacted my GP who said they didn't want to prescribe antidepressants but instead set me up with an online CBT course. I was able to complete the course in my own time and I found it really beneficial in resetting my mental health.
When our baby was about to turn one, we had a health review over Zoom to discuss our son's development. Luckily his communication skills hadn't been affected by the lack of social engagement. But the health visitor still suggested extra things we could do to help him as playgroups were re-introduced. I would have much preferred to have had these meetings face to face as I feel mums get so much more from talking to people about their child in person. My most recent visits to discuss my children's development (for my second child who just turned two) have been face to face and a much more enjoyable experience – including for my toddler, who enjoyed playing all the fine motor skills games.
In 2021, as the pandemic restrictions were easing, I gave birth to my second son. They still had the rule of no visitors, so my partner was the only person able to meet the new baby right away. Ideally, I would have loved to have had that moment where my eldest son could have come to the hospital to meet his baby brother, but it just meant that we made it extra special when we introduced the boys at home. I had an elective C-section (after an emergency C-section first time round) and the care I received in the hospital was truly excellent.
I hope that by sharing my story with Every Story Matters that it will help others in the future. And that after this pandemic experience, we have fine-tuned the care available to young mums – especially around mental health, where there is an increasing awareness. The NHS really did do everything to help in my hour of need and I hope that service continues to grow and thrive.'
Help the UK Covid-19 Inquiry learn the right lessons from the pandemic. It's simple to submit your story, just follow the link www.everystorymatters.co.uk.