If you've watched your due date come and go or you're just so damn uncomfortable, you might have started exploring ways to bring on labour naturally, one of which includes drinking raspberry leaf tea. This is a herbal remedy that is thought to tone the muscles of your womb to help it work during labour.
What is raspberry leaf tea?
Red raspberry leaf tea is a herbal tea that is made from the leaves of the red raspberry plant. It has been used as a pregnancy tea for at least two centuries. Although often recommended to induce labour, its actual role is to increase blood flow to the uterus and ready the uterine muscle for more organised contraction during labour.
While there are no studies to suggest that this fruity herbal tea can induce labour, by understanding how it works with the womb, it's understandable why so many pregnant women are keen to try the tea.
Why do pregnant women drink raspberry leaf tea?
"Raspberry leaf tea is used by many women to help prepare their womb muscles for labour and birth," says Rachel Fitz-Desorgher**,** author and former midwife. "The womb muscle contracts regularly day in and day out even when a woman is not pregnant, which is how it keeps toned and fit. As the womb gets ready for the mammoth effort required for labour and birth, the exercise it does picks up, just like a runner preparing for a marathon.
"Raspberry leaf tea is also thought to help the womb muscle tone up. There is some evidence that, by getting really toned up and ready for action in this way, a woman is less likely to go past 41 weeks of pregnancy. So although the tea doesn't really start labour, it might help push your body in the right direction by getting the womb fit and strong."
Benefits of raspberry leaf tea
Although the chance of raspberry leaf tea kickstarting labour is still up for debate, on the whole, there are plenty of other benefits to drinking a cup.
Sandra Greenbank, a nutritional therapist specialising in fertility, pregnancy and women's health says that raspberry leaf tea can induce labour, strengthen the uterus, make labour less painful, and, yes, even prevent tears during birth.
"Raspberry leaf has been famous throughout history for preparing mothers for childbirth. It is thought to help shorten labour, as it strengthens the uterine and pelvic muscles while also working as a relaxant at the same time, and therefore helps reduce the pain of contractions during labour," Sandra adds.
On top of this, raspberry leaf tea is rich in antioxidants and nutrients such as calcium, iron and potassium as well as containing vitamins A, C and E.
Is it safe to drink raspberry leaf tea?
Considering raspberry leaf tea is easy to get hold of, you might be mistaken for thinking that it must be safe to drink. However, some medical herbalists caution that you should be careful taking it early in pregnancy, as it stimulates the uterus and could bring on a miscarriage, although there are no studies on this.
You should be careful if you are taking other medicines before drinking raspberry leaf tea as, like all herbal remedies, it can interfere with some other medicines such as those for diabetes and antidepressants and cause side effects.
Always check the leaflet that comes with the tea leaves or tablets if you buy it over the counter or, better still, talk to your midwife beforehand.
Who should not drink raspberry leaf tea?
It's not advised to drink raspberry leaf tea if:
• You have high blood pressure
• You are expecting twins or your baby is breech
• You have a family or personal history of breast or ovarian cancer, endometriosis or fibroids
• You've had premature labour previously
• You are breastfeeding
• If you're due to have a c-section
• If you've had any complications or health problems in your pregnancy
In general, it is best to speak to your midwife before considering drinking raspberry leaf tea to ensure that you personally aren't at risk.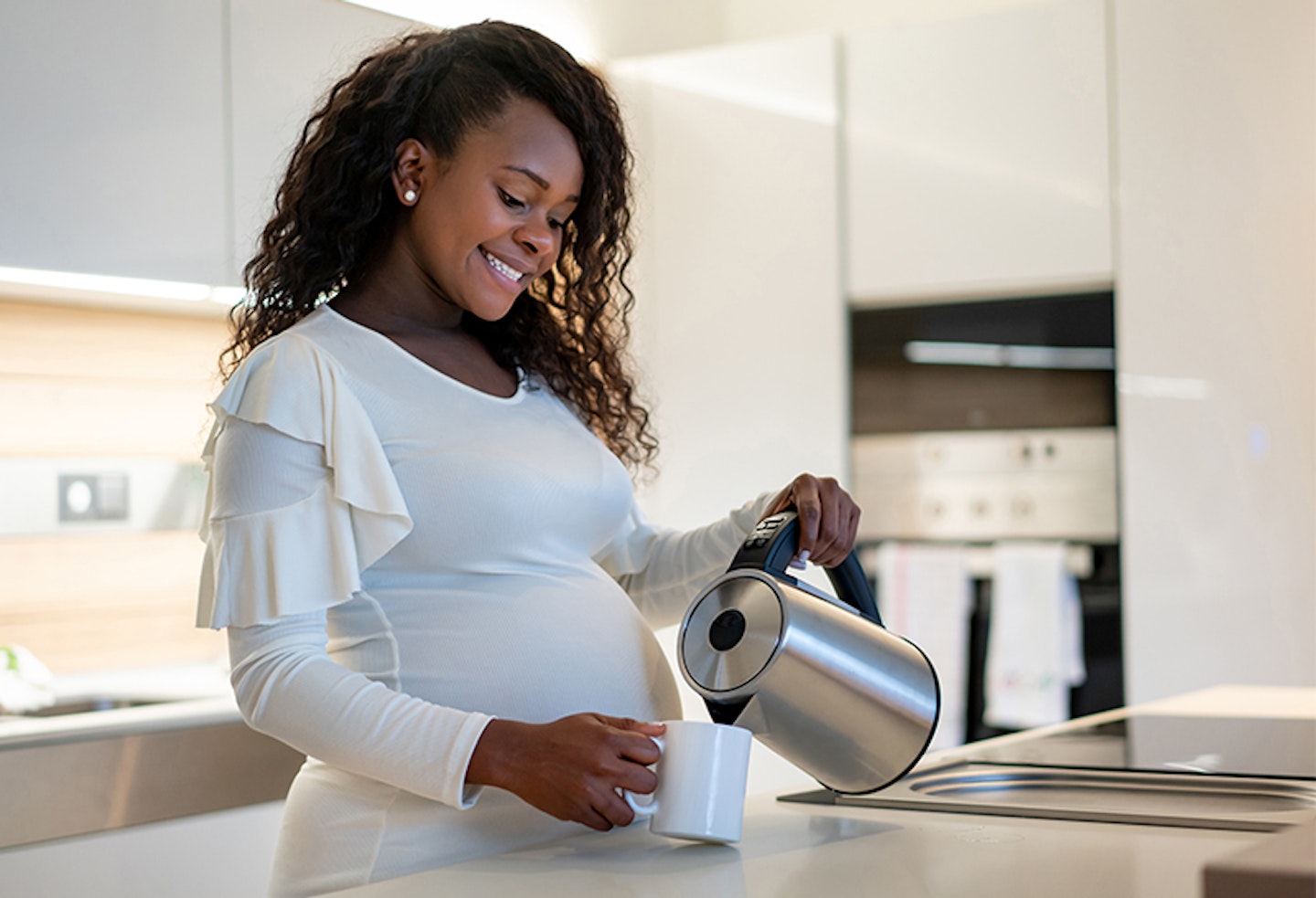 Are there any side effects to drinking raspberry tea?
Due to the lack of research on raspberry tea in pregnancy, the possible side effects known are limited, however, it is believed to:
• Affect your bowels: while some users found it to have a laxative effect, others found it actually helped treat diarrhoea.
• Cause you to urinate more: Yep, even more than you usually are!
• Potentially increase the chance of miscarriage: As above, because raspberry leaf tea may have the potential to trigger contractions, it is wise to avoid drinking it in early pregnancy.
Does raspberry leaf tea work?
Although no trials regarding red raspberry leaves and drinking red raspberry leaf tea as a pain management therapy during labour have been published, a few studies have looked at how this fruit tea affects labour and birth outcomes.
For example, studies evaluating the length of labour and birth outcomes found that the use of raspberry leaf tea can shorten the second stage of labour and reduce post-term pregnancy.
Although some mamas swear by it, ultimately, there isn't enough evidence either way to provide a comprehensive answer.
When to start drinking raspberry leaf tea
It's important to make sure you wait until the recommended date before you start drinking this tea. "The general advice is to wait until around 36 weeks pregnant to start drinking the tea, or take the capsule alternative. This is because there is a worry about its impact in pregnancy," says Laura Southern, a nutritional therapist from London Gynaecology.
You should start with one cup a day and build up to three cups a day, to help bring on labour naturally.
Where to buy raspberry leaf tea
Once you have confirmed with your midwife that it is safe for you to begin drinking this tea, here are some raspberry leaf teas and capsules to try.
Description
This is 100 per cent pure botanical ingredients with absolutely nothing else added. The resealable
Description
This refreshing Nipper Co Organic Pregnancy Tea is 100 per cent natural, free of artificial
Description
If you're not so keen on the flavour of raspberry leaf tea, you can get this version that has
Description
An organic raspberry leaf tea with each bag containing whole leaves, herbs, flowers and fruits to
Description
This well-known tea brand brings you a kosher tea with oxygen-bleached tea bags.
Review: "I
Description
Not a fan of the tea but still want to see if raspberry leaf works for you?
You can always try
About the experts
Rachel Fitz-Desorgher
Rachel Fitz-Desorgher is a baby and parenting expert and mother's mentor. She has four grown-up sons and two grandchildren.
Rachel worked as a specialist midwife, infant feeding consultant and parenting consultant for over 30 years before deciding to leave midwifery in order to focus her expertise and experience on mentoring women transitioning from the busy world of work to motherhood.
Laura Southern
Laura Southern is a fully certified nutritional therapist from London Gynaecology, who has worked in nutritional therapy for seven years, and she qualified at the prestigious Institute for Optimum Nutrition which is recognised as one of the leading centres for nutritional training and education.
Laura became passionate about supporting pregnant women during her own pregnancies, noticing first-hand the difference the right nutrition and supplementation plan can make.  She has since treated numerous pregnant ladies with a range of pregnancy-related conditions including; endometriosis, polycystic ovaries, weight management, anaemia and gestational diabetes.
Sandra Greenbank
Sandra Greenbank is a registered nutritional therapist specialising in fertility, pregnancy and women's health.
With 12 years experience as a nutritional therapist working with clients across the UK, Europe and the US, she has helped countless women get to the root cause of their fertility issues and achieve the healthy pregnancy and baby they didn't think was possible.
She studied for four years at the Institute of Optimum Nutrition and qualified in 2009. She's currently undergoing training at the Institute of Functional Medicine as part of her commitment to attaining the highest standards of knowledge and competence in the practice of evidence based Nutritional Therapy and Functional Medicine.